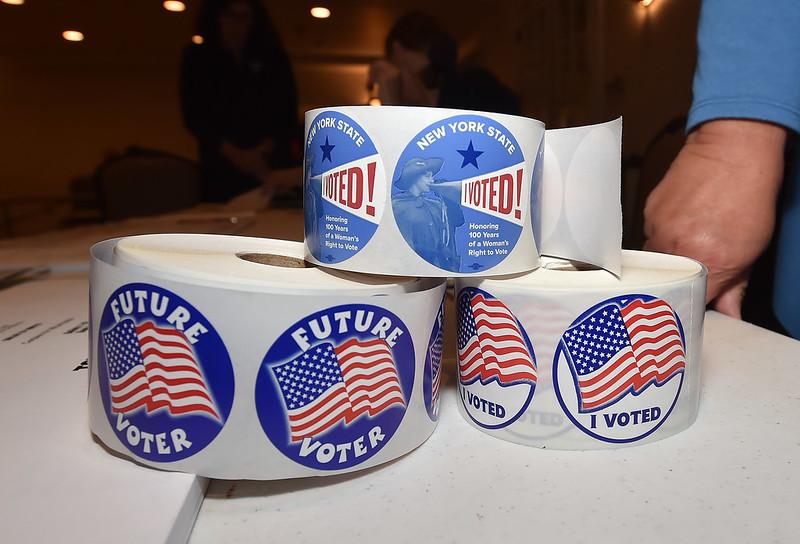 All voters will get an absentee application for the June elections (photo: Kevin P. Coughlin/Governor's Office)
---
Governor Andrew Cuomo on Friday, April 24 signed an executive order mandating that the State Board of Elections send every registered voter in the state an absentee ballot application with paid postage to facilitate voting in elections slated for June 23 without increasing the risk of exposure to the novel coronavirus, COVID-19.
The June election, with an early voting period preceding it, will feature party primaries for congressional, state legislative, and local races, after several elections on New York's calendar were delayed because of the coronavirus outbreak. The executive order also cancelled special elections for the state Assembly, state Senate, and Queens Borough President that were slated to take place that day -- but the primaries for all those races will still happen.
On Monday, April 27, the state Board of Elections also cancelled the Democratic presidential primary since all the candidates have conceded to former Vice President Joe Biden. The Republican presidential primary had already been cancelled in February. The power to cancel the Democratic primary had been granted to the Democratic BOE representatives by new language inserted into a state budget bill by the governor and legislators and passed in early April with the rest of the budget.
There is no guarantee that the risk of exposure to the coronavirus will be eliminated by June, which has prompted steps by the governor to ensure that New Yorkers can still participate in the democratic process. "We've seen elections held where we have people on lines for a long period of time. It makes no sense to me to tell people, 'You have to put your life at risk, violate social distancing to come out to vote,'" Cuomo said at this daily coronavirus briefing in Albany on Friday, just under two months from the June election day.
The governor has already signed an executive order allowing all voters to request an absentee ballot for the June primary based on the risk of contracting the coronavirus. But that still requires voters to obtain a ballot application from the BOE, return it, receive the absentee ballot, and return that too.
Some local county boards of elections have begun to move to online applications. The New York City BOE launched an online portal for city residents and is also accepting applications by email, fax or phone. But concerns were raised by legislators and election reform advocates that the measure was insufficient, particularly if voters don't have access to the internet or printers at home, and obtaining a physical application from the relevant board would be unfeasible as people shelter at home.
The new order would mandate that applications are sent to registered voters, but not a ballot itself, which would have been unconstitutional, said Melissa DeRosa, secretary to the governor, at the briefing. "I know some people thought that this should be, 'You send everybody an actual ballot to vote,' and we don't think that that's within our constitutional right, for the governor's directive powers to override the constitution and create a mail-in voting system where one otherwise doesn't exist," she said.
Advocates like those at Common Cause NY were also concerned that a vote-by-mail program alone could be riddled with problems if implemented on such a quick timeline – the BOE could fail to mail ballots to 970,000 'inactive' voters who are registered with political parties; mailed ballots wouldn't provide accommodations for the visually impaired or those with limited English proficiency; residents sheltering out of state may never receive a ballot. But the governor's order should allay those fears, since in-person voting will still continue and all voters, active and inactive, will receive a ballot application, according to the executive order. "We're saying you have both options. You can go to the poll or you can vote absentee," Cuomo said.
Asked by reporters about any possible opposition to his order, Cuomo said, "If you're against absentees, then everybody goes to the polls. Is that what they want?"
Prior to the governor's announcement, State Republican Party Chair Nick Langworthy had expressed several criticisms of a possible vote-by-mail program for the entire state, worrying without evidence that it could lead to voting fraud. He had promised to sue the governor if he should mandate that ballots are mailed to voters, calling such a move "an illegal and unconstitutional political power grab that will severely undermine the integrity of our elections."
But Langworthy supports the new order, and will not file any legal challenges, according to a spokesperson. "New York is the global epicenter of this public health crisis, which creates the obvious need to change some of our normal course of business, including political campaigns and voting," Langoworthy said in a statement, agreeing that the state should act to protect both voters and poll workers. "While I strongly prefer that people vote in person, on Election Day, temporarily suspending the normal procedures for absentee ballots during this crisis is a practical necessity."
Good government group Citizens Union applauded the governor's move in a statement on Friday afternoon. "This action will go a long way to ensure that this coming June, New Yorkers aren't asked to choose between their health and their vote," Executive Director Betsy Gotbaum said. "Ensuring that our 2020 elections can proceed without putting the public's health at risk will require resources, creativity and flexibility. Today's announcement is an important step."
The early voting period for the primary is from June 13 to June 21. Early voting sites have not been confirmed and, by law, must be made public 45 days before the election.
Note: Gotham Gazette is an independent publication of Citizens Union Foundation, sister organization of Citizens Union.
Note - this article has been updated with information from Governor Cuomo's executive order.
Note - this article has been updated to note that the Democratic presidential primary was cancelled.
Note- this article has been updated with information on the NYC BOE's new online portal for an absentee ballot application.