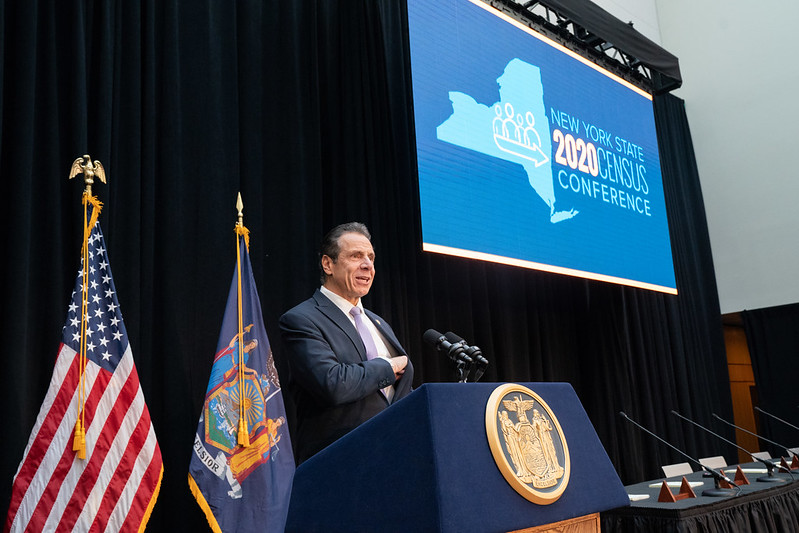 Gov. Cuomo at the NY Census Conference (photo: governor's office)
---
According to plans, New York state government would have spent the equivalent of $70 million this year on its effort to ensure that all New Yorkers are counted in the 2020 Census. But as the state has experienced a devastating coronavirus outbreak, that effort has, for all appearances, never gotten off the ground, and Governor Andrew Cuomo's administration has done little to inform residents that it is in their best interest and that of the entire state to fill out the Census.
The decennial population count, mandated by the United States Constitution, determines the amount of federal funding states receive for all manner of programs from children's insurance and food stamps to transit infrastructure and public housing. It also forms the basis for drawing electoral districts at the local, state, and federal levels, dictating how many seats each state will hold in the House of Representatives for the next decade.
Owing to the pandemic, city, state, and federal officials have been forced to cancel on-the-ground efforts to conduct outreach and to physically count households. Instead, they are focused on ensuring a greater self-response rate, particularly since the Census can be filled out online, making it easier to be counted than in previous censuses. (It can also be filled out by phone and through a paper questionnaire that the U.S. Census Bureau mailed to every household that did not respond online or by phone by April 8). The self-response deadline was also extended from July 31 to October 31.
But, among New York's population are many "hard-to-count" communities, which tend not to respond to the census on their own in large numbers, either because of a general mistrust of government, apathy, or unfamiliarity with the process. They include seniors, African Americans, Native Americans, immigrants (particularly the undocumented), people experiencing homelessness, public housing residents, and others. Those segments of the population all tend to be undercounted, which also means they lose funding for valuable services and their voices in the political process. Already, because of a loss of population over the last ten years, New York could lose one Congressional seat, and two in the case of a severe undercount.
New York is already lagging behind. As of May 9, the state's self-response rate was 52.7%, compared to a national rate of 58.3%, according to the CUNY Mapping Service's Census data project.
Now more than ever, because of the coronavirus, activists have stressed the need for a broad campaign to make New Yorkers aware of the importance of filling out the Census. Federal funding for health care programs and social services will be vital after the pandemic passes. For future outbreaks and other crises, census data will be indispensable. For instance, during last year's measles outbreak in New York City, health officials relied on census information to decide where vaccinations were needed.
New York City took heed of this urgency well before the pandemic. Mayor Bill de Blasio's administration and the City Council together committed $40 million to outreach, with $19 million awarded to community-based organizations that could reach hard-to-count populations on the ground and millions more in advertising and other efforts. After the pandemic hit, they quickly suspended all in-person outreach and shifted strategies, launching phone-banking and text-banking efforts, and altered an ad campaign that was already in the works.
New York State has shown none of the same commitment, even though Governor Cuomo and the Legislature added another $10 million in census outreach funding in the state budget that was passed in April. The state had intended on providing $20 million in grants to nonprofits around the state, money that had been appropriated a year prior, in April 2019, but delayed the grant process till even after the 2020 Census count had already begun. When the coronavirus outbreak began, not a single dollar had gone out.
Cuomo also announced in November that state agencies would be committing $40 million worth of their time and other resources to ensuring a full count, but those agency-by-agency plans, which the governor said would be formed and pledged to release publicly, do not appear to exist -- recent Gotham Gazette requests for them have been ignored.
"Due to the COVID-19 pandemic, and in order to protect the health and safety of all New Yorkers, the federal government and New York State have suspended in person census outreach at this time," said Kristin Devoe, a spokesperson for Empire State Development, the state quasi-agency that is now overseeing the grant process. "The State remains committed to ensuring a complete and accurate count and will be advancing media outreach targeted at our hard to count populations. Every New Yorker counts and ESD hopes to safely restart the NYS 2020 Census Complete Count Outreach Grant funding as soon as possible."
Devoe said the grants had not been awarded because they were meant for in-person outreach, which is effectively impossible at this point during the pandemic. "Until we can safely have face to face interactions, this grant is on hold for public health reasons," she said.
The state census effort had earlier been under the auspices of the Department of State and Division of Budget. There is also meant to be a work group coordinating agency plans. But, despite repeated requests, state officials have not provided any details of how those plans have evolved after the outbreak. Devoe also did not say why ESD is now in charge of the process or respond when asked about who sits on the workgroup and who leads it. There is no public information to suggest the workgroup exists. The governor's office did not respond to a separate request for comment.
Activists who have spent the last two years preparing for the Census, and are still doing all they can to spread awareness of it and encourage New Yorkers to fill it out, have been disappointed by the state's lack of commitment.
"It's unfortunate. Obviously, the funds would be necessary at this point and certain areas of the state, we know they are not doing the work just because they don't have the money to do the work," said Meeta Anand, Census 2020 Senior Fellow at the New York Immigration Coalition, a statewide organization that advocates for immigrants. NYIC is a member of NY Counts 2020, a statewide coalition formed to ensure an accurate census count.
Anand noted that with the self-response deadline extended, the state could dole out the $20 million in grants to help community-based organizations conduct the types of outreach that New York City and its grantees have turned to, including phone-banking and text-banking. "There's still a lot of time to turn this around and get New York out of the basement," she said.
As Anand noted, Cuomo has spent weeks criticizing the federal government and Republicans in Congress for their recalcitrance in bailing out New York from the fiscal devastation of the coronavirus. He has repeatedly pointed out that New York sends billions of dollars more in tax revenue to the federal government than the federal funding it receives every year. An accurate census would help mend that imbalance. "He's the governor of New York and he wants us to have our fair share of resources. I'd like to believe that he cares, but I would need to see some words and action to give me that belief," Anand said.
In January, Cuomo kicked off state census operations and created a Census Council -- headed by Martin Luther King III, Lucy Liu, and Lin-Manuel Miranda -- to convene conferences and direct census outreach. "As this federal administration continues to disenfranchise immigrant communities and use every means possible to stop them from filling out this year's Census questionnaire, we are taking aggressive actions to ensure every single New Yorker is counted," Cuomo said at the time. He has since fallen silent on the issue and it's not clear the council has done anything.
Rachel Bloom, director of public policy at Citizens Union, a government reform group, and a member of the steering committee of NY Counts 2020, reiterated the governor's relative indifference to the Census. "He's never been that invested in the Census," she said. "I think that's evidenced by the fact that he has these press conferences every day where he talks for an extended period, he has an enormous platform, and he hasn't yet discussed the Census."
Besides a simple "fill out the census" message at his daily briefings, Bloom said the state could be doing much more even in the current circumstances. "People are interacting with the government more than ever," she said, citing the millions of people filing for unemployment insurance and the many thousands lining up at food pantries. "They're getting government services more than ever," Bloom said, "so it's a ripe opportunity in those interactions to remind people to fill out the Census."
Note: Gotham Gazette is an independent publication of Citizens Union Foundation, sister organization of Citizens Union.