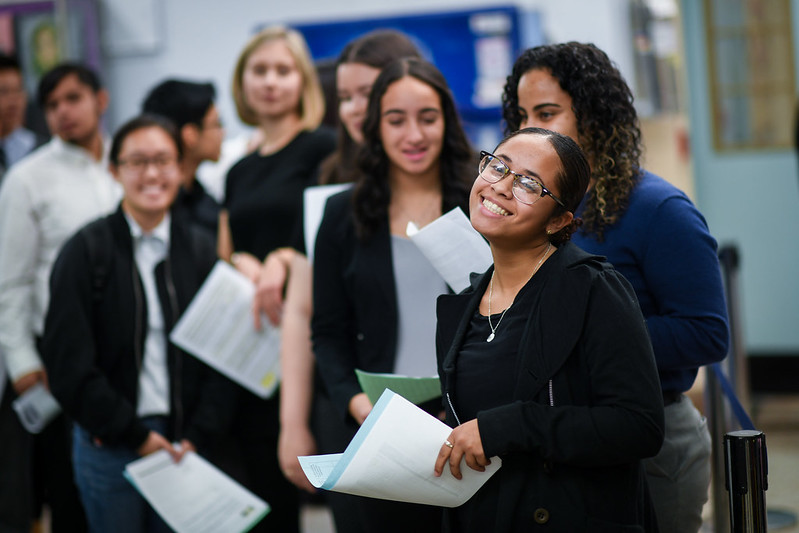 A task force is examining student 'civic readiness' (photo: Michael Appleton/Mayoral Photography Office)
---
New Yorkers can now weigh in on developing state standards for "civic readiness" among students in K-12 schools. The New York Board of Regents' Civics Readiness Task Force put forth three major recommendations in January, after a yearlong process, and a public comment period is now open as the Board is set to further consider what steps to take to mandate new civics standards in schools across the state.
The process is part of a larger movement to increase and improve civics education in schools and civic participation in life.
The task force's three recommendations include a definition of civic readiness; establishing "civic readiness capstone projects"; and creating a "seal of civic readiness." As the public survey states, the recommendations are in draft form, with input sought to help refine them and to inform future work, which is part of a larger College, Career and Civic Readiness Task Force, which itself is part of ongoing work by the Board of Regents and State Education Department to redesign curriculum and standards throughout the state's school system per the 2018 Every Student Succeeds Act (ESSA).
In a recent email, the chair of the task force, Michael Rebell of The Center for Educational Equity at Columbia University's Teachers College, wrote that "Despite the budgetary uncertainty stemming from the ongoing coronavirus crisis, Governor Cuomo and the New York State legislature approved a $1 million appropriation for 'education in civics, diversity and religious freedoms.' As a result of this appropriation, the New York State Education Department (NYSED) is now seeking feedback on the policy recommendations developed by the Regents' Civic Readiness Task Force.
In 2018, the New York State Education Department (NYSED), which is under the purview of the Board of Regents, created the Civics Readiness Task Force, composed of 33 individuals from across the state, in an effort to determine how best to include civics education in school curriculum, the broad parameters of what it should look like, and the outcomes it should lead to for students. One overarching goal is for students to "demonstrat[e] mastery in civics knowledge and participation in the civics process."
To that end, the task force put together its three recommendations. The first is to properly define civic readiness and more clearly identify what students should be learning while building off the NYSED social studies framework that currently exists.
"Civic Readiness is the ability to make a positive difference in the public life of our communities through the combination of civic knowledge, skills and actions, mindsets, and experiences," the recommendation says.
Its authors write in its report to the larger College, Career and Civic Readiness Task Force that "The definition refers specifically to the need for students to acquire fundamental civic knowledge, demonstrate a broad array of civic skills, exhibit civic mindsets and participate in substantial civic experiences. These four categories reflect a national consensus of scholars, practitioners, and civic commissions regarding the knowledge, experiences and attributes students must obtain in order to be able to function productively as civic participants in a democratic society."
It continues: "The proposed definition defines each of these terms, provides specific examples of the types of learning and experience that should be included in each category and sets forth an overall justification for why each of these domains is critical for ensuring that all students achieve civic readiness as a result of their kindergarten through grade 12 education."
"It's very comprehensive," Rebell said of the civic readiness definition the task force created, in an interview. "It's probably the most robust definition of civic readiness or civic preparation or whatever term other states may use...probably among the strongest in the country."
The second recommendation is a capstone project that is a "culminating, experiential, summative project assessing a student's Civic Knowledge, Skills, Mindsets and Experiences."
The project would be a hands-on experience that tackles a civic issue in a student's community, and analyzes the issue before determining how to take "informed action." The student would also be required to make a presentation on their work.
Rebell said that "many of the educators on the task force thought it was a really important way of motivating students, of giving them an opportunity to do some really in-depth work and have really meaningful experiences in understanding what civic engagement is and taking part in it while they were still in school."
The final recommendation is creating "The Seal of Civic Readiness," which, according to Rebell, was something that the Board of Regents members specifically asked them to look into. The seal is a "formal recognition that a student has attained a high level of proficiency in terms of civic knowledge, civic skills, civic mindsets, and civic experiences." It would further show that the student has an understanding and commitment to "participatory government, civic responsibility, and civic values," shows "universities, colleges, and future employers that the student has completed an action project in civics or social justice," and "recognizes the value of civic engagement and scholarship."
As surveys show a lack of historical and civic knowledge and voter participation is lower than in past eras and compared to many other countries, there has been a push nationally for better civics education. That push has also manifested at the state and local levels in New York.
In the spring of 2018, New York City launched a "Civics For All" Initiative, which "provides resources, programming, and professional learning to all NYC schools. The initiative focuses on education models that are interactive, project-based, and relevant to students' lives," according to the Department of Education. Before and as it builds out that framework, organizations like Generation Citizen have been hired by specific schools in New York City to implement "action civics" initiatives similar to the capstone recommendation, though the programs occur at various grade levels.
Feedback on the state task force recommendations can be provided now via survey, or open-ended feedback can be sent directly to This email address is being protected from spambots. You need JavaScript enabled to view it.. Following the feedback, the next iteration of the recommendations will go to the Board of Regents for approval.