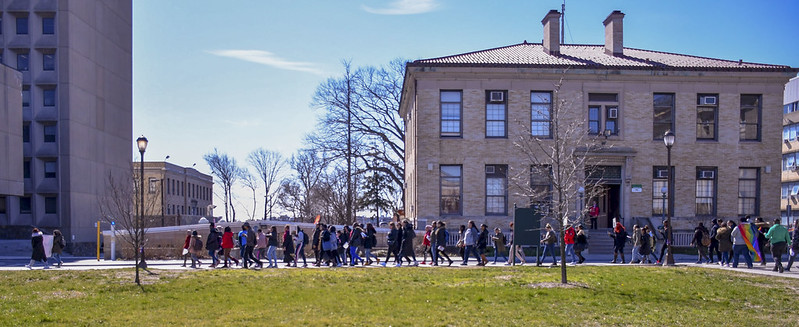 A CUNY campus in the Bronx (photo: Bronx Community College)
---
CUNY, New York City's public university system, is facing a crisis within a crisis, as it looks at expected budget cuts while supporting students, many of whom come from disadvantaged backgrounds, through a pandemic and its fallout, including vanishing economic opportunity.
Intended as a pathway to upward mobility for city residents, many of its students are from the same populations most severely hit by the pandemic and face some of the most immediate difficulties posed by COVID-19 -- food, housing, and financial insecurity. Yet, at the same time that students need additional support, city and state fiscal uncertainty makes it difficult for the university to address new needs on top of old ones. As CUNY's budget contracts and cuts are made, the hardships are also reverberating among the system's adjunct and support staff, many of whom are often just barely getting by.
COVID-19 has hit CUNY students hard and from all sides, according to the students, administrators, and advocates who testified Wednesday at a remote oversight hearing held by the New York City Council's Committee on Higher Education, its first hearing since the pandemic began.
Many students have lost jobs and housing, they said. Some have moved into shelters or crowded living situations while struggling to adapt to the new frontier of remote learning. Others have had to take on child care responsibilities, or elder care related to COVID-19, with little support navigating the aid and services available through the university and other government agencies. Many report having gone hungry at some point during the course of their studies.
"These issues that emerged as CUNY went online go beyond simply ensuring laptops and internet access," said Melanie Kruvelis, senior policy manager at Young Invincibles, a student advocacy group. "These are intersectional issues that underscore which students are able to access higher ed, and those who are left behind to figure it out for themselves."
Administrators have made efforts to soften the impact of the virus on students as education moved online, but students say a lack of coordination around available services often leaves them on their own. Fears of a tuition hike are high.
CUNY has roughly 550,000 students between its degree and continuing education programs across dozens of community colleges, senior colleges, graduate schools, and research centers, according to a report prepared by the New York City Council. Executive Vice Chancellor and University Provost José Luis Cruz told the committee that recent student polling suggests that during the crisis nearly 40 percent lost their jobs, roughly 18 percent have gone hungry, and 55 percent face housing insecurity.
Even before the pandemic, more than 40 percent of students made less than $20,000 per year and nearly half were first generation college students, according to the Council's report, which cited a 2016 student survey. About 1 in 10 CUNY students was a parent or single parent caring for a child.
The university has distributed roughly $110 million in financial aid to students, largely through the federal CARES Act, since the state of emergency. About $107 million of CARES funding has been distributed directly to eligible students in emergency grants, according to Senior Vice Chancellor and CFO Matthew Sapienza, with another $11 million yet to be provided. The average grant is $600, with an allocation formula based on financial need and whether a student has dependents, the administrators say. Another $2 million from the Chancellor's Emergency Relief Grant Program has gone to 4,000 students in $500 one-time payments to undocumented and other students who do not qualify for CARES funding.
Sapienza and Cruz also reported that the university has distributed the entire $1 million announced in December by Council Speaker Corey Johnson and CUNY Chancellor Félix V. Matos Rodríguez as part of a pilot program to combat food insecurity among low-income students, with a specific focus on Dreamers and DACA recipients.
But for many students, including those who are unaware of or ineligible for these programs, the grants are a drop in a lake-sized financial hole. The one-off grants may also be (at least partially) offset by a proposed tuition hike of $200, which CUNY administrators are seeking.
"How could we even think of raising the tuition at this moment when these students are losing their jobs, are homeless," asked Ali Haider Hassan, a vice chair of the University Student Senate (USS), at the City Council Wednesday. "Many students have to finish paying off this past semester's tuition and have to save for next semester while also worrying about an increase."
Timothy Hunter, chair of the USS, pointed out that many students who did not lose jobs are frontline workers, having to navigate academic life, social services, and a deadly epidemic simultaneously.
The students are seeking a $16 million allocation to cover a tuition freeze. Several students suggested the funding come from the NYPD's $5.9 billion budget.
Only Council Member Inez Barron, a Brooklyn Democrat and chair of the committee, made remarks or asked questions of the panelists. A few other Council members were announced as on the line, but never appeared on the video or spoke during the hearing.
In response to Barron's questions, Sapienza said the final say on tuition will come down to CUNY's overall budget outlook, which must factor in public funding, including future federal aid, enrollment levels, fundraising, and the needs of campus operations. "All of those things will be taken into consideration. We very much take tuition increases very seriously," he said, pointing out that two-thirds of CUNY undergraduates attend college tuition-free through various grant and scholarship programs already in place.
In the current academic year, CUNY's budget was roughly $3.7 billion, of which 53 percent came from New York State aid, and another 20 percent from student tuition, 14 percent from New York City, and 8 percent from the federal government. As the city faces a tax revenue shortfall of almost $10 billion, Mayor Bill de Blasio has proposed $31.6 million in cuts to CUNY funding in the next fiscal year, according to a CUNY official.
To help transition to distance learning, the CUNY administration has distributed 30,000 laptops or tablets to students and implemented an optional credit/no-credit grading system for the spring 2020 semester. "Still even as CUNY adapted to this digital environment, we know many students entered the semester without adequate internet access," said Kruvelis of Young Invincibles during her testimony. That includes homeless students who make up 14 percent of the CUNY student body, she said.
Kruvelis noted that the university has worked to increase its food pantries and "single-stop services." She said these efforts have helped, but without concerted wrap-around support, needs will continue to go unmet and academic performance will slip. "It's time to step up coordination and communication of these services. We need to see digital CUNY-wide platforms that connect students to basic needs assistance. We need CUNY-wide campaigns aimed at enrolling eligible students SNAP, Medicaid, and other services. And we also need CUNY to keep an eye on the rising housing insecurity students face," she said.
One student, Gregory Reyes, who immigrated from the Dominican Republic and is enrolled at Lehman College, told the Council the technology CUNY provided was not adequate for his major in digital design and he was forced to take the credit/no-credit option for those courses, despite receiving high grades in others. One of the programs that helped him get into college in the first place is College Now, which allows high school students to take college courses, and which is facing serious budget reductions. (Several of the students who testified spoke in support of the program.)
Despite the uncertainty around learning in the next academic year, enrollment projections for the summer and fall semesters are cause for hope, Cruz told the committee. CUNY is projecting a 16 percent increase in summer enrollment despite classes being entirely online. Cruz said enrollment in the fall could drop by 4.4 percent, but that this projection does not include many campuses that have yet to announce their numbers. While it does expect an overall reduction in enrollment, Cruz said the projection was not as bad as other higher education institutions. CUNY has yet to determine the balance between online and in-person classes for the fall.
As Gotham Gazette previously reported, with budget cuts on the horizon, CUNY is eying a reduction in course offerings, which also means cutting the hours of adjunct professors and continuing education teachers, in some cases to zero. Some campuses are planning course reductions of 25 to 35 percent.
"In a moment where New Yorkers, especially those who have borne the biggest cost of the pandemic, will be for new education and new skills to the city university in ways that they may never have needed before -- that's exactly the moment for new investment, not for cuts and layoffs," testified Barbara Bowden, president of the Professional Staff Congress, which represents 25,000 CUNY faculty and staff, according to its website.
"If there is going to be redirection of funding for New York City, and we hope there will be, some of that funding must go to CUNY," she said of city budget discussions.
In addition to funding for direct student aid, CUNY has received an additional $118 million in CARES Act funding for campus operations related to the pandemic. When Council Member Barron asked how much of that could go to employees' salaries, including the teaching staff, Sapienza said federal criteria limited the spending to teachers' training related to remote learning.
"It cannot be used just for gap-closing activities or to cover a budget shortfall. There are specific uses that are outlined by the U.S. Department of Education," he told Barron.
When it came time for her testimony, Bowden disagreed: "The CARES Act also includes a provision for keeping employees on payroll. Employees should be kept on payroll if they receive CARES Act money."