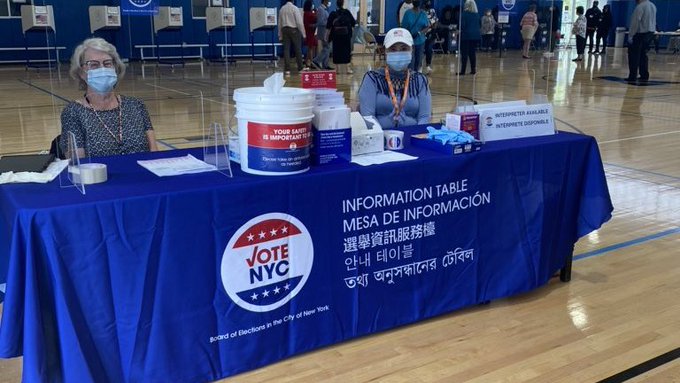 Voting during a pandemic (photo: @NYCVotes)
---
Ahead of a special state legislative session set for next week, a coalition of election reform advocates is backing ten bills that would change or codify elements of the now widely-used absentee voting process before the fall general election.
The agenda, released Thursday by the Let NY Vote coalition, comes amid party primary elections where the voting is over but the counting is ongoing after for the first time nearly every registered voter in the state was made eligible for an absentee ballot. The pandemic-induced move by Governor Andrew Cuomo caught local boards of elections unprepared and revealed some significant weaknesses in the absentee voting system, which appear to be leading to many thousands of voters who tried to cast ballots either not being able to or having their attempted vote invalidated.
The legislative package centers on making law the broader eligibility criteria for absentee voting, the executive order for which has now expired, and putting safeguards in place to prevent mail-in ballots from being thrown out for technical reasons. The bills are being pushed now in anticipation of an even higher demand for absentee ballots in the fall presidential election, where turnout is expected to be immense. Other general election contests, for state Legislature, Congress, and other local seats, will also be on the ballot.
"The June primary election was unprecedented, but democracy does not pause, it adapts," said Susan Lerner, executive director of the good government group Common Cause New York, in a press statement from the coalition, which is comprised of over 175 organizations. "New York lawmakers must prioritize planning for the November election today. The Boards of Elections need ample time to prepare for the Presidential Election to guarantee that all votes count."
"I'm sure there will be lessons to learn, but life is alternatives and I don't know that we had a better alternative, and I don't know that we're going to have a better alternative in November," Cuomo told reporters Thursday in response to questions about the number of rejected absentee ballots and whether he would again open up absentee voting in the general election.
Cuomo signed the executive order in April expanding the definition of "Temporary Illness," one of the accepted reasons to vote absentee, to include the risk of spreading or contracting COVID-19 in the June primaries. Legislation sponsored by State Senator Alessandra Biaggi and Assemblymember Michael Blake, two Bronx Democrats, would permanently allow voters to vote absentee if there is "a risk of contracting or spreading a disease," effectively applying the governor's measure to the general election and beyond, as long as the public health emergency continues.
"The governor's executive orders to expand absentee ballot voting are band-aid solutions," Biaggi said in an interview. "By codifying the expansion of absentee ballot voting, we can provide indisputable clarity now on how New Yorkers can safely access the ballot box in November, and give the Board of Elections the time they need to properly prepare for elections throughout the course of this pandemic."
Across the five boroughs, close to 400,000 voters requested, received, and returned absentee ballots to the New York City Board of Elections in the June primaries. But thousands of ballots were rejected on technicalities, like failing to properly sign or date the ballot envelope or including additional markings on the ballot. Some yet to be determined number of ballots received by election administrators was invalidated because they were not postmarked. Some voters did not even receive their requested ballots by the voting deadline.
A number of the bills supported by the Let NY Vote coalition aim to address or correct these issues. One would ensure absentee ballots are counted when there are markings on the ballot as long as the intent of the voter is clear. Another would require election administrators to make a "good faith effort" to contact a voter if their ballot is received unsealed or partially sealed with tape or glue -- if the voter can certify in writing that they sent the ballot in that condition it will be counted. Both bills are sponsored by Brooklyn State Senator Zellnor Myrie and Westchester Assemblymember Amy Paulin, both Democrats.
Two other bills, also carried by Myrie, who chairs the Senate's elections committee, would give voters an opportunity to correct their absentee ballot if it has been challenged and would require the ballots to be counted even without a postmark. Both bills lack a companion in the Assembly, which is necessary for passage.
Other bills in the package are aimed at increasing access to the ballot box, in-person or by mail.
One, sponsored by Senator James Sanders, a Queens Democrat, and Assemblmember Jeffrey Dinowitz, a Bronx Democrat, would require boards of elections to include a pre-paid return envelope with absentee ballots, which are not currently provided in every county, according to Let NY Vote.
"We do not charge a price to vote at a polling place and voting absentee shouldn't cost the voter either," reads a memo from Sanders accompanying the bill. Lawmakers have not determined the fiscal impact of the provision, according to the memo.
Dinowitz is also the prime sponsor of legislation that would require SUNY and CUNY to provide information to students on voting absentee, including links to absentee ballot applications, in addition to the voter registration information already required. The bill, which is sponsored in the State Senate by Manhattan Democrat Brian Benjamin, also modified language of the existing law to make it easier for the public university systems to comply.
Myrie and Blake are carrying another voter registration bill that would let eligible New York City residents register through an online portal run by the New York City Campaign Finance Board. The provision would sunset when the state Board of Elections opens its own online portal, expected in 2022.
"Our communities deserve legislation that meet our needs as we continue to navigate the Covid crisis by making voter registration more accessible, guaranteeing access to absentee ballots and protecting our votes," wrote Marcela Barrientos, Interim Executive Director at New York Civic Engagement Table, a coalition member, in a statement.
Some of the bills in the legislative package will not place an additional burden on administrators because they simply deal with how ballots will be counted. But others, like the mandates that local boards of elections contact voters whose ballots have been challenged, will require entirely new processes to be established.
The coalition-backed legislation with perhaps the heaviest impact on election boards is a bill to increase the number of early voting locations required in each county from seven to ten sites, and for larger counties each town and city must have an early poll site. The bill was first introduced last December by Assemblymember Charles Lavine and Senator Anna Kaplan, both Democrats from Long Island, after the state's first election with early voting.
When early voting was being debated and even after it became law in New York, local boards of elections raised alarms about the costs associated with operating multiple poll sites over several days.
A spokesperson for the New York City Board of Elections said the agency had "no comment" on any of the bills in the Let NY Vote agenda. The New York State Board of Elections, a regulatory and oversight body, did not return a request for comment.
"We made history last year by making voting more convenient and accessible for Long Islanders and all New Yorkers, but we recognize that there's still more that needs to be done to ensure that everyone can have their voice heard at the voting booth without unnecessary barriers," Kaplan wrote in an email to Gotham Gazette.
The Kaplan-Lavine early voting bill has already passed the State Senate and is in committee in the Assembly. On Wednesday, the Assembly Elections Committee advanced a separate bill requiring at least one early voting site in a county's largest population center, a measure that passed in the Senate in January, Lavine told Gotham Gazette.
Of his own bill, he said the Assembly is considering it and "I am confident that it will be passed at some point."
Separately, Assemblymember Dan Quart and State Senator Brad Hoylman, both Manhattan Democrats, have a bill to require a system wherein voters can track their absentee ballots, among other provisions. "It's time for New York to conform to the absentee ballot standards in other states," Hoylman recently told Gotham Gazette.