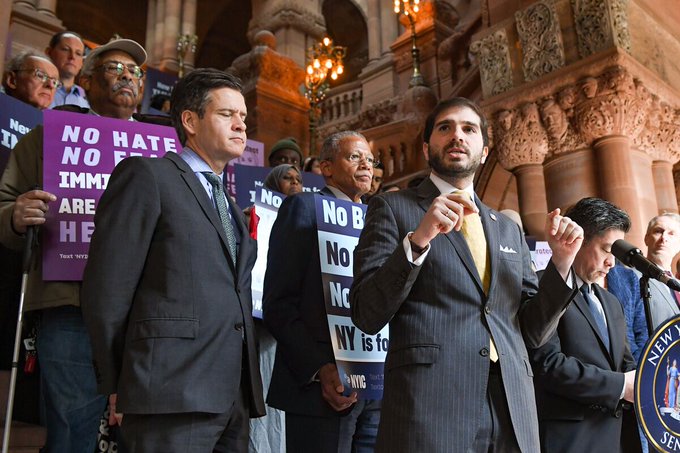 State Senator Andrew Gounardes in Albany (photo: @sen_gounardes)
---
Pro-NYPD and Black Lives Matter protesters clashed, sometimes violently, in Southern Brooklyn last weekend, a conflict emblematic of the changing and complicated politics in traditionally moderate to conservative neighborhoods that have been home to leftward political movement, partially due to an influx of new residents.
One marker of the changes was the 2018 election of Democrat Andrew Gounardes in State Senate District 22, where he defeated long-time Republican incumbent and former police officer Marty Golden to flip the seat and help flip the Senate, thus creating all-Democratic control of state government and ushering in an era of sweeping progressive change in New York.
Now, Gounardes is up for reelection and facing an opponent whose platform centers around the polarizing topic of police reform and argument that Democrats in Albany have lurched too far left. In fact, Gounardes' opponent in the upcoming November general election, former nightclub owner Vito Bruno, who ran unsuccessfully for Brooklyn borough president in 2017 and also serves as president of Brooklyn's Edmund G. Seergy Republican Club, attended the pro-NYPD rally, as did Golden, which wasn't simply supportive of the police, but included people espousing racism and misogyny in virulent verbal and sometimes physical attacks on Black Lives Matter supporters.
Like many Democrats, Gounardes has walked something of a middle ground, expressing support for police officers and public safety, while lamenting police brutality and racism and calling for reform. He's also voted for reform, with the Legislature recently passing a package of new police oversight and accountability measures.
In response to the weekend protests and chaos that ensued at times, Gounardes and his close ally, City Council Member Justin Brannan, who represents an overlapping district, denounced all violence involved and reiterated a nuanced stance.
"We've seen videos and read eyewitness accounts of the protests in Bay Ridge. What we saw and read is deeply troubling and disturbing. Violence initiated by both protestors and counter-protestors, eggs thrown at police officers, people being pepper-sprayed, American flags burning, and inflammatory and hateful rhetoric spewed venomously," the statement reads. "As we have done consistently when violence has erupted at protests across the city, we forcefully condemn this unacceptable behavior. All of it. We support everyone's right to demonstrate for what they believe in, but will not stand for instigating violence."
Multiple videos circulated of pro-NYPD protesters using sexist, racist language against counter-protesters. Some said they hoped Black Lives Matter protesters would be raped and that Black lives were "garbage," as reported by Gothamist. And despite assaults being committed by individuals of both groups, as Gounardes and Brannan noted in their statement, two Black men part of the Black Lives Matter protests were arrested, while no pro-NYPD protesters displaying similar behavior faced charges, according to Gothamist. Gounardes and Brannan did not address this in their statement, although they condemned local organizers for not doing more to denounce the "violence, racism and misogyny" of Sunday's protest in Dyker Heights.
They also said they have asked for a full investigation into a video showing a Black man having a brief exchange with police officers before being shoved, tased, and tackled by police (video appeared to show that protestor previously throwing a helmet into a crowd of pro-NYPD ralliers), and said they would be meeting with the captain of the 68th precinct for a full briefing of the events.
Although it is unclear if they live in the district, Twitter users on both sides of the issue seemed displeased with the politicians' response, indicative of some of what both Gounardes and Brannan must navigate in what is about as much of a swing district as exists in New York City. Gounardes defeated Golden in 2018 by less than 2% of the vote, with 33,507 votes to 32,236 votes. Brannan won his 2017 general election by just 794 votes over his Republican opponent, John Quaglione.
"Real 'very fine people on both sides' energy," Nicole Murray wrote, referencing President Donald Trump's remarks about a 2017 white supremacist rally in Charlottesville, VA that were widely criticized for equating white supremacists to anti-racist protesters.
"You guys are a disgrace to Bay Ridge, Brooklyn, NYC and politics for not supporting your police. You don't deserve to live in my city," Carlo D'Angelo Jr. wrote.
Bruno has made support for the police and a tough-on-crime stance a focus of his campaign and has blamed spikes in crime on Democratic policies like state bail reform. He's been endorsed by Curtis Sliwa, a radio host and the founder of the Guardian Angels anti-crime organization that encourages street patrols, and who has a history of misogyny and racially insensitive comments.
"Nobody out here is with the defunding of the police," Bruno said of the district in an interview. "The crime has gone through the roof since the bail reform laws were passed, I know they tried to do a little bit of a fix, but the crime has gone through the roof. It's absolutely frightening to the people that live out here."
Bruno was referring to changes in the law that went into effect at the start of the year that drastically curtailed the use of cash bail for almost all defendants, other than those accused of violent misdemeanors or felonies. The laws expanded use of supervised release and other pre-trial mechanisms for ensuring defendants continue to show up for court and their proceedings without being jailed while not convicted of a crime.
However, after backlash from District Attorneys, Mayor Bill de Blasio and the NYPD, and others who claimed crime rates increased because of the new bail system, Governor Andrew Cuomo and the State Legislature rolled back portions of the law to expand bailable offenses. In a deal reached in early April that went into effect July 1, crimes like second-degree burglary, any crime that results in a person's death, and others, were again made eligible for bail. Added restrictions were also put on certain people with narcotics related charges, who are on probation or parole, and who are charged with a felony after having two prior felonies.
"When it comes to things like bail reform, it is all a part of the Republican fear machine of — even yesterday the New York Post put out an article showing how the NYPD's own statistics disprove that the increase in crime, which is happening nationwide, it's not like a New York City thing, has nothing to do with bail," Gounardes said in a recent interview. "Obviously, I take every issue of public safety very seriously and I'm just as concerned as the next person about spikes in shootings and spikes in fireworks and spikes in handle surfing crimes and crimes of convenience, but we have to be smart about the approach we're going to take to combat those issues, and work with our law enforcement partners, target solutions that actually get to the root cause of this stuff and that's how we're going to solve these problems. Not fear-mongering, not scapegoating, not finger-pointing, and certainly not pumping your chest and saying that just because you support police you're a better person."
The Post cited NYPD statistics of shootings through June 30 that show just one person released under the bail reform laws has been charged with a shooting. It also shows 91 of 11,000 people released from Rikers Island through the same reforms were involved in a shooting, and of those over half were either victims or witnesses.
Asked about that data, Bruno said it does not prove those released without bail are not committing more of the shootings as the data only uses information on people who are caught by police. He claimed more people released due to the bail reform could be committing shootings but not getting caught and stood by the claim by the NYPD that the legislation was responsible for the spike in crime.
"If somebody does a violent crime, they should not be out in two hours. It's just wrong," Bruno said, although the bail reforms allowed for those accused of two violent crimes — burglary in the second degree and robbery in the second degree — to be released without bail. Otherwise, those accused of other violent crimes have been required to post bail, if they are released at all.
Gounardes refutes Bruno's depiction of him as lacking support of the police, referencing his sponsorship of a bill that made first grade police officers who have served for 25 to 30 years eligible for the same pension benefits as those in higher positions and of a bill that increases the benefits by 3% for spouses of fallen police and firefighters, among other legislation.
"My record on supporting law enforcement is pretty unimpeachable when it comes to those things, and I have no problem matching my record against his on these things," Gounardes said.
"It's just kind of ironic that Vito himself is trying to be the law and order candidate when he's made his entire career on the club and drug scene of the '80s and '90s that ravaged New York City," Gounardes said. "I just find it very rich that all of a sudden he found the gospel and is now preaching law and order."
Bruno had been accused of (and even appeared to admit to) breaking multiple laws while running his nightclub, Odyssey, including throwing parties that broke the curfew at the time, bribing police officers, and obtaining drugs for his celebrity friends. When asked, Bruno denied the claims, said those times were long behind him and expressed frustration that they continue to be brought up.
"Everybody likes the sensationalism of stuff that's 40 years old. It's really all settled," Bruno said. "All of that's not true and all of that stuff is just me being sarcastic with people. Me running a nightclub that, back in those days, the clubs all stayed open late, that's what it was. And you're competing with somebody and then you get in trouble. That's all in the past."
The effectiveness of Bruno's law and order platform is yet to be seen, but some, like Liam McCabe, who ran in the 2017 Republican primary in the 43rd City Council District now represented by Brannan, believe Gounardes is in a difficult position as a representative often seeking to find a middle-ground amongst his constituents in a district with vocal supporters of President Donald Trump and more conservative views but also of progressive politics and politicians. A potentially 'silent majority' of voters, though, seem to support candidates who seek middle ground and don't regularly flock to one political pole or the other, such as their current representatives: Gounardes, Brannan and Congressional Representative Max Rose.
"Andrew and Justin and Max are all in a very, very difficult political situation because they can't, ultimately, appease both sides," McCabe said of the three Democratic officials representing the area.
McCabe mentioned members of the "Defund the NYPD" movement who protested outside Brannan's house after he voted 'yes' for the new city budget that did not cut the demanded $1 billion from the NYPD. He said those on the right would be just as unhappy with Brannan, who had committed to voting for a budget only if it had $1 billion in meaningful NYPD cuts, for supporting the defund movement, while those on the left were not satisfied with the final result, either. Brannan voted in favor of a budget deal he said did meaningfully shift resources from the police department to things like youth services, including a significant amount of capital money that allowed the total figure to surpass $1 billion.
Still, Brannan, Gounardes, and other politicians in the area have sought to maintain something of a middle ground, while mostly trying to focus on local, quality of life, and community issues, and constituent services.
When it comes to the Defund the NYPD movement, Gounardes was not prepared to provide an answer during the interview with Gotham Gazette, but later said in a statement, "Many of our law enforcement officers' current responsibilities relate to mental health and social services — we can and should allocate resources for the safety of all New Yorkers while ensuring NYPD officers can do their core jobs."
On bail reform, Gounardes said in a statement, "The old system of guilty until proven rich wasn't working but we made changes to the law that were responsive to the concerns of people on the ground."
Gounardes believes his record of listening to his constituents and to all sides on an issue while trying to find common ground will help him win come November. It's unclear how competitive Bruno and Republicans can make the race, and what kind of effort Gounardes and his supporters will have to make to ensure his reelection. In Gounardes' 2018 win over Golden, Governor Andrew Cuomo campaigned with him in the district multiple times, and progressive groups who had focused a great deal of energy on Senate primaries were able to also devote significant attention to the only competitive general election Senate race in the city.
This year, Gounardes has been endorsed by the Working Family Party, New York Immigration Coalition Action, Planned Parenthood, labor unions including 1199 SEIU, UAW Region 9A, CWA D1, the New York State Nurses Association, and the National Association of Social Workers, and political clubs Bay Ridge Democrats and Stonewall Democrats. That list is likely to continue to grow significantly as November approaches.
"I haven't seen a single plan or idea from my opponent since he announced his candidacy," Gounardes said in the interview. "It's easy for someone to come in and just yell and scream and point fingers. It's another thing for someone to come to the table with solutions and come to the table and say that you were wrong and listen to and speak to everyone in your community. I think that my record shows that I have given everyone in the community a voice and a seat at the table, it doesn't matter who they are or where they come from or what language they speak. We have a very, very diverse district and anyone that wants to represent this district has to acknowledge and empower that diversity."
Gounardes cited his votes as part of the new Democratic majority for legislation he had said he would help pass if elected in 2018, such as the Child Victims Act, the Reproductive Health Act, speed camera authorization, and gun control legislation.
With the city's spike in shootings front-and-center as the race unfolds, Gounardes' campaign emphasized his role in gun control legislation, especially as a sign that he has meaningfully worked toward addressing the problem while his opponent has not proposed any solutions.
Asked to elaborate on what he sees as the solution to the increase in gun violence, Bruno again emphasized his opposition to Gounardes.
"Obviously, the gun control is not working," Bruno said, going on to restate his criticism of defunding the NYPD and bail reform, as well as the recent disbandment of the NYPD's "anti-crime unit" made up of plain-clothed officers who focused on getting guns off the street but NYPD Commissioner Dermot Shea said had at times exacerbated tensions with communities.
Bruno also said that emphasis from the Defund the NYPD movement and others on redistributing resources from the police to mental health, employment, youth, and other services in order to reduce what they believe are root causes of crime is misguided.
"I know what they're all saying and a lot of those programs do already exist," Bruno said. "It's the culture that's the problem. And statistics will show — and I know they'll turn it into a racial thing, which I do not want to. I do not want to — but statistics show that households that don't have a father, the crime and all that is through the roof."
Bruno also mentioned affordability and relief for small businesses as priorities for his campaign. When asked on multiple occasions to name policies or legislation he supports, Bruno declined to do so but said his campaign will roll out "legitimate policies and legislation" in the next few weeks.
Mike Murphy, a campaign spokesperson for New York Senate Democrats, said he believes Gounardes' track record when it comes to legislation, especially compared to Bruno's limited experience in government, makes the seat one Democrats are confident they will hold.
"Gounardes has been a huge part of the conference and has really made a name for himself. I think it's one of those districts that we expect to win pretty handily," said Murphy, who also runs communications for Senate Majority Leader Andrea Stewart-Cousins. "Bruno has a lot of issues that will obviously be highlighted."
The district, which voted for Obama in 2012 and then Trump in 2016, has been considered fairly favorable for Republicans — as were others prior to 2018 — though Democrats have had a voter registration advantage for several years. It is among the areas previously helpful to electing Rudolph Giuliani and Michael Bloomberg as mayor, and parts of the Senate district went for Republican Nicole Malliotakis in 2017 as she attempted to unseat Mayor Bill de Blasio, even as district voters also elected Brannan to the Council by a narrow margin. While it has a sizeable pro-Trump voting bloc, it is also home to many supporters of Bernie Sanders.
The Senate District has 176,315 registered voters, with 87,648 Democrats and 36,645 Republicans; 1,323 registered with the Conservative Party and 4,498 with the Independence Party; and 45,129 unaffiliated with a political party (often referred to as "independents").
Shockingly to some, Golden ran for reelection unopposed in 2016. In 2014, he won by over 30% of the vote against Democrat Jamie Kemmerer, and defeated Gounardes himself in 2012 by about 15% of the vote.
After the 2018 elections, when Republicans lost many seats in the State Senate, there is not a clear path back to the majority for the party that is now down to only 23 seats in the 63-seat Senate.
When Republicans lost the Senate majority, they lost significant financial support, too. They have received fewer donations from formerly-reliable sources, like the real estate lobby, which went from donating over $200,000 to the Senate Republican Campaign Committee in 2016 to about $60,000 in 2018 to $0 so far this year. Meanwhile, the Democratic Senate Campaign Committee raised more than $2 million in the last six months, from January to this month's filing deadline, according to the New York Daily News, and the SRCC just $248,000.
That checks out in Senate District 22, where Gounardes has over 10 times more money on-hand than Bruno, with a nearly $400,000 balance compared to Bruno's $24,000, as of the most recent campaign finance filings. Gounardes outraised his opponent, with $340,000 this last six-month period to add to a starting balance of around $170,000. Comparatively, Bruno raised a little under $40,000 for his campaign.
Since losing the majority by such a wide margin in 2018, Republicans have tempered expectations about retaking it in 2020, seeing it more as a two-cycle project, going through the 2022 elections, which will be the next gubernatorial election year. Even McCabe, a staunch Republican, said flipping the Senate is likely a long-term process. Still, he said winning seats like Gounardes' back is a "big part" of being able to do so.
Republicans have "always had seats in the Senate, in the city, and I think they need to continue to regain those and hold on to them," McCabe said. "You don't have to win the entire city, but you have to hold on to a certain position of it to do well statewide."
State Senator Pam Helming, the newly-named chair of the Senate Republican Campaign Committee, said there "is not a seat we are not focused on," and that, although Democratic enrollment far exceeds that of Republicans, she feels areas including the Hudson Valley, the Finger Lakes region, Western New York, and the North Country have voters across the political spectrum who are concerned about one-party rule of the state and want to see a change.
Helming, who represents Canandaigua, said it would be Bruno's presence in the community, more than anything, that would be key in propelling him to victory.
"I'm very excited about our candidate, Vito Bruno, he is an exceptional candidate, a very successful businessman and he's just brought this level of energy and excitement to the neighborhood," she said in an interview. "The feedback we're getting from people, it's something that's missing, something that the present senator, he's not actively engaged in the community, he's not out there and he doesn't have a strong presence. This is going to be a close race that we win."
Gounardes has disputed the idea that he is not in the community and cited the work his office has done in feeding thousands of families by providing hot meals five days a week, groceries, and unemployment filing assistance throughout the pandemic.
He's also made a pitch to voters about the work he will continue to do if reelected, highlighting priorities like free public higher education, improvements to the MTA, specifically with regards to accessibility, and improved action on climate change. He said "We have to start talking about what it means to live in a post-COVID world," and referenced the need to address child care, creating an education system that works for everyone, investing in public hospitals, and having a safety net for people as key issues he is "going to run on, and that's what I'm going to win on."
But Helming, like Bruno, also focused on high crime rates she says Gounardes' constituents are concerned about.
"The Republicans are going to take back this seat because they want common sense restored," Helming said. "They are seeing this dramatic rise in crime in the New York City area, they are feeling like it's becoming dangerous to live in their areas. They want change, they want stability back, they don't want someone who supports criminals over crime victims. They want someone who's going to protect all people, including our law enforcement."
In a statement, Gounardes further framed himself as a legislator who finds a middle ground in a diverse district.
"The local Republican leadership here keeps running on the same old tired tropes," Gounardes said. "They don't understand that yes, you can be against racism, believe that Black Lives Matter, and still respect our local police. It's the job of a leader to find common ground and not further contribute to the divisive politics that are tearing our country apart — and now threaten the civic fabric of our own communities."