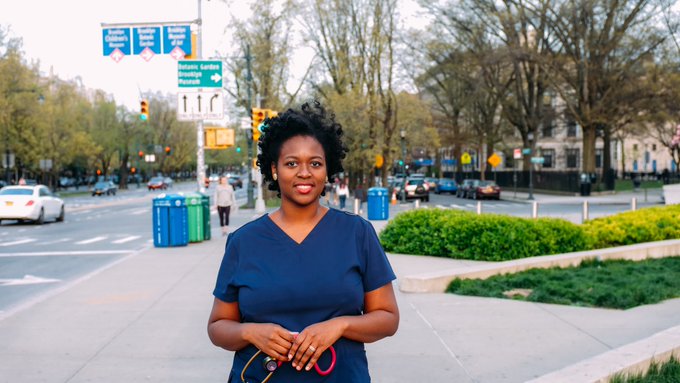 Phara Souffrant Forrest (photo: @phara4assembly)
---
Leftist organizations like the Working Families Party and New York City branch of the Democratic Socialists of America are piling up wins in the June primaries, with absentee ballot counting near an end and a wide array of candidates they supported — many of whom are challengers to incumbents — on the verge of winning seats in Congress and the New York State Legislature.
The wins shatter preconceived notions that incumbents are heavily favored to win, conventional wisdom that was deeply shaken in 2018 when Alexandria Ocasio-Cortez won her congressional primary, followed by group of insurgent State Senate candidates unseating seven incumbent Democrats to dramatically alter the legislative landscape.
That effort only picked up steam this year, where some of the insurgent leftists unseated incumbents and others won "open" Democratic primaries with no incumbent in the race but often overcoming another candidate supported by the traditional political establishment. Given almost every election district in New York City is dominated by Democrats, prevailing in the party primary is often a guarantee of winning the seat.
For the most part, the candidates backed by some combination of the WFP, DSA, and other groups and prominent progressive endorsers ran on single-payer health care, raising taxes on the wealthy to put more funding into education and other social services, eviction protections, legalizing adult use of marijuana, and more. They ran on going further than the Democrats in power, especially Governor Andrew Cuomo, on virtually all fronts, from criminal justice reform to combating climate change.
In some contested primaries, there was minimal daylight between candidates, but the leftist promised demographic representation more closely resembling district residents and a more vocal, independent presence in government.
"Because of the way our election results are trickling out over weeks, it's not getting the attention it deserves, but NY just unseated a whole slew of incumbents and replaced them with progressive candidates of color at the state and Congressional level," wrote Shannon Stagman, an organizer with the progressive group Empire State Indivisible, in a Wednesday tweet.
Stagman and many others -- in New York's progressive movement and not -- reacted on Wednesday to the news of additional primary upsets, the latest evidence that leftist forces were picking up legislative seats and building momentum to alter New York politics.
On Wednesday it was Democratic primary wins for Phara Souffrant Forrest over Assemblymember Walter Mosley in Brooklyn's 57th District; Emily Gallagher over Assemblymember Joe Lentol in Brooklyn's 50th District; and Zohran Mamdani over Assemblymember Aravella Simotas in Queens' 36th District. If that was it, the New York left would in most years have had a very strong showing, knocking off three incumbents. But that was far from it.
Those wins came on the heels of Marcela Mitaynes defeating Assemblymember Felix Ortiz in Brooklyn's 51st District; Jessica Gonzalez-Rojas defeating Assemblymember Michael DenDekker in Queens' 34th District; Jenifer Rajkumar defeating Assemblymember Michael Miller in Queens' 38th District; Amanda Septimo winning over ballot-disqualified Assemblymember Carmen Arroyo in the Bronx's 84th District; and "open" seat victories for Khaleel Anderson in Queens' 31st Assembly District and Jabari Brisport in Brooklyn's 25th State Senate District.
Leftist candidates like Brooklyn State Senator Julia Salazar and Manhattan Assemblymember Yuh-Line Niou also held onto their seats in the face of more centrist challengers.
And the state legislative wins come alongside the historic victories of Jamaal Bowman and Mondaire Jones (both backed by the WFP and other progressive groups and individuals, while Bowman had the backing of the Democratic Socialists of America) in New York's 16th and 17th Congressional Districts, respectively. Ritchie Torres is also making history in the 15th Congressional District, though many leftist groups, including the WFP and DSA, backed one of his primary opponents, Samelyz Lopez, in the race to replace retiring Rep. Jose Serrano.
Indeed, not all the lines were clear cut, and progressive groups did not always all back the same candidates or even endorse in some races. The all-volunteer DSA endorses in far fewer races than the better-funded, more professional Working Families Party, which issues dozens of New York endorsements, not to mention a variety of other groups and clubs.
But the unmistakable trend is a continued ascension by the left wing of the Democratic Party in New York.
Even if the scorecard is a bit complicated. For example: the WFP backed several winning insurgents, like Gonzalez Rojas and Anderson, that were not on the DSA roster; the DSA backed Mamdani while the WFP stayed out of that race. Neither the WFP nor the DSA backed Gallagher or Rajkumar. Both Mitaynes and Brisport had the backing of both the WFP and DSA.
Also important to a number of the leftist successes in these races were groups like Make the Road Action, Empire State Indivisible, the Sunrise Movement, New York Communities for Change, the New Kings Democrats, and others. Essential to campaigns were many staff and volunteers, some of whom came from these groups and others who did not. DSA is becoming especially known for its army of volunteers that accompanies local endorsements, and though the group endorses a relatively small slate -- seven candidates in the New York primaries -- it makes the support count.
"NYC-DSA has proven that we can hold our own against the corporate-backed machine in past elections," NYC-DSA Brooklyn Electoral Working Group Co-Chair Julian Graham said in a statement one day after the June 23 primaries. "Tonight, we proved we can do it on a city-wide scale. All of our candidates started out as underdogs, but you don't need wealth and connections when you have a movement fighting alongside you."
The DSA's state legislative slate of Salazar, Brisport, Mitaynes, Mamdani, and Souffrant Forrest all appear headed to victory. The group also backed Ocasio-Cortez for reelection and Lopez in her bid to enter Congress, the only loss of the bunch. In his race, Brisport beat a sitting Assemblymember, Tremaine Wright, who gave up her seat to seek a promotion to the Senate, in the competition to replace retiring Senator Velmanette Montgomery, who endorsed Wright.
Several DSA candidates had significant disadvantages when it came to funding, at times due to incumbents' war chests, left over from previous elections. For example, about a week before election day Mitaynes had raised a little over $70,000, while her opponent, 26-year incumbent Ortiz, had raised about $80,000 in the same time period but also had an additional $156,000 to start with from past election cycles. But Souffrant Forrest outraised incumbent Mosley by $20,000, according to the most recent filings, and Mamdani raised about $240,000 through nearly 6,000 individual transactions — very large numbers for an Assembly campaign.
Gallagher was drastically outspent by Lentol, but nevertheless was victorious on the strength of her message, roots in the district, and many volunteers. Gallagher had raised only $60,000 as of a month before primary day, compared to Lentol's $400,000 at the time, much of which came from previous election cycles. Several of the incumbent Assembly members also benefited from large gifts from Speaker Carl Heastie through the Democratic Assembly Campaign Committee or his own Speaker Heastie PAC (political action committee).
In a tweet, Gallagher credited progressive stalwart and law professor Zephyr Teachout and activist and actor Cynthia Nixon, both of whom have run for office as progressive insurgents in recent election cycles, for aiding her campaign through their endorsements.
"This is a @ZephyrTeachout and @CynthiaNixon appreciation tweet. We weren't endorsed by a single elected official. We were astronomically outspent. But they saw what we were building, stepped up and threw in with the underdogs. That's what courage and vision looks like," Gallagher wrote.
Gallagher was behind by 15% — about 2,000 votes — before absentee ballots were counted, a significant deficit to overcome. But, like many other challengers, she performed extremely well when it came to absentee votes, and was ahead by 265 votes in total with a growing lead as of Tuesday, according to her Twitter. Mamdani, Souffrant Forrest, and Mitaynes were also in close races before pulling ahead when absentee ballots were taken into account.
Some if not all of the successful insurgent campaigns ran organized absentee ballot operations, including educating voters. After absentee ballots were counted, Mamdani partially attributed his victory to registering new voters in minority communities, such as Muslims and South Asians. As an Indian-American Muslim himself, Mamdani also emphasized the importance of demographic representation.
"We began this campaign with the idea that all New Yorkers deserve so much more than they've been offered by the status quo," Mamdani said in the statement. "They deserve guaranteed housing as a human right. They deserve lower energy prices from publicly owned utilities. They deserve to live in safe and stable neighborhoods, free from police abuse and the violence of mass incarceration. And in particular, those New Yorkers who have long been excluded from our politics - including the vibrant Muslim and South Asian communities here in Astoria - deserve representation that speaks to their unique experience."
As a housing counselor seeking to represent areas that have seen significant gentrification, Mamdani centered the negative effects of displacement throughout his campaign, and also used his opponent's donations from some real estate developers and landlords as a major point of criticism, alleging she represented those interests and pointing out that she had broken a related fundraising pledge.
Housing development, affordability, and availability issues have been at the forefront many recent elections, and this cycle they were essential to the campaigns of Mamdani, Mitaynes, Souffrant Forrest, Gallagher, Brisport, and others. Both veteran tenant organizers, Mitaynes and Souffrant Forrest, whose profession is currently as a nurse, have worked with the nonprofit Neighbors Helping Neighbors and Crown Heights Tenant Union, respectively. Souffrant Forrest made her 2016 experience, when her apartment building went through a condo conversion and she almost lost her home, a centerpiece of her campaign.
As has been the case in other recent elections, like Salazar's 2018 victory over incumbent Senator Martin Dilan, many of the strongest leftist performances have been in some of the city's most rapidly gentrifying areas, where housing development has been rampant and rents rising quickly. Yet at times members of DSA and others behind some of the leftist candidates have been called gentrifiers themselves, and those insurgents have often done far better in more gentrified parts within the districts at hand when the votes are cast. DSA wins have often been due to "mostly white, relatively affluent, college-educated voters in gentrifying neighborhoods," reported City and State.
"Why did the DSA do so well elsewhere, but only come in fourth in that 15th congressional district?" asked a Democratic consultant, who spoke on the condition of anonymity, about Lopez's loss in the Bronx. "Because there is not a significant gentrifying phenomenon in that district. To me, that is very telling."
Again, the dynamics don't always cut cleanly, though, and the DSA, WFP, Make the Road Action, and other leftist groups have been supporting candidates of color with deep roots in their diverse communities. New York Communities for Change, a Brooklyn-based, housing-focused group led by people of color, put significant energy behind the housing-focused campaigns of Brisport, Gallagher, Mitaynes, and Souffrant Forrest.
Policies like the "good cause" eviction bill, which would protect tenants in market-rate apartments from being evicted without reason, and rent cancelation for those struggling financially due to the pandemic, were popular talking points of this primary's leftist candidates, many of whom criticized the State Legislature for passing a $100 million rent voucher bill in place of rent cancelation legislation. Some incumbents like Lentol supported the bill as a doable step to help those struggling, but they were incessantly criticized for not doing enough. Others — perhaps feeling pressure from their far-left opponents — voted against it, like Simotas.
Brisport said the "good cause" eviction bill was among his top priorities in a previous interview with Gotham Gazette, something co-chair of the NYC-DSA Chi Anunwa also highlighted when speaking in support of the State Senate candidate.
"Jabari's likely victory represents a big step forward for housing and racial justice politics in New York," Anunwa said at the time. "With Jabari's election, New York State will now have two socialists in the State Senate who are champions of the tenants' rights movement and the movement for more radical police reform."
Brisport and Salazar, the two democratic socialists who will likely be neighboring state senators, are now poster children for both the DSA and WFP: young people of color with independent streaks and far-left agendas.
Endorsing a much larger slate than the DSA, the WFP had an especially strong 2020 primary showing, starting with the congressional wins by Jones and Bowman, who appears ready to join Ocasio-Cortez and like-minded far-left members of Congress.
For state office, along with Salazar and Brisport, the WFP backed newcomer Assembly candidates Mitaynes, Gonzalez-Rojas, Anderson, and Septimo, as well as incumbents like Yuh-Line Niou and Dan Quart, all of whom appear on the verge if not guaranteed victory. The WFP lost in support of Lentol and Mosley.
As New York's 2020 primaries are finally sealed, attention will turn to both this year's general election, which will include minimal competition in New York City but important races for the House and State Senate elsewhere in the state, along with the closely-watched race in the 11th Congressional District between Democratic Rep. Max Rose, no close ally of democratic socialists, and his Republican opponent, Assemblymember Nicole Malliotakis.
Leftist groups, candidates, and officeholders from New York City will likely be focused on helping Democrats hold the State Senate and U.S. House, flip the U.S. Senate, and take the presidency. Some are already looking at the 2021 city elections, which will feature dozens of races for "open" City Council seats, four Borough President positions with no incumbent running, and wide open races for Comptroller and Mayor.
It's to be seen what momentum leftist groups will carry into 2021 and where they will focus their efforts. But well before votes are cast next year, the new crop of elected officials will begin to make their impact in Albany and Washington, D.C. How much change they can bring, individually and collectively, is another unknown. Like the Democratic majority in the House of Representatives, the majority in the State Assembly is very large, at more than 100 members. Still, there is power in numbers and the leftist insurgents elected this year appear ready to work together and with allies who helped them get elected to shake things up and move state government left.
In a statement on her victory, Souffrant Forrest emphasized that her win, like many others, indicates a want for something different from the status quo.
"I am so honored and so proud to have the chance to represent my community. Our win is a victory for every person who is struggling in this state. It is a win for nurses without protective equipment, for Black and Brown people targeted by police violence and chronic disinvestment, for immigrants deprived of their democratic rights, for tenants who can't make rent, and for the thousands of unemployed people struggling to survive," Souffrant Forrest said. "Our win is a rejection of politics as usual. This win shows that our time is now."
Ben Max contributed to this article.