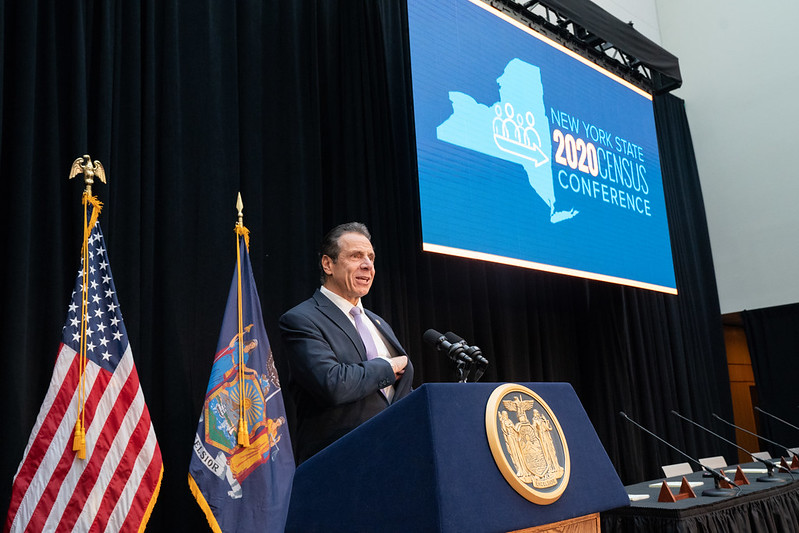 Governor Cuomo at a Census conference early this year (photo: governor's office)
---
After months of relative silence about the ongoing 2020 Census count and with New York at risk of a large and costly undercount, Governor Andrew Cuomo on Tuesday re-launched a state effort to urge New Yorkers to fill out the once-a-decade federal questionnaire.
The COVID-19 pandemic turned the 2020 Census on its head, forcing officials at the city, state, and federal levels to reconsider outreach plans and pivot awareness campaigns. The self-response deadline was extended from July 31 to October 31. The federal Census Bureau has since resumed limited field operations in several parts of New York and New York City officials have continued a robust alternative program to reach city residents through phone- and text-banking, a multimedia ad campaign, and more.
As of July 28, about 58.3% of New Yorkers across the state had filled out the Census, according to the CUNY Mapping Service's census tracking project, compared to a 62.6% response rate nationwide.
The state effort lagged behind significantly even before the coronavirus outbreak in New York, and the governor's announcement was the first major step since the pandemic hit the state. In a statement, Cuomo announced "Census Push Week" and emphasized the "absolutely critical" need for people to fill out the population questionnaire, which affects the level of federal funding the state receives and its electoral representation in Congress. With a loss of population over the last decade and a possible undercount, the state could lose as many as two seats in the House of Representatives.
"There's no doubt that COVID-19 has presented unprecedented obstacles to completing the Census," Cuomo said. "However, the pandemic also highlights a key reason why the Census is so vital—New York State continues to seek substantial funding and aid from the federal government. I urge every New Yorker to complete the Census, and remember, New York State can help if you encounter any issues along the way."
Originally Cuomo had pledged a $70 million Census outreach effort, including $20 million allocated in last year's budget that was meant to be awarded to community-based organizations for direct contact but never went out the door. The state's budget woes from the pandemic could mean that money will never be allocated (even as another $10 million was added in the new state budget passed in early April), an issue that has outraged advocacy organizations who say the state dragged its feet for far too long. The other $40 million was to be spent via a reallocation of state resources whereby different agencies and offices would work to get out the count -- plans now said to be launching many months after being promised.
As part of the new effort announced on Tuesday, the state Office for New Americans will partner with El Diario and Telemundo to host a two-day phone banking event, primarily for Spanish speakers. The state is also partnering with the Association for a Better New York, a prominent business group, to promote the Census through two events on July 30 and August 10.
At the same time, state entities have taken steps to urge participation in the Census without holding in-person events, the governor's office said. The MTA is advertising across its subway, bus, and rail systems; the Department of State is promoting the Census through Community Action Agencies; and the Department of State's Division of Licensing Services is boosting awareness through its customer service phone line. The Department of Financial Services and Empire State Development are also spreading the word through their respective networks.
State and local officials are organizing a slew of other events this week to barnstorm hard-to-count neighborhoods where self-response rates have been historically low. The administration of Mayor Bill de Blasio is already in the midst of a "Census Week of Action" this week, and as part of that the New York City Census office has signed up 500 volunteers and is holding public events every day till August 2, including in-person events across the five boroughs. In Brooklyn, State Senator Zellnor Myrie is organizing a Census March for Racial Justice on August 2 to raise awareness in communities that are falling behind in the count.
The Census questionnaire is roughly ten questions and can be filled out by one member of a household to include all residents of that household. It can be filled out online or by phone, and the Census Bureau has also mailed paper questionnaires to households that have not responded.