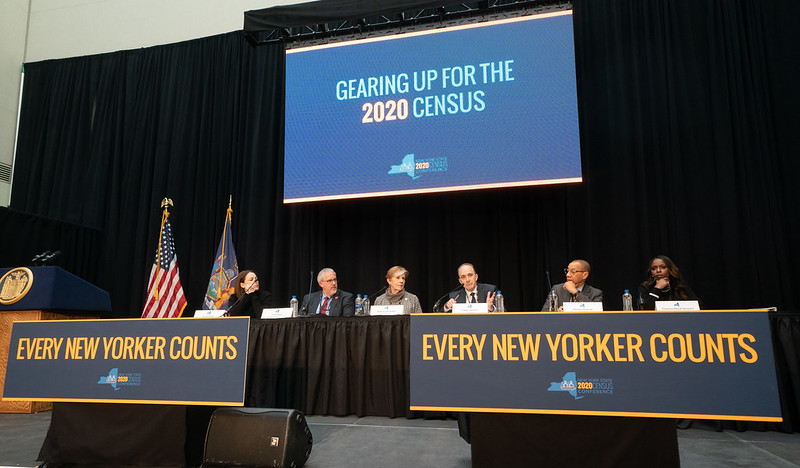 2020 Census efforts continue, though NY State is MIA (photo: Governor's Office)
---
When the COVID-19 pandemic hit New York, it posed severe impediments to the 2020 Census process, forcing local, state, and federal officials to suspend plans for on-the-ground outreach to make sure all state residents are counted. But federal and city officials have continued remote operations to encourage a robust self-response to the decennial population count and, as regions across New York State begin to approach a sense of normalcy, the U.S. Census Bureau has resumed some of its field activities.
The 2020 Census officially launched on March 12, just days before New York State went into a form of shutdown under an executive order by Governor Andrew Cuomo. Plans made by officials for widespread grassroots campaigns had to be abandoned or adapted. But the first phase, the self-response period, was extended from July 31 to October 31, and New Yorkers have been responding at a greater rate than ten years ago. Because of the pandemic, the fate of the second phase, where Census enumerators go door-to-door to count those who do not initially respond, seemed to be in doubt.
An accurate Census count is essential since it determines the amount of federal aid that the state receives for infrastructure, and social and economic welfare programs. The Census also decides the number of seats states hold in the House of Representatives, and the population count is used to draw electoral districts.
Even before the pandemic, officials feared a repeat of 2010, when New York City saw a severe undercount and had a self-response rate of about 62%, compared to the national average of 76%. New York State's overall response was close to 76% as well. New York has many large "hard-to-count" populations, which are less likely to respond on their own for various reasons, requiring a far more extensive push by local government and community groups as well as greater resources for in-person counting from the Census Bureau.
There have been some promising signs. Even though New York is still behind the nation, the self-response rate seems well on its way to beating the final tally in 2010. As of Wednesday, May 27, the state's self-response rate was 55.1%, the city's rate was 50.5%, and the national rate was 60.3%, according to the CUNY Mapping Service's Census project.
The U.S. Census Bureau is now watching public health and "reopening" metrics closely to determine where field operations can be relaunched, according to Jeff Behler, director of the Census Bureau's New York Regional Office.
Already, staff have returned to field offices in Rochester, Syracuse, Albany, and Buffalo, and are conducting an on-the-ground "update leave" operation, which involves hand-delivering packages with Census questionnaires to remote and rural households that only have a post office box number (all other households that have not responded have been mailed those Census packets). That operation covers about 5% of households across the country, and 3% in New York State (about 270,000 households). Census workers are not knocking on doors, however, and are using GPS coordinates to deliver the packets to doorsteps of homes. Officials and advocates at all levels are still hoping that more and more people will self-respond, either online or by mail. This year's Census is the first to go digital-first.
Behler said there are two major operations that will follow what's happening now. The "service-based enumeration," which is meant to count people at homeless shelters, mobile food vans, and soup kitchens. The dates for that are yet to be determined. "There are discussions that our staff at headquarters are having with high-level stakeholders to get input, to try and figure out when we do that, between now and the end of October," Behler said.
The next major phase is the non-response follow up, which involves door-to-door outreach. The Census Bureau has proposed beginning that phase on August 11, pending congressional approval.
Behler said the Bureau also intends to hire more enumerators than originally planned – more than 32,000 for New York State (18,000 in New York City alone), up from the earlier proposal of between 25,000 and 29,000 in total and 15,000 for the city. "So assuming it's safe to do so, because we're following all state and local guidelines, we would begin that operation. We plan on hiring more people to get it done in eight weeks, rather than ten or eleven weeks," he said. Hiring, which was also suspended because of the pandemic, will begin next week with jobs posted to the Census website.
The Bureau will begin to contact individuals who applied for these jobs months ago, to begin the fingerprinting and background check process that is required. The shift in timeline will likely affect who will opt in for these jobs, though it also comes at a time when the state is seeing near-record unemployment and people desperate for any form of income.
Behler is also encouraged by the self-response rate so far, though it has (as expected) been higher in suburban and rural areas while lagging in urban centers.
"One of the greatest tools that we have on the Census is the ability to bring people together, especially in these urban areas, and that's what we find works the best," he said. "And if you would have told me six months ago, 'Hey, we're going to take that ability away. And you're going to get to over 50% in the City of New York,' I would have been shocked."
Part of that success stems from the fact that New York City was well-prepared for the Census with a $40-million strategy in place, including $19 million in grant funding for outreach awarded to community-based organizations in December. The city government, with a well-resourced census office, and its grantees quickly pivoted various aspects of their plans to respond to the pandemic and have since continued to use a wide variety of strategies to inform New York City residents about the Census.
The city has also been working on some limited groundwork while maintaining strict social distancing guidelines – for instance, handing out face masks in the park and urging people to fill out the Census – and is preparing for a broader phase of outreach once it is safe to do so. Unlike most parts of New York, the city is not expected to meet a set of criteria set by the state to begin a phased reopening of its economy until the middle of next month. But New York City Census Director Julie Menin is not resting on the relative success so far. The city intends to set up 300 pop-up centers to help New Yorkers fill out the demographic questionnaire. The centers are slated to be set up at public library branches, houses of worship, and at the various nonprofits that received city funding.
The self-response rate is "absolutely a bright spot," Menin said in a phone interview, "because it really means that we're starting to close this gap between New York City and the nation, which is something that I think is very important because it's a national competition."
She noted that more than one-third of New Yorkers don't have access to the internet at home, and said the city will only be able to reach them once in-person outreach is feasible. "Those numbers we cannot and will not be able to get to until the point that we can reopen," she said.
Since the pandemic hit the city, Menin's office has organized text-banking and phone-banking efforts, along with a hyper-targeted mass media campaign in 24 languages. Volunteers have sent 5.6 million texts reaching 1.4 million New Yorkers; they have made 488,000 calls, reaching 92,000 individual New Yorkers in 13 languages. More than 271,000 pieces of multilingual census literature has been handed out at the Department of Education's 490 food distribution sites around the city.
Local elected officials and nonprofits have also stepped in to help hundreds of New Yorkers complete the Census in several languages. The Census office has even created 15 separate language groups on messaging apps like WhatsApp, KakaoTalk and WeChat to target the immigrant communities that are particularly hard to reach in the city, while community groups were also adjusting to more digital efforts through localized and culturally-competent approaches.
There have been public service announcements featuring rapper Cardi B, singer Alicia Keys, television host Seth Meyers, playwright and actor Lin Manuel-Miranda, Rep. Alexandria Ocasio-Cortez, and Supreme Court Justice Stephen Breyer. On Tuesday, the city even launched a contest in partnership with the food delivery service Seamless, which is giving out ten $1,000 food vouchers, one each week for ten weeks, to people who fill out the Census. (You can enter the contest here.)
Access to real-time data has also allowed the city to home in on the neighborhoods where on-the-ground outreach will be necessary. In particular, those communities that have been ravaged by the coronavirus – which have been overwhelmingly low-income communities of color – have shown lower rates of response to the Census, which could further exacerbate the inequities that already exist there. "COVID is a stark and unfortunate reminder of why the Census is so vitally important," Menin said. "In the very difficult fiscal situation that our city is in, we cannot leave even a single dollar on the table, not to mention billions of dollars."
New York state government, however, was already late to the census game and still hasn't seemed to adapt to the current circumstances. Governor Andrew Cuomo's pledge to allocate as much as $70 million in resources towards census operations has not materialized, even though $10 million of that was added in the state budget that passed in April. Included in the total was a $20 million pot of grant funding that was appropriated last year to fund outreach by community-based organizations. The grants were never awarded.
The state census effort is now being overseen by Empire State Development, which has repeatedly failed to provide Gotham Gazette with the state's census plans (if any exist) that show any progress at all or take into account the conditions imposed by the COVID-19 crisis.
In an emailed statement, ESD spokesperson Kristin Devoe indicated that the census effort may fall victim to severe budget cuts that the governor has proposed because of the loss of state revenue amid the pandemic.
"We remain fully committed to ensuring a complete and accurate count of New Yorkers in the 2020 Census and are thankful the Census Bureau recognized the complications caused by the pandemic and delayed the filing deadline to October 31," Devoe said. "While we are actively contemplating options to achieve this vital objective, the reality is, New York State is facing a 14% drop in revenue – $61 billion over four years – and in the absence of federal funding to offset this loss, the state is developing a plan to reduce spending by over $10 billion. About 90% of State funding supports schools, healthcare, local grants and services for the most vulnerable populations, and any category where the state doesn't cut state spending will simply mean deeper cuts in another."
[You can fill out the census online here. A digital code is not required though one might have been/be sent to you in the mail. You can also fill it out by phone by calling 844-330-2020. The Bureau also offers assistance and different phone lines for various languages. You can find those here.]