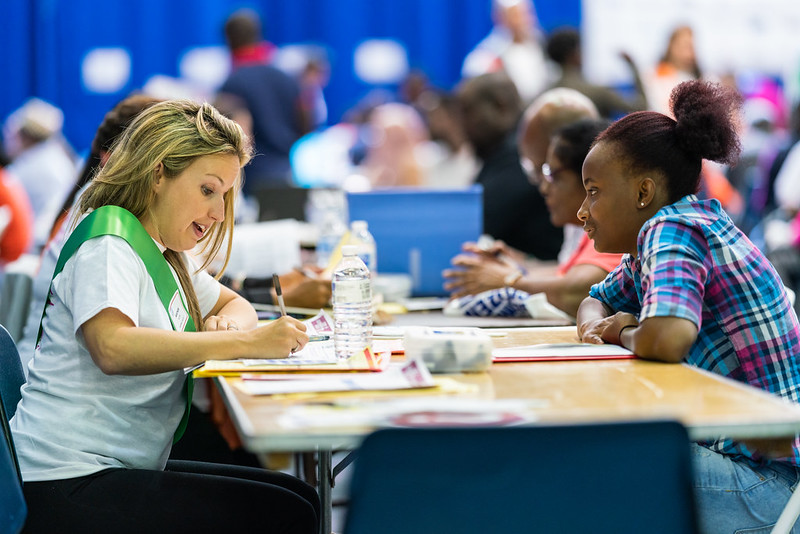 (photo: City University of New York)
---
Attaining a bachelor's degree takes longer than four years for some full-time CUNY students who are unable to register for required and elective courses due to insufficient seats, a problem whose scope was revealed in a new audit by New York State Comptroller Thomas DiNapoli. Delaying graduation is time consuming, expensive, and can mean no more financial aid for students who qualify for a maximum of eight semesters of such support.
About 30% of CUNY students earn their degree within four years and 53% earn their degree after six years, according to DiNapoli's audit released September 1. Along with limited course offerings, a shortage of advisors is also contributing to CUNY's low four-year graduation rate. "CUNY has historically offered an educational path to many who otherwise couldn't attend college, but limited options may make it harder to graduate or force some out of school," DiNapoli said in a press release.
Low graduation rates can be attributed to socioeconomic factors such as the need for part-time and full-time jobs, academic readiness, child care needs, and more. However, the audit concluded "CUNY is not effectively matching course offerings to student demand."
Over a third of surveyed CUNY students from five senior colleges said they were unable to register for a course due to a limited number of seats. Half those students stated the course was a requirement for their major and therefore necessary for graduation.
"It's frustrating," Queens College senior Sanzeda Rahman told Gotham Gazette. "Once I was trying to get into a psychology class but all the sections were full. Without taking that pre-requirement I wouldn't be able to take other psychology classes and would fall behind." Without guidance from the department, Rahman eventually got in after emailing every professor teaching the course, in hopes of taking advantage of the overtally system that approves waitlisted students based on graduation priority.
Hunter and Queens Colleges are among the largest senior colleges with over 20,000 enrolled students each. A quarter of students surveyed at both could not register for a required or elective course. Meanwhile 23% of Lehman students, 17% of City Tech students and 11% of College of Staten Island students reported the same.
Popular majors like biology, computer science, and psychology had the most registration complaints.
Most course listings are based on enrollment numbers from past semesters as well as decisions made by departments based on budgets, instructors, and other factors, but not student input.
According to a 2018 CUNY Student Experience Survey mentioned repeatedly in DiNapoli's audit, 42% of students stated they would like more evening courses, 35% wanted more weekend courses, and over half sought more online courses. Yet, six out of 25 departments surveyed across CUNY don't offer a full course-load only through evening and weekend classes.
"During registration, they don't help us," said Rahman, referring to academic advisors. "I use Degreeworks to register for my classes and stay on track." Degreeworks is CUNY's online planning tool to keep track of student progress.
Setting appointments with academic advisors is strenuous according to Hunter alumna Barbara Syska, who graduated in spring 2019 after six years. "I had a lot of trouble getting the correct information from my advisor and it delayed my graduation by a year," said Syska.
About 30% of surveyed students stated that academic advisors were not beneficial to them. "Several students across several majors stated they were sometimes incorrectly registered or advised to take courses that were not necessary for their academic program, causing their graduation to be delayed," the audit states.
This was the case for Syska, a full-time student with a full-time job. She expected to have her degree in five years but at her graduation advising appointment, she realized she would have to delay it even longer. Her biology advisor informed her that the major requirements changed but she could abide by the old requirements, she said, but at her appointment she realized that wasn't the case and in order to graduate, she'd have to register for those extra courses. Then after taking a class via e-permit, which allows students to register for courses at other CUNY colleges, Syska was half a credit short because the course was not equivalent to the Hunter requirement. "If someone would've told me before my graduation appointment, I wouldn't have had to take another class to make up half a credit," said Syska.
"My advisor's office hours were very limited," said Syska, making it difficult to meet considering her heavy schedule. Some CUNY departments don't provide an adequate amount of advisors with ratios like three to 2,100 students at Hunter's psychology department and three to 1,400 at Queens' computer science department, according to the audit.
Without proper academic advice, students can have difficulty navigating their course-loads and staying on track for graduation. "Several students indicated they would like to talk to an advisor during registration but, based on the number of advisors for their department, this would result in long waits, even with an appointment," the audit found.
About 60% of all CUNY students receive federal Pell grants. Students who exceed four years aren't eligible for financial aid and it is unrecorded by CUNY whether those students continue without aid or graduate. However, the audit found about 5,000 students whose aid ended in spring 2019 and 31% of them either dropped out that spring or did not end up graduating from CUNY.
The audit states CUNY officials "indicated that many CUNY students are non-traditional, older students with outside responsibilities who cannot register for the 15 credits" per semester and therefore don't graduate in four years. Yet, in 2020 CUNY reported that 75% of its students are "traditional" students, meaning under the age of 25, indicating traditional students are also graduating within six years.
The Professional Staff Congress, CUNY's staff and faculty union, has repeatedly argued that reduced state funding is putting students at a disadvantage. "That any state would allow—or even cause—such [budget] shortfalls is shameful, but especially so in New York," PSC President Barbara Bowen said in the union's testimony on the 2020-2021 state executive budget put forth by Governor Cuomo early this year. "Many CUNY students take extra years to graduate or never attain degrees because CUNY lacks the resources essential for student success."
"Incremental cuts and flat budgets may look innocuous, but repeated year after year they add up to a policy of destroying the University's capacity to provide the education and support CUNY's half-million students need," Bowen said. At the time, in February, PSC was pushing for $208 million more for senior colleges and $24.6 million more for community colleges to cover mandatory cost increases, close the TAP gap, add full-time faculty and counselor positions, increase community college base aid and restore legislative funding.
According to a CUNY spokesperson, the university is now offering close to 50,000 courses, almost all of them online, similar to previous semesters. "We continue to do more with less to support our students," Chancellor Félix V. Matos Rodríguez wrote in an email on August 31 to eight members of the New York City congressional delegation, discussing cuts the university had made and reiterating a call for federal funding. "Even with roughly $64 million lost tuition revenue from a 4.4% drop in fall enrollment as of Aug. 25 we have continued to offer about the same number of sections as last Fall and overall class size, system-wide, is on average lower than it has been in the last six years."
DiNapoli's audit team suggested CUNY institute many changes to improve graduation rates. The main suggestions include ensuring students are able to register for elective and required courses, having department officials in charge of scheduling survey students about course needs, and improving advisor training and advisors' communication with students.
"CUNY should offer more courses as needed and invest in more and better advisors to help students of color succeed," said Rahman.
And CUNY appears ready to do so. As noted in DiNapoli's audit, CUNY agreed with all the suggestions and is taking various actions to support student success. Those actions include implementing a "Curriculum & Events Management System" at every college organizing registration and scheduling, adding more general education and high-demand courses online, improving advisement services online, and training about 900 advisors across the university.