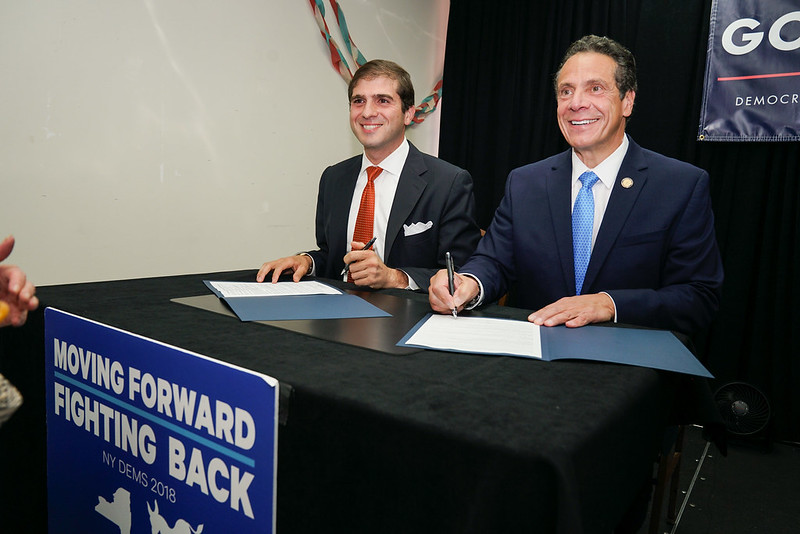 Gov. Cuomo with now-State Senator Andrew Gounardes in Oct. 2018 (photo: Cuomo/Flickr)
---
After flipping several State Senate seats in 2018 and taking control of the upper legislative chamber and therefore all of state government, Democrats sought to hold onto their wide majority this year even with a Republican president atop the ticket. They believed they might be able to win a supermajority in the chamber to match that of Democrats in the Assembly by picking up at least two additional Senate seats, if not more.
But as Senate Democrats faced tough races in a number of districts, including some they had won by narrow margins amid a "blue wave" two years ago, New York's top Democrat seemed to take a relatively hands off approach and did what some believe is the bare minimum to help his party-mates defend or win new seats.
Though in 2018, when he was on top of the ticket seeking a third term, Governor Andrew Cuomo was active helping Democrats flip State Senate seats in swing districts from Brooklyn to Long Island to the Hudson Valley, this year he was absent but for a handful of virtual fundraising events and robocalls. Some Democrats believe he mostly prefers the split Legislature he had for his first two terms and very much wanted to avoid the possibility of veto-proof majorities in the two legislative houses.
As the vote-counting moves to absentee ballots, which are expected to significantly favor Democrats, there is a long list of State Senate races that haven't been called. Overall, Democrats are confident that while they may lose a few seats back to Republicans they are also on the verge of picking up others and will wind up with a majority close but not quite as large as what they had coming into the election: 40 seats in the 63-seat chamber. Republicans believe they are narrowing the margin to 36-27, perhaps slimmer.
To get to that 40-seat majority, the 2018 elections saw several progressive Democrats eject more moderate members of the party in primaries while relatively moderate Democrats flipped Republican seats in the general. Cuomo was a significant presence in the latter, rallying with Democratic nominees in parts of the state where he remains popular but Republicans have had success and that he would need in his own reelection bid, which he went on to win by a wide margin.
The 2018 State Senate results set the stage, along with Cuomo's win and continued Democratic dominance in the Assembly, for the passage of a long list of progressive priorities in 2019.
This year, despite Democrats' hope that they could pick up as many as ten Senate seats, defend seven, and be competitive in a few others, it was bound to be a tough election. With President Donald Trump on the ballot, Republican turnout was undoubtedly going to be far higher than in 2018 even if Democrats voted in higher numbers too. And despite a fundraising and expenditure advantage for the Democratic Senate Campaign Committee, there were millions being spent against them in targeted independent expenditures by outside entities, including billionaire Ron Lauder and law enforcement unions, who opposed criminal justice reforms enacted by the Democrat-led Legislature and governor. Lauder, a prominent donor to Cuomo, alone spent nearly $5 million while police unions spent more than $1 million in trying to inaccurately paint Democrats as anti-police and pro-crime.
To some observers, the governor made minimal effort to help Democrats on the receiving end of that spending and even less so in challenging Republican messaging statewide about a Democrat-controlled Legislature run amok. Many have even speculated that Lauder's independent expenditures had the governor's tacit approval. "That's bullshit," said Rich Azzopardi, a Cuomo spokesperson, in an email, when presented with those arguments.
Azzopardi insisted that the governor did his best to help Democrats' chances. The governor endorsed a slate of candidates including Senators John Brooks, Todd Kaminsky, Monica Martinez, Anna Kaplan, Jim Gaughran, Kevin Thomas, and Pete Harckham, and nominees Sean Ryan and Laura Ahern. He recorded robocalls and made appearances at virtual fundraisers for Kaplan, Martinez, Gaughran, Thomas, and Harckham, and made additional virtual fundraising appearances for Senator Kaminsky and nominees Karen Smythe, Samra Brouk, and Jacqualine Berger, and signed a fundraising letter for nominee Jeremy Cooney.
"In what world, during a pandemic when you can't barnstorm and do rallies – if you look at that list of endorsements, robocalls and fundraisers – can they say he didn't do enough," Azzopardi said in a subsequent phone interview. "It's ridiculous."
"The governor worked really hard to bring this majority in under his ticket in 2018," Azzopardi added. "And we worked really hard to maintain it. Let all the votes be counted and let's see where it goes...We did a lot together. We did a lot of good for the state of New York. And we look forward to working with the Senate Democratic majority next year."
While no one expected Cuomo to travel the state holding large rallies amid the coronavirus pandemic, the governor did no in-person campaign events. At the same time, Lieutenant Governor Kathy Hochul, Cuomo's running-mate and "partner in government," did barnstorm the state, holding campaign appearances with several Democratic candidates in tough races -- including Brooklyn's Andrew Gounardes, whom Cuomo campaigned with in 2018 as he flipped a Senate seat but is noticeably absent from the governor's 2020 list. Cuomo made at least three appearances with Gounardes in October and November 2018, but none, whether virtual or in-person, in 2020. Hochul campaigned with Gounardes in Brooklyn the day before Election Day this year.
Overall, Cuomo opted against joining Democratic candidates in person to bring local and media attention to their campaigns and boost their messages.
A source in the State Democratic Party said the governor was "somewhat helpful" with his fundraisers and endorsements. "But it's a little bit like it's almost just for show," the source said, noting that the State Democratic Party, which is controlled by Cuomo, could have done more.
"The state party could have done mailers, done TV...there could have been more money spent, more sort-of consolidated or coordinated messaging," the source said, pointing out that while the state party gave massive contributions to specific candidates, they paled in comparison to the Lauder spending. "The money thing is the big thing. You have states around the country where the state party literally will drop millions of dollars into these local races," said the source, who insisted on anonymity in order to speak freely.
While Cuomo had transferred campaign funds to some Democrats in 2018, he did not do so this cycle even though, as of July, he had more than $13 million in campaign cash. The State Democratic Party did transfer funds to candidates in the closing weeks of the election – $50,000 each to Thomas and Gaughran and $25,000 to Monica Martinez. None of those numbers account for the money Cuomo helped some candidates raise via his appearances at the virtual fundraisers.
Tom Staudter, a spokesperson for Harckham's campaign, said the governor's assistance was definitely helpful. "Governor Cuomo was a big help to Senator Harckham's campaign," he said. "In our district, there were only positives. His leadership during the pandemic was recognized as safeguarding and benefiting our residents and I know Senator Harckham is looking forward to partnering with the governor in the future." Though Harckham trails by about 7,000 votes after in-person vote tallies, there are still 40,000 absentee ballots to count in the district, and Staudter expects that a major portion of those will be from Democrats.
In an interview on the Max & Murphy podcast prior to the election, State Democratic Party Chair Jay Jacobs made a similar argument to Azzopardi. "He's doing a lot. The governor's been on fundraising zooms. He's given me the request to raise money through the state party and he said use his name to raise money. I've done just that," Jacobs said. "So he's been very helpful and he's been giving guidance and strategic advice. What he can't do is hold big rallies, like Trump does around the country, which I know he'd like to do and he's done in the past. This environment just won't permit it."
Almost exclusively standing by while Democrats got relentlessly attacked by Republicans and their outside allies would seem counterintuitive for a Democratic governor. But Cuomo has never been one to easily share power or attention with members of his own party and has, in the past, appeared content to preside over a split Legislature where he can mostly call the shots without getting pulled too far to the left. He has oftentimes rebuffed progressive policies proposed by Democrats, slowly embracing them once they become too popular to oppose or appear especially advantageous politically. Prior to Democrats flipping the Senate, he triangulated with an erstwhile rogue offshoot of moderate Democrats who called themselves the Independent Democratic Conference (IDC), which helped Republicans control the legislative chamber and was seen by many as a Cuomo-backed effort.
A supermajority in the Senate, combined with that already in the Assembly, would allow Democrats stronger negotiating position on legislative and budget matters, and to override the governor's veto if they pursue legislation that Cuomo rejected.
"Cuomo has always preferred working with Republicans than working with Democrats," said Benjamin Rosenblatt, president of Tidal Wave Strategies, a political consulting firm. "We saw that when he helped gerrymander the State Senate map for Republicans. We saw that when he helped them with the IDC, with majorities over and over again. And we saw that this time when his billionaire friends bankrolled efforts to stop Democrats from getting a State Senate supermajority."
Rosenblatt said Cuomo could have used his popularity, particularly in parts of the state such as Long Island, to help boost incumbent Democrats who are now uncertain about their victories. "That could have helped push Democrats over the line when they are facing these attacks against them, trying to connect them to [New York City Mayor] Bill de blasio, saying that they're anti-police," he said.
Cuomo himself conceded on Thursday that the statewide Republican campaign had a strong impact, though he appeared to be speaking as a casual observer that had no role to play. "It shouldn't have been this close," he said on WAMC radio with host Alan Chartock. "I believe the Republicans beat the Democrats on the messaging. I think they branded Democrats as anti-law and order. And that hurt Democrats. It was untrue."
As Cuomo seemingly watched that messaging unfold across the state, including in districts where he had campaigned with Democrats in 2018, he was not moved to be more assertive in helping his party-mates beat back the focused, sustained barrage from Republicans.
Cuomo also pointed to how Republicans tied Democratic candidates to de Blasio, who has been widely unpopular in the state for years and who undertook a failed effort to flip the State Senate from Republican control in 2014 that led to an investigation by the Manhattan District Attorney over questionable fundraising tactics. No charges were filed. "They ran de Blasio's picture all over the state. 'They'll turn New York State into New York City, looting and crime and homelessness...That was their message and it resonated more than it should have," said Cuomo, who has himself repeatedly painted New York City in such negative light during his press briefings over the past several months.
Asked about Cuomo's comments at his daily news briefing on Thursday, de Blasio dismissed them. "I think whatever the Republicans did was pretty modest honestly," he said, joking that in the future he would endorse Republicans to cause confusion.
Some political observers pointed out that many Republicans used images of Cuomo on their negative campaign literature.
Unlike Cuomo, Hochul kept a busy campaign schedule as election day neared. She appeared at events for State Senate incumbents Gounardes, Harckham, and Thomas, and candidates Berger, Brouk, Ryan, and John Mannion. Without the absentee ballot counts, only Brouk and Ryan are ahead in their races.
In 2018, on the other hand, Cuomo launched a concerted effort to help Democrats flip both the State Senate and the House of Representatives. With much fanfare, he appeared with State Senate seats on Long Island and together signed a nine-point pledge of policies they would pursue. He publicly endorsed Gounardes in similar fashion in Southern Brooklyn, with a slightly modified pledge more focused on New York City. Gounardes went on to replace Martin Golden, then the only Republican State Senator in the five boroughs outside of Staten Island, after winning by just 1,271 votes.
Gounardes is now at risk of losing his seat, running behind Republican challenger Vito Bruno by about 6,000 votes after the in-person tally, a deficit he has a shot at making up through absentee ballots that number more than 18,500.
In Southern Brooklyn, where Republicans did well against Democrats at the state and federal levels, though outcomes are still being determined through the absentee ballot count, Cuomo's government actions ahead of the election may have hurt Democrats politically.
"In 2018, he came out here and campaigned with everybody and was actively trying to gain more seats in the Senate," said a Democratic source in Southern Brooklyn who requested anonymity to speak freely. "And this time around, it was the opposite. There was no presence out here at all." What made it worse, on top of the Lauder-funded ads, the source said, was Cuomo's botched rollout of new lockdown restrictions in response to localized coronavirus infection spikes that angered constituents in those districts. "It was a lot of incoming," the source said of Republican attacks. "We took on a lot of water and there was very little air support."