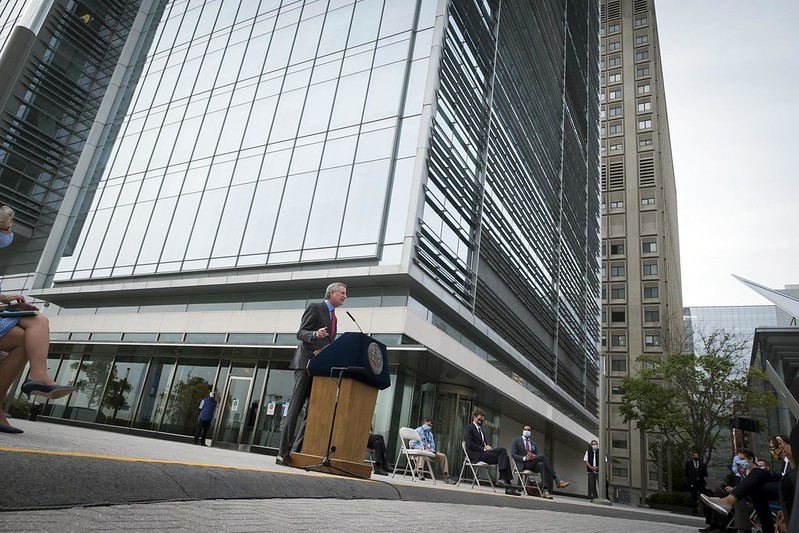 Mayor de Blasio at his September announcement (photo: Ed Reed/Mayor's Office)
---
New York City went into partial lockdown in March as the coronavirus ravaged the population, bringing a once booming economy to its knees and leaving the city teetering on the edge. The immense flock of tourists ground to a halt; the flow of suburban commuters reduced to a trickle; an untold number of residents fled the five boroughs; "non-essential" businesses were forced to shutter at least temporarily; and people were told to stay inside but for essentials. Many thousands fell sick or died, more than 1 million jobs were lost and thousands of businesses closed for good.
After the worst of the spring outbreak and months of being asked about how he intended to spur economic recovery and get people back to work, in September Mayor Bill de Blasio announced the broad strokes of an agenda meant to restore both the public and economic health of the city. "This announcement will kick off a series of policy proposals," a press release from the mayor's office said at the time. But both at the time and in the four months since that declaration, de Blasio has offered few concrete policies to usher in "a transformational era" as he promised. Big business leaders, small business owners, jobless New Yorkers, and other experts worry that the mayor's dithering is delaying the city's comeback.
Pressed for the whereabouts of his full recovery plan at a January press conference, de Blasio said he would focus his February State of the City speech and agenda on the city's economic revival. After jumping from just under 4% to over 20%, the city's unemployment rate is at roughly 11%, though it's unclear how many New Yorkers are not included in that figure because they've dropped out of the workforce altogether.
The mayor's announcement in September -- dubbed "New York City's Recovery Agenda" -- was big on assurances and scarce on detail. He called it "the pillars of our future" and said the pandemic had made it abundantly clear that "There is no economic health without public health."
It came after the mayor had been slow to allow restaurants to use outdoor space then dragged his feet for months more before allowing retail stores to do similarly. He made no effort at creative solutions for business or the arts during the summer months when infection rates were low and the weather warm.
The September presentation included new plans to expand lab and testing capacity with the private sector to continue battling the pandemic as new infections had begun to spike. He said the city would invest in new health research and development facilities and establish a Public Health Corps of community workers. He made a vague pledge to "encourage the creation of new, high-quality jobs" and to advance policies to fight economic and health inequities through "better use of public spaces, a more equitable transit system, and small business recovery, all of which are critical to a healthy and thriving city."
Asked about the limited agenda he was offering after so many months of economic devastation in the city and the relatively calm summer months of virus spread, de Blasio said, "Like every other blueprint in the world, we want to lay out how we get there. To me, you start with a big vision strategy in all great endeavors, and then you put together a blueprint and it gets more and more specific as you go along. So what we'll give you in the coming weeks is the next steps on how we get there and then we're going to learn by doing as with everything else."
Fast forward four more months to January and little of what the mayor had proposed is September has materialized in any coherent form. A small number of additional announcements have been made, including in recent days, while he has repeatedly pointed to February for his State of the City, which will occur roughly one month before the one year anniversary of the city's near-shutdown in March 2020 and one year since his last State of the City speech, which included his pre-pandemic "Save Our City" agenda.
Since the September 2020 announcement, the mayor's office has issued 12 press releases pegged as part of the "Recovery Agenda," but some are mere continuation of the regular work of his government. They included an announcement on extending outdoor dining year round, guidelines for outdoor dining in the winter, an expansion of open streets and a new open storefront program. But there were also four announcements on bus lane improvements and new protected bike lanes, work that was already underway through the Vision Zero and Better Buses programs. There have been three new initiatives: a $20 million investment in a Pandemic Response Institute, $37 million for small business support in low-to-moderate income neighborhoods, and a solicitation to build a hub of climate-focused businesses and nonprofits on Governors Island (though the process to rezone the island for these purposes began in 2018).
When asked at a January 5 news conference if he had a comprehensive economic recovery plan, de Blasio said he would have more to present throughout January, at his State of the City speech, and during the rest of 2021, his last year in office. "The bottom line to me is I feel very, very positive about where the city's going to go in 2021 and beyond," he said. "We're already seeing some very promising signs, real investments coming into the city in our technology community, life sciences, a lot of what is going to indicate the future of New York City."
He insisted that the first priority is to ensure a successful program to vaccinate city residents against the coronavirus, fitting a pattern where despite his assurances otherwise de Blasio has shown that he mostly cannot multitask on more than one big challenge at a time. "But we're going to flesh out a detailed plan and not just a plan, a lot of very specific announcements that'll be happening this year about how we build our economy up, bring back jobs, and recover and move forward as a city. I'm very optimistic," he added.
He previewed part of the State of the City agenda on Thursday, announcing four grants worth $38 million as part of the city's LifeSci NYC initiative, a $500 million pledge first launched in 2017. And he announced that the $210-million New York City Acquisition Fund, launched in 2007 to build affordable housing, will now exclusively focus on minority- and women-owned businesses and community-based nonprofit developers.
"Recovery – we're going to keep talking about it. We're going to focus on it constantly, because the momentum is growing all the time," he said. "Every single time a New Yorker gets vaccinated, every shot in the arm is another step towards our recovery. And the recovery is going to come with a lot of energy, a lot of activity, a lot of new jobs, a lot of jobs coming back, a lot of things we need. But it's not, again, just an effort to re-establish the status quo that existed before the pandemic. That is not our mission. Our mission is to create something different and better. Our mission is to address inequity more deeply and create more opportunity for all. This is a crucial element of the right kind of recovery."
The coronavirus has devastated entire industries, particularly service, hospitality, tourism, and small businesses, and there has been insufficient relief from all levels of government. De Blasio's $92.3 billion preliminary budget proposal released last week did little to assuage fears that his administration has a clear vision for an uncertain future. The mayor did announce additional funds for the vaccination and test and trace programs, tax relief for homeowners, and disbursements for child care, WiFi in homeless shelters, emergency food assistance, the 311 helpline, social and emotional learning programs, and the restoration of the Summer Youth Employment Program. De Blasio insisted that much of the recovery will depend on additional federal aid and stimulus and if the city can avoid cuts from the state, which has its own budget deficit.
Though urban and economic experts concede that the mayor is juggling multiple crises, they've been disappointed with his play-it-by-ear approach. Even their optimism about the city's prospects under President Joe Biden and the new Democrat-led federal government likely to send more money to the city is tempered by de Blasio's lack of vision.
"As hard as it is, the administration does need to fight three intertwined crises: health, economic, and fiscal. It needs to do all three at once," said Andrew Rein, president of Citizens Budget Commission, a nonprofit fiscal watchdog and policy think tank. "Obviously, the health piece is so proximate that it gets a lot of attention. But New York needs to not only survive the pandemic recession, it needs to thrive after it. So we need the economic piece to be strong."
"The workload is heavy. But you have to be able to address what you need to do today and plan for tomorrow, the next month, the next year, frankly the next few years. And we haven't seen enough of that. We just haven't," he added.
Rein pointed out what most others have said, that the mayor needs to take an all-of-New York approach that includes stakeholders from big and small businesses, nonprofits and corporations, and every industry and cross-section. De Blasio would have to set aside his contentious attitude towards the city's biggest businesses and their leaders, which seemed to be acting as a roadblock in the early months of the pandemic. More than 160 top business leaders would later go on to pen an open letter to the mayor in September, offering their assistance and urging him to "take immediate action to restore essential services as a necessary precursor for solving the city's longer term, complex, economic challenges."
He dismissed it.
"So far, we haven't seen that level of wide-ranging, coordinated planning that this will require," said Eli Dvorkin, editorial and policy director at Center for an Urban Future, a nonprofit think tank focused on the economy, jobs, and equitable opportunity.
The mayor had given an indication he was trying, but it did not pan out as promised. In April 2020, he announced a series of task forces and advisory councils that covered education, public health, labor, surface transportation, businesses, construction and real estate, faith and clergy, nonprofits and social services, arts, culture and tourism. But there's scant proof that those were more than just lip service to planning, as none of the panels have issued any public reports. Rather, there's evidence to the contrary, that the mayor has repeatedly ignored his own appointed advisors.
Politico New York reported in July that City Hall had convened a "Recovery Kitchen Cabinet" of experts and industry leaders to plan the city's recovery, but subsequently mothballed its report because the panel was "'terrifyingly monolithic' — too white and too pro-business, according to an administration official familiar with the matter." Then, in early September, members of the surface transportation panel released an open letter to the mayor for failing to follow their recommendations. The mayor's botched attempt to reopen city schools that same month, which was delayed twice at the last minute, was also made against the advice of his education panel, according to a New York Times report. Members of the small business council told Gotham Gazette in October that the panel hadn't been convened in months and that their voices were falling on deaf ears.
"These are difficult issues and it's smart to try to get the best ideas from the widest possible range of people. The problem is that once you solicit that input, you have to run with it," Dvorkin said. He did praise the mayor for taking steps to "stanch the bleeding" from the coronavirus and to bring the pandemic under control. "But we need to see a similar level of focus and execution around the response to the economic crisis," he said.
Chiefly, Dvorkin said the city needs to plan for the industries that will spring up after the pandemic is over and how the nature of work will change. The administration, he said, should be investing in apprenticeship programs, workforce development, job training, CUNY and community colleges, and partnering with employers to ensure that New Yorkers have equitable access to those new jobs. "That's planning that should have started at the onset of the pandemic and I would hope that there would be a little more to show for it at this point," he said.
"It's pretty clear we can't have an inclusive recovery, if we don't have a recovery in the first place," said Dvorkin. "In having such a clear focus on the impact of the crisis, it's past time to really focus on how we dig ourselves out of it."
There are illustrative examples of the mayor's lagging approach. He announced his Open Storefronts plan at the end of October, months after small businesses and business associations had been calling for it and it would have been especially useful during warmer weather. In the intervening time, businesses were shuttering left and right and people were losing their jobs. When it did launch, business leaders criticized it as far too limited and too late. And as the City Council took steps to support arts and culture by passing legislation in December to create an outdoor arts program, de Blasio has done nothing for the sector, which is an important economic driver for the city. Meanwhile, Governor Andrew Cuomo filled the void and announced a major arts program as part of his State of the State agenda this month, with key planks focused in New York City.
CBC's Rein said the mayor needs to present plans of growth for jobs, the economy, and housing as the basis for any recovery, provide direct support to small, medium, and large businesses, and ensure that the city's schools remain open and attractive. "New York City government has to be a better partner, they need better customer service," he said, about reducing regulations and red tape for businesses. But, overall, he said, "You need to, in a certain sense, carve out some of your staff, your intellectual capacity, and then your operational time to move on these fronts."
As the mayor has hemmed and hawed on offering more details, the governor advanced several proposals and programs in his State of the State that will particularly help the city with its recovery. Along with the arts program, that includes several infrastructure projects on the west side of Manhattan, an offshore wind turbine hub in Brooklyn, and a commission to examine the future of jobs, among his broader ideas.
The "Recovery Kitchen Cabinet" had proposed a series of projects and schemes to the mayor, and some appeared especially up his alley like expanding affordable broadband to all NYCHA properties. Several others were long-term initiatives and would involve additional funds that could be hard to spare during the city's budget crunch. But there are several proposals that the mayor could easily take up, either on his own or with government partners. For instance, legalizing short-term rentals of apartments, organizing festivals and brand campaigns to promote the city, partnering with philanthropic organizations to create an Arts and Culture Emergency Recovery Fund, temporarily increasing filming permits and easing restrictions, reforming nonprofit contracting, suspending fines and fees for small businesses, offering tax holidays, and more.
Maulin Mehta, a senior associate at the Regional Plan Association, acknowledged the tough hand de Blasio is playing, and said the recovery may well have to fall to the next mayor. "Because we're still in this health crisis, it's going to be very difficult to start actually moving on some of the economic recovery pieces that are important," he said. Instead, he insisted that de Blasio should try to solicit feedback from the communities and industries that have been hardest hit by the pandemic and set in motion the planning process that his successor can take to the finish line.
"Be the conduit between the public sector, the nonprofit sector, the private sector, and start that kind of planning so that when the new leadership comes in, they can kind of pick up the ball and keep moving with it," Mehta said. "I think it'll be tragic if a new leader comes in and has to start from scratch to get the ball rolling because we really should start seeing movement once there's a transition."
Nicole Gelinas, senior fellow at the Manhattan Institute, a think tank, said the mayor's focus should be on Midtown Manhattan, the core of the city's business that has been hollowed out but pre-pandemic accounted for a significant portion of economic activity, revenue base, and tens of thousands of jobs, particularly in retail. "It's a centrifugal force. If we don't emerge from this with a healthy Midtown, in the long term it really does hurt the boroughs and it hurts the tri-state region," she said.
Gelinas floated several ideas to balance the need to maintain public health while also encouraging people to return. Workers could come back one day a week, the city could partner with restaurants and retail stores, or offer discounted vouchers for Metro North or the Long Island Rail Road. "Quality of life issues, quality of commute issues, I think that those things should be at the top of the mayor's mind," she added.
She did commend the mayor for taking steps to pursue some surface transportation improvements such as the protected bike lane on 6th Avenue. "We should be doing much more and much more aggressively, the things we did with transportation starting over the summer and giving people an alternative way to get to work if they're kind of leery of using the transit system," she said.
One danger on the horizon for which there seems to be barely any preparation, Gelinas said, is the fate of rental housing and how both tenants and landlords will emerge from the crisis. As Gelinas noted, if market rents continue to decline, they will not be able to subsidize the creation of affordable housing under the mayor's housing plan. And for tenants that have been unable to pay rent for months, it is unclear what will happen or be in place once the eviction moratorium lifts.
"If people need help getting the aid they're supposed to be getting, then they should be in the system to start getting that help," Gelinas said. "We should be starting to quantify how many of the people not paying the rent are undocumented immigrants, how many have actually left their apartments and let's get that process started. We have very little information about this...There are a lot of smaller landlords that need this rental money to be coming in. So if this housing sort of becomes abandoned housing, then that's a real problem."
Governor Cuomo, in his State of the State agenda, has proposed allowing conversions of vacant office and hotel space to housing as one solution to Midtown's woes. De Blasio said on NY1 on January 11 that the idea "sounds sensible" but "the question is going to be the resources to pay for that, especially in the middle of a fiscal crisis."