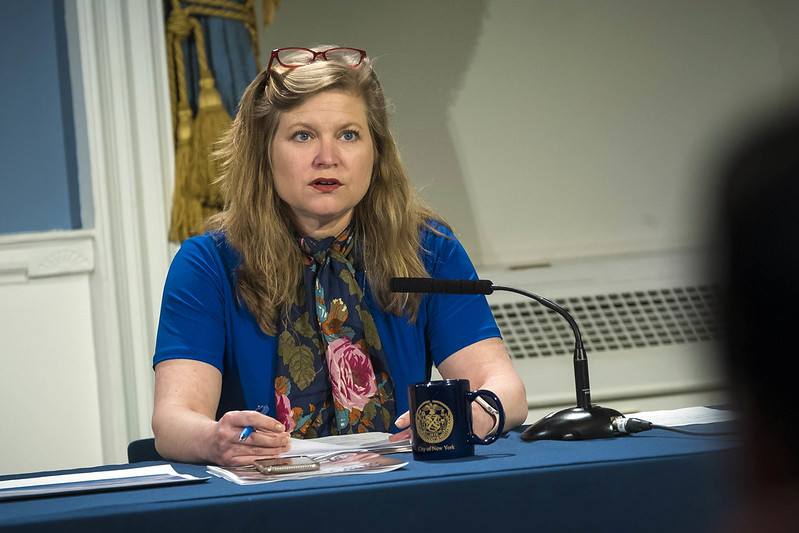 Kathryn Garcia (photo: Ed Reed/Mayor's Office)
---
In recent weeks and months, former New York City Sanitation Commissioner Kathryn Garcia has further filled out her campaign platform as she runs for mayor, releasing plans for administering the COVID-19 vaccine and working with the federal government, building and maintaining housing, and improving the city's transit and public spaces. Garcia, who has never run for elected office before but is a veteran of city government in several roles with major responsibilities, is running on her experience as a manager and her ideas for making city government work better for New Yorkers.
During her career in city government, which ended (or at least paused) when she decided to step down from the de Blasio administration last year to pursue a run for mayor, Garcia has served as chief operating officer for the Department of Environmental Protection, the interim chair of the New York City Housing Authority (NYCHA), lead-paint-abatement czar, commissioner of the Department of Sanitation, and covid emergency food czar as mass unemployment and shuttered schools led to a severe need for free meals throughout the city.
Garcia is offering herself to voters as a crisis manager and no-nonsense doer, a liberal who is more moderate than several candidates running campaigns further to the left, who is most focused on delivering basic city services, improving government efficiency, and tackling core challenges facing New Yorkers. Throughout her policy plans, Garcia underscores the importance of making public officials accountable for solving problems and executing plans, some of which already exist but need someone like her to implement them, while also offering other new ideas. The latest batch of plans builds on her initial climate and resiliency plan, as well as an overview of her thoughts on the future of trash pickup and recycling that she gave Gotham Gazette in a December interview.
Housing
"We can't keep trying to smush more and more New Yorkers into the same number of units, it just doesn't work," Garcia says in her campaign video on her housing plan. Her housing platform, titled "Housing That Heals," argues that housing is intrinsically related to health, and that New Yorkers with insecure or unsafe housing are less healthy than those who can obtain that housing, especially in the wake of the COVID-19 pandemic.
Garcia plans to center affordable housing development for extremely low-income New Yorkers, building 50,000 units for those making less than 30% of area median income. According to the Department of Housing Preservation and Development, 30% of AMI in New York City as of 2020 is $34,110 for a family of four.
Citing the fact that the city has grown by 500,000 people over the last decade but has only constructed 100,000 units of new housing, Garcia's housing plan is staked on rapid development. She seeks to accomplish this by carrying out rezoning for more affordable housing citywide and accelerating approvals for developers by streamlining city processes such as environmental reviews and permit applications.
In a December interview with advocacy group Open New York, Garcia said she supports the current rezoning proposals in SoHo/NoHo and Gowanus, both aimed add adding housing, including affordable housing, and the ability "to create an enormous amount of units."
The other prong of Garcia's approach to providing affordable housing is expanding what can be housing in the city. She would permit duplexes and triplexes in more areas by moving away from single-family zoning, as well as legalize basement apartments, accessory dwelling units, and single-room occupancy apartments.
Touting her experience as the interim chair of NYCHA in 2019, Garcia tries to position herself as the best candidate for the public housing authority's future, saying that residents "don't need another plan. We need to make sure to execute on the plan we have." Her administration's focus would be on improving the day-to-day living conditions at NYCHA, such as by installing new boilers, fixing broken elevators, and eliminating mold.
Garcia intends to fund these repairs by money from Section 8 and "other federal programs," and the several other pieces of the current NYCHA rescue plan. One such federal program is rental assistance demonstration (RAD), which she has expressed support for at several candidate forums and is an Obama-era federal housing program that allows private entities to operate public housing buildings while leveraging vouchers so that the cash-strapped NYCHA can retain the subsidies it receives for housing low-income tenants while opening opportunities for private investment in building repairs and upgrades.
On homeless people living on the street, Garcia has said on Twitter, "We've got to move away from a shelter strategy and to a housing strategy. We spend ~3B/yr on shelters that fail to adequately serve NYC families. Of that, $400M goes to rent hotel rooms that are temporary."
Garcia says as mayor she would build 10,000 units of supportive housing, some of it converted from empty or underused private properties, to provide permanent shelter and support services for those who need the combination.
In shelters, Garcia would provide "wraparound services" for families, women, and children, such as education, health care, and job readiness. Garcia would open 10 drop-in centers in strategically-chosen neighborhoods in order to provide services for homeless New Yorkers as well as begin the process for them to enter shelter.
And Garcia would streamline the city's reporting of city agencies for homeless services, economic development, and housing to one deputy mayor, so that they can "be accountable to treating housing issues with one comprehensive approach." The city currently has a deputy mayor for housing and economic development while homeless services falls under the deputy mayor for health and human services.
Pubic Space and Transportation
"A safe, reliable and efficient transportation system is critical to our recovery," Garcia says. She would target delivery companies to reduce congestion, improve safety and protect workers, specifically naming Amazon as a deliverer she would regulate.
The Garcia administration would "ensure that our public spaces serve the public first" by prioritizing pedestrian and micro-mobility options over vehicles. Garcia would make permanent the de Blasio administration Open Streets program, which in her transportation campaign video she called an "incredible success," and place what she calls Complete Streets, which support street use for all users, regardless of the mode of transportation, in all five boroughs.
Using sidewalk and street space, Garcia would place public amenities into curbside space, integrate sustainable drainage systems such as bluebells and rain gardens, and "create new opportunity for small businesses." To make sidewalks cleaner and more passable, Garcia would expand the Clean Curbs program, which launched in initial pilot form after a covid delay when Garcia was still sanitation commissioner, and in which business improvement districts and other private entities can apply to place an on-street container for trash and recycling storage.
Garcia would also seek to add more community-based amenities to curbside space, such as bike parking, seating, and arts and culture uses. She says she would accelerate Department of Transportation streets and sidewalk construction by "ensuring that the agency has blanket [city planning] approvals for bread and butter projects."
Garcia says bike-riders must be better protected, including the city's many delivery workers and commuters, among others. Her administration would enact "robust enforcement of bike lane violations" and install safety barriers for protected bike lanes. Garcia pledges more cleaning and plowing of the city's bike lanes and says she would "align the agencies that play a role in traffic enforcement" in order to centralize management and accountability in one department.
Garcia's plan calls for the addition of 250 new miles of protected lanes. As of December 2020, New York City has 545 miles of protected bike lanes. And Garcia would "better integrate CitiBike into the existing transit network," as well as subsidize its expansion into neighborhoods that are underserved by the current system.
Garcia pledges to fully fund the MTA's Fast Forward program for capital upgrades, "press for real reform at the MTA," and make steps towards "a fully accessible public transit system." Fast Forward, released in 2018 by former MTA New York City Transit President Andy Byford, who left amid a dispute with Governor Andrew Cuomo, would upgrade subway system signals, increase accessibility to the system, and much more. Much of it has been incorporated into the MTA capital plan, which New York City government contributes to significantly, but that plan has been derailed by the covid crisis.
Garcia says she would explore "Citibike and NYC Ferry fare integration and OMNY fare integration," as well as creating a one-swipe in-city transportation network with LIRR and MetroNorth service. The Garcia administration would reallocate the de Blasio administration's infamous NYC Ferry subsidy towards the city's Fair Fares program for low-income New Yorkers.
To improve the speed and efficiency of the city's notoriously slow bus system, the Garcia administration would give buses priority at intersections, grow the Express Bus network and Select Bus Service, increase off-board payment and all-door boarding, and create more dedicated busways and bus lanes.
Garcia offers several steps for greening New York City's transportation infrastructure, where the former sanitation commissioner, who was moving ahead on electric garbage trucks during her tenure, would triple the availability of public electric car chargers and electrify more than 10,000 buses so that the MTA bus system is fully electric by 2040. She also intends to execute the de Blasio administration's Commercial Waste Zones plan that she helped design and negotiate "to realize the benefit of removing 18 million miles of Sanitation truck traffic from NYC streets every year" and to join the push for implementing congestion pricing.
In order to "ditch diesel and switch to electric vehicles," Garcia seeks to provide zero-interest loans to help small businesses purchase "small-scale, electric, pedestrian-friendly delivery vehicles to replace diesel vans."
To achieve Vision Zero, the city's goal to eliminate traffic fatalities, Garcia's transportation platform emphasizes "making changes to the built environment to physically prevent accidents" over singularly focusing on driver behavior change. She would increase the usage of automated enforcement mechanisms such as speed-safety, red-light, and failure-to-yield cameras.
In order to "make on-street parking a privilege, not a right," Garcia would issue residential parking permits for low-emissions vehicles, a major potential shift from New York City's current largely free street parking. Garcia would support micro-mobility options for the first and last miles of trips to encourage the use of public transit.
Garcia's plan would also "kickstart planning for new transit," identifying opportunities such as new ferry terminals in East Harlem, Inwood, Hunts Point and northern Queens, as well as expanding the subway along Utica Avenue in Brooklyn and Second Avenue in Manhattan.
Food Insecurity
Drawing on her experience as de Blasio's emergency food czar last year, Garcia's plan to fight food insecurity heavily relies on expanding access to nutrition programs such as the Supplemental Nutrition Assistance Program (SNAP). She would make a major push to enroll all eligible New Yorkers in the program. As of 2019, the city's SNAP program has seen decreased enrollment by non-citizens, which has been associated with fear of deportation under the Trump administration. Another group that has struggled with SNAP enrollment is students, many of whom have become newly-eligible following December's federal COVID-19 relief package.
In her plan, Garcia would increase funding to food programs, highlighting older adults, families, undocumented New Yorkers, students, homeless people, and veterans as those in need of particular assistance. To further expand the reach of the SNAP program, Garcia would call on Congress to permanently expand SNAP by 15%, and to make prepared meals, delivery fees, and membership fees for bulk shopping programs eligible for use of SNAP benefits. New Yorkers ineligible for SNAP but still in need of food assistance would be supported with voucher programs such as Health Bucks, which Garcia vowed to expand. She also stresses the need for emergency food programs to provide culturally relevant food for New York City's diverse populations.
To facilitate access to healthy food, Garcia would develop infrastructure to provide nutritious meals in underserved neighborhoods and subsidize healthy meals at community restaurants. "We can't just send more food to the same pantries--we need more pantries in the right places," she writes, adding that she would open more pantries and equip pantries with technology to make getting food "as easy as ordering it from Amazon."
Garcia would seek to streamline and simplify applications for food benefit programs, writing, "Standing in line is not dignity. New Yorkers should be able to apply for benefits on a smartphone--or the process isn't working."
Garcia is also offering a series of proposals to support restaurants and restaurant workers, from capping third-party app commissions to supporting cash assistance funding programs for undocumented workers to making outdoor dining permanent. To make it easier for restaurants to operate, all licensing requirements and regulations governing restaurants and nightlife establishments would be streamlined, permit renewals would be automated, and in the face of the covid crisis, tax incentives for landlords would be provided to forgive restaurants' back rent and renegotiate new leases.
In addition, Garcia says she would create grants for small businesses, expand off-premise alcohol sales, and "eliminate incentives that keep properties vacant." While she has not specified what this would look like, Garcia said in a virtual mayoral forum held by the Jim Owles Liberal Democratic Club that she would call for a commercial vacancy tax, while her economic recovery plan pledges to "work with Albany to reduce commercial vacancies."
Before they became eligible in New York, Garcia also said she would prioritize vaccines for restaurant workers.
She also says that she would "explore rent stabilization for commercial spaces", suspend fines where possible, and work with insurers to maximize business interruption claim pay-outs. During the COVID-19 epidemic, frustration has grown with many in the restaurant industry as insurance companies have denied claims for business interruptions, citing exceptions for viral outbreaks.
Garcia also plans to support the growth of urban agriculture, identifying "green infrastructure, green jobs, stewardship and education" as potential benefits. Making a connection with her plan for climate resiliency, Garcia would push to construct the GrowNYC Regional Food Hub, a project announced by the Cuomo administration in 2016 but never built. Targeted for Hunts Point, the hub would include a wholesale farmers market, a food-processing center and a cold storage facility. Originally anticipated to finish construction in spring of 2021, the food distribution center remains unbuilt.
Garcia would also support the adoption of the Good Food Purchasing (GFP) program. Following the lead of cities such as Los Angeles and Boston, a GFP framework would direct New York City to make food purchasing decisions on local economies, environmental sustainability, animal welfare, nutrition, and valued workforce, establishing metrics and standards similar to LEED certifications for buildings. Currently, the proposal is in the exploratory stage among New York City agencies like the Department of Education and Department for the Aging, Garcia's plan notes. Garcia would provide funding to use the New York State Farm to School Purchasing incentive, a state-wide program that gives state money for school districts that increase the amount of locally-grown food used in their school menus.
On the administrative side, Garcia would re-establish a team of varied backgrounds to "institutionalize addressing food access and insecurity," bringing together what she sees as "disparate and uncoordinated programs" in agencies under various deputy mayors.
To mitigate in the future the types of immense pressures New York City's food supply chain faced during the worst early days of the COVID-19 crisis, Garcia would seek to continuously monitor the food supply chain and build a "robust" emergency feeding operations plan that could be activated quickly. Businesses would be provided with technical assistance so that they could develop continuity of operations plans, and capacity would be built within nonprofits to receive federal funding in food emergencies.
Garcia also pledged to fight food waste by encouraging donation of extra food close to its expiration date. "Consumer expectations create a lot of waste we can't afford in the food business," her plan says. "We will incentivize donating unsold food—and levy fines for non-compliant businesses." New York State's regulation mandating that entities that produce over 2 tons of food waste a week donate their excess food currently exempts New York City.
Vaccines and Federal Agenda
Garcia is among a small group of mayoral candidates to put forth their own specific ideas on how to better implement COVID-19 vaccinations in New York. While the Biden administration hopes to have the country almost fully-vaccinated by the time that a new mayor will assume office at the start of 2022, Garcia released a plan for how she would direct vaccine rollout in New York City, which she first outlined in an op-ed for The New York Daily News, offering ideas that could be used by the current administration.
"This is the kind of chaos that results from poor planning and poor management skills," she wrote of the slow early rollout of the vaccine in the city, before the challenge became more about supply than execution.
Garcia criticized the city's appointment system as a disorganized free-for-all, writing that it "more resembles getting tickets to a Prince concert than making a healthcare visit." Rather than a first-come, first-served system based on priority, the Garcia plan would reserve 25% of appointments for direct referrals from community healthcare providers and simplify the priority schedule to more quickly roll out the vaccine. In addition, she would train school nurses to administer the vaccine, open vaccine sites at every Department of Education building, repurpose city-owned vehicles to create "a mobile vaccine fleet" for deployment at NYCHA sites and improve the vaccine appointment process to make it simpler and to track doses.
In advance of the January inauguration of President Joe Biden and Vice President Kamala Harris, Garcia released her plans to work with the federal government. "With strong leadership in DC, we will finally have the chance to get the federal assistance New Yorkers need and the sweeping policy changes that will put our country back on the right track," she wrote. Among her proposals, Garcia says she would work with the federal government to increase food availability for SNAP beneficiaries, increase funding for community centers, and "bring in green new deal and infrastructure dollars to pursue building upgrades for climate resiliency." On education, Garcia's federal agenda seeks the full federal funding of associate's degrees and increased federal funding for public universities and colleges.