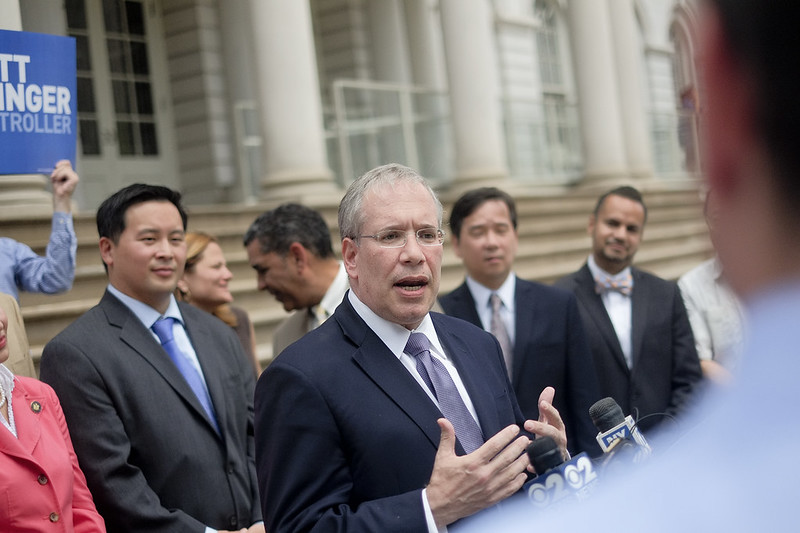 Scott Stringer (photo: Stringer 2013)
---
New York City Comptroller Scott Stringer is the only candidate in this year's Democratic primary for mayor who can boast of having won a citywide race. But after many years laying the groundwork for a mayoral run and now in his eighth and final year as the city's chief fiscal watchdog, he isn't making the kind of splash in the 2021 race that most observers and even his campaign had expected.
Though according to a new poll half of likely Democratic voters remain undecided and the final three months of the race before the June primary will be determinative, Stringer has been in third place in most of the limited polling thus far, and seems to have lost ground as entrepreneur Andrew Yang leads and lesser-known candidates who have never run for any office before, like civil rights attorney Maya Wiley, pick up steam.
Stringer and his campaign are showing concern but also cautioning political insiders from developing any conclusions or narratives about his demise, stressing his strong history as a campaigner, that very groundwork he has been laying for many years, the millions of dollars he has in the bank, and other potential advantages.
"The winner of the Democratic Primary on June 22 will be the candidate with the resources and the receipts to persuade New Yorkers of true readiness to lead the biggest city in America — and Scott Stringer is, by far, best positioned to do so," said Micah Lasher, Stringer's campaign manager, in a memo sent out after the recent poll.
They are of course right to say that the race has only just begun, with campaigns now starting to spend their money on voter outreach and most likely voters barely paying attention to the primary, if at all. Still, there are some troubling signs for Stringer.
The poll released last week by lobbying firm Fontas Advisors and opinion research firm Core Decision Analytics, which are unaffiliated with any campaign, found that 50% of likely Democratic voters were undecided. Yang, the recent Democratic presidential candidate, was in the lead with 16% of the vote and Brooklyn Borough President Eric Adams second with 10%. Yang and Adams have held those two spots in every recent poll seen publicly.
In this latest Fontas/CDA poll, Wiley, a former counsel to Mayor Bill de Blasio, was third with 6% and Stringer fourth with 5%. Other candidates considered in the top tier who have yet to break through include former Citigroup executive Ray McGuire, former federal housing secretary Shaun Donovan, former sanitation commissioner Kathryn Garcia, and former nonprofit executive Dianne Morales.
It's not that Stringer struggles for name recognition. He has been involved in New York politics for decades, including hard-fought wins in highly-competitive primaries for Manhattan Borough President and Comptroller, the latter victory coming in 2013 over former Governor Eliot Spitzer. Stringer had briefly launched his own run for mayor in 2012 before dropping to the comptroller race and by many accounts he's been eyeing the top spot at City Hall for much of his adult life, if not longer — Stringer comes from a political family and was appointed to a community board at 16 years old.
It's not surprising that of the likely voters in the Fontas/DCA poll, 64% said they had heard of him, second only to Yang's 85% name recognition owing to his high-profile presidential bid. It was the second poll conducted by the firms, following one released in February, which had different methodology. The shift appears to have at least in part led to a loss of vote-share by several candidates. In the February poll, where the candidates were briefly described to voters being polled, Yang was leading with 28%, Adams was second with 17%, and Stringer was in third place with 13%.
There's no telling what will happen in the final months of this election, New York City mayoral races are known for breaking late, and predicting anything this year is further complicated by the first use of ranked-choice voting, also known as instant-runoff voting, where voters can rank five candidates in order of preference in primary and special elections. If no candidate receives more than 50% of the first-place votes, the detailed counting process will unfold whereby some voters' second and even third preferences may deter mine the winner.
The mayoral field includes a diverse group of candidates, many of them with ideologies and platforms similar to Stringer's, at least in broad strokes. Even though Yang, Stringer, and Adams have fairly strong name recognition, almost none of the candidates have started to spend any significant money, with many millions about to flow into mailings, TV, radio, and digital ads, and other forms of campaigning. Most voters, even those who vote in every Democratic primary, do not seem to have really started paying close attention to the race.
With ranked-choice voting in play, the day after the Fontas/CDA poll came out, Yang's campaign released another of its own internal polls showed Yang as the first choice for 25% of voters; 15% said Adams was their first choice; and Stringer, again in third place, was the first choice for 12% of voters — 20% were undecided. All polls, especially internal campaign polls and those conducted long before voting will occur, must be taken with a grain of salt, but there has been some consistency early on across the various polls seen publicly, giving some indication of where the race stands as its central phase is about to unfold.
After the most recent Fontas/CDA poll, it was again clear that the Stringer campaign is concerned about the developing narrative that he is struggling to gain a foothold, that Yang has eclipsed him, or that the race is looking like it will really be between Yang and Adams.
"Despite a concerted effort by the Yang campaign to convey a sense of inevitability, today their candidate has just 16% of the vote," said Lasher, in his campaign memo. "With no other candidate north of 10%, fully half of voters undecided, and the ultimate winner needing to break 50% of the primary vote in a Ranked Choice Voting system, this race is wide open — and it will remain so for some time."
Lasher also pointed out that Stringer is one of four candidates – besides Adams, Yang, and McGuire – who have raised enough funds to blanket the city with ads over the next few months (McGuire and Donovan have already begun advertising). As of the latest campaign finance deadline, March 15, Stringer had $6.8 million in cash on hand, Adams had $7.5 million, and McGuire had $3.6 million. Yang had about $1.3 million, but is continuing to raise money and is expected to receive public funds through the city's campaign finance program through the next payment to be made April 15.
"In other words, Scott Stringer is the only progressive in the race with the resources to win," Lasher wrote, attempting to differentiate Stringer from the more moderate threesome of Adams, Yang, and McGuire, though the lines are not so clear-cut. Broadly speaking, Stringer is indeed running on a more progressive platform, as are Wiley, Donovan, and Morales to varying degrees. Garcia is in more of the moderate lane, though all of the candidates have taken stances that span easy ideological categorization.
Lasher also noted that though the change in methodology in the two Fontas polls could account for the drop in voter support, Yang saw a larger decrease, which "suggests the start of a Yang decline."
"After excitement attached to the celebrity of Andrew Yang's candidacy begins to fade, voters will look for the candidate who is tested, steady, and ready to lead the city out of crisis. That candidate is Scott Stringer," he added.
Spokespeople for Stringer declined to provide any additional comment for this story beyond what is in the lengthy memo.
Even before the Fontas poll, Stringer seemed to sense the threat of Yang's campaign more than others. Stringer and Adams, and their representatives, have been the most open and public in their critiques of Yang, including questioning his commitment to the city and his lack of involvement in local civic affairs.
In an interview with Politico New York earlier this month, Yang had blamed the teachers union, the United Federation of Teachers (UFT), for slowing down the pace of school reopenings. "I will confess to being a parent that has been frustrated by how slow our schools have been to open, and I do believe that the UFT has been a significant reason why our schools have been slow to open," Yang said.
The comment quickly drew broad condemnation from several mayoral candidates. In an appearance before the Association for a Better New York the next day, Stringer went directly after Yang.
"Perhaps Mr. Yang wouldn't have said what he said if he had stayed in New York last spring and seen an entire city of teachers make the best of the worst to teach our kids, even as everything they knew changed overnight," he said, referring to Yang's decampment from the city to his upstate home during the height of the pandemic. "Perhaps Mr. Yang wouldn't have tried to score cheap political points at the expense of our teachers if he had come back this fall, and seen them take their lives in their hands again to go back to school, when no other big city in America was doing it."
The comment was also an apparent attempt by Stringer to further endear himself with the UFT, which represents 190,000 members and is one of the largest and most prominent public unions in the city. Stringer has longstanding ties to the UFT and is hoping to land its endorsement in the race. Thus far, several of the city's other major labor unions have supported Adams or Wiley, no doubt adding to the sense among some that Stringer is in precarious position and among his supporters that he needs a shot in the arm. Stringer has been backed by a number of labor unions, including the retail workers, and Garcia has been backed by the sanitation workers and others.
Observers of the mayoral race say Stringer is clearly losing ground to opponents but could still be competitive. "He's still alive in my view. Things are quite fluid. But he has no question had to deal with real incursions in his own base," said Neal Kwatra, founder of Metropolitan Public Strategies, in a text message. "Yang and Wiley and to a lesser extent Donovan are all playing on his side of the field with his white liberal base. That dynamic has prevented him from focusing on broadening that base to other key voter groups he needs to win. I also think frankly it created a bit of a perception problem for him with some key unions he likely was hoping would back him. But there is still ample time and I think his race against Spitzer is instructive for his more tortoise approach to building and peaking."
Hank Sheinkopf, a veteran political consultant, was far more blunt about Stringer's chances, pointing to several reasons why the two-term Democrat has stumbled. He pointed out, for instance, that historically comptrollers tend to not win the mayoralty.
"The Stringer strategic gamble was that he would move to the left, be able to then create relationships that would be useful with the Democratic Socialists and others," he said, citing Stringer's endorsement of several progressive candidates, particularly women of color, in state elections in 2018. That included now State Senators Jessica Ramos and Alessandra Biaggi, who have endorsed him in this year's race, and then Tiffany Caban, who nearly won the race for Queens district attorney in 2019 and is now running for City Council but has not endorsed Stringer. The comptroller also backed and then received the backing of now Rep. Jamaal Bowman, among others who Stringer is hoping will pay dividends as the mayoral race unfolds and he attempts to build support among voters of color.
"He tried to move to the left. It wasn't believable and what politicians should learn from this is you cannot make deals with deep pocket left people. It doesn't work with ideologues. So Stringer's gambit failed," he said.
Stringer's campaign sees it differently, of course, "[O]nly Scott Stringer has an energetic, citywide coalition of progressive supporters — more than 25 elected officials representing more than 50% of the city's primary voters — who can credibly validate his message to voters. That coalition was on display this week as our campaign wrapped up a petitioning effort that gathered more than 25,000 signatures — more than any other candidate and twice as much as the Yang Gang," Lasher wrote.
And though Stringer's original political base on the Upper West Side is a strong bastion of Democratic primary voters, many of whom elected him to the Assembly then borough presidency then comptroller's office, Sheinkopf said Stringer hasn't run as a West Side candidate for nearly 16 years and that it's a "faulty presumption thus far" that the West Side will vote for Stringer.
While Stringer often touts the many reports and plans he has released as comptroller and now as a candidate, Sheinkopf said voters don't tend to focus on those academic elements of a candidate's campaign. "Look, after 700 races around the world, I can tell you one thing: People vote out of gut, out of emotional attachment," he added. "Yang is fresh, the others are tired...What this may also be telling you is that we are rapidly coming to a conclusion of the ability of the old style political class to move up the political ladder."
Stringer is running on his plans and his experience, with tag lines like "ready on day one" and a regularly-repeated pledge to "manage the hell out of this city."
"If Stringer had the emotional argument, and he could light some fire, and he had the union endorsements, he would appear to be powerful and dynamic," Sheinkopf said. "But Stringer's problem is he doesn't appear to be powerful. He doesn't appear to be dynamic in a very changing environment. And that's why he's not catching on."
This is where Stringer believes his endorsements from many younger, dynamic elected officials will help him connect. "[Stringer] has experience winning tough debates in the spotlight. He has built a multi-ethnic, intergenerational coalition of support to get the word out in neighborhoods across the city. And he can most naturally build support around his message of "Ready on Day One" from all corners of the city to win 51% of the vote in a final, head-to-head round of Ranked Choice Voting against either Adams or Yang," Lasher said.
"He's doing a frontrunner strategy," said a staff member of a rival campaign, "And he is not the frontrunner. He's the underdog."
During a mid-February interview on the Max & Murphy podcast, Stringer was asked about the state of the race with four months to go and his standing especially given Yang had been in the lead in some of the early polling. The comptroller quickly referenced his come-from-behind win against Spitzer in 2013.
"[T]he Spitzer upset for me changed how I look at campaigns," Stringer said, "run your best race, ignore the pundits, like when the polls say you're doing well, but don't get carried away when they say you're not doing well. Because at the end of the day, the reporters are responsible for the analysis, and I like when the analysis sides with me and I roll my eyes when I think it's going in a different direction, but that's just part of being a candidate. I think this is going to be a very competitive race."
He expressed confidence about his track record and the appeal that he is "not a candidate that's going to need training wheels to be mayor...It's up to the voters and that's why we campaign, we have a whole lot of convincing to do, throughout the five boroughs."
Asked if he had moved too far left and was not speaking to a big group of Democratic primary voters clearly being targeted by Adams and others, Stringer said, "I've been in citywide elective office for eight years and I have literally been in almost every church, shul, civic association, from Staten Island to Queens. I've been in neighborhoods that are considered more progressive, I've been in neighborhoods considered more moderate. I've been in communities of diversity, whether that's the Muslim community, the African-American community, the Latino community...I'm the only candidate who's actually run and won a citywide race. I feel I'm connecting around the city - it's not like I have to introduce myself. I won these voters when I ran for comptroller; I got reelected with a huge, huge majority."
[Read: Scott Stringer's Strengths and Weaknesses as He Runs for Mayor]
Ben Max contributed to this story.