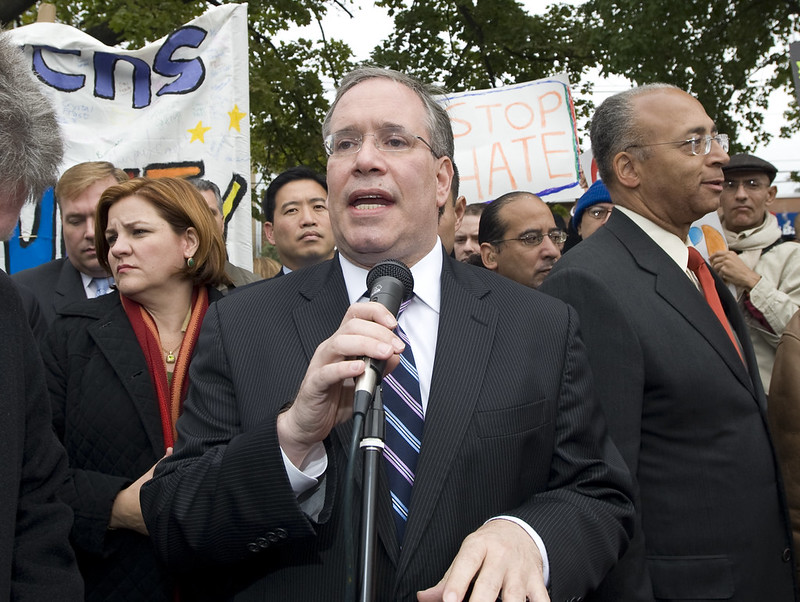 Scott Stringer in 2009, with two other officials who ran for mayor (photo: William Alatriste/City Council)
---
[This article is part of a series on the leading Democratic mayoral candidates' strengths and weaknesses.]
After years of working his way up through the hierarchy of elected office in New York, and one aborted run for mayor, Comptroller Scott Stringer this past week declared himself a candidate for the highest office in New York City in the 2021 election. It was an effective campaign launch featuring an impressive array of initial endorsers and the logical next step in a long and successful political career in which Stringer has made many allies along the way. The Democratic Manhattanite, currently serving as the city's chief fiscal officer and one of just three citywide elected officials, will now have to convince New York City voters that his career has best prepared him to take over from Mayor Bill de Blasio as the city's chief executive and save it from the dire circumstances brought on by a poorly-handled pandemic and its resulting recession.
While he's not known for any particular accomplishment or focus area, Stringer has been a solid and steady liberal presence in New York politics and government for his entire adult life, unwaveringly supportive of key progressive causes like women's reproductive and LGBTQ rights, gun control, and campaign finance reform. He's been a political reformer working within the system, mostly friendly to clubhouse politicians while at times staking out his own ground but mostly not ruffling feathers, playing the long-game. He's strategic and calculating, playing politics with the best of them while also recognizing that good policy can make good politics. He ran for comptroller with no particular qualifications for the highly-technical parts of the position, which offered a promotion from borough president, chance to improve the city he loves, and better perch to eventually run for mayor. Recently, he's lurched further leftward amid shifting winds within the Democratic Party, masterfully backing insurgents and betting on underdogs, building a diverse set of allies as he seeks to become yet another white male mayor.
Though even many who know him may struggle to name a signature issue, as Stringer enters the fight of his life to become the city's 110th mayor, he is perhaps most respected for winning tough elections.
Indeed, Stringer's strengths and weaknesses as a mayoral candidate lie in the fact that he has been a career politician, someone with decades of public service who's been angling to become mayor for much if not all of that time. He was a member of the state Assembly representing the famously liberal — and vote-rich — Upper West Side, from 1993 though 2005. From 2006 till 2013, he served as Manhattan borough president, before being elected to his current role as city comptroller.
After essentially being gifted the Assembly seat by his mentor, now-Rep. Jerry Nadler, Stringer won two hard-fought primary contests to initially take the offices of borough president and comptroller, the latter of which came after he briefly ran for mayor in 2012. Since he ascended to that citywide post by defeating former Governor Eliot Spitzer in the 2013 comptroller primary, Stringer has been preparing for a full mayoral campaign, almost launching one in 2017.
Now, term-limited out of his current role like de Blasio and most of city government, he believes it's his time.
With just over nine months till the June 2021 primary election, in which he will face a crowded field of Democrats, Stringer is undoubtedly in for another highly-competitive campaign. But it will also be the first citywide election with ranked-choice voting in place, which will give voters a more expansive voice in who they select and may cause candidates to both attempt to appeal to more voters and play nice with more of their competitors. Stringer, some early thinking goes, could make for an attractive second choice to a large number of voters excited by someone else but also interested in a steady, experienced hand. If he can secure enough first-place votes, in a large field Stringer could ride those second-place votes to victory in what is also known as instant-runoff voting. To win, he'll have to assemble a more diverse base of support than he's had in his prior close elections, where he's been powered to victory largely by white voters, starting with his Upper West Side base, and he clearly knows it.
Political observers and consultants say that, as with every mayoral election, the 2021 race will to some significant degree be a reaction to the current mayor. They believe voters will look for a decisive leader who can manage the day-to-day operations of city government while also offering a grand vision for the city's recovery. And some say identity politics may not be an overriding factor if a candidate can show they are capable and credible.
"The most important force in this race for the candidates who are running is the shadow of de Blasio," said Ravi Gupta, co-founder and managing partner of Arena, a national progressive organization that trains left-leaning Democratic candidates and campaign operatives. "Voters are going to want an explicit contrast with the current mayor."
[Read: Promising 'Leadership at City Hall,' Scott Stringer Officially Launches 2021 Mayoral Campaign]
For almost seven years now, Stringer has served as the city's top fiscal officer, keeping a watchful eye on the mayoralty in more ways than one. Under his official duties, he has monitored the de Blasio administration's fiscal practices, audited the performance of city agencies, and criticized wasteful spending, while also overseeing the city's massive public pension funds, among other roles. His office has exposed major problems and spending inefficiences at the city's public housing, homeless shelter system, prisons, and more. Under his political hat, he has for decades meticulously crafted alliances with prominent labor unions like the United Federation of Teachers (UFT) and, more recently, progressive left Democrats who are ascendant in his party to build an effective base that could help him win the mayoral race.
"Scott Stringer's record of fighting for progressive causes throughout his career is second to none," said Charles Kretchmer Lutvak, a spokesperson for Stringer's campaign, in a statement. "In the Assembly, he was one of the few Democratic voices opposing deals cut by their own Speaker to weaken the rent laws, he wrote the bill to repeal Governor Pataki's tax cuts for the wealthy, and he led the fight to pass once-in-a-generation rules reforms in Albany — other legislators booed at him when he ended 'empty-seat voting.' Twenty-one years ago, he was arrested after the police murder of Amadou Diallo, and nearly a decade ago, he spoke out against stop-and-frisk. As comptroller, he's taken on climate deniers and launched the first major public divestment from fossil fuels. The vision the Comptroller laid out this week as he announced his candidacy for mayor is a natural extension of his decades-long fight for the people over the powerful."
As his campaign notes, Stringer has always been knee-deep in the nuts and bolts of government. In the Assembly, he had a reputation for pursuing reform, particularly changes to the chamber's rules that he advanced in opposition to his colleagues. When he ran for borough president in 2005, it earned him the endorsement of the New York Times editorial board, which said he had "the credentials for the job and a sterling reputation as a catalyst for reform" and that he had "shown himself to be committed to the principles of good government." As borough president, he sought to reform and improve the functioning of community boards, starting with the appointment process.
As comptroller, Stringer has released a long list of plans to deal with everything from the unequal distribution of high-speed internet in the city to solving Puerto Rico's debt crisis. He has put particularly notable proposals to expand affordable childcare, improve mass transit access, and to create a new "universal affordable housing" model. He's also used his leverage over the nearly $200 billion public pension funds to push for divestment from the fossil fuel industry, which, along with other environmental stances he's taken, has been lauded by environmental activists, and to encourage more diversity on corporate boards. He's successfully urged the city to increase the number and value of contracts awarded to Minority- and Women-Owned Business Enterprises (MWBEs) and had also been pushing for years for there to be a chief diversity officer appointed at every city agency, a step the mayor took through executive order in July. These plans, stances, and accomplishments are already forming the basis of Stringer's mayoral platform, as he indicated at his launch event from his childhood neighborhoods of Inwood/Washington Heights.
Stringer's many plans have yet to receive the type of scrutiny that will come with running for mayor. In public appearances, he's shown potential for future struggles by regularly relying on vague talking points and values statements and not providing specifics when asked about budget remedies, his own policy plans, or alternatives to de Blasio policies he's critiquing.
[Read: Scott Stringer Has a Plan for That]
Stringer is widely considered to be an effective retail politician, comfortable in many settings -- skills honed by decades of political activity but also indicative of an affable personality, readiness to collaborate with local officials, and penchant for telling crowds what they want to hear. On many days, before the pandemic, he would make appearances across the city, glad-handing community activists, nonprofit leaders, business executives, and other elected officials. He's held many town halls and roundtables, opportunities to both help him do his current job and build his 2021 operation. He has a reputation for showing up and listening. Those who have worked for him emphasize that point.
"I've campaigned with Scott in past elections. What makes him so formidable is not just that he has a preternatural ability to connect one-on-one with a voter on the street, or that he's incredibly politically shrewd. It's that he will outwork anyone, anywhere," said Devon Puglia, a media consultant who previously worked as Stringer's communications director in the comptroller's office. Puglia pointed out how Stringer keeps a packed schedule. "That is really an under-the-radar differentiator, and it may be his greatest strength as a candidate. No one will out-hustle Scott," he said.
But Stringer has some spots on his record that may become flashpoints in the campaign, especially as candidates seek to draw out differences within the Democratic field. He embraced real estate developers before he rejected them. He endorsed de Blasio for reelection after critiquing the mayor's fundraising activities that landed the mayor under multiple law enforcement investigations. He backed the lifting of term limits helping then-Mayor Michael Bloomberg and many other officials seek and win a third term. He was a long-time establishment figure, part of a pay-your-dues political culture, before he began backing upstart progressives who managed to depose incumbent Democratic legislators.
He's put down a marker on controversial issues where he's deemed it appropriate or advantageous, but also avoided taking tough stances on a number of hot-button issues, like the specialized high school admissions test, while holding positions that often provide room to hide when desired. These are, in a sense, perks of the jobs of borough president and comptroller. For instance, while he was the first major elected official to call for the closure of the Rikers Island jail complex, he has been muted on the plan for four modernized borough-based jails that are meant to replace it. But his support of the Close Rikers movement and other criminal justice reforms and the effort to divest city pension funds from fossil fuel companies and other environmental causes sets him up to potentially win the support of some of the city's most ardent activists.
Stringer is one of three elected officials either running or likely to run, along with Brooklyn Borough President Eric Adams and City Council Speaker Corey Johnson. He lays claim to a far longer career in elected office than either and is the only one with a citywide win under his belt.
Winning the hard-fought 2013 primary with 52.1% of the vote against the former governor, who got 47.8%, Stringer showed political chops, including sharp debate performances, that no one who watched would underestimate now. He won the 2013 general election with 75% of the vote. He was reelected in 2017 with 72% of the vote. He has already raised $2.7 million in campaign cash – and has $2.3 million remaining as of July 11 – which places him first in the early field, and more than $470,000 in small-dollar contributions that could qualify for an 8-to-1 match under the city's public funds program, according to his campaign. Several other declared or exploring candidates -- Dianne Morales, Loree Sutton, Maya Wiley, Kathryn Garcia, Shaun Donovan -- are first-time candidates for office, which brings its own advantages and disadvantages.
"He is well known by the New York electorate. People have seen him in many offices," said George Arzt, a Democratic political consultant who has worked for Stringer's campaign in the past. "He knows his politics. He's born and bred in politics."
While Democratic primary voters, who tend to be the most dedicated and consistent base of the party, may readily know of Stringer, the most recent poll that included him from Quinnipiac University, in April 2019, found that 31% of city voters didn't know enough to approve or disapprove of the job he's done as comptroller. He received approval from 48% and disapproval from 21% of voters in that poll, including 54% approval from Democratic voters, 17% of whom disapproved.
Stringer has a long list of allies, including Democratic stalwarts like Nadler and Upper West Side Assemblymember Linda Rosenthal. The Assembly member was among those who endorsed Stringer at his campaign launch announcement, where he was also backed by several other state legislators, including young, first-term members like State Senators Alessandra Biaggi, Jessica Ramos, and Julie Salazar, each of whom Stringer endorsed over long-time incumbents. Those Senators were part of a wave of progressives who helped shift the balance of the Senate to Democrats, giving the party control of both houses of the Legislature and paving the way for 2019 passage of a sweeping agenda of progressive legislation that stalled for years.
"I don't think it was a cynical political ploy. I think he took a real gamble in supporting these first-time candidates," said Arzt, countering some of the criticism that Stringer skeptics have levelled. Stringer was also endorsed by Assemblymembers Yuh-Line Niou and Catalina Cruz, both of whom he previously endorsed over establishment figures, as well as Assemblymember Bobby Carroll of Park Slope, State Senator Robert Jackson and Assemblymember Al Taylor of Upper Manhattan, and State Senator Brian Kavanagh of Lower Manhattan and Downtown Brooklyn.
The opening coalition of diverse supporters quickly helped to some degree counteract questions about Stringer's potential viability with voters of color as a white man in an increasingly non-white city, though those questions are certain to persist.
Stringer is jumping into a race that could eventually include several candidates of color, including Adams, who is Black, and at least two women of color, Morales and Wiley. In some quarters of the Democratic Party, there are calls for the next mayor to be a person of color who can better grasp and tackle structural racism that has served to entrench everything from housing inequity to school segregation. But it's impossible to say whether race, ethnicity, gender, or other demographic information, like LGBTQ status, will be a central or deciding factor for voters. In the last wide open mayoral primary, in 2013, de Blasio, whose wife and children are Black, brought together a coalition of white progressives and voters of color, winning more Black support than Bill Thompson, the Black former city comptroller.
Stringer's presence around the five boroughs, including in many communities of color, serves not only to boost his name recognition but also signals his interest in the job of mayor, said Gupta. "Scott is a New Yorker through and through and somebody who loves the city and has wanted to be mayor for pretty much his entire adult life probably," he said. "And normally that kind of ambition is off-putting to voters but I actually think in this case, voters may like to see somebody who has wanted the job because they have somebody right now who seems almost disinterested in...probably the best political job in the world."
As Gupta noted, part of the challenge may be the evolving definition of who and what is considered progressive in the age of Trump. Longstanding Democrats have recently been brought down by challengers who profess ideologies that hew further to the left and more radical than what has been generally accepted in past elections. It's not just enough to support the building of affordable housing or reforms to the criminal justice system, candidates must now also eschew campaign donations from the real estate industry or from law enforcement unions. In his campaigns for Manhattan borough president and comptroller, Stringer readily accepted maximum campaign contributions from real estate developers, and he continued to do so for his mayoral run. He had already built a formidable war chest for his latest campaign before joining other Democratic candidates in saying that he would not accept any further real estate developer contributions – a pledge Johnson made from the start of his fundraising. Stringer hasn't returned previous donations but also hasn't raised any real estate donations in the latest fundraising cycle from January to July of this year, according to his campaign.
But Gupta said that might not be a make-or-break for Stringer. "I think it's going to be meat and potatoes issues that determine this race, not professed ideology," he said. "New Yorkers are a little bit skeptical of rhetoric. They want to see results."
Voters may not be ideological about their choices in June 2021, said Dr. Christina Greer, political science professor at Fordham University. "I think ranked-choice voting could work in [Stringer's] favor because he is a known quantity to social service organizations and social justice organizations and he has a built-in base already," she said. "It depends, I think, on the borough, it depends on how people think about their own personal finances, how they feel about public safety, the welfare of the city, the coronavirus. All those factors will dictate who they choose as their number one and who they choose their number two."
Though in his kickoff event he attempted to offer key principles of ethics, management, and leadership, and highlighted his policy focus on affordable housing and child care, Stringer has yet to offer a bold vision for the city's future. The next mayor of New York City could very well inherit multiple crises – a huge budget hole, widespread unemployment, continued unaffordability, a longstanding homelessness crisis, crumbling public housing, mistrust between police and communities, to name just a few.
"I think there's a real appetite right now for a big thinker and he will have to prove that he's that person despite what is a very conventional political background," said Eric Phillips, senior vice president at Edelman, a consultancy, and former press secretary to de Blasio.
Phillips said Stringer has an advantage of having shown that he's good at management as well as politics, particularly with his risky endorsements of progressive Democratic challengers. "Being the mayor of New York City is a political job and it's usually done well by people who are good at politics…To do something of substance from a policy perspective in New York City requires you to coalition-build, it requires you to understand what the public thinks of you, it requires political skill. So I don't view that as cynicism. I view that as a requirement of the job," Phillips said.
But Phillips, echoing Gupta's point, said voters will chiefly back the candidate who they think can make the city run effectively and efficiently. "The largest bloc of primary voters in this city are people who are really focused on trash and snow and roads and schools and public safety," Phillips said. "They don't want fewer cops, they want better cops, and ultimately I think people like Scott Stringer will factor well into that equation."
[This article is part of a series on the leading Democratic mayoral candidates' strengths and weaknesses.]
Ben Max contributed to this story.