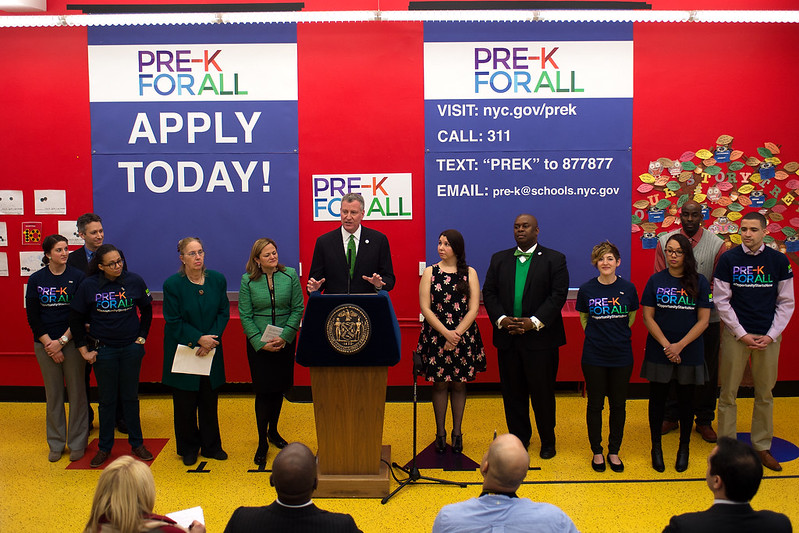 Mayor de Blasio pushes pre-K (photo: Rob Bennett/Mayoral Photography Office)
---
Just three months into his first term in 2014, Mayor Bill de Blasio was successful in convincing the state Legislature and Governor Andrew Cuomo to approve funding for universal pre-kindergarten, still his signature accomplishment after more than seven years in office. It was his boldest policy proposal as a mayoral candidate, one that he talked about incessantly throughout his 2013 campaign, along with the tax increase on high-earners that he wanted to pay for it, and that continues to be hailed as a success, and one he has expanded on by launching free public preschool for three-year-olds.
As the 2021 mayoral race to replace de Blasio progresses, with the June primary just two months away (early voting starts June 12, primary day is June 22), the Democratic candidates are offering extensive platforms of their own as they try to portray themselves as the most qualified and visionary to bring the city back from the brink of the pandemic and usher in a prosperous future. Some of the leading candidates — there's a top tier of eight — have advanced big, transformative ideas akin to de Blasio's "UPK" that they are trying to hammer home as defining proposals, while others are pitching their candidacies on more complex multi-pronged plans for the city's recovery.
Of course, there are many differences between New York City in 2021 and 2013, when the city was in the early years of an economic boom that would last until the coronavirus hit last year. De Blasio won eight years ago on a platform of addressing inequality, with universal pre-kindergarten as his central policy promise, while also stressing police reform and more.
New Yorkers are looking to de Blasio's successor to fix the city's multifaceted crises, exposed and exacerbated by the pandemic and for which there is no panacea.
"Things were pretty well, were kind of in an equilibrium and kind of balanced and things seemed okay in 2013, which enabled de Blasio to project Universal pre-K as his signature idea of how to make things better," said Bruce Gyory, a veteran Democratic strategist with the firm Manatt, Phelps & Phillips, LLP, in a phone interview. This year, however, "In some sense, there's a higher standard for being able to, in effect, make the case for a signature idea."
Still, owning a signature policy idea that appeals to a large swath of voters and opinion-makers can be beneficial in any electoral race, just ask de Blasio — or the current frontrunner in the race to replace him: Andrew Yang, the entrepreneur who came to prominence running for president on Universal Basic Income (UBI). Yang, riding high off the name recognition and goodwill from that campaign, has been leading mayoral polls in the early months of his bid, while offering a significantly adjusted cash relief plan.
Here's a look at how the top Democratic mayoral candidates are pitching a signature idea or set of ideas:
Andrew Yang: Cash Grants for the Poorest New Yorkers
Yang is the early frontrunner, jumping into the race with announcing a mayoral race version of a cash relief plan modelled off the Universal Basic Income (UBI) proposal he ran for president on. His plan for the city would give 500,000 of the poorest New Yorkers an average of $2,000 every year, at a cost of about $1 billion, which Yang has said he would seek to grow through a combination of government and private funds. He hasn't fully explained how he would pay for the initial $1 billion, though he has pointed to some of the big buckets he says the money would come from, including government efficiencies, and any mayor may be able to figure out how to carve $1 billion out of a $90-plus billion budget for a signature program, especially if it helps create its own savings, as Yang says his grant program would.
Among the other ways Yang proposes raising the money is through eliminating tax breaks for property-tax exempt landlords like Madison Square Garden and Columbia University.
Basic income is by far Yang's most popular idea, though not an original one, and one that even other mayoral candidates have embraced in some form. Through the program, Yang aims to end poverty in the city, a laudable but arduous goal in a city where about 19% of residents lived at or below the federal poverty line even before the pandemic.
While Yang is clearly still known based on UBI, the mantle for which he says he picked up from Dr. Martin Luther King, Jr., among others (Martin Luther King III is a co-chair of Yang's campaign), he has not made his municipal cash grant plan quite the same focus as he made UBI during his presidential bid. That could change as the race heats up and he starts airing television and other ads. Yang talks about the plan regularly, but has often been much more focused on his broader push for the city's economic recovery.
Eric Adams: The People's Plan
Adams' chief proposal is a three-part "People's Plan" that directly takes aim at the inefficiencies in city government that he says cause socio-economic and racial disparities.
At the core of the plan is his proposed MyCity centralized digital portal that would allow New Yorkers to easily access all city services, automatic cash benefits, and free or discounted childcare.
The portal would help with everything from obtaining food stamps and renewing business permits to creating bank accounts and resolving building code violations.
Adams' People's Plan also includes a commitment to universal childcare. Among the measures he has proposed is reducing the costs for childcare programs by setting aside space in city-owned buildings, offering density bonuses to residential developers who guarantee permanently free or low rent to childcare providers, and tax breaks for office building owners to create such space free of charge.
The third aspect of his plan is NYC Advanced Income Deployment (AID), which would increase the amount of the Earned Income Tax Credit (EITC) and provide it to needy families in advanced monthly payments. According to his campaign, the credit would increase from about $250 annually to $3,000 annually for a family with two children earning $30,000 a year.
"To reverse inequality and help New Yorkers who are struggling, Eric will launch his People's Plan to provide cash, benefits, and childcare through one platform, automatically delivering assistance when it is most needed," said Evan Thies, a campaign spokesperson, in a statement. "This revolutionary approach will lift up working people and people of color to get through this crisis and ensure they have the resources they need after to thrive."
While Adams regularly talks about these ideas, he has not been beating the drum about them in the way that would make even those following the mayoral race closely able to quickly identify them as his signature ideas.
Scott Stringer: Universal Affordable Housing
At an April 8 forum hosted by The Nation, when asked about his signature initiative, Stringer talked about ending the city's hoomelessness crisis by addressing the shortage of low-income housing. "I want to make sure that we're finally going to do something that Michael Bloomberg couldn't do, or Bill de Blasio wouldn't do, and that is to build real low-income housing," he said. "I didn't say affordable housing, I said low-income housing."
Stringer has been focused on affordable housing as comptroller, repeatedly critiquing de Blasio's housing plans and approach to homelessness, while offering his own extensive housing platform from the comptroller's office that became the basis of his campaign plan.
In a statement through a spokesperson on Friday, Stringer added, "My big idea is that New York should be an affordable city for everyone to live in, and my plan is Universal Affordable Housing: require any new building that gets built with more than 10 apartments — anywhere in the city — to make 25% of those apartments actually affordable to middle- and low-income families. It would fundamentally change the paradigm of how we build housing in this city and create affordable housing and greater diversity in every neighborhood."
Stringer proposed his plan early last year, releasing it officially from the office of comptroller but clearly aimed at the mayoral campaign. His plan would require that all the units built under the Universal Affordable Housing mandate would have to be at an average of 60% of Area Median Income, which is about $58,000 annually for two adults making minimum wage with a child. He would also end the $1.6 billion annual 421-a tax break for developers, he has said, which is supposed to spur affordable housing set-asides in wealthier areas but has been roundly criticized as inefficient. A change would need state approval.
Stringer also pledged to use city capital funding to finance the production of housing for extremely and very low-income households and said he would create a non-profit land bank to build 100% permanently affordable housing on about 1,000 vacant lots owned by the city (a number the de Blasio administration has repeatedly disputed in terms of how many lots are actually available and buildable for housing).
"I've fought for tenants and truly affordable housing from days as a housing activist organizing Mitchell-Lama tenants to my days in the State Assembly and to my time as Borough President and Comptroller," Stringer added. "Real affordable housing has always been my fight, and I know that we can only address homelessness in this city by creating deeply affordable homes. As mayor, that's what I'll do."
While Stringer has regularly raised his housing plan at events and candidate forums, he has thus far not made a concerted effort to be known by it.
Ray McGuire: The Comeback Plan
Former Citigroup executive Ray McGuire's major proposal is his economic "Comeback Plan" to fuel the city's recovery by creating 500,000 jobs.
The three-part plan, which McGuire talks about fairly incessantly, includes small business stimulus, easing the cost of doing business in the city, and an infrastructure plan. McGuire regularly says his "Go big, go small, go forward" plan will foster "the most inclusive comeback" the city has ever seen.
The plan includes a Comeback Job Accelerator to subsidize 50% of wages for 50,000 small business workers for one year. It would target businesses that lost more than 40% of total revenue in 2020, prioritizing the hardest hit communities. McGuire says he could pay for its unspecified cost through city government efficiencies and federal aid that is flowing to the city in the American Rescue Plan recently passed by President Joe Biden and the Congress.
McGuire's plan also entails allowing businesses to retain the sales tax they collect for a year, automatically renewing permits and licenses without fees for a year, financial incentives for property owners who forgive or reduce rents for small businesses, reducing utility bills for small businesses, and creating a Red Tape Commission to ease regulations, among other measures.
It also includes a Comeback Bank Initiative to extend capital to community banks and expand lending to small businesses. McGuire says he will also create a $50 million fund for advances or low-interest loans through the initiative to help small Minority- and Women-Owned Businesses get city contracts.
McGuire also wants to reduce the cost of the city's capital infrastructure program while accelerating its pace and the amount of funds spent every year.
Among the eight leading Democratic mayoral candidates, McGuire may be the closest to actively establishing his candidacy around his 'big idea' first and foremost, including through the campaign literature he has already been mailing to voters around the city. In doing so, McGuire is trying to best capitalize on his big business background given his decades on Wall Street, where he rose to one of the top executives in the banking industry.
Maya Wiley: Universal Care Economy
Former counsel to the mayor Maya Wiley has proposed a plan for Universal Community Care that would cost $300 million to provide $5,000 annually to 100,000 informal caregivers in the care economy. The funds would come partly from the federal government and partly from freezing cadet classes at the NYPD and the Department of Correction for two years. That would reduce the NYPD's headcount by 2,250 officers and DOC headcount by 750 officers, according to her campaign.
The caregiving industry is one of the fastest growing sectors of employment in New York City and is largely made up of women of color, who Wiley has been concertedly courting in her bid for mayor. "One of the things we know about this pandemic is that it has decimated work, in particular work for women and work for women of color in the care economy," Wiley said at the forum hosted by The Nation, touting her care economy plan as her signature initiative when asked.
Besides direct cash relief, Wiley has also proposed building Community Care Centers in the highest-need neighborhoods to provide services to 300,000 people in the first year and growing to 1 million young, old, and other higher-needs people once fully built out. The program would be overseen by a newly-created deputy mayor, she has said.
Wiley's plan also includes stronger wage and pay enforcement for care workers by expanding the Paid Care Division of the Department of Consumer Affairs and expanding who qualifies as a care worker, a portable benefits program for domestic workers, among other steps.
"This reall y is a game-changer in terms of how we think about care as well as the caring economy," Wiley said at the forum.
Dianne Morales: Defund the NYPD
Former nonprofit executive Dianne Morales' call to defund the NYPD by $3 billion and to reallocate those funds into communities is central to her campaign, and among her ardent left-wing followers and many others following the race, she has become well-known for that plan. It builds on efforts by criminal justice reformers who escalated the call for reducing police spending after the police killing of George Floyd in Minnesota last year, which prompted months of sustained outrage and protest in the streets of New York City, where protesters connected it to local examples of police brutality.
"The most bloated sort of budget in this city is the...NYPD and I've talked about that publicly, about what I think, the idea that I feel like we need to divest and reinvest and that sort of would be one of my first priorities, to take a really hard look at that budget," she said in a video interview with Gotham Gazette in January.
Morales has not been specific about how she would reallocate funds but has outlined various uses for the $3 billion. She wants to create a new Community First Responders Department, distinct from the police, to respond to people experiencing mental health crises or homelessness, for instance. She also wants to remove the NYPD entirely from non-criminal law enforcement purposes such as school safety, traffic enforcement, homeless outreach, or drug intervention. In the video interview, Morales could not say how those changes would affect the NYPD's headcount. "This isn't a, you know, snap your finger or like flip a switch kind of thing. I think...there needs to be a progressive sort of reallocation. The first hit would probably be the hardest hit...in terms of just it's also reflective of a culture shift and decreasing the budget."
In a subsequent interview on the Max & Murphy podcast, she said of how to execute the $3 billion NYPD cut, "you just do it," but said that any NYPD employees whose positions would be eliminated at the police department could be retrained and provided opportunities at other city agencies.
Morales has also called for an elected Civilian Complaint Review Board (CCRB), which investigates certain types of police misconduct.
Among the other uses Morales proposed for the funds are free legal services for immigrants, investments in violence interruption programs and funding harm reduction and safe consumption programs. Along with McGuire's focus on his economic recovery plan, Morales may be among the candidates most closely identifiable by her signature proposal at this point.
Kathryn Garcia: A True Green Future
At the April 8 The Nation forum, former city sanitation commissioner Kathryn Garcia emphasized that the next mayor needs to be able to pursue multiple major policies at the same time. But, she added, "I believe that the thing that I want to leave this city is a really true green future."
That entails, she said, 150 million more square feet of green infrastructure, eliminating peaker plants, turning Rikers Island into a renewable energy hub, a Green New Deal for NYCHA, and a fully-electrified school bus fleet, to name a few things. "Because all of these environmental programs mean not only are we protecting our planet, but we're healthier today. Our air is cleaner today. Our streets are cooler today," Garcia said.
Her climate plan is lengthy and intersects with plans for housing, transportation, and education.
To pursue the goal of an economy fully reliant on renewable energy, among the measures she would pursue are tripling the availability of public car chargers for electric vehicles, incentivizing people to install car chargers at home, maximizing offshore wind generation, incentivizing investments in solar power, and converting food waste into energy.
Garcia aims to make the city greener by replacing 500 blacktop schoolyards with green spaces, renovating 100 parks in communities hit hardest by COVID-19, launching a "Green Boulevard" program across the city, greening school roofs, implementing a "Natural Roofs" program combining green roofs with solar panels, and planting 1 million trees over eight years focusing on neighborhoods with high asthma rates such as the South Bronx and East New York.
She aims to get the city to zero waste by restoring and expanding curbside organics recycling and making it mandatory, opening compost facilities citywide, developing a waste reduction program, and ensuring that the city procurement for construction and equipment requires recycled and post-consumer materials.
Garcia would take a district-level approach to climate resiliency, ensuring closer coordination with communities on the ground. She would also redesign workforce programs to focus on "green collar" jobs.
"As we begin the road to recovery, we face overlapping crises and a loss of trust in government services. Kathryn knows that these challenges will not be solved by one big policy idea or catchy hashtag," said Lindsey Green, a campaign spokesperson, in a statement on Friday. "Throughout all of Kathryn's proposals she has laid out how she will cut through red tape to make New York CIty more liveable and more equitable. Among her most ambitious proposals is her Reopen to Stay Open plan that will dramatically reimagine our public spaces by removing permitting barriers, help bring back hundreds of thousands of jobs lost to the pandemic while creating over 10,000 new jobs in green infrastructure, and make it easier than ever to open a small business with a single small business permit. Her plan also includes a jobs pipeline from CUNY and trade schools directly to city government and partnerships with the private sector to create 10,000 paid internships for high school students and zero interest microloans to boost thousands of small businesses as they recover."
Shaun Donovan: 15-Minute Neighborhoods
Donovan, the former federal housing secretary and budget director under President Barack Obama, talked about his "15-minute neighborhoods" plan, when he was asked about his signature issue at The Nation forum.
As Donovan has explained, every person should have equitable access to good public schools, fresh food, rapid transportation, green space, health care, and economic opportunity within 15 minutes of their home. It's the type of access that already exists in wealthier, whiter communities and is missing in low-income communities of color, he has said.
Citing his decades of government experience, Donovan said at the forum, "I have seen over and over again, the deep injustice of being able to predict a child's life chances, even life expectancy, by their zip code. It's the single greatest predictor in our city, in our country of their life chances and that has to end. And it will only end until we reorient the way we plan our city around 15-minute neighborhoods."
Donovan, also former housing commissioner under Mayor Michael Bloomberg, has made the 15-minute neighborhoods idea central to his pitch to voters in a number of settings, though he's also tried to frame his candidacy as "the man with a plan" for just about everything.
In a lengthy statement to Gotham Gazette through a spokesperson on Friday, Donovan boasted of having proposed more than 200 policy plans so far but insisted that 15-minute neighborhoods "will be the most transformative for our city" and serves as "an intersectional framework" for his other policies.
"During my time as President Obama's Housing Secretary and Budget Director, he would often tell us to never let an opportunity go to waste. At this moment, we have an opportunity as we rebuild following this crisis to completely reimagine New York City as a place that truly works for everyone," Donovan said, in part. "A city where all New Yorkers have easy access to the resources they need to live healthy lives, and that actively works to address long standing gaps in opportunity, wealth, and treatment. A city where the zip code you're born in can no longer determine your chances for success or your life expectancy, and where the benefits of living in New York normally reserved for a few of our residents are available to all."
Ben Max contributed to this story.