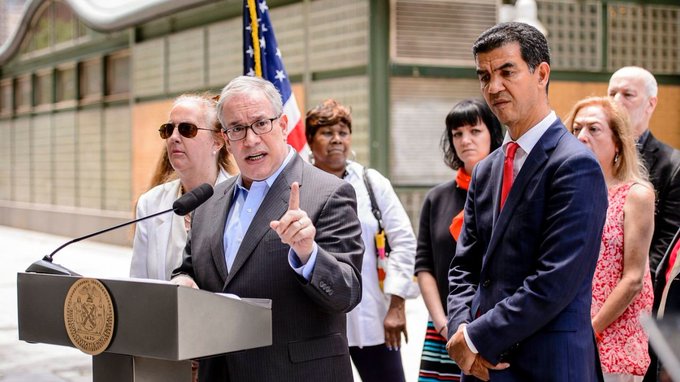 Comptroller and mayoral candidate Scott Stringer (photo: @scottmstringer)
---
When he officially launched his campaign for mayor earlier this month, Comptroller Scott Stringer took square aim at what he called "the gentrification industrial complex" that he says has flourished in New York City despite Mayor Bill de Blasio's years-long effort to stem the tide of housing unaffordability. Stringer, a two-term Democrat, has for years examined, audited, and criticized various aspects of the mayor's housing program, arguing it is not aptly designed to help those most in need of affordable housing, and is promising that if he's elected mayor he will pursue a swift policy change to help house the poorest New Yorkers, finally make the city more affordable, and significantly reduce homelessness.
In January, Stringer released a housing plan that set him in contrast with de Blasio, earned him high praise from progressive leaders and organizations, and is now a lynchpin of his mayoral platform. The plan would be "a fundamental shift in the city's approach to our housing crisis," Stringer said at the announcement. "A plan that refocuses our resources where the crisis is most acute." But there remain major open questions about the plan. Funding it would require action from the state Legislature, and at a time when both city and state tax revenues are down drastically. His push for both new mandates on affordable housing in new building projects and greater use of discretionary subsidies by the city could give pause to real estate developers and slow the pace of construction.
And Stringer has yet to answer key questions about what his approach to development as mayor would really be, including whether he would pursue large city-backed rezonings to encourage housing development in wealthier neighborhoods or how he would otherwise advance the housing desegregation that he has declared a goal.
While a representative of Stringer's campaign told Gotham Gazette that Stringer wants to increase density across the city and that he supports upzonings in wealthier communities to do so, Stringer has not made either point central to his housing pitch. Nor has he pointed to any specific city neighborhoods he thinks are ripe for zoning changes to allow for larger buildings. He has so far only talked about mandating more affordable housing where building is set to occur within current zoning restrictions, thereby increasing costs for developers without increasing their potential earnings from more market-rate units that can subsidize the affordable ones, the key equation in de Blasio's plan.
Asked for examples of neighborhoods Stringer believes should be upzoned for more housing density, his campaign did not provide a response. Stringer was not made available for an interview for this story. But after this article originally published and discussion about Stringer's housing vision took off on social media, Stringer tweeted that "Upzonings are an important tool to create housing; we also need an as-of-right requirement," and, in response to housing advocates pointing to a proposal to upzone Soho for more housing, "I agree. Upzoning makes sense in Soho."
"When I'm mayor, we're going to end the crushing cycle of speculation, eviction and displacement," Stringer said at his campaign launch. "No more giving away the store to developers. No more unaffordable affordable housing. We will put an end to the gentrification industrial complex, and end policies that perpetuate a cycle of segregation in our neighborhoods and in our schools...Together we will put the city's approach on a fundamentally new trajectory to build the housing we need in a city for everyone."
[Read: Promising 'Leadership at City Hall,' Scott Stringer Officially Launches 2021 Mayoral Campaign]
At the campaign launch in Inwood, Stringer pointed to his housing plan and referenced its centerpiece, "universal affordable housing," which would mandate aggressive affordability caps for 25% of the housing in any new development with ten or more units -- including those built as-of-right, meaning no new zoning changes in need of city approval. Universal affordable housing would replace the current Mandatory Inclusionary Housing (MIH) program, a product of the de Blasio administration that has its fair share of critics, including Stringer, who don't believe it goes far enough in mandating affordability and point out that it only applies to development in rezoned areas.
Universal affordable housing would require that all affordable housing created under it would cap rents so that those making an average of 60% of Area Median Income (about $58,000 a year for a family of three), or two parents making minimum wage and raising a child, would not pay more than 30% of their income in rent. Though some have raised questions about its constitutionality, as a potential government "taking" of private property, similar citywide policies have been implemented in San Jose, California in 2010 and Portland, Oregon in 2017. San Jose's inclusionary housing policy was challenged all the way to the Supreme Court, which refused to take the case in 2016, letting the law stand (though leaving open the possibility of another challenge).
According to Stringer's office, if universal affordable housing had been applied at the start of 2014, when de Blasio became mayor, it would have led to the construction of 25,000 additional affordable units by the end of 2019 over what de Blasio's plan has produced.
Besides universal affordable housing, Stringer's housing plan would also deepen the city's investment in housing for extremely and very low-income households, shifting funds from supplementing rents for moderate- and middle-income households; create a New York City Land Bank to fund 100% permanently affordable housing on about 1,000 vacant city-owned properties (though that number of potentially-useful lots has long been disputed by city housing officials); end the 421-a affordable housing tax subsidy that is supposed to incentivize affordable units in wealthier areas and replace it with discretionary subsidies; and expand homeownership through various initiatives.
Stringer regularly talks about the need for a real focus on comprehensive "community-based planning," arguing that the de Blasio administration has been too top-down and promising that if he's elected mayor communities will have more input. He has not explained what that will look like or how it will be anything but a barrier to more housing being built, whether in wealthier neighborhoods or elsewhere.
According to an assistant comptroller in Stringer's office, which produced the housing plan in January, the main flaw in de Blasio's housing approach has been the targeting of low-income communities of color for major upzonings that allow more density. Instead of encouraging development in those areas and spurring or accelerating gentrification, the mayor should target parts of the city where construction is already occurring, the official said. De Blasio has argued that he has pursued neighborhood plans where there is ample room to build, where force of gentrification could be harnessed or stemmed, and where local elected officials are interested in working on rezonings.
And rather than focus on a quantitative target of 300,000 rent-restricted units over 12 years, the mayor should be looking at the outcomes for affordability, according to Stringer. His plan does not contain a goal of total units or a timeline.
In response to Gotham Gazette inquiries about various aspects of the housing plan, Cameron Hellerman, a spokesperson for Stringer's campaign, provided a statement about universal affordable housing and how it would work. It said, in part: "This means real affordable housing in every neighborhood with new construction, no exceptions. The problem with Mayor de Blasio's approach is that the 'affordable' housing in his rezonings is not affordable and completely out of reach for the people who built up the low income neighborhoods he targeted. Universal Affordable Housing would bring an affordable housing revolution that delivers housing to the New Yorkers who need it most. With a mounting homelessness crisis made worse by the devastation of the pandemic, we simply can't afford not to implement this plan."
De Blasio's 300,000-unit housing program, which mostly focuses on preservation rather than new construction, has shifted several times as the mayor has responded to constant and ongoing criticism about being too focused on the middle class as opposed to those who are working class, poor, and homeless. As of June 30, his administration has preserved 114,934 units and funded the construction of 50,656 units of rent-restricted housing. Of those, a total of 72,396 are targeted at extremely low- and very low-income families, which fall below the 50% Area Median Income threshold. More than 60,000 New Yorkers are in Department of Homeless Services shelters, while tens of thousands more live in other shelters, on the streets, or doubled up with friends or relatives.
The city's fortunes have changed since the release of both de Blasio's most recent version of his plan and Stringer's plan. Just before the coronavirus outbreak hit, de Blasio was promising another iteration of his housing plan, with more focus on those with limited means.
While Stringer talked about the impacts of the pandemic at his campaign launch, he did not say anything about them altering his housing plan. The pandemic has pushed the economy into a recession and city revenues have plummeted, forcing de Blasio to pare back his own affordable housing program.
Stringer's plan, which envisions a net increase of $600 million in city investment for affordable housing, in part through phasing out the 421-a affordable housing tax credit, eliminating the Mortgage Recording Tax, and reforming the Real Property Transfer Tax, may no longer be feasible.
Stringer's proposal is a rebuke of Mandatory Inclusionary Housing, a broadly popular policy proven controversial based on the particulars of how it was designed by the de Blasio administration and City Council before its passage in 2016. As part of the mayor's 300,000-unit affordable housing program, MIH requires developers to build permanent rent-restricted housing in new developments at various income bands when they receive rezoning permission to build bigger. MIH is, however, a small part of the overall housing plan and, by the end of 2019, about 2,100 affordable units had been created through the program, according to a City Limits report.
Under the current approach, the de Blasio administration has pursued neighborhood rezonings in select areas across the city to encourage more density, build new market-rate and affordable units, and modernize and invest in communities. While several neighborhood rezoning plans have moved through the process and been approved, others that de Blasio had targeted have not moved or been stalled, and the mayor has not made neighborhood rezonings a priority for years now.
When Stringer released his plan, the city's Department of Housing Preservation and Development publicly criticised it, saying, in part, "Comptroller Stringer's proposals would actually worsen New York City's housing crisis. They'd make it next to impossible to build new buildings and lock countless hard-working families out of homes they could actually afford."
Housing advocates, however, have broadly critiqued the city's existing program and how MIH has been implemented. They note that the administration has mostly targeted low-income communities of color like East New York and East Harlem for rezonings, therefore encouraging real estate speculation and expediting the currents of gentrification that can price current residents out of their neighborhoods. De Blasio argues that his plan leverages forces of gentrification that would only worsen without city intervention and that it helps build desperately needed new housing for a variety of income levels. But advocates and some elected officials, including Stringer, say too much new housing that is being created continues to be unaffordable to those who need it most.
Stringer's plan, on the other hand, has support from some of the most prominent housing advocacy groups in the city, including Community Voices Heard, Community Service Society, New York Communities for Change, The Legal Aid Society, and Churches United for Fair Housing.
"It's a million times better than de Blasio's plan, which prioritized affordable housing that was unaffordable to communities," said Jonathan Westin, executive director of New York Communities for Change, in a phone interview.
"What the next administration really needs to work on is, it's not just about building quote-unquote affordable housing," he added. "It's about really housing the New Yorkers who need it the most, which are homeless people and people on the verge of homelessness."
Part of Stringer's proposal involves increasing operating housing subsidies awarded by the Department of Housing Preservation and Development by about $125 million each year and increasing capital investment by $375 million each year. But with the phasing out of the 421-a subsidy, which costs about $1.6 billion in property tax revenue annually according to estimates from Stringer's office, under Stringer's plan the city will have sufficient funds for the added investments.
Westin said the city already has enough resources, but they're not applied where they're needed. "There's billions and billions in resources right now that is at HPD, that is at [Economic Development Corporation], that is just being misappropriated to build the gentrification plan that de Blasio is putting forward right now," he said. "It could just be repurposed...into funding the lowest income housing." If the city houses homeless people, it'll also spend less on the shelter system, he pointed out.
Sean Campion, senior research associate at nonprofit watchdog Citizens Budget Commission, recently authored a report that found that New York's housing stock growth has not kept pace with job creation, exacerbating the housing crisis. Policy decisions over the years have created uneven levels of allowable density, massive areas with low-density zoning, hard-to-develop vacant lots, and a scarcity of as-of-right development sites. Stringer's plan seeks to correct some of those issues, but could run up against hurdles, Campion said in an interview.
"[Stringer] called for both more capital and targeting capital better at deep levels of affordability. There's obviously less of that to go around," he said, pointing to the city's budget crunch. Even if a Stringer administration kept funding flat, it would mean fewer units get built at deeper affordability. "That trade off is still there. But obviously in a more constrained environment, that's more difficult to do."
Operational funding will be the bigger challenge, Campion noted, as the city's revenues have nosedived with big budget gaps expected next year. Stringer has proposed raising those funds by replacing the "regressive and inequitable" mortgage recording tax with a "more progressive" Real Property Transfer Tax, changes that would together raise about $400 million in revenue each year. Those tax amendments, along with 421-a's expiration, would require approval from the state Legislature.
"Given the budget shortfall plus the declines in just the number of real estate transfers in general, particularly on the commercial side, that could put a dent in that in the short-term," Campion said.
Though CBC has not taken a position on Stringer's universal affordable housing proposal, Campion did address the idea to do away with 421-a and provide subsidies on a discretionary basis. "Making it discretionary would probably depress housing production," he said. "There are a lot of faults [with 421-a]. It can be better targeted, it's expensive. But because it's as-of-right, developers know what the program is, and they know what they're getting into when they're buying land, running projects."
"One of the benefits of development in New York City in general is that you can build things as-of-right without discretionary approvals, but we still need 421-a to make the economics work because the tax on multi-family development is so high...Making the tax incentives discretionary effectively makes all development discretionary," he added.
[Read: Experts Examine Challenges and Solutions to Building Affordable Housing in New York]
One area of general agreement among advocates and fiscal watchdogs is that additional capital investment will both help create more housing and spur job growth by encouraging construction.
"I don't see the pandemic at all at odds with an ambitious housing preservation and production program the way that Stringer lays out," said Cea Weaver, campaign coordinator for the Housing Justice For All coalition. Weaver too noted flaws in how the city has used Mandatory Inclusionary Housing. "Mandatory Inclusionary Housing is really a public policy that's designed for a hot market," she said, noting that de Blasio's years in office have been accompanied by robust real estate growth (until covid). MIH, she said, is designed to work best in neighborhoods with higher land values, where developers would be able to recoup their investments without needing public subsidies while still building affordable units. "De Blasio, that's not how he used it. The way that he decided to do it was to use it in low land value areas of the city," she said.
Weaver said the time is ripe for the city to take a greater role in regulating housing by bringing unregulated housing stock, particularly in boroughs other than Manhattan, under rent-regulation as the pandemic suppresses the real estate market. "This downturn means that there are lots of things that you can do to increase the value of the city's capital," she said, calling on the city to issue bonds for building housing and to bail out struggling landlords and buildings while bringing them under city regulation.
She did note one point of minor disagreement with Stringer's plan. The comptroller has proposed increasing homeownership partly through creating community land banks and land trusts that can fund the construction of affordable co-ops and condos. "Stringer says that these are mechanisms to create homeownership. They're not. They're mechanisms to create collectively run housing. So I think that's a misnomer and he shouldn't be describing it that way," Weaver said.
Stringer is among a field of declared and likely candidates for the Democratic mayoral primary set to take place in June of next year and likely to determine the next mayor, given the city's overwhelming voter registration imbalance toward Democrats. All those seeking the mayoralty will be expected to outline how they plan to make the city more affordable, produce more housing, reduce homelessness, and save public housing. Earlier this year, City Council Speaker Corey Johnson, who has said he intends to run for mayor but has not officially declared his candidacy, released an anti-homelessness plan and said an affordable housing plan was soon to come, but that was put on hold by the pandemic. Former federal housing secretary Shaun Donovan, also seriously exploring a mayoral run, is likely to make housing a centerpiece of his campaign. Former nonprofit executive Dianne Morales, who has launched her run for mayor, is talking about housing as "a human right" and hosting an upcoming campaign event focused on the issue. Other declared or exploring Democrats include Brooklyn Borough President Eric Adams, former New York City Veteran Affairs Commissioner Loree Sutton, and Maya Wiley, a civil rights attorney and former counsel to Mayor de Blasio.
If victorious, Stringer would need political will and alliances to implement some of the necessary policies. Phasing out 421-a will require state action as will reforming the city's inequitable property tax system, which de Blasio promised and failed to do for years. (Stringer released an analysis of the property tax system in 2018, criticizing the disparate impact it has on working families. "We need to give New Yorkers a break, and turn a regressive tax system into a fair and progressive one," he said at the time. "We must explore common sense solutions and expand tax relief to level the playing field for working families." He has not released his own property tax reform plan. Meanwhile, long-delayed efforts by de Blasio to reform the inequitable and antiquated property tax system were stalled before the pandemic and have not been discussed since.)
"While our world has changed radically since the start of the year, New York City still has an affordable housing crisis," said James Whelan, president of the Real Estate Board of New York (REBNY), an organization of major developers and land-owners, in a statement. "Though it's now more critical than ever to provide more units for low-income, hard-hit New Yorkers, there are dramatically fewer resources available to create such housing. Tackling our City's affordable housing needs will require sensible, data-driven policies and creative partnerships with the private sector to produce new, below market-rate units."
Eric Kober, a senior fellow at the Manhattan Institute, a think tank, said Stringer's plan "was never workable. It's certainly not workable in the current economic circumstances. It is even less workable than de Blasio's MIH program." He pointed out that it would require diverting already dwindling capital resources away from other needs and towards housing.
Besides discouraging private development, Kober said most developers will try to grandfather in to existing regulations before 421-a expires next in 2022. That rush may be accelerated if developers are wary of Stringer's plan being implemented, he said. "Even in the wealthiest neighborhoods, where in theory you could cross-subsidize affordable housing with high rents, what's more likely to happen is that people will rush to build before Stringer's plan goes into effect," he said. "So there will be an initial burst of housing and very little housing after that."
"It would have very deleterious effects on the city and possibly on the economy," he added.
Note: this article has been updated to reflect Stringer's responses to discussion of the piece on social media, including his call for upzonign Soho.