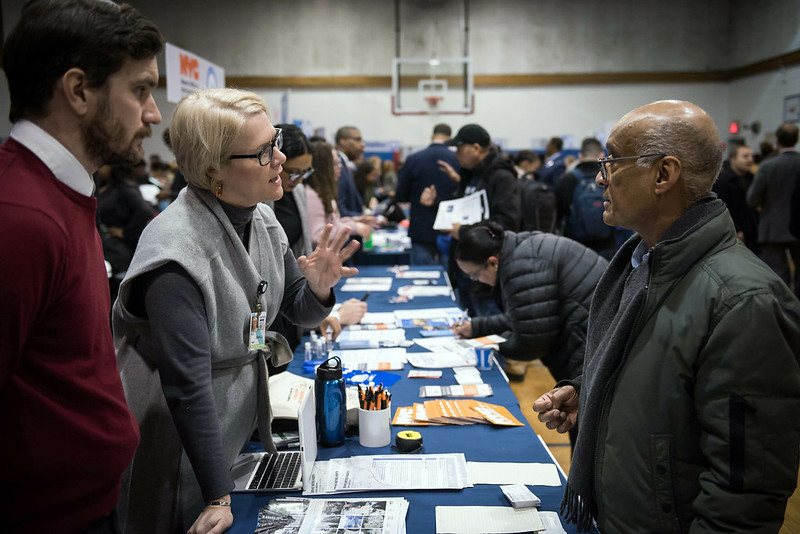 Resource Fair (photo: Ed Reed/Mayor's Office)
---
With the announcement Friday of a $155 million investment in small businesses, including $5.5 million for workforce development programming, Mayor Bill de Blasio staked a foothold along a critical frontier in New York City's pandemic recovery: preparing workers for the changing economy.
The city's economy was devastated by the COVID-19 pandemic, with the unemployment rate jumping fivefold to a high of over 20% last June. In-person jobs have contracted significantly, especially in hospitality, nightlife, retail, and transportation, many of which were already in decline. At the same time, health and technology sectors have emerged from the pandemic ready for a boom. Nearly half a million city residents are unemployed and seeking new ventures in the molten industrial landscape.
Much is uncertain about what the post-pandemic economy will look like. Tourism and restaurants are already starting to return but it is unclear how quickly those industries will grow and to what level.
The conditions are ripe for public and private sectors to retool the workforce and leverage the vast human capital of the five boroughs. Economists and workforce development organizations say that, while de Blasio has taken some steps in his executive budget, released Monday, this mayoral administration -- and the next, due in January -- need to do much more to strike while the iron is hot.
"We need ways to get people back to work, to stabilize businesses more, and to retrain those workers whose jobs they won't be returning to for good paying jobs that they have a prospect of getting in the next couple of years," said New School economist James Parrott in an interview last month. "That should be obligatory for the city."
New York City's labor force has suffered greater than the state's or nation's, with an 11.7% unemployment rate in March, according to the U.S. Bureau of Labor Statistics, compared with 8.5% for New York State and 6% nationwide. Experts say the city's recovery could be slowed because of the decline in face-to-face business, such as tourism and nightlife, which makes up a significant portion of New York's economy. The pandemic has been particularly hard for young job-seekers. The number of young people -- ages 16 to 24 -- who are both out of school and unemployed likely doubled during the pandemic, from one in eight pre-pandemic to nearly one in four, according to a report from the city's Disconnected Youth Task Force.
Workforce development organizations say the city needs to invest more in training models and "upskilling" in addit ion to infrastructure that supports jobs, like child- and health-care, internet access, and financial services. For example, programs aimed at teaching digital literacy tools that have become increasingly essential. Another example is bridge programming, like high school equivalency and English tutoring, that includes work on basic skills needed to enter the training programs that can advance careers or launch workers in burgeoning sectors like green jobs, tech, and care.
"It's critical that we recognize workers as our cornerstone for prosperity and growth for communities across the city," said Jose Ortiz, Jr., CEO of New York City Employment and Training Coalition (NYCETC), an association of workforce development organizations.
"Our leaders must fundamentally shift and align systems, investments, and decision-making processes that fuel our economy toward a talent-driven economic development model," he said in an interview. Such a model would be based on creating high-quality jobs, which offer better pay and upward mobility, but for many New Yorkers will require training and connections -- the latter, which can be facilitated by apprenticeship and network-building programs.
Ortiz said local hiring and skill-building programs should be part of any economic development project. The city could allocate 10% of funding for such initiatives on building community-based hiring pipelines, he suggested, which could include local recruitment and job training, and agreements with private developers.
In March, de Blasio proposed state lawmakers pass legislation to allow the city to require contractors to hire from low-income communities and NYCHA developments and mandate apprenticeships in building and construction. The proposal was supported in a letter to legislators by 133 organizations.
Another suggestion from Ortiz, is to create a workforce development committee within the City Council to strengthen oversight over jobs programs.
With the scale of unemployment and the potential recovery, NYCETC believes lawmakers need to better connect and streamline education, job training, and hiring systems.
NYCETC is working to influence the next mayor and City Council. The group is also partnering with the Association for Neighborhood and Housing Development and Regional Plan Association on an effort called "NYC Inclusive Growth Initiative" to develop an agenda that combines job creation, affordable housing retention and expansion, and reducing structural inequities in the economy.
On Wednesday evening, NYCETC will be hosting a forum, "Role of Workers in a Resilient & Inclusive Recovery," with several leading candidates seeking the Democratic nomination for mayor in the June primary. The forum will be about the part workforce development will play in New York's recovery and how candidates plan to create high-quality jobs. Several Democratic mayoral candidates have released workforce development planks in their policy platforms.
Kathryn Garcia, a former city sanitation commissioner, among other government roles, has proposed the city partner with CUNY and trade schools to recruit employees directly from college. Comptroller Scott Stringer has said he wants to create a workforce development program at CUNY and expand access by making community colleges tuition-free. Brooklyn Borough President Eric Adams wants more incentives for employers who hire a majority city-based employees. Platforms of both former federal housing secretary Shaun Donovan and former nonprofit executive Dianne Morales include job training for climate resiliency projects. Maya Wiley, former counsel to the mayor, wants to open more jobs training sites in underserved areas and partner with community-based organizations to operate them.
According to a recent report from NYCETC and The New School's Center for New York City Affairs, unemployment in the city has not been experienced equally. In the second half of 2020, the report showed, unemployment for men of color was about twice that of white men, 18% to 9%.
The New Yorkers most impacted by pandemic-induced unemployment are also those most at risk of losing work to automation, disproportionately Hispanic, male, and young. According to a recent study from Center for an Urban Future, "[a]mong occupations that are the most highly automatable using technology that exists today, 76 percent of jobs are held by Black, Hispanic, and Asian New Yorkers, even though they make up just 57 percent of the city's total workforce."
"While we continue to evaluate the pandemic's impact on jobs in the city, we already know we need to respond to the crisis through a lens of equity so we can rebuild a more inclusive economy," Ortiz said.
Since the onset of the pandemic, much of the de Blasio administration's workforce development effort has been undertaken by the Mayor's Office of Workforce Development, the Department of Small Business Services (SBS), and the New York City Economic Development Corporation (EDC). Projects have focused on skill-building in growing industries and salves like rapid employment efforts that will not necessarily lead to long-term jobs or job mobility.
Small businesses account for two-thirds of private sector jobs, according to EDC, making them central to any labor recovery endeavor. The new $155 million allocation for small businesses, included in the mayor's executive budget for upcoming fiscal year 2022, which starts July 1 of this year, contains over $100 million in grants, loans, and other assistance and $5.5 million in job training and apprenticeships. Last October, EDC set up a Small Business Resource Center in partnership with the Peterson Foundation and Partnership for New York City.
"Small businesses knit New York City together – and they were hit hard last year, even as Wall Street made record profits. But help is on the way," de Blasio said in a statement Friday. "These investments will keep New York City the most vibrant city in the world and help build a recovery for all of us."
Part of the small business allocation is a $1.5 million investment in HireNYC, a construction jobs recruitment and training program for development projects using city funds.
In the first year of the pandemic, close to 80,000 individuals went to Workforce1 career centers run by SBS, according to a spokesperson. Roughly 14,700 were connected to jobs, just over half of the more than 26,000 hires or promotions connected in pre-pandemic fiscal year 2020, according to the city's data. The 18 centers have been operating virtually since last spring, allowing services to continue. But many job-seekers, especially from underserved communities, continue to face technological barriers to accessing online services.
SBS and EDC have been making efforts to expand training in high-growth sectors like life sciences, cybersecurity, and care services. EDC has continued to push its LifeSci NYC Internship, which has received 1,700 applicants since it launched in 2018 and has a 40% hiring rate upon completion. This month, EDC launched a cybersecurity training program with Fullstack Academy for 28 low-income New Yorkers. SBS rolled out a new temporary training program for home health aides to meet a growing demand at the height of the pandemic, in a sector likely to have opportunities in the future.
"The pandemic has created a new economy, putting sectors like healthcare and technology at the forefront of our recovery," said SBS Commissioner Jonnel Doris, in a statement. "In addition to helping nearly 80,000 jobseekers through our Workforce1 Centers, SBS is continuing to fulfill the goals of the City's Career Pathways initiative by making sure our job training programs meet the needs of the City's high-growth sectors," he said, referring to de Blasio's marquee workforce development plan, developed in his first year as mayor in 2014. Career Pathways was lauded by the workforce development community when first announced but has been criticized for severe underfunding and limited implementation.
"That's why we're investing $6 million in our most precious resource – the workers who keep the City growing and our businesses running," Doris said.
"New York City is uniquely positioned as a leader in diverse industries and talent. Over the past year, we've seen the adverse effects the pandemic has had on our workforce," said an EDC spokesperson, in a statement to Gotham Gazette. "That's why we're still committed to building an inclusive economy so that all New Yorkers have access to the good-paying jobs that arise from new economic opportunities. Our continued investments in growing industries will aid the recovery for New Yorkers of all backgrounds, especially among underserved communities."
The mayor's executive budget also includes a $234 million plan to hire 10,000 New Yorkers to $15-per-hour positions as part of the City Cleanup Corp, a "New Deal-style" sanitation and beautification program that will run through the end of the year.
"The goal here is hire as many people as possible, as quickly as possible for employment in 2021 and only 2021, and then as we get to later in the year, we'll assess what makes sense to do going forward," de Blasio told reporters when he announced the City Cleanup Corp earlier this month.
Last week, the mayor announced a partnership with the Ali Forney Center to enroll up to 90 LGBTQ young adults who are homeless or at risk of becoming homeless in a jobs program with basic credentialing like high school equivalency, advance job skills training, mental health support, and career opportunities.
According to the mayor's office, the city added 100,000 jobs to the workforce between December and March and administration officials expect 400,000 thousand more to come on by the end of 2021. Based on U.S. Bureau of Labor Statistics figures, that would put New York at 4.5 million jobs, about 200,000 short of pre-pandemic levels.
"The unfortunate issue with the city's strategy with regards to some of these initiatives is that they are aligned to individuals who for the most part are ready to reenter or enter the workforce; they are not necessarily aligned to individuals that require significant wrap-around services," said Ortiz, referring to the estimated hundreds of thousands of New Yorkers who need additional support to combat things like food, housing, and transportation insecurity in order to successfully enter the job market -- needs traditionally covered by human services providers, which have also been hit hard by the pandemic.
"Many of the [workforce development] programs, unfortunately, that [the city is] are partnering with, while quality programs, tend to be for-profit organizations, making it cost prohibitive for the individuals we tend to serve who are coming from the most marginalized communities in the city," Ortiz said. According to the NYCETC-New School report, 96% of workforce development provider organizations saw a reduction in revenue this fiscal year compared to last, due largely to drops in city and state contracting, or in private funding.
"The city's inability to partner with these organizations and provide them the funding that's required for them to successfully train individuals is a major shortfall in their strategy," Ortiz said.