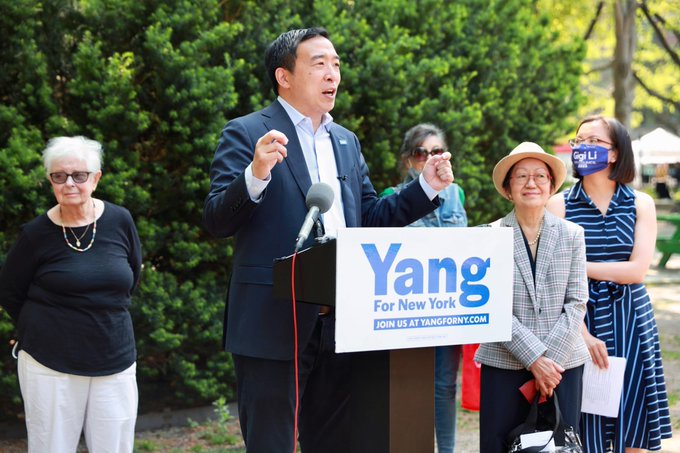 Andrew Yang (photo: @AndrewYang)
---
Andrew Yang, the entrepreneur and former Democratic presidential candidate, seemed to be dominating this year's mayoral race, with early poll numbers showing him well ahead of the other candidates running in this month's primary. But the honeymoon period for his campaign ended, with personal and policy gaffes and experience gaps possibly catching up with him as more voters tuned into the race. Several polls released Monday, three days into early voting and just over a week before primary day, show Yang slipping toward the middle of the pack and raised questions about whether he was more of a flash in the pan built on high name recognition and likeability from his presidential bid but unable to make a convincing case to enough New Yorkers that he should lead city government.
Yang's late entry into the race did not seem to hinder his campaign as he proceeded to quickly raise millions of dollars from thousands of New Yorkers and tapping into his national network, even setting a record for most individual contributions to a mayoral campaign. He had ample notoriety built from his unlikely and over-performing presidential run, a deep donor base, and a knack for earned media that helped him eclipse the more conventional candidates in the race including sitting elected officials like Brooklyn Borough President Eric Adams and Comptroller Scott Stringer. He lacked any experience in government and had never even voted in a mayoral election before, but was nonetheless out-running former de Blasio administration officials Maya Wiley and Kathryn Garcia, and former Bloomberg and Obama cabinet member Shaun Donovan.
It was clear from early polls that Yang was well known by New York City voters. In the first "Pulse of the Primary" poll by Fontas Advisors and Core Decision Analytics, released February 10, a massive 84% of likely Democratic primary voters said they had heard of Yang. The next closest was Stringer, who has been in city or state government for decades, with 66% name recognition, followed by Adams, previously a state senator and NYPD captain, at 60%. But, for much of the race, a significant number of voters have remained undecided even when Yang has held the lead. In that poll, he came in first place with 28%, while Adams was second with 17% and Stringer was third with 13% -- the undecideds were 19%.
For months, Yang maintained his position near the top. The Yang campaign, in early May, released an internal poll showing him in the lead with 21% of the vote and Stringer in second place with 15%. "Andrew Yang continues to poll well across all boroughs and demographics, but our unique base of Asian, Orthodox Jewish, and Latino voters, along with Staten Island Democrats, is coming into focus as the race enters the last six weeks," Chris Coffey, a Yang co-campaign manager said in a statement at the time. "When you put those voters together, our campaign starts in a great place, while the resonance of Andrew's message with voters beyond traditional ideological or demographic breakdowns only strengthens our standing. When New Yorkers see Andrew on the streets or in the press, they know that hope is on the way."
For months Yang appeared to be cruising, credited for tapping into the city's "zeitgeist" around reopening and recovery, a hopeful future. Even while being attacked left and right, he was upbeat and energetic, refusing to hit back at critics while his campaign trumpeted the fact that he was running on an exclusively positive message. Some talked about his mayoralty as a near inevitability, though while Yang, Coffey, and others with the campaign did try to play up that narrative, they also at times cautioned against any premature presumptions.
Signs started to shift in late April, accelerating through May.
On May 5, Politico New York reported that Adams was in first place in a poll by GQR, a Washington D.C.-based firm, overtaking Yang for the first time. In the poll, which was commissioned by City Council Speaker Corey Johnson's comptroller campaign, Adams received 21% of the vote and Yang was at 18%.
In the third Pulse of the Primary poll released May 26, which had Adams in first place with 13%, Yang and Garcia tied for second place with 8% while 50% of voters were undecided (when "leaners" were taken into account it was Adams 18%, Yang 13%, and Garcia 11%). And in an NY1/Ipsos poll released last week, Yang was in second place with 16% of first-choice votes, after Adams' 22% while 16% were undecided.
But in the three latest polls in the race released on Monday, Yang has since fallen further behind. In a Marist poll, Adams was in the front of the pack with 24% of first-choice votes; Garcia came in second with 17%; Wiley in third with 15%; and Yang was in fourth with 13%.
In a Data for Progress poll, again Adams led with 26%. Wiley surged to second with 20% and Yang came in third with 16%. Garcia was just behind him with 14%.
And finally, in a Manhattan Institute poll, Adams was also first with 24% of first-choice votes, Garcia was second with 22% and Wiley was in third with 20%. Yang came in fourth place with 14%.
Yang and his campaign have sought to refute that he is losing momentum. "Our numbers show that this is anyone's race right now, and they also show that we're growing. We're peaking at the right time," he said at a news conference on Tuesday, though it is unclear what evidence tells him he is peaking given that his own internal polling, when released, has shown a tightening race, which his campaign has acknowledged in past briefings.
Yang has shown signs acknowledging his slip, turning from a "happy warrior" on the campaign trail to someone launching acerbic attacks on Adams and sharp words toward other candidates, including Garcia, who Yang had previously only said very positive things about. Yang's changed demeanor was on full display Wednesday night during the final televised debate of the primary as he repeatedly attempted to knock Adams down.
His campaign has noted that a significant number of early votes have come from new voters, who haven't cast a ballot in previous mayoral or even federal elections. Yang has said that his path to victory relies on expanding the electorate. "A lot of those new voters are showing up because they want change," he said Tuesday. "They know that politics as usual is not working. They want a mayor who's going to deliver real change. So we're very excited about where we are in this race right now."
What the electorate will actually look like is not easy to predict, though the pollsters, including from the Yang campaign, have made estimates based on recent and longer-term city voting history.
"It was always going to be a very close race," said Chris Coffey, a Yang co-campaign manager, in a phone interview. He also noted that the campaign's internal numbers on early voting are positive. "We think we're winning in early voting based on who has voted, and identify them as Yang voters as they have been for a long time," he said. "We think we're winning in early voting. Does that mean we're gonna win the entire election? I don't know. But I don't at all accept that we are where Marist has us."
Coffey, a veteran of Bloomberg mayoral campaigns and City Hall who is now at Tusk Strategies, pointed out that the Marist poll, which was conducted between June 3 and 9, didn't fully account for the days of negative headlines for Adams, who faced questions about his residency in the city and a number of other issues.
Political observers, however, say that Yang's campaign is missing the mark on the issues and that his flaws as a candidate have begun to overshadow his strengths.
[READ: Andrew Yang's Strengths and Weaknesses as He Runs for Mayor]
In a previous interview, Bruce Gyory, a veteran Democratic strategist with the firm Manatt, Phelps & Phillips, LLP, pointed to the many instances where Yang displayed a failed grasp of city policy and gaffes he has made on the campaign trail. "Yang has had a very tough April and May. And I think that the narrative of the knowledge gap is really hurting," he said.
In mid-April, Yang landed in hot water after a video posted on Twitter showed him laughing off a question from a comedian about choking women during sex. His explanation that he was just being "friendly" left a lot to be desired by his detractors. On policy, he has made several blunders. He has repeatedly called for the implementation of policies that already exist – for instance, dedicated homeless shelters for domestic violence victims. He proposed putting a casino on Governors Island, which is legally impermissible. He proposed municipal control of the city's subways and buses, but had almost no details to offer.
Yang's pitch as a successful entrepreneur also wasn't as impressive under the microscope. He has repeatedly touted his nonprofit Venture for America, aimed at recruiting young college graduates for startups in underserved communities across the country. He has claimed that VFA has created nearly 5,000 jobs so far, while a New York Times analysis showed it was closer to 150. The central work experience Yang cites as making him qualified to lead the city is running and growing a small business, a Manhattan-based business school test prep company that he led before taking a large buyout and then launching Venture for America.
As Gyory noted in a June 9 column in Empire Report, the editorial boards of the New York Times and the New York Daily News "raked Yang over the coals both implicitly and explicitly" when they endorsed Garcia's mayoral campaign. "Consequently, when the editorial board endorsements powered the rise of Kathryn Garcia, tied to the knowledge gap narrative surrounding Yang, it blocked Yang's ability to consolidate the white vote, which was essential to his campaign's strategic success," Gyory wrote.
Hank Sheinkopf, a veteran political consultant, said the race has become defined by two issues: crime and disorder, in the wake of an increase in violent crimes and high-profile instances of gun violence such as a shooting incident in Times Square in May.
The candidates who have most benefited from that shift in the race, Sheinkopf said, are Adams and Garcia. Adams, a former police officer, has from the start been running on a platform of public safety and tackling crime while Garcia has long been known for her management in times of crisis. "The problem is that Andrew Yang looked great as an idea," he said, but Yang "didn't deal with the fact of life as people in the city see them, or more importantly, as high propensity voters see them."
On public safety, Yang's platform and positions are, in fact, quite similar to Adams. But his lack of relevant experience raises questions about his ability to bring those ideas to bear, especially relative to Adams, though the captains union that Adams belongs to endorsed Yang earlier this week, a pick-up Yang has tried to use to bludgeon Adams in the race's final week.
"How does Yang become a player as someone who has no experience in those areas? He's not a destroyer of disorder ([like] Garcia). He's not a person who understands crime. He has never experienced anything like that ([like] Adams)," Sheinkopf said.
"You have a guy with no experience, who's a rich guy by his own definition, who is a little bit too glib facing real problems that are not glib and not funny, that are not necessarily resolvable by someone that people don't know or who doesn't have the requisite skills in any way shape or form," Sheinkopf added.
Yang also tried to make economic recovery and school reopenings central to his campaign message, but as much as those issues have found apparent resonance both will be well underway before the next mayor takes office. And he has failed to build support among certain demographics. Yang has the backing of many Asian-Americans and Orthodox Jews, who represent relatively narrow but important slices of the electorate, and seems to have some measure of support among Latinos, though none is a monolith. As the polling has shown, Black voters, crucial in de Blasio's victory in 2013 and almost essential to any winning Democratic primary campaign, are solidly behind Adams. White voters are leaning towards Garcia. Younger voters have preferred Morales, and almost every other group prefers Adams.
To progressive activists, the electorate seems to be catching up with what they have known all along. "People knew who he was early on when he launched. He had great name recognition, he had a lotta press. But the more press attention there was, the more clear it was he just isn't prepared for the job," said Gabe Tobias of Our City PAC, which is promoting progressive candidates in this year's election and decidedly anti-Yang.
Tobias said Yang's lack of a clear ideology, which he has boasted of as a sign of independence, doesn't attract voters. "They were trying to both somehow be appealing to the right wing of the Democratic Party and the left wing of the party. That's just not anything that makes sense," he said.
"Progressives actually woke up to the fact that he wasn't proposing really progressive things," Tobias said.