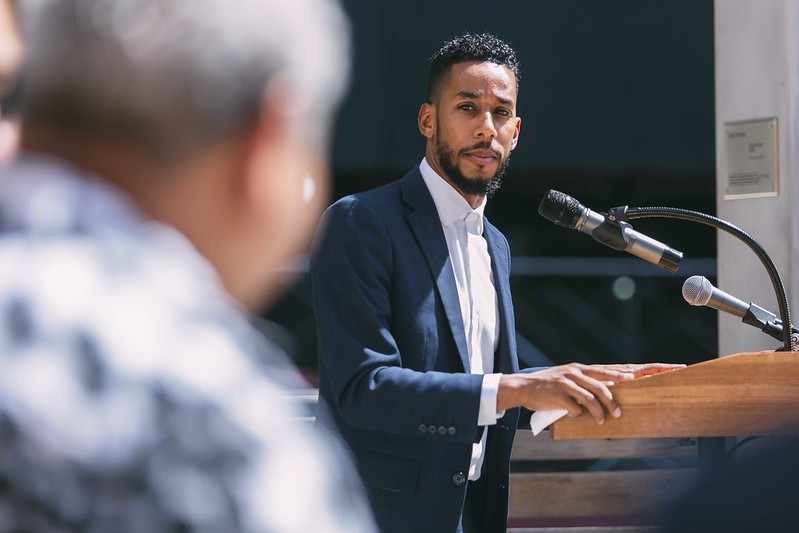 Antonio Reynoso (photo: Emil Cohen/City Council)
---
[Note: Since the publication of this article, new unofficial results released by the Board of Elections made Reynoso the definitive winner of the Democratic primary for Brooklyn Borough President.]
In a competitive 14-candidate Democratic primary, City Council Member Antonio Reynoso is all but certain to win and go on to become Brooklyn's next Borough President. With tens of thousands of absentee ballots still to be counted and the official ranked-choice "instant runoff" then to be tabulated, Reynoso had a lead of 73,566 votes (28.2%) over second-place Robert Cornegy, Jr., also a City Council Member, after the initial tally of in-person, first-rank votes. He then showed additional strength in the preliminary ranked-choice runoff published Friday by the Board of Elections, where Reynoso was ahead of second-place Assemblymember Jo Anne Simon in the end, 97,554 votes (55.3%) to 78,958 votes (44.7%), again with absentee ballots yet to be factored in.
It was enough evidence for Reynoso, the candidate in the race of the city's progressive movement, to declare victory in the primary, and to be seen as the almost-certain next Brooklyn Borough President given Democrats' overwhelming voter enrollment advantage in the city's most-populous borough.
On Saturday, Reynoso wrote on Twitter: "Brooklyn, you gave me everything. Now, I'll spend the next four years paying as much of it back as possible. Thank you to everyone who helped us get here!"
During the campaign, Reynoso offered his experience and accomplishments in the City Council and a platform including community-based healthcare, decarceration, integrated city planning, tenant protections, expanded transit options, and sustainable infrastructure. While the borough president position has limited formal powers, it offers a significant bully pulpit, advisory opinions in land use matters, a discretionary budget, community board and other appointment powers, the ability to co-sponsor legislation, and more.
For two four-year terms coming to an end this year, Reynoso has represented City Council District 34, which covers much of Bushwick and Williamsburg in Brooklyn and Ridgewood, Queens. He's chaired the Committee on Sanitation and Solid Waste Management for both terms, and has focused on environmental justice, police reform, tenants' rights, and urban planning overhauls, with several high-profile and controversial legislative accomplishments to his name that helped form the foundation of his borough presidency pitch.
Along with being something of a face and ambassador of Brooklyn, as borough president Reynoso would have an influential say in a number of processes affecting the city's most populous borough. Most prominently, he would have a significant voice in the city's land use process, reviewing Brooklyn-based decisions that require city approval, ultimately the say of the City Council. These decisions include neighborhood rezonings, where Reynoso has familiarity, including through a negotiation with the de Blasio administration over proposed changes to a swath of Bushwick that ultimately fell apart.
The borough president appoints members to community boards, Community Education Councils, the City Planning Commission, and the Panel for Educational Policy, and gets to allocate and spend hundreds of millions of dollars every year. The position can also be something of a launching pad toward higher office, as has been shown by, among others, David Dinkins and Scott Stringer, with current Brooklyn Borough President Eric Adams hoping to win a promotion to Mayor through this year's ongoing vote count.
Reynoso would take the helm in Brooklyn at a vulnerable yet promising time for the borough — along with the rest of the city — as residents recover from the pandemic's health, economic, and educational devastation. A number of citywide issues have reached boiling points over the past year-plus, including limited access to high-quality healthcare, police racism and brutality, rising rates of gun violence, the struggling small business economy, and more. There are persistent crises that well pre-dated the pandemic including the interrelated matters of affordable housing, public housing, and homelessness; street congestion; school quality and education gaps; and more.
In Brooklyn specifically, a wave of controversial new developments and rezonings, gentrification and displacement have changed the borough over the past decade and heightened debates over housing policy. Affordable housing development was among the top apparent voter concerns across the borough this election season, with the ongoing Gowanus rezoning process among the specific examples. The next borough president will be among those leaders who have to address crumbling NYCHA complexes and the crumbling Brooklyn-Queens Expressway, the increasingly pressing need for climate infrastructure (particularly along the borough's vast waterfront), local school integration efforts, the devastated tourist economy in Coney Island and beyond, hate crimes against the borough's Asian and Jewish communities, and still more.
At this pivotal moment for Brooklyn, or at least when he is expected to take office on January 1 along with the rest of the new class of city government, Reynoso plans to embody a combination of former Brooklyn Borough President Marty Markowitz's cheerleading energy and U.S. Senator Elizabeth Warren's policy depth, as he stated at a May candidate forum hosted by BRIC TV.
Like Markowitz, he wants to "let people know that we are the center of the universe," he said at the BRIC debate. "It's important that people know that Brooklyn is the best place in the world." And like Warren, he added, "I'm a big nerd, I like plans…I want to use my wonkiness and my energy to big-up Brooklyn."
Over the course of the Democratic primary, Reynoso's most competitive challengers were Cornegy and Simon, followed by City Council Member Mathieu Eugene, former Brookdale Hospital executive Khari Edwards, and nonprofit leader Kimberly Council. A number of lower-profile candidates — Robert Elstein, Pearlene Fields, Anthony Jones, Shanduke McPhatter, Robert Ramos, Jr., Trisha Ocona, and Lamor Miller-Whitehead — also ran for the position.
Within this massive field, Reynoso became the clear favorite of progressives, piling up endorsements, volunteers, and donors from the party's left wing. He told Gotham Gazette in April that he aims to "make Brooklyn the model for progressive politics and progressive policy." He supports, for instance, making it harder for landlords to evict residential tenants; removing police from homelessness responses, schools, and mental health-related calls; and instituting a statewide universal single-payer healthcare program. He favors comprehensive planning to create more affordable housing all over the city and move space from cars to pedestrians, bike-riders, and buses, among other goals.
Reynoso garnered endorsements from many organizations and politicians, including the Working Families Party, Make the Road Action, New York Communities for Change, In the Fight North Brooklyn, VOCAL-NY, Churches United for Fair Housing, StreetsPAC, the Hotel Trades Council, the Council of School Supervisors and Administrators, and the United Auto Workers, among others. And he received support from U.S. Senator Bernie Sanders; U.S. Rep. Nydia Velázquez; State Senators Jessica Ramos, Julia Salazar, and John Liu; State Assembly Members Marcela Mitaynes and Maritza Davila; and Public Advocate Jumaane Williams. His campaign received 2,091 individual donations, more than any of his competitors.
If his lead holds, Reynoso will face off in the general election against local butcher Menachem Raitport, the lone Republican to run for the position, according to City and State. Given the borough's overwhelming Democratic majority, Reynoso is all-but-certain to win.
Much of Reynoso's campaign for Borough President has centered around citywide issues that of course apply heavily in Brooklyn, home to nearly 2.56 million of the city's 8.34 million residents, according to 2019 Census estimates. Propelled by his own experience having been stopped by the police under the city's infamously racist stop-and-frisk policy, Reynoso has been a proponent for police reform, and he has supported shrinking the NYPD, pushing for cuts in funding to the department in the last two budgets and voting "no" on the final deals because he felt they did not sufficiently do so (Reynoso was among the 50 of 51 Council members who voted in favor of adding 1,300 officers to the NYPD force through the 2015 city budget). Reynoso sponsored the Right to Know Act, which requires police officers to inform civilians about their right to refuse consent for certain searches and was the subject of intense debate given opposition from police leadership and unions and moderate Council members.
Reynoso believes police funding should be reallocated toward other agencies for mental health crisis response, school-based conflict intervention, homeless outreach, traffic enforcement, youth engagement, and other services and programs. He also supports reducing incarceration — on his website, he promises to advocate for the end of the cash bail system, which recent legislation has reduced but not eliminated, and for ending solitary confinement in city jails.
During his time in the Council, Reynoso voted in favor of closing the Rikers Island jails, and in support of opening smaller borough-based jails instead. In the April interview with Gotham Gazette, he expressed conflicted feelings about the plan — stating that he was proud of moving to close Rikers, but skeptical that the new borough-based jails would be "humane," as the city has promised. The building of the new downtown Brooklyn jail will be among the most high-profile land-use issues facing the next borough president, though the process is already in motion thanks to that City Council vote.
Reynoso has centered his housing platform on bolstering tenants' legal rights, including raising fines and strengthening enforcement for housing code violations. Reynoso supports the Good Cause Eviction bill proposed in the state Legislature, which would prevent landlords from raising rent by more than 3% and evicting tenants without "good cause." And he would prolong eviction protections and rent relief to tenants suffering from the pandemic-induced economic downtown. In the Council, Reynoso sponsored the Stand for Tenant Safety Act, which bolsters anti-harassment and repair protections for renters.
This focus extends to commercial tenants as well. Reynoso says he will advocate for more small business resources, including rent relief, eviction prevention, tax credits, fine reductions, and grant assistance.
As Borough President, much of Reynoso's influence on housing would lie in the office's advisory opinions in land use decisions affecting Brooklyn, which are ultimately made by the City Council but often include one or both of private developers and the mayoral administration. According to his website, Reynoso would "require that all housing built on public land is 100% affordable, forever."
He has long critiqued the city's neighborhood-by-neighborhood approach to city planning as disjointed and top-down and been critical of the Department of City Planning. Over the course of his time in the Council, Reynoso has advocated for more coherent and community-driven land use, planning, and zoning processes. He sponsored a bill requiring the city to build a comprehensive land use, zoning, and development plan with a focus on addressing racial and ethnic segregation. Reynoso has made increasing housing affordability and preventing displacement key talking points but it is unclear how well his approach to policy and land use decisions has worked toward those goals and how as borough president he would help the city better achieve them.
He has expressed broad commitments to urban planning with a long-term, borough- and city-wide vision that would focus on equity among neighborhoods rather than rezoning neighborhoods in isolated initiatives.
Reynoso criticized the extent to which developers have a voice in the city's ULURP process for land use decisions. The current system is "developer driven," he said at the BRIC forum. Instead, he said, he supports increasing the role of community boards in land use decisions, "empowering them to tell us where they think growth can happen in a responsible way."
One proving ground for Reynoso will be whether as borough president he can help ensure 'responsible growth' for Brooklyn, when it comes to housing and much more.
He supports the expansion of Community Land Trusts, nonprofit models that issue long-term leases as a more affordable version of homeownership. At the BRIC debate, he noted legislation he co-sponsored to aid nonprofits facing debt, saying that he had intended for this policy to assist Community Land Trusts.
And he has criticized the de Blasio administration's plan to fund NYCHA repairs by leasing public lots to private developers for mixed-income housing. He told Gotham Gazette in April that for developments on public land, "100% affordable housing done by not-for-profits is the way to go… Anything less than that is a big problem for me."
According to Politico New York, Reynoso came out against plans to lease a parking lot at Cooper Park Houses, a public housing complex in Williamsburg, for half-market rate apartments — a deal that was meant to bring in more revenue for NYCHA repairs. Reynoso said he would withhold support for the project unless the ground lease could raise enough money — $60 million — to fund half of the needed repairs at Cooper Park itself.
In the Council, Reynoso helped spearhead one example of his community-driven planning philosophy in the Bushwick Community Plan, which grew from neighborhood meetings, workshops, and resident committees over the course of four years. The drafted plan for a 300-block section of his district focused on exclusively developing affordable housing, creating open spaces, preventing evictions and enforcing housing codes, and building Bushwick's small business economy.
But the community plan hit a roadblock when the de Blasio administration put forward its own plan to rezone Bushwick, which would have accelerated development of market-rate housing units as well as affordable units. Reynoso and fellow Council Member Rafael Espinal decided to stop rezoning efforts altogether rather than compromise with the city.
In an early 2020 interview on the Max & Murphy podcast, Reynoso explained this decision to move away from the rezoning initiative as an effort to avoid traditional land use deal-making processes at all costs. He and Espinal decided that the city's plan would accelerate development to the neighborhood's detriment via gentrification and displacement, he said, and that adopting that plan would be worse than doing nothing at all.
"The city did not want to move forward with the community plan. They wanted to do something that was much more aggressive in Bushwick," Reynoso said. "So Rafael and I decided to shut down the process because we didn't want to negotiate and do the same thing that other Council members have done."
Another central part of Reynoso's borough president campaign has been healthcare equity. He has pledged to prioritize strengthening funding and staffing for public hospitals, supporting community health centers throughout Brooklyn, recruiting more primary care doctors devoted to low-income patients, and supporting a state-level universal single-payer health care program. He has focused particularly on updating maternal health programs and childbirth centers, noting that Black mothers are eight times more likely than average to die from childbirth in New York City.
Reynoso has also devoted much attention to city infrastructure and transportation, centering the climate crisis. He has made public transit and car-alternatives like biking priorities throughout his time in the Council and in his borough president vision. All are issues he will be able to influence as borough president through a number of channels.
In addition to bolstering Brooklyn's flood protections, Reynoso is in favor of plans to implement congestion pricing in Manhattan to fund public transit (a delayed program that is still supposed to happen at some point and would impact Brooklynites significantly in a number of ways). He also supports switching all city-employed vehicles to electric energy, expanding Select Bus Service lines and protected bike lanes across Brooklyn, creating a publicly owned utility system, collecting garbage in containers rather than piling waste bags on the sidewalks for collection, and instituting a mandatory compost system.
According to StreetsPAC's endorsement write-up of its support for Reynoso, when it comes to street use and transit, he "has an expansive progressive vision for the Borough Presidency." That vision includes remaking Atlantic Avenue, "which he thinks should be a modern complete street of which Brooklynites can be proud, rather than the dangerous "embarrassment" it is today. He'll push the city to create a borough-wide network of protected bike lanes, and to expand Open Streets widely and equitably. He'll prioritize completion of the Brooklyn Waterfront Greenway, which has lagged for years, and is more than willing to commit capital dollars to expand bike- and scooter-share."
About hotly debated visions for how to repair the Brooklyn-Queens Expressway, Reynoso told Bike New York, "The ideal situation for me would be to tear down the BQE, and not have it come back, period." He said he would construct "a throughway from North to South that is more reflective of a city of the future and not the city of a past." He has also proposed a "BQGreen" plan to build greenspace above a two-block Williamsburg section of the highway.
Reynoso has also expressed support for Green New Deal-style programs to create jobs in sustainability, transit, and infrastructure improvements; for instance, he calls for job training programs focused on sustainable retrofitting.
Some of Reynoso's key accomplishments in the Council include environmental justice reforms. As chair of the Committee on Sanitation and Solid Waste Management, he helped pass a citywide zoning system for commercial waste, addressing environmental, street safety, and labor concerns related to the private sanitation industry. He also helped institute a cap on the amount of trash accepted by environmental justice communities in North Brooklyn, Southeast Queens, and South Bronx, communities of color that are disproportionately tasked with waste management and suffer harmful environmental consequences as a result.
Reynoso has also been a political reformer - prior to joining the Council, he co-founded New Kings Democrats, a progressive group devoted to promoting transparency and accountability within the local Democratic Party. To win his Council seat in 2013, he defeated the now-deceased Vito Lopez, the former Brooklyn Democratic Party boss who, despite major sexual harassment and corruption scnadals, still had a sizable political operation at the time.
"I'm a son of two immigrant parents that got here with very little money," Reynoso said in an April interview with Gotham Gazette, discussing his upbringing in a Dominican family in South Williamsburg, which he has now come to represent in the Council. "Whether it was welfare, Section 8, food stamps, Medicaid, you name it, if there was a government aid that existed, my family had to take advantage of it just to give us a fair shot at life. So I knew from a very young age what government can do for people in need. And I want to make sure that I can pay that forward."