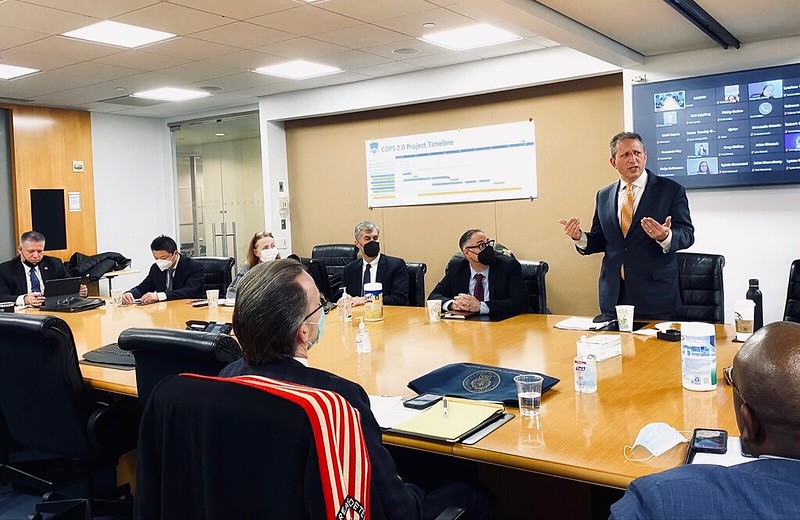 Comptroller Brad Lander, standing (photo: Office of New York City Comptroller)
---
New York City Comptroller Brad Lander on Tuesday unveiled an online dashboard tracking how the city is spending and allocating more than $11 billion in federal stimulus funds. Lander pointed to several deficiencies in the city's accounting of those funds, with unclear links between the source of funding and expenditures and sparse measures of the outcomes of that spending. He is hoping to work with fellow Democrat Mayor Eric Adams on addressing these issues left behind by the administration of Mayor Bill de Blasio.
The city and its residents are expected to receive as much as $26 billion through the 2026 fiscal year in various forms of direct and indirect federal aid including stimulus checks, unemployment insurance, and federal grants, among others. Lander's tracker examines city spending starting in the 2023 fiscal year as proposed under Adams' $98.5 billion preliminary budget proposal for the fiscal year set to begin July 1.
The tracker looks at $11 billion in stimulus funds being spent by New York City government, including about $4 billion in direct aid to the city through the State and Local Fiscal Recovery Funds (SLFRF) program and $7 billion from the Education Stabilization Fund awarded in several rounds of stimulus programs earmarked for schools and students. It doesn't analyze other pots of stimulus funding including more than $7.6 billion in FEMA reimbursements for health care and hospital costs and nearly $2 billion from the federal Coronavirus Relief Fund. 

The city received $5.9 billion in SLFRF funds, which were allocated across five years in the budget adopted in June 2021, with $1.81 billion to be spent in fiscal year 2021, $3.11 billion in FY 2022, $288 million in FY 2023, $226 million in FY 2024, and $452 million in FY 2025.
In September, as mandated by federal stimulus law, de Blasio's administration released an initial accounting of that spending and plans for additional expenditures of the funds. More than $3.2 billion from those funds were meant to replace lost revenue for the city to keep services continuing; $1.2 billion went towards addressing the "negative economic impact" of the pandemic, $1.1 billion towards public health, and $277 million for services for communities that were disproportionately impacted.

[Read: De Blasio Outlines Spending Plan for $5.9 Billion in Direct Federal Pandemic Aid]
But the city's reporting has "significant limitations" and lacks transparency and accountability, Lander said Tuesday. Funding sources were commingled, making it hard to connect them directly with expenditures. For instance, the Mayor's Office of Management and Budget outlined $1.26 billion in SLFRF spending in fiscal year 2021, but Lander said his office could independently verify only $520 million of that amount while another $318 million remained unaccounted for. "There were some real accounting problems here," he said in reference to early filings by the de Blasio administration.
Lander did acknowledge that the city's Office of Management and Budget (OMB) had improved on the practice of fund accounting, directly relating funds with spending, but that there's much more work to be done. He pointed to spending categories that were far too broad to determine which funds were being used for what purposes. "It's so in the accounting weeds but it matters in dollars and cents to how the city gets reimbursed and how we report," he said. And it also matters in terms of tracking results.
The city has failed to produce metrics linking spending with outcomes, Lander said, even though nearly half the spending has gone out the door. Though the federally required report from the city contained planned performance metrics, none have been published so far. "This is the moment when we need to be making decisions about whether we're spending the money in the right way and if we aren't, to switch how we're budgeting it," Lander said.

He cited several examples. For instance, while the city allocated $121 million for rental assistance in the current fiscal year, which ends June 30, it has not reported on how many households received a rental assistance voucher. Another $725 million went to school facilities to deal with pandemic-related issues, but there is no clear measure of how much of that funding was spent on improving ventilation in schools. About $271 million was spent on 'learning loss' programs to help students recover from the effects of the pandemic, but there isn't data to judge the success of those initiatives.
"We don't know what's working. We don't know how to direct it more in the direction of what is or do less of what isn't," Lander said. "So that is one real shortcoming. We're not able to show you performance metrics because none have been published yet."

The comptroller struck an additional note of caution about monitoring expenses, pointing to 'fiscal cliffs' the city will face in initially funding recurring programs with one-time federal funds. De Blasio put into motion an expansion of his program to provide free kindergarten for all three-year-olds, which Lander noted could face a $376 million shortfall in FY 2026. The city will also have to come up with $111 million in FY 2025 and $235 million in FY 2026 to continue funding expanded special education pre-kindergarten, mental health services and community schools programs. De Blasio was asked repeatedly about using one-time aid for recurring programming before leaving office and said that the Adams administration would likely find ways to fund important ongoing programs
Lander has acknowledged with some hope that Mayor Adams has pledged to focus on outcomes, transparency, and data-metrics, and even publicly invited the comptroller's oversight. "The federal stimulus funding New York City received was a needed lifeline, helping to jump-start our recovery and avoid cuts to vital programs that protect the health and wellbeing of people across our city," said an Adams spokesperson, in a statement. "We share the comptroller's commitment to tracking how these dollars are being used. We will be rolling out a tracker very soon to build on our public reporting of this data, focusing on accessibility and transparency."
Lander's tracker isn't the first or only attempt at scrutinizing federal stimulus expenditure. At the state level, Comptroller Tom DiNapoli has already released his own tracker, which is updated every month. The New York City Independent Budget Office, a nonpartisan city agency, also published an online tool that delves into individual city agencies as well.
[Listen: Max Politics Podcast: Comptroller Brad Lander on the City Budget, Nonprofit Contracting, & More]