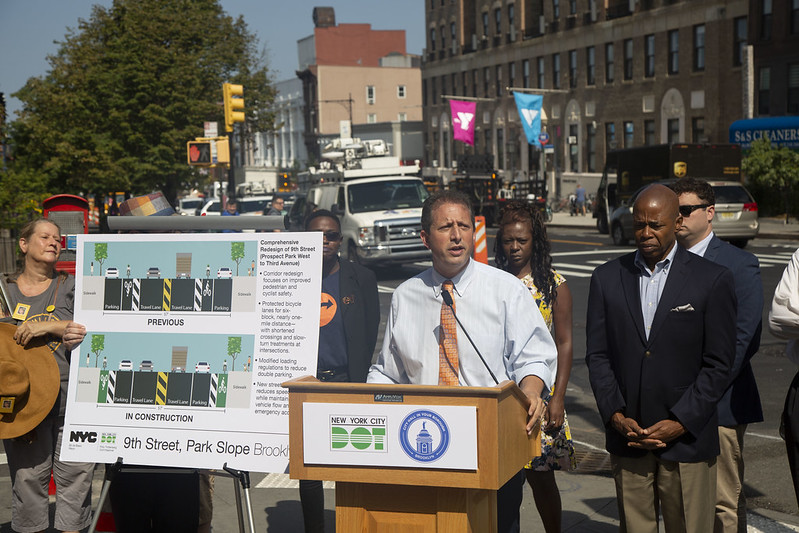 Comptroller Lander and Mayor Adams in their prior roles (photo: John McCarten/City Council)
---
New York City Comptroller Brad Lander, a progressive Brooklyn Democrat, is getting situated in his new role, which he calls the city's "chief accountability officer." As the comptroller, Lander's citywide perch gives him a series of largely fiscal responsibilities mandated by the city Charter, including as a fiduciary to the public pension funds, a watchdog over city government finances, and the auditor-in-chief of city agencies.
Lander came into office in January at the same time as Mayor Eric Adams, a fellow Brooklyn Democrat who is more moderate, but the two have had a good working relationship over years, they've both said. That relationship will be put to the test over the coming years as Lander performs his job holding the mayoral administration accountable and the two look for ways to work together, as they quickly did even before taking their new offices in assembling a joint task force to improve the city's much-maligned contracting processes, where both the mayoral administration and comptroller's office have key roles.
That task force has already published a plan that both administrations are now working to implement, with a particular focus on how city government treats the thousands of nonprofit human service providers that the city pays tens of billions of dollars every year to perform essential functions, often for the city's most vulnerable residents.
"During the prior administration, the relationship between the mayor and the comptroller just got so toxic that in the audit space, there just wasn't a real openness to, 'OK, let's find a problem and work together to figure out how it gets solved,'" Lander told Gotham Gazette's Ben Max on a recent episode of the Max Politics podcast, in reference to the dynamics between then-Mayor Bill de Blasio and then-Comptroller Scott Stringer. "And I've said, you've heard Mayor Adams say, he wants me to audit the hell out of his agencies. And we're going to do that, but with an eye to being constructive. Because the commissioners and the deputy mayors have to then make the changes."
On the joint Adams-Lander report dealing with improvements to the city's procurement and contracting processes, Lander touched on some of the key changes afoot.
"Right now, there's no timeframe to guide city procurement," Lander said. "Agencies can't easily see where their contract is in the system. There's no performance indicators to look at agencies and judge whether they're meeting their timelines, because there are neither timelines nor tracking, either one. So it's no surprise as a result of that, that the process has just grown and grown and grown."
Adams' $98.5 billion preliminary budget proposal is currently going through charter-mandated hearings at the City Council, including initial testimony from Lander, whose office will put forward more detailed analysis of the mayor's budget plan and other key factors in the city's economic and fiscal health in the coming weeks and months. A new city budget is due by the July 1 start of next city fiscal year.
On the podcast, Lander expressed some initial concerns about Adams' planned cuts to most agencies and said that while he supports cutting wasteful spending, it is important to take a close look at how that is being done and which, if any, agencies and services are suffering.
As city budget season unfolds over the coming months, more clear lines of disagreement are likely to form, including as the City Council makes its priorities evident, and Lander, along with Public Advocate Jumaane Williams, will also be key voices in the debates and negotiations. Lander and Williams, longtime allies from their time in the City Council together, have formed something of united progressive counterweight to Adams in the early months of the new political playing field where all three Brooklyn Democrats hold citywide office. Still, all three are looking for balance and stressing areas of agreement, which includes improving city services.
On a number of fronts, from schools to transportation, to human services and capital projects, New York City spends significantly more money than other comparable cities across the country and globe, with little to show for it. It's an issue on which Lander focused as a City Council member, and he's promising more action as comptroller.
[Listen to the full conversation: Max Politics Podcast: Comptroller Brad Lander on the City Budget, Nonprofit Contracting, & More]
Asked what he will be doing on improving capital construction processes, Lander said, "You're right, this is a big problem. More than half of city capital projects go over time, go over budget, as you say, some of them outrageously so and they already had big budgets to begin with. You can't even currently just track city capital projects through implementation. I passed a bill now coming up on two years ago to require it and there's work going to stand it up. But it does not exist yet. And you know, what we don't measure we don't manage," he said, sounding like Mayor Adams, who is fond of pointing to the importance of data metrics and saying that "if you don't inspect what you expect, it's all suspect."
"I have optimism here," Lander continued. "Partly in my office, we're really gearing up to work on this. And we've got a great team. But I'm very pleased that First Deputy Mayor Lorraine Grillo, she really cares about this. She ran the School Construction Authority and made real progress there. That agency is not perfect, but it is so much better than it was before her leadership. And she and I have already started talking about exactly this."
Lander said he spent the first few weeks of his tenure, in part, identifying wasteful aspects of the procurement process that can easily be streamlined. For instance, he noted in the podcast interview that the Mayor's Office of Management and Budget has to review all contracts over $10 million not once, but twice, once on behalf of the city, and another time on behalf of the Financial Control Board, which was established in the 1970s during New York City's near-bankruptcy to manage city spending, and has never been abolished despite significant improvement in the city's financial standing in the intervening half-century.
"You might not even have known that it still exists. And yet they delegate a contract review," Lander said. "So there's one just totally unnecessary example." He said his office is looking further into how it can help city government and the Metropolitan Transportation Authority (MTA) control infrastructure costs and deliver projects at better prices and timelines.
And, Lander said it is essential for the city to line up its infrastructure needs in anticipation of billions of dollars set to flow to the city from the recently-enacted federal infrastructure law, pointing especially to climate resiliency. "[W]e could be smart because we need to be doing a lot of flood resilience and sewer work that we saw especially in Hurricane Ida," Lander said.
"There is not a strategic or proactive infrastructure plan," he continued. "Usually what happens is just each agency says here's the things we like, we want to make this improvement in this park or this library needs a new roof, and that's one input. But when you get this much federal money, you've got to have a strategic plan that puts climate resilience at the top of the list that knits the federal and the local money together with a real strategic long-term eye toward what are the most important infrastructure investments."
He also touted the part of the federal infrastructure law that allows localities to insist on local hiring as they spend the money, and said it is "one more opportunity to just make sure that federal legislation really reaches the ground in terms of good jobs for New Yorkers."
In opposing Mayor Adams' push for state approval to allow the city to increase its capital borrowing capacity by $19 billion, Lander said in January that the move was premature but also pointed to a need to first "reform the City's capital project management practices, in order to maximize the limited resources we have. The City's capital projects are notorious for going over-budget and over-time." He called the current moment "a critical opportunity – one we cannot afford to waste."
Asked in the February podcast interview if in his first six weeks on the job he had directed his audit bureau to begin any particular in-depth examination of a certain city department or program, Lander said he had followed through on a campaign pledge to audit the Department of Correction. He indicated a vast sweep of interest in DOC and related issues, including the plan to replace the Rikers Island jail complex with new borough-based jails and the size of the incarcerated population at city jails.
"I really do want to drill down on the longer-term questions about Rikers, because the mayor has said he is continuing the plan toward closing Rikers," Lander said. "And the the money for the borough-based jails is in the capital budget, however, that plan projects to build 3,300 cells. But there also needs to be an ambitious plan to reduce the number of people incarcerated on a daily basis awaiting trial from now over 5000 down to 3,300. And it's not clear to me that the programs are in place to try to do that. So the budget is a real opportunity to ask that question."
Asked if he had directed the comptroller's vaunted policy shop to start crafting any new policy proposals, Lander pointed to a long-time focus for him: affordable housing. He mentioned work his office is already doing to see the state's 421-a real estate tax break allowed to expire and for their to be a rethinking of incentives to build affordable housing, as well as "a property tax exemption on some new models for affordable cooperative housing," "pushing for Good Cause Eviction protections" through state legislation, "and a lot of that will be coming out in the near in the near future."
[Listen to the full conversation: Max Politics Podcast: Comptroller Brad Lander on the City Budget, Nonprofit Contracting, & More]
Ben Max contributed to this story.