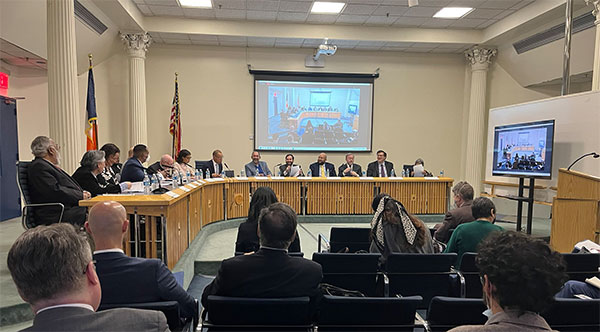 The NYC Districting Commission at a hearing (photo: @DistrictingNYC)
---
[Update: On October 6, the Districting Commission passed, by near-unanimous vote, a new City Council map very similar to the one it previously voted down, as discussed in the story below. That map now goes to the City Council for review.]
New York City's redistricting process was thrown into disarray last month after the commission responsible for drawing new City Council district lines voted down its own draft map. The upset came after an aide to Mayor Eric Adams individually lobbied his appointees on the commission to vote no, according to Politico reporting, activity the mayor has denied knowing about.
There are few formal barriers in place to prevent conflicts of interest between the 15 redistricting commissioners and the elected officials who appointed them. The commissioners and their organizations have received millions of dollars from the Mayor and City Council in campaign spending and discretionary funding. Some of them have run for elected office in the districts whose boundaries they are reshaping. Others have business with the city.
The commission's chair, Dennis Walcott, was appointed by Mayor Adams, and while he is a well-respected civic leader and former deputy mayor, he is also CEO of the Queens Public Library, which depends on many millions of dollars in annual city funding. Other commissioners include Joshua Schneps, the local media magnate whose publications received tens of thousands dollars in political advertising last election cycle, and Michael Schnall, whose nonprofit rakes in significant discretionary funding from the City Council each year.
The New York City Districting Commission is tasked with redrawing the city's 51 City Council districts every ten years to account for changes in the population found in the U.S. Census. Its 15 members were appointed by Mayor Adams (7), City Council Speaker Adrienne Adams (5), and Republican City Council Minority Leader Joe Borelli (3). 
The body must draw lines that adhere to federal, state, and city standards, including the Voting Rights Act and the principle of one-person-one-vote. City law prevents city employees, lobbyists, and political party officials from serving on the commission. But there is nothing in the law to limit lobbying of the commissioners and no limits on ex parte communication with appointing authorities, according to experts. 
At the commission's first meeting in March, Walcott said the body would come up with an ethics policy that dealt with potential conflicts of interest.
"​​I would like to also raise the important topic of the code of ethics, and what I would like to suggest to the body is that once we have our staff in place that we circulate a proposed code of ethics for us to follow, and that way we can have to review it and then adopt it or make any modifications we feel are appropriate," he said on March 29 at City Hall.
"We want to be very clear as far as protecting ourselves and the process as we move forward," Walcott said.
The policy never materialized. Eddie Borges, a spokesperson for the commission, told Gotham Gazette the effort had been scrapped. Instead, the commissioners received a routine presentation from the city's Conflicts of Interest Board at its next meeting.
"The commission explored the feasibility of enforcing an ethics code and determined, with guidance from COIB, that Chapter 68 covers the commission just as it does every other agency," Borges told Gotham Gazette in an email. "In fact, you will find it hard difficult to find another agency that has its own code of ethics separate from Chapter 68."
"Training from the Conflicts of Interest Board, as important as it is, is not a substitute for a code of ethics or a comprehensive conflict of interest policy aimed at reducing outside influence in a process that's vulnerable to politicization," wrote Ben Weinberg, policy director at the good-government group Citizens Union, in a statement to Gotham Gazette.
Redistricting commissions in California and Michigan have conflicts of interest policies, which in some cases bar certain people from participating as commissioners. In a letter to the commission, shortly after Walcott announced the planned ethics policy, Citizens Union recommended the commissioners disclose any conflicts, such as lobbying current Council members or working on their campaigns, and recuse themselves in those cases. It also recommended commissioners be required to disclose when they discuss maps with people outside the body and its staff and consultants. None of that happened.
"We note that the last scandal concerning a political intervention in the Council redistricting process – a map was drawn to help then Assembly Member Vito Lopez mount a run for City Council – occurred following a private meeting between a Council Member and the Commission's executive director," Citizens Union wrote.
Politico reported that Mayor Adams' deputy chief of staff, Menashe Shapiro, had personally lobbied the mayor's appointees to the commission to vote against the draft map, efforts apparently designed to favor rightward movement in the future City Council and political payback.
The mapping process drew widespread criticism and some support when preliminary maps released in July underpopulated Staten Island while carving up communities in south Brooklyn (where some of the mayor's political foes currently hold office), Manhattan, and Queens. The new maps that came up for a vote last month, altered based on significant public feedback, had largely undone those decisions, including by stretching part of Staten Island into Brooklyn — a nonstarter for Borelli of Staten Island, who appears to be closely allied with the Democratic mayor.
But in an unexpected twist, the maps were defeated when the commission brought them to a vote. To the surprise of Chair Walcott and many others watching, it was voted down by four appointees from the mayor, all three of Borelli's appointees, and one appointee of the Speaker, the commission's lone Staten-Islander.
Several of the commissioners voting down the maps cited issues with the map-drawing process and concerns about diluting the vote of Latino voters, but offered few specifics. Others, including Schnall, expressed displeasure about including a small part of Brooklyn in one Staten Island district.
The commission is now holding meetings in public to draw maps ahead of another expected vote on October 7, according to Borges. If approved, the maps will go to the City Council for review and feedback, after which they may be approved and certified or sent back to the commission for final revisions and ratification.
"The Commission heard public testimony from different communities across the city who were concerned about the dilution of their voting power and the risk of diminished representation in city government," said Fabien Levy, a spokesperson for the mayor. "We applaud the independent redistricting commission for their willingness to continue their great work and address these concerns now, while the public process continues to move forward."
At a press conference, Adams denied knowing about any lobbying efforts. "If the deputy did, I'm not aware of that," he told reporters last week about Politico's reporting on Shapiro's influence campaign. "We're going to continue to advocate to have fair maps and I'm not aware of anything other than us complying fully with the rules of mapping. Redistricting is important, and so we want to make sure that we have fair maps and I trust my appointees."
Speaker Adams declined to comment on the mayor's involvement during a recent interview. "I stayed away," she said of her own involvement with the commission and her appointees to it. "Legally and morally, I have to stay away."
But the speaker, along with a number of other current Council members, including Finance Committee Chair Justin Brannan and others with influence over city funding, have not been shy about publicly criticizing the preliminary maps. Brannan and many other Council members released statements, made social media posts, and testified publicly before the commission, mostly arguing against changes the commission had made to existing lines, and all part of the feedback the commission received between the preliminary map and draft map that was voted down.
None of the mayoral appointees who voted no on the latest map responded to requests for comment for this article.
Mayoral Appointees
Dennis Walcott was appointed by Mayor Adams and selected by the commission to serve as chair. He is the CEO of the Queens Public Library, which received three-quarters of its $165 million budget from the city last fiscal year. The library system has 66 locations across Queens. Walcott voted in favor of the failed draft map in September.
In a recent interview on WNYC, he declined to say whether he was contacted by a representative of the mayor. "The conversations I've had with a variety of people I'll just keep to myself. I think my vote speaks for itself," he told host Brigid Bergin.
Borges, the commission spokesperson, said Walcott recused himself from directly lobbying City Hall and the Council for library funds while serving on the commission.
Joshua Schneps is a mayoral appointee to the redistricting commission and the head of local news giant Schneps Media, which has dozens of publications in New York City, Westchester, Long Island, and Philadelphia. The publications received hundreds of thousands of dollars from City Council candidates for political ads in 2021, including $74,000 from current members, according to a Gotham Gazette analysis of campaign finance records.
Schneps, who voted down the draft map, also has close ties to Mayor Adams, having supported previous campaigns for borough president and, in 2019, publishing the then-Borough President's self-promotional newspaper, "One Brooklyn," distributed with tax dollars and generating ad revenue for Schneps. Adams appointed Vicki Schneps, Joshua's mother and co-owner of the media empire, to his mayoral transition committee last year. In 2021, Adams' mayoral campaign bought $69,800 in advertising in Schneps publications, including a single $45,000 payment in December 2021, after he had won the general election.
Lisa Sorin is the president of the New Bronx Chamber of Commerce (NBCC), an association of close to 100 businesses, some of which have city contracts. She was appointed to the commission by Mayor Adams and voted against the draft map. Sorin serves on the mayor's COVID-19 Recovery Roundtable and Health Equity Taskforce and with NBCC is part of a $1.5 million partnership to launch the city's Small Business Resource Network. The Chamber of Commerce works closely with the city's Department of Small Business Services and other city agencies.
Maria Mateo, Esq., is a Queens-based immigration and family lawyer from the Dominican Republic. According to her website, Mateo has received a number of awards and recognition for her legal work in immigrant communities, including from former City Council Members Eric Ulrich and Fernando Cabrera, both of whom have since joined the Eric Adams administration, and Council Member Carmen De La Rosa, a Democrat representing northern Manhattan and a portion of the Bronx. Mateo voted against the draft map, citing the splitting of Dominican communities in Manhattan's districts 2 and 7.
Kai-Ki Wong recently served as assistant chief plan examiner at the New York City Department of Buildings after holding other roles at the agency over the past nearly four decades, according to a Linkedin profile with his name. He was appointed by the mayor and voted no on the map.
Monsignor Kevin Sullivan is a mayoral appointee and the executive director of Catholic Charities of the Archdiocese of New York, a network of human services agencies that hold numerous city and state contracts. Catholic Charities recently received city funding for Hurricane Ida relief efforts and immigration services. At a recent City Council oversight hearing, Sullivan testified that Catholic Charities had served 1,100 new immigrants in the recent wave of arrivals that Adams has blamed for straining the city's social safety net. He voted to advance the draft map to the City Council.
Marilyn Go is a former federal magistrate judge for the Eastern District of New York, having served from 1993 to her retirement in 2019. She was appointed by the mayor and voted in favor of the draft map.
Speaker Appointees
Michael Schnall is a Staten Islander and the only appointee of Speaker Adrienne Adams to vote against the draft map. That updated map included many of the changes the speaker and other Council members pushed for in the preliminary map released earlier this year. As part of making those changes, it extended a Staten Island district into part of Brooklyn, a boundary opposed by Republican appointees on the commission and Schnall.
Schnall is a government relations consultant at Asphalt Green, which has secured $182,500 in City Council discretionary expense funds over the current and last fiscal years. Until the end of 2020 he was also the vice president of government relations for New York Road Runners, which receives hundreds of thousands of dollars in discretionary expense funding each year. In 2021, Schnall himself unsuccessfully sought a Council seat in District 49 on the north shore of Staten Island.
"Once appointed and sworn into office, I immediately recused myself from any meetings or interactions with The Council and individual Council Members since that appointment," Schnall told Gotham Gazette in an email after this article was published. "I've even recused myself from any mapping discussions involving Manhattan due to the location of Asphalt Green's two pools and sports fields in the borough."
The rest of the speaker's appointees voted in favor of the recent draft map.
Maf Misbah Uddin is a Bronx resident and treasurer of District Council 37, the largest public sector union in the city, and president of AFSCME Local 1407. Uddin is not on the city payroll but his union represents thousands of municipal employees and makes endorsements in City Council and mayoral races. Uddin voted in favor of the draft map.
Yovan Samuel Collado, the director of community relations for the Carpenter Contractor Alliance of Metropolitan New York, was appointed by the speaker and approved the draft map. According to the New York Post, Collado is married to Ariana Collado, the executive director of the Bronx Democratic Party, which is involved in virtually all political machinations in the Bronx and often beyond.
Gregory W. Kirschenbaum is a lawyer at the Arce Law Group, P.C. Phillips & Associates, PLLC. Kirschenbaum's appointment raised eyebrows earlier this year because of his ties to second-term Council Member Keith Powers as treasurer of his campaign. Powers, a Manhattan Democrat, is the chair of the Council Rules Committee. Kirschenbaum voted yes on the draft map.
Kristen A. Johnson is a civil rights attorney and a pro bono counsel at the international law firm Cooley LLP. Johnson voted in favor of the draft map.
Minority Leader Appointees
Marc Wurzel is the general counsel and assistant secretary of Grand Central Partnership, which manages Manhattan's Grand Central Business Improvement District. Like Borelli's other two appointees, he voted against the draft map in September. Wurzel has been on two previous districting commissions.
Kevin John Hanratty is bank compliance consultant at BlackWatch Argus Consulting LLC and a perennial Republican candidate for Civil Court judge in Queens.
Dr. Darrin K. Porcher is a former NYPD officer and currently an adjunct professor at Pace University School of Criminal Justice and Monroe College School of Criminal Justice.
Samar Khurshid contributed to this story.
This article has been updated with additional comments from districting commissioners and spokespeople. 
Correction: This article was updated to reflect that Schnall is a former vice president of New York Road Runners and no longer works there.
Note: Gotham Gazette is an independent publication of Citizens Union Foundation, sister organization of Citizens Union.