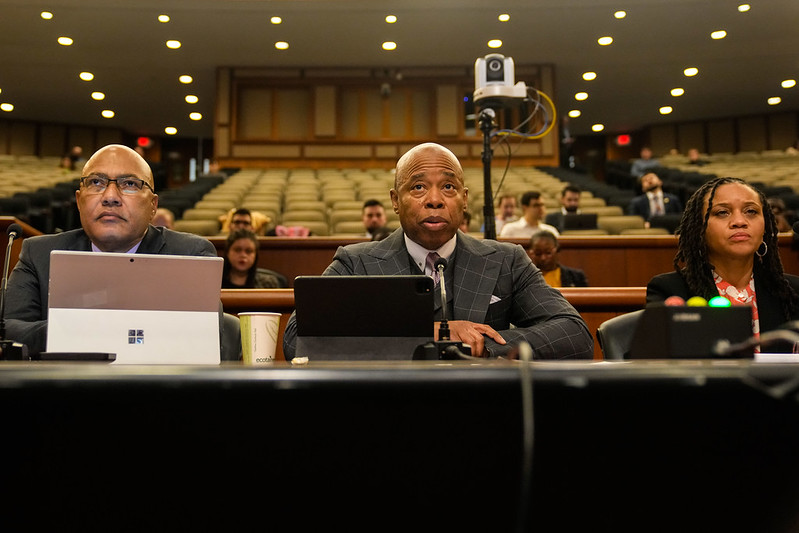 Mayor Adams and top aides in Albany (photo: Michael Appleton/Mayor's Office)
---
Mayor Eric Adams trekked to the State Capitol in Albany on Wednesday, testifying before the State Legislature on Governor Kathy Hochul's $227 billion executive budget proposal for the state's 2024 fiscal year, which starts April 1, and outlining some of his administration's state-level priorities. Adams, a first-term Democrat, cautioned state legislators about billions of dollars in cuts, cost shifts, and unfunded mandates in Hochul's budget that he said would threaten the city's fiscal standing.
Throughout the two-and-a-half-hour hearing, home to especially friendly rapport between Adams and legislators, and during a media availability afterward, Adams asked for more funding to address the influx of migrant asylum-seekers in New York City, pushed back on a proposal for the city to contribute $500 million additionally to the MTA every year, questioned funding for a measure that would lift the charter school cap, and reiterated his push for toughening state bail laws.
At the start of the hearing, which yielded virtually no tense exchanges that have typically marked such appearances by New York City mayors, including Adams' first last year, the mayor took stock of several accomplishments he credited the Legislature for helping to achieve last year. Those included establishing the New York City Housing Authority (NYCHA) preservation trust, extending the city's speed camera program, expanding the Earned Income Tax Credit, and massively investing in child care.
In January, Adams released his own $102.7 billion preliminary budget proposal for the city's 2024 fiscal year, which begins July 1, stressing risks the city faces from the rising costs of the migrant asylum-seeker crisis and unresolved municipal labor contracts, among other factors. The governor's budget proposal has only added to his concerns and though Adams emphasized his collaborative relationship with the governor and the many victories they achieved together for the city last year, he urged lawmakers to help preempt fiscal calamity for the city. 
The biggest strain on the city's budget has been the arrival of roughly 47,000 asylum-seekers in the city, which the Adams administration estimates will cost the city about $4 billion by the middle of next year. Adams has stressed that it is a "national crisis" and has pleaded with the federal and state governments to provide more aid.
Hochul, in her budget, proposed $1 billion in assistance for the city for services and resettlement of migrants – that includes $767 million to cover the usual 29% of shelter costs for the city, $162 million for operational and logistical support from the New York State National Guard; $137 million for health care costs for asylum seekers; a $25 million resettlement fund distributed by the Office of Temporary and Disability Assistance to local nonprofits; $10 million in legal assistance through the Office of New Americans; $6 million to support the shelter site at the Brooklyn Cruise Terminal; and $5 million for enhanced migrant resettlement assistance. But her budget also "creates a framework for the financial burden of such services to be evenly split between the levels of government: 1/3 New York City, 1/3 State, and 1/3 Federal." As it remains unclear whether the federal government will provide an additional $1 billion that the Adams administration has requested, the mayor said Wednesday that the state needs to increase its share. 
"While the executive budget contains many shared priorities, the cuts and costs shift significantly outweigh the assistance the state is providing to address the asylum-seeker crisis," Adams said at the joint legislative hearing on Wednesday. The cuts and cost shifts, he said, will be felt most significantly in the city's spending on schools, mass transit, and Medicaid. "If unaddressed, these cuts will force us to make difficult choices in regard to the city budget and the services that we provide." 
Two major education-related policies are estimated to raise costs for the city, Adams said. Last year, the state extended mayoral control of city schools while also mandating a reduction in class sizes meant to begin this year. But the policy came without additional funding for building schools or hiring teachers, and could cost as much as $1.3 billion by the fifth year of implementation, Adams said. Legislators, especially State Senator John Liu of Queens, who chairs the Senate's committee on New York City schools, have pushed back on that characterization by noting significant increases in state education aid to the city.
Additionally, Governor Hochul proposed lifting the cap on charter schools in New York City in her budget this year, which Adams estimated could cost more than $1 billion annually to site new schools and cover per-student tuition. (Charter school supporters have taken issue with that estimate as something several years away at the earliest.)
"We need the state to provide funding to ensure that our children get the education they deserve," Adams said in his opening remarks, without expressing a position on more charter schools in New York City. Under questioning from legislators, Adams declined to take a direct position on the New York City charter cap, which has been hit, but stresses he believes in "​​scaling up successful schools" regardless of whether they are charter or district schools. In a short question-and-answer session with reporters after his testimony, Adams reiterated his support for re-issuing about 20 "zombie charters" that were previously issued but whose schools have since closed, and otherwise punted back to state leaders to decide the fate of the larger cap. There are currently 275 charter schools in New York City, educating 142,500 students, about 15% of the city's schoolchildren. 
In response to the mayor's testimony, a spokesperson for the governor noted that the state has proposed $13 billion in formula-based School Aid for the city, an increase of $594 million or 4.8%. That includes a $569 million or 6.4% increase in Foundation Aid for city schools. The funding formula, the spokesperson pointed out, includes charter school students.
Though Adams praised the governor for revisiting the state's bail law again in her agenda – in a controversial proposal that would change the standard that judges use for setting bail, allowing them more leeway to jail defendants pre-trial – he also urged her to increase funding for the city's district attorneys and public defenders. "The state must make a major investment in them now or risk depriving defendants of their constitutional right to a speedy trial, delaying justice for victims and continuing the unprecedented level of attrition within each of these offices," he said.
The mayor reiterated Wednesday that he continues to believe judges should be given far more discretion to set bail on defendants or remand them pre-trial, particularly to target what he called "extreme habitual repeated offenders" who are responsible for a disproportionate amount of felonies in the city. "We can't allow repeated offenders to make a mockery of the criminal justice system," he said. Several Republicans, such as Assemblymembers Michael Reilly, Ari Brown, and Ed Ra, expressed support for the mayor's push.
Adams also spoke out against the governor's financial plan for the MTA, which is currently facing a structural deficit of about $600 million in the current fiscal year, rising to $1.2 billion in the 2024 fiscal year and about $1.6 billion by the 2026 fiscal year.
Hochul has proposed $300 million in one-time state aid for the agency, along with $800 million in additional revenue by a small increase in the Payroll Mobility Tax, between $462 and $826 million from a share of licensing fees from new downstate casinos (which will only flow by 2026), and a $500 million additional annual commitment from New York City. At the same time, the MTA is considering fare and toll increases as ridership has yet to recover to pre-pandemic levels, with proposed subway and bus fares rising from $2.75 to over $3 by 2025. (The fare was supposed to have already hit $3, but that regularly-scheduled modest increase was postponed by Hochul and the MTA last year in part to encourage riders back to the system.)
Adams noted that the city already contributes about $2.4 billion to the MTA's operating budget annually, and that the governor's proposal would cost an additional $526 million in the next fiscal year and more than $540 million annually after that. That is on top of the payroll mobility tax and the fare increases, which would fall on those living in and commuting to New York City. "We all want what's best for riders, but we need a fairer and more sustainable proposal," he said. 
"We are being told to add a half-a-billion dollars on to our budget for eternity," he later added. "That is just unfair. No other municipality has been asked to do this…We should spread the pain throughout the entire state because we realize the MTA is a statewide entity." 
Under questioning from Assemblymember Zohran Mamdani, a Queens Democrat who is among the legislators sponsoring the "Fix the MTA" package of bills, Adams said he does not want to see the subway and bus fare increase and would like the state and MTA to find alternative funding to plug that hole as well.
The governor's spokesperson, in response, pointed out that New York City Transit is responsible for 71% of the MTA's annual deficit, and that the proposed contributions from the city would mean increasing their contributions to paratransit services and the city's Fair Fares MetroCard program. The MTA currently pays for half of the city's paratransit costs and about 58% of the Fair Fares program, while . The governor's office also pointed to the city's own estimates of billions in surplus revenues this year.  
Adams also pointed to $343 million in cuts to Medicaid support for the city with the state proposing to hold on to enhanced Federal Medical Assistance Percentage (eFMAP) funding to localities; about $84 million in costs for funding wage increases for '18-B' court-appointed attorneys; and $150 million in sales tax intercepted annually for the state's distressed hospitals fund.
Adams did praise several items in the governor's budget including her ambitious housing agenda, specifically proposals to ease the conversion of office space into housing, to eliminate the floor-area ratio cap in New York City that will allow denser buildings, and a new version of the expired J-51 tax credit for renovating residential buildings. He also commended plans around treatment for people with serious mental illness, proposed changes to M/WBE contracting and capital construction reforms, a city parking reform proposal, and her support of the Waste Reduction and Recycling Infrastructure Act. Even amid many complaints about her budget, Adams called Hochul "a great partner."
The hearing sets the stage for six weeks of more hearings, rallies, public debate, and behind-the-scenes negotiations before the state budget is due. The State Legislature is in the process of analyzing the governor's overall budget proposal and each chamber will also issue its own one-house budget resolution to stake out priorities. The Adams administration will negotiate with the two legislative chambers as well as the governor's office.
On Wednesday, as they questioned Adams, legislators seemed to lend support to his concerns even as they expressed their own. 
Several lawmakers, for instance, voiced their stringent opposition to lifting the charter cap.  
Yet others asked about everything from the mayor's priorities for creating affordable housing to enforcement policies against illegal marijuana shops, comprehensive plans for people with disabilities, rent freezes for rent-stabilized tenants, NYPD staffing, evidence-based reading curriculum in city schools, and efforts to make Diwali an official school holiday.
Asked by Assemblymember Harvey Epstein about legalizing basement apartments, which the governor has proposed in her budget, Adams said, "Our goal is to make sure that any accessory dwelling is done in a safe way and be part of our overall plan on how we're going to deal with the housing crisis that we're facing." At Epstein's urging, Adams also supported requiring permanent affordability in new buildings if Hochul's proposal to lift the FAR cap is approved.  
In response to Assemblymember Reilly's concerns about illegal marijuana sales, Adams said his administration is going after landlords that allow illegal marijuana shops on their property, reiterating an announcement he made last week with Manhattan District Attorney Alvin Bragg. "We have to close down these illegal shops or we're going to do away with all the good work that the state lawmakers did in legalizing cannabis," he said. 
The mayor also repeated his support for making Diwali a school holiday, which state lawmakers are hoping to achieve by eliminating and replacing Brooklyn-Queens Day from the calendar. "The first stop is here in the state and if we're able to accomplish that, I believe we're one giant step closer to a Diwali holiday," he said.   
Adams assured Assemblymember Ra that his administration has taken a "full frontal approach" to NYPD recruitment as the agency suffers from the same staffing crisis that has affected all of city government since the start of the pandemic.  
Assemblymembers Jessica González-Rojas and Mamdani similarly raised concerns about staffing at the city's Human Resources Administration and Department of Social Services, which oversee the distribution of public benefits like the Supplemental Nutrition Assistance Program, also known as food stamps. Last month, the city was sued in federal court over delays in approving SNAP and cash benefit applications which have affected tens of thousands of New Yorkers. 
"It's not acceptable that anyone has to wait. That is unacceptable, and as the mayor, I take full responsibility for that," Adams said at the hearing Wednesday. He said he had created an audit team to devise how to expedite applications, and said the city could use "myriad technology" to improve operations. He also conceded that "we still have a substantial number of positions that must be filled" that could help cut down delays, and he promised, "We will address this backlog."
Other City Officials Testify in Albany
Adams was not the only city official to testify at Wednesday's hearing. City Council Speaker Adrienne Adams and Comptroller Brad Lander were also set to speak before the Legislature. They both echoed many of the mayor's concerns, while adding some of their own priorities.
"While the net impact of changes in the Governor's budget increases support for the City's financial plan in our current fiscal year, it would cost the City nearly $1 billion annually in the subsequent two fiscal years," Speaker Adams said in testimony submitted at the hearing. "When these budgetary actions are coupled with the City's continuously increasing costs related to welcoming the arrival of more people seeking asylum, our fiscal health is severely impacted."  
As Adams and others noted, the governor's proposal for migrant aid only authorizes reimbursements for 29% of emergency shelter costs, which she said was inadequate as she argued for expanding the list of eligible reimbursable expenses to the city. 
She also called for additional funding for affordable, supportive and public housing, efforts to preserve and expand homeownership, additional state funding for pre-kindergarten and CUNY, and greater resources for public defenders and district attorneys. 
Comptroller Lander also called for increased funding for asylum-seekers, while pushing for policies that would also ameliorate stress on the city's shelter system. Specifically, he said the state should increase the shelter allowance for single adults, and approve the Housing Assistance Voucher Program (HAVP) proposed by State Senator Brian Kavanagh and Assemblymember Linda Rosenthal.
"Overall, this Executive Budget consistently undercuts New York City's fiscal condition. Unfunded mandates, cost and revenue shifts, and other State claw backs would cost NYC over a billion dollars in Fiscal Year 2024 growing to more than $2 billion when fully implemented," Lander said in his testimony.
Lander also said the governor's charter cap proposal would impose "inequitable costs" on the city, raised concerns about the cost of meeting the class size mandate, and said it was "distressing to see proposed tuition hikes and institutional budget cuts, which will reduce both access and quality" at CUNY and SUNY. 
The most critical issue, he said, is mass transit as he opposed the governor's "unfair and unsustainable" MTA cost-shift proposals and a fare hike "that would disproportionately impact low-income New Yorkers already suffering from skyrocketing costs due to inflation over the past year."
He also urged the governor to support the Raise the Wage Act sponsored by State Senator Jessica Ramos and Assemblymember Latoya Joyner, to support Good Cause eviction protections and the Housing Access Voucher Program, to pursue comprehensive property tax reform, to expand access to child care regardless of immigration status, and support capital process reforms proposed by the Adams administration, among other measures.
Note - this article has been updated.