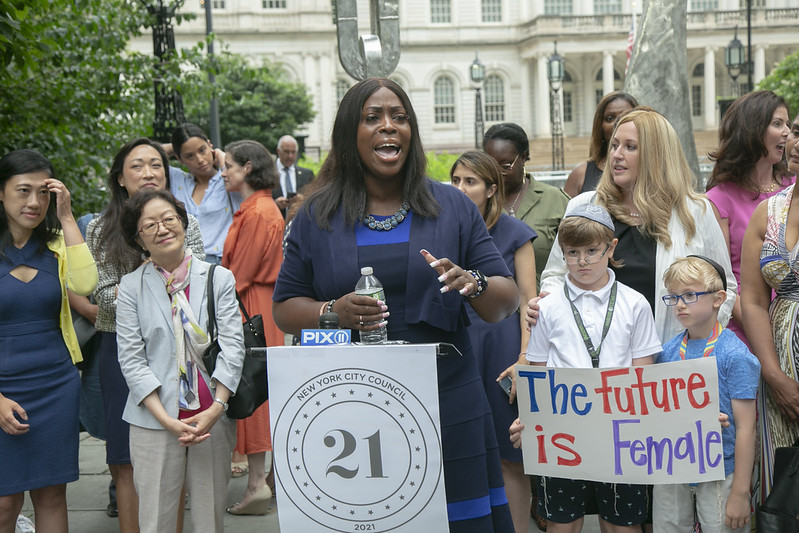 Bronx Borough President Vanessa Gibson (photo: William Alatriste/City Council)
---
Vanessa Gibson ran for Bronx Borough President in 2021 on a platform focused on improving public housing and jumpstarting COVID-19 recovery. Now, just over one year into her term, she is advancing her agenda with a focus on public health, economic and housing development, and more. Gibson recognizes the Bronx's many challenges, including as the borough with the highest rates of unemployment, poverty, crime, and unhealthfulness, but is also focused on its many positives and, especially, opportunities to uplift Bronxites.
On March 1, Gibson delivered her first State of the Borough address, emphasizing the importance of access to jobs, mass transit, and affordable housing. Also high on the agenda was improving public health, especially major crises around maternal mortality and diabetes, as well as fire safety measures, increasing tourism, and more. Two days after her speech, Gibson, the first Black person and the first woman to serve as Bronx borough president, joined Gotham Gazette's Max Politics podcast to discuss her priorities for the borough.
"Some of the top priorities for our administration moving forward is really focusing on the Bronx being a borough of opportunities…boosting tourism and focusing on cultural institutions,  and really bringing tourism back to the Bronx," Gibson said on the podcast. "Economic development is the pathway to prosperity — when you talk about jobs, good paying, stable, union jobs that really create stability for many of the families I represent."
There are many major proposed and ongoing infrastructure projects in the Bronx, including the Hip Hop Museum that's being built, renovations at Orchard Beach, the construction of the Bronx Detention Site in the borough's Mott Haven neighborhood as part of the plan to close Rikers Island, and much more.
There's also a proposal for a Bally's casino on the 17-acre plot currently housing the Trump Organization golf course and the early ongoing exploration of what will be done with the vacant, massive Kingsbridge Armory.
Before becoming borough president in January 2022, Gibson spent a few years in the New York State Assembly then eight years representing the 16th City Council District. During her time in the City Council, from 2014 through 2021, she chaired the public safety committee and the capital budget subcommittee.
Perhaps her most significant policy move as a Council member was as lead co-sponsor of the Right to Counsel law, which requires free-of-charge legal representation for low-income tenants facing eviction in housing court or NYCHA proceedings. Her lead co-sponsor was then-Council Member Mark Levine, who is now also a borough president, in Manhattan. The law passed in 2017, and led to a significant decrease in eviction rates pre-pandemic, proving a success that then-Mayor Bill de Blasio and the Council later expanded from high-need neighborhoods to all of New York City in 2021. Recent numbers show that after the pandemic eviction moratorium expired last January, only a small percentage of low-income New Yorkers are being assigned legal representation, which has caused alarm for Gibson, Levine, and many others.
Gibson was elected Borough President during a competitive 2021 race, and effectively won during the June Democratic primary given the Bronx is overwhelmingly Democratic in voter enrollment. The role entails distribution of discretionary funds, weighing in on many land use matters, appointments to community boards and other bodies that have influence over policy, working with City Council, the mayor, and many other elected officials. The Borough President cannot vote on legislation, but has a significant bully pulpit and can work with other entities to introduce and advocate for legislation, budget allocations, and other government action.
The Gibson interview continued a series of conversations with Borough Presidents just after or pegged to their State of the Borough addresses — Manhattan Borough President Levine, Brooklyn Borough President Antonio Reynoso, and Queens Borough President Donovan Richards each joined the podcast in recent months. (A conversation with Staten Island Borough President Vito Fossella is in the works.)
Cannabis
During her State of the Borough address, Gibson said legalized adult use cannabis has "the potential to be an economic engine" for the Bronx. She spoke about the potential of the industry to empower new business owners and those previously incarcerated or disenfranchised due to charges related to the drug, which she noted on the podcast were majority Black and Latino.
"I fully believe that cannabis is an industry that we must embrace," Gibson said on the podcast. "I look at it from both an equity and justice perspective. Equity because we want to create the next emerging entrepreneurs and small business owners, but we also know, from a justice perspective, we want to right the wrongs of systemic racism and mass incarceration due to marijuana prohibition."
Gibson spoke about her role in opening the Bronx Dispensary Showroom, a three-day-long cannabis retail pop-up led by her office and the Bronx Community Foundation in December of last year. The showroom offered retail goods, but also professional development training and speakers, as well as resources and information provided by cannabis advocacy organizations. She explained that it can be difficult for small business owners to break into the cannabis industry due to barriers such as capital and credit requirements. A group she is a part of — along with The Community Foundation  and The Bronx Defenders — is offering complimentary legal assistance to those interested in starting legal dispensaries.
"We really showcased what cannabis is all about," Gibson said. "We want this industry to be emerging, but we want to make sure it's done in a legal way."
Of the recent increase in illegal cannabis dispensaries and a subsequent law enforcement crackdown, Gibson said these shops undermine the efforts of those who are trying to enter the industry legally. She said that many smoke shops in her borough have experienced robberies and violence in recent months as well, threatening the safety of everyone. Gibson called for increased communication among the city, the state, and law enforcement and recommended a potential increase in training for the NYPD, which she said had been slow to properly address the proliferation of illegal sellers.
"We have to do more education, more outreach," she said, and suggested more public service and advertisement campaigns on the implications of legalization. "I do believe that there is a big divide when it comes to generations. What I'm trying to do as a borough president is find a medium, find a balance — how can we embrace it in a legal way, crack down on the unlicensed, but also do a lot more to educate?"
[LISTEN: Max Politics Podcast: Borough President Vanessa Gibson on the State of the Bronx]
Public Safety
One of Gibson's priorities is the creation of an Office of Public Safety stationed at the Bronx Borough President's office to address concerns about crime and community, coordinating different stakeholders and consistently communicating with the NYPD about areas of concern.
"It doesn't get lost on me that at any given time, there's something that's happening in my borough," Gibson said on the podcast, while referencing the recent broad daylight quadruple shooting on East Tremont Avenue that left three wounded and one dead as an example of the violence plaguing the borough.
Gibson said something like the office she's soon launching has "never been done before." She plans to work with law enforcement, first responders, anti-gun violence advocates, clergy, members of the general public, and others to address crime and supply victims with all the resources they may need — whether that entails funeral and burial expenses, counseling, relocation services, and more. Gibson said she wants to "holistically" and comprehensively address crime and safety in the borough.
"I cannot tell you how often my office has had to work with these families that are affected by violence — the shootings, the stabbings, the school violence," Gibson said. "We reach out to these families and they are broken and they need a myriad of assistance…It is hard. That is a job in itself, and I've been doing that since I've been an elected official. And now as borough president, it's magnified even more because I deal with the whole borough."
In response to a question about how the role of the NYPD and the Office of Public Safety will intersect, Gibson said that the office will handle elements of crime and its aftermath that law enforcement cannot always focus on due to high caseloads and other responsibilities. 
"The goal of mine is to also have the human touch — and that's one thing that I don't think the NYPD always does, because if you're a victim of a crime, and you have to work with the detective bureau, their job is to investigate," Gibson said. "We've heard concerns from many families that there's not always that level of sympathy."
Gibson also said that many of her constituents have expressed that they want to see more police officers along main roads and commuter routes, adding that this year was the first in a long time when the Bronx has been given an adequate number of police officers — each of the borough's 12 precincts received new officers. She credited Mayor Eric Adams' continued support of and attention to the Bronx.
"I appreciate that as representative of a borough that hasn't always been given that priority," Gibson said of Adams, the former Brooklyn borough president. "He won the Bronx in high numbers."
More on Development and Economic Opportunity
Gibson cited job creation as a top priority for keeping people, especially of younger generations, in the Bronx. Though the unemployment rate has dropped drastically since the height of the pandemic, she is looking to stimulate local union jobs, as well as apprenticeship programs that will offer new jobs "right now." Her office is placing focus on tech, including gaming, and research, which she hopes will open up new jobs in the medical field.
"We have been behind for a really long time, and I feel like a lot of times we have to play catch up," Gibson said on the podcast. "We not only have to play catch up, we have to double our efforts just so that we can compete at a level playing field with our other counterparts in the city of New York. Realizing that it's the Bronx — we have to make it attractive. You have to be able to stimulate the economy using some of our existing infrastructure to bring more people to the Bronx in a real tangible way."
She also spoke about the borough's many ongoing development projects, mentioning the new Universal Hip Hop Museum, which is under construction, the opening of a new space for the Bronx Children's Museum last December, and the planned Metro North expansion, which will add four new stops to the East Bronx by 2027 and is the subject of rezoning planning that is underway at the Department of City Planning.
She also mentioned the newly-revived effort to finally redevelop the vacant Kingsbridge Armory, a planning process to transform the historical military complex that's been vacant since 1996. Gibson said that due to current zoning laws, housing at the complex is most likely not an option, but she has formed a list of non-negotiables that she would like to see in the new facility.
In Gibson's view, the new facility should center the borough's culture, boost tourism, and create jobs and support small businesses, including street vendors. She is also advocating for a recreation space for young residents, health care services, vertical farming or something similar, and workforce development training.
"It's huge. It's the largest in the country and has the potential to do so much for the Kingsbridge neighborhood, and for the entire borough and the city," Gibson said. "It can be a game-changer."
Of the potential plans for a casino in the Bronx near the current Trump Links golf course, Gibson has mixed opinions. She called conversations about the plan "worthy and important" to have, but is concerned that the Bronx's infrastructure is not ready to support such an addition and shared concerns about creating a facility that would attract so many tourists rather than investing in the community that is already living in the neighborhood and borough. 
Gibson said she supports the expansion of the Empire City Casino in Yonkers, a move that would expand the casino's license to a full casino, as she appreciates the many jobs it provides to Bronx residents, with the potential for more. The process is underway to award three downstate casino licenses, two of which could go to expanding the existing partial casinos in Yonkers and Queens, but there are many proposals for casinos throughout the five boroughs and in the suburbs.
"You're building a whole neighborhood within a neighborhood, and you're bringing in clientele," Gibson said of a potential new casino. "I want to make this beneficial for the Bronx…I want to make sure the community is in the conversation."
Housing
Gibson spoke favorably of Mayor Adams' and Governor Kathy Hochul's housing plans, which she called "ambitious," and said that a lot needs to be done before they can be put into full effect. She expressed concern that the shelter and temporary housing system is overwhelmed, and said she is working to make Section 8 vouchers, which help low-income families find housing, more accessible.
She also expressed a need she sees in her borough for affordable housing options more comprehensive than middle-income housing options already available. She added that not every neighborhood has done its part in providing these affordable housing options, explaining that she believes others are providing more than their fair share.
"Affordable housing is the prerequisite to homeownership," Gibson said. "We don't want tenants to be lifetime tenants. We eventually want them to move towards a pathway, upward mobility of becoming homeowners."
Gibson mentioned an ongoing $2 billion Fordham Landing redevelopment in University Heights, which will include more than 2,000 new apartments, hundreds of them affordable units. With new housing and new or larger communities, Gibson said she has spoken with Mayor Adams about making resources like schools, grocery stores, and health care facilities automatically included in or near new housing developments. Gibson acknowledged anxiety among some that comes with the prospect of more housing development, but said there must be more housing across the borough and the city, while addressing many important concerns.
"This is a new administration — this is a new wave of leadership and we have to be responsible," Gibson said. "We have to be collaborative, and ultimately we can and we will support responsible development that brings jobs, that brings stability. At the end of the day, we have gotten to be a 'City of Yes' that welcomes residents from all communities, and we can't have this idea that affordable housing brings criminals and crime."
Public Health
Promoting public health continues to be a priority for Gibson, she said. Maternal health is at top of mind for the borough  president, who cited higher childbirth death rates impacting Black communities. She said that her office is currently working on creating a Bronx Birthing Center to support new mothers throughout the pregnancy and birth processes — something she said exists in other places across the city but not in the entire Bronx — and that it will release Birthing Center Reports once the facility is up and running. The project is still in its early stages, Gibson said.
"We want to make sure that all birthing individuals have access to care in the Bronx, and to me, it's a matter of equity and justice and fairness in the system," Gibson said.

Gibson is also focused on creating a Diabetes Task Force to address a disease that impacts Bronx neighborhoods disproportionately. Her office is also seeking to address lupus and fibroids, two conditions that primarily affect women of color. She mentioned the office's HIV/AIDs Task Force and Domestic Violence Task Force as other avenues of care, but expressed concern that the Bronx remains ranked as the unhealthiest of New York's 62 counties, calling it "alarming" and attributing it to systemic racism that must be addressed.
[LISTEN to the full conversation: Max Politics Podcast: Borough President Vanessa Gibson on the State of the Bronx]