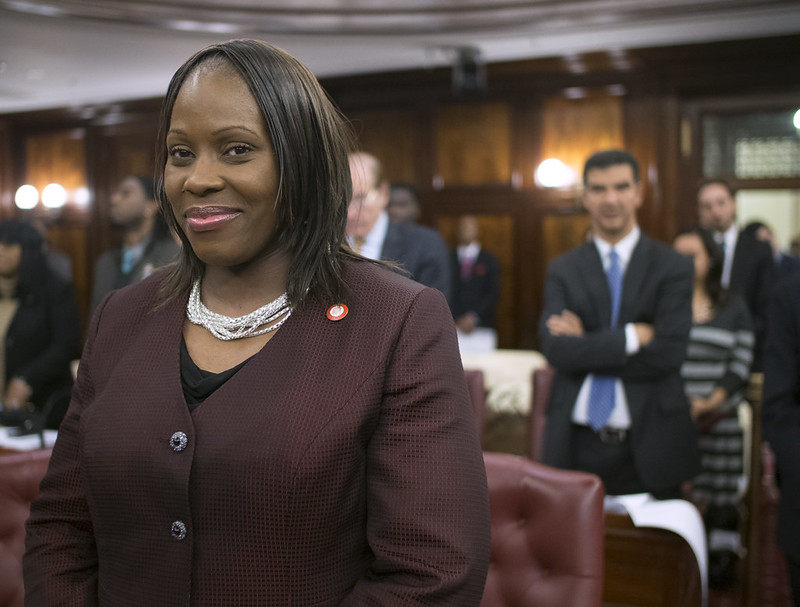 City Council Member Vanessa Gibson (photo: William Alatriste/City Council)
---
City Council Member Vanessa Gibson is likely to become the Bronx's Borough President after winning the Democratic primary in the overwhelmingly Democratic borough. Gibson had centered her campaign around the Bronx's recovery from the devastation of COVID-19, focusing particularly on the needs of low-income residents facing food insecurity and housing instability.
She would make history as the first woman to serve as Bronx Borough President, and Gibson, who is Black, would be the first non-Latino Bronx Borough President in 35 years.
As borough president, Gibson's role would in some ways be symbolic, but while borough presidents have little binding power in city government, they still have an influential voice on a number of government processes. Gibson would offer formal advice and input on both the city's annual budget and local land use initiatives. She would be charged with appointing members to Community Boards, Community Education Councils, the City Planning Commission, and the Panel for Educational Policy. She would have the ability to co-sponsor City Council legislation, have a budget to allocate money to local nonprofit organizations and to capital projects. And perhaps most importantly, she would have a significant bully pulpit, the ability to dedicate energy and staff to focus issues, and a key voice in the city's extensive process for approving or rejecting Bronx-based land use decisions that require city approval — decisions that are ultimately made by the City Council but often include the voices of developers, the mayoral administration, local stakeholders, and the borough president, among others.
Of the in-person ballots cast during early voting and on primary day, Gibson emerged with 39.2% of first-choice votes, running a slight lead over City Council Member Fernando Cabrera, who received 34.1% of first-choice votes. Unofficial ranked-choice tallies of those in-person votes, excluding absentee ballots, showed Gibson garnering 43,258 votes, or 53%, compared to Cabrera's 38,365, or 47%, once the "instant runoff" was tabulated.
That left more than 12,000 Bronx-based absentee ballots uncounted, according to the New York City Board of Elections, which would need to be counted then factored into a new ranked-choice runoff. With most of those absentees accounted for, a new unofficial but very close to final tally released by the Board of Elections on Tuesday night showed Gibson with 49,392, or 53.5%, and Cabrera with 42,953, or 46.5%, making Gibson the clear winner of the primary.
That night, Gibson declared victory on Twitter, writing, "Thank you to all of the people who came out to vote in this race. There's plenty of work to be done, but I'm honored to be your Democratic nominee for Bronx Borough President. Thank you for believing in me."
Cabrera, who has unsuccessfully run for State Senate twice before and like Gibson is term-limited from running for the Council again, represents Fordham, Kingsbridge, Morris Heights, and University Heights. He is known for being among the Council's most socially conservative members, having faced backlash for a number of homophobic votes and remarks, as reported by Gay City News. Cabrera founded and served as pastor of New Life Outreach International Church, which maintains that marriage is "the exclusive covenantal union of one man and one woman."
Gibson, meanwhile, supported efforts to build a Bronx LGBTQIA+ Center and along with fellow candidate Assemblymember Nathalia Fernandez, who is coming in third in the race, picked up many endorsements in the race from elected officials, labor unions, progressive groups (which mostly went to Fernandez), and others who liked their candidacies and in many cases also opposed Cabrera's. Notably, Gibson teamed up and cross-endorsed with mayoral candidate Andrew Yang while Fernandez did likewise with Maya Wiley.
Other candidates in the primary were State Senator Luis Sepulveda, whose campaign was felled by accusations of spousal abuse that he has disputed, and former police officer Sammy Ravelo.
Cabrera ran the best-funded campaign, receiving $261,848 in campaign contributions from 1,644 contributors and garnering $1,065,762 in public matching funds. Gibson, meanwhile, raised $231,409 from 1,229 contributors and received $610,792 in public funds.
The Bronx is heavily Democratic, and as winner of the Democratic primary, Gibson is almost undoubtedly going to become the next Borough President come January, replacing Ruben Diaz Jr., who has been in the position for more than a decade. According to the New York State Board of Elections, there are 532,297 active registered Democrats in the Bronx, compared to 39,172 active Republicans, 12,942 independents, and 2,755 Conservative Party members. In November's general election, the Democratic primary victor will face off against Sammy Ravelo of the Conservative Party and Janelle King of the Republican Party.
The incoming Bronx Borough President will need to contend with the borough's long-term fallout from the COVID-19 pandemic, which hit the Bronx particularly hard. A year before COVID in 2019, the borough had the highest poverty rate across the city — 26.2% of households — with the median household income that year at $40,088. Still, the Bronx was seeing a growing economy, including a spurt of new businesses and development, rising employment rates, and an influx of immigrants and other new residents.
That trajectory changed course early on in the pandemic, when the borough became a hotspot for COVID-19, leaving many Bronx residents struggling with illness, grief, and unemployment. Residents of the Bronx were more likely to have pre-existing health conditions like asthma, which, as The City reported, correlates with higher pollution levels from expressways that run through the borough. These health disparities have long affected Black and Latino residents at a disproportionate rate. The Bronx has the highest proportion of people of color of any borough in the city; according to 2019 Census estimates, Bronx residents are 44.7% Hispanic or Latino, 43.6% Black, 9% white, 4.6% Asian, and 2.9% Indigenous.
As a result, according to a state comptroller report, the Bronx has had the most severe hospitalization and death rates for COVID-19 throughout the city. And the borough has also seen the highest unemployment rates. Early in the pandemic, in May 2020, unemployment in the Bronx surged to nearly 25%, an 18% spike. By the following year, the borough's unemployment rate dropped to 15% — still more than twice its pre-pandemic levels.
City data shows that just 42% of Bronx residents are fully vaccinated against COVID-19, compared to 52% of residents citywide.
Taking up health equity as a central issue of her campaign, Gibson ran on promises to bolster infrastructure around public and environmental health, with a focus on food insecurity. On her website, she promises to address healthy food deserts by installing community gardens on the roofs of every elementary and middle school in the borough, while also expanding healthy food access in the Bronx through programs like the city's Healthy Bodega Initiative, and fostering worker-owned urban agriculture and grocery businesses. She says she will push for the city's Get Food NYC program, established during the pandemic to provide emergency food, including directly to homebound seniors, to last beyond COVID-19, and for the expansion of free breakfast and lunch at schools. In the borough that has been home to the worst health outcomes for residents of all 62 counties in the state -- a crisis Diaz Jr. has worked to combat -- Gibson also plans to promote exercise programs in public parks, expand greenspaces, advocate for green energy sources throughout the borough, and support protected bike lanes.
Gibson has also focused on affordable housing development, violence prevention and intervention, and police accountability in her campaign.
Given the Borough President's significant role in land use decisions, affordable housing and tenants' rights are top issues for Gibson. On her website, Gibson says she will foster Community Land Trusts to create new homeownership opportunities and prioritize developments intended for vulnerable residents including the elderly, young people aging out of foster care, grandparents raising grandchildren, and LGBTQ residents. She has committed to ensuring that new developments are built sustainably. Gibson pledges to advocate for more NYCHA funding and bolstered public housing tenants' rights. She promises to advocate on a federal level for altered cost of living and area median income estimates that reflect the "reality of living in the Bronx."
As a Council member, Gibson negotiated with the de Blasio administration over plans to rezone an area surrounding a stretch of Jerome Avenue in her district, pressing for more affordable housing and expanded school seats. She ultimately supported the rezoning plans, despite concerns from community advocates that commercial and residential tenants would be displaced. The rezoning incorporated promises for new playgrounds, parks, and plazas; two new elementary schools; and 1,300 affordable or supportive housing units.
When pressed on her support for the plan at a BronxNet debate in the borough president race, Gibson reiterated her support for the rezoning, saying, "We wanted to create affordable housing, invest in parks and playgrounds and new schools and open spaces."
Working to increase tenant protections, Gibson championed legislation guaranteeing low-income tenants' right to counsel, which ensured that all low-income New Yorkers facing eviction have access to a lawyer and led to massive drops in evictions over the last few years. Gibson also sponsored the Commercial Tenant Harassment Bill, which expanded penalties for landlords illegally pressuring renting businesses.
As Council member, Gibson also worked on policing and criminal justice issues. From 2014 to 2017, she chaired the Council's Committee on Public Safety, where she worked to expand the NYPD by nearly 1,300 officers and expand District Attorney funding with special allocations for the Bronx and Staten Island. The addition of the officers, agreed to the in 2015 city budget, was meant in large part to support a community policing philosophy that Gibson is a proponent of. She stressed throughout her time as the committee chair and since that her constituents want police presence and responsiveness but also respectful and accountable policing.
At the BronxNet debate, she pointed to the Neighborhood Coordination Officer program as a model for how police can build closer ties to residents in their work. At the same time, last summer, as calls for police accountability mounted during a resurgent Black Lives Matter movement that was also met with police brutality, Gibson sponsored legislation to bolster oversight of the NYPD's use of cell towers, license plate readers, facial recognition technology, and other surveillance technology.
Gibson has also been a vocal community voice against violence, frequently speaking on the issue at rallies and press conferences. She stresses the importance of "addressing the ongoing plague of gun violence through the lens of a healthcare perspective" on her website, pledging to increase support for grassroots, peer-based violence intervention programs through the city's Crisis Management System of experienced, authentic, neighborhood-based violence interrupters. At the debate, she called for more teen employment opportunities and youth group programs as a means of addressing rising gun violence. "Young people need opportunities. They need safe spaces," she said. "After this pandemic, we need programs like never before."
Gibson has been a key driver of the city plan to close the Rikers Island jail facilities and open smaller borough-based jails instead, with one new jail in each borough but Staten Island. In 2018, she called for the city to shift away from plans to place the forthcoming Bronx jail in the up-and-coming Concourse neighborhood and build it instead at the tow pound in Mott Haven where the jail would have more square footage — a plan the city ultimately took up.
Gibson's tenure on the Council has not been without controversy. In 2014, Gibson used her political position to get out of a traffic violation she received for talking on the phone while driving. After her case came before the Conflicts of Interest Board, she received a $5,000 fine for the incident.
Prior to serving on the Council, Gibson was a member of the state Assembly from 2009 to 2013, representing the Bronx's District 77. Before that, she worked as an assistant and, later, district office manager for state Assembly Member Aurelia Greene, who Gibson considers a mentor and who passed away earlier this year.
Gibson currently serves as Deputy Leader, co-chair of the City Council Women's Caucus, and chair of the Committee on Oversight and Investigation, a position she took up after chairing the subcommittee on the capital budget for the first part of her second and final term.
For her bid for borough president, Gibson received endorsements in the primary from TenantsPAC, LiUNA! NY, Pride Power, and a number of labor organizations including the United Federation of Teachers, the 1199 SEIU union representing healthcare workers, the SEIU 32BJ union representing property service workers, the New York City union of Probation Officers, and the Public Hospitals Workers' Union. She was also endorsed by Congressional Reps. Ritchie Torres, Yvette Clarke, and Grace Meng; Public Advocate Jumaane Williams; Council Speaker Corey Johnson; and Council Majority Leader Laurie Cumbo, among others.