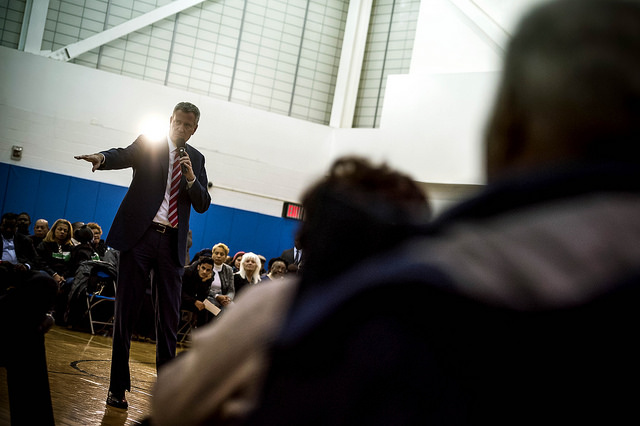 Mayor de Blasio (photo: Ed Reed/Mayor's Office)
---
Mayor Bill de Blasio's recent meeting with federal prosecutors signalled that the investigation into his fundraising for his 2013 campaign and his now-defunct nonprofit, the Campaign for One New York, are winding down. There's no indication yet whether the mayor or any of his associates will face charges, and the mayor's office has stated that de Blasio himself is not the target of the probe. The administration is confident that "at all times the Mayor and his staff acted appropriately and well within the law," according to a statement from the mayor's press secretary, Eric Phillips, after the meeting.
For much of a year, de Blasio has been dogged by a trickle of news about the federal investigation and others being conducted, including that by the Manhattan District Attorney into his involvement in 2014 state Senate races, and relentless media questions. The mayor has fielded question after question about whether he encouraged a pay-to-play culture at City Hall by fundraising vast amounts from entities with city business.
Federal investigators and prosecutors are said to be looking at whether donors to the Campaign for One New York or de Blasio's 2013 campaign were promised or given special treatment by de Blasio's administration.
Along with arguing generally that he and his associates did nothing illegal, on multiple occasions the mayor has sought to defend himself by pointing out that the Campaign for One New York served a worthy cause, centrally the effort to establish universal pre-kindergarten, and was not meant as an instrument to enrich him or anyone else involved.
"What we were trying to do in those efforts was about things that would help everyday New Yorkers," de Blasio said of the Campaign for One New York at a December 13 news conference. "You know there's lots of other situations out there in the world, where people tried to line their pockets, you know work for their personal advantage. This was about trying to pass policies that would help everyday New Yorkers."
What de Blasio's rationale doesn't account for, however, is that the consultants who worked on the Campaign for One New York -- the same consultants who worked on his 2013 mayoral campaign and are also employed in his 2017 reelection effort -- received hundreds of thousands of dollars in fees as they pushed its agenda. This, while at the same time some had clients with business before the city and some were also members of de Blasio's inner circle, crafting government policy while not on the city payroll.
At a news conference on May 3, 2016, de Blasio first used the defense, when asked by a reporter if his actions were comparable to those of Sheldon Silver, the disgraced former speaker of the New York State Assembly who was convicted on federal corruption charges that same day. "I think these are entirely different matters," the mayor said. "First of all, to the credit of everyone involved in this discourse, no one is talking about anyone lining their pockets, which unfortunately has happened in way too many instances."
The Campaign for One New York (CONY) effort did push progressive policies, including universal pre-kindergarten and affordable housing policy, both core components of the mayor's first-term agenda. The accomplishments in those areas also form the core of the mayor's reelection message. The investigation into CONY does not appear to focus on whether people in the mayor's orbit personally profited from the work, but whether government favors were offered or given to donors.
The CONY disclosures, voluntarily provided by the mayor's team, show that his top consultants earned significant monetary compensation for their efforts running the nonprofit. These include BerlinRosen, which spearheaded the mayor's 2013 campaign communications and continues to helm his reelection efforts. The company made nearly $550,000 for its work on CONY, out of about $4 million that the nonprofit raised in total over about two years.
Jonathan Rosen, who heads BerlinRosen, is also one of five consultants termed "agents of the city" by the mayor's legal team in order to shield their communications with the administration from the public when those communications don't involve their clients. Rosen and others have been intricately involved in helping de Blasio craft strategy and policy, though under fire for such arrangements and entering his reelection year, the mayor has removed those advisors from meetings. (De Blasio's campaign spokesperson, of BerlinRosen, was also the CONY spokesperson, and declined to comment for this article.)
AKPD Message and Media received the most compensation from CONY, about $1.35 million, for promoting pre-kindergarten and affordable housing. John Del Cecato, a partner at AKPD, is also one of the "agents of the city" and was integral in de Blasio's 2013 campaign.
Another two "agents of the city," Nicholas Baldick and Bill Hyers of Hilltop Public Solutions, were also involved in CONY, earning just over $400,000 for their work. Hyers was de Blasio's campaign manager in 2013 and his firm is also involved in the 2017 campaign. On Twitter, Hyers has repeatedly criticized the investigations into de Blasio, calling the federal probe "a pointless investigation" and the group "pointless inquiries."
Much of the money raised by the Campaign for One New York came from labor unions and real estate interests with city business. That money then went to the same consultants that helped de Blasio get elected -- his 2013 campaign, though, was limited by city election law both in how much it could raise from entities with city business and how much it could spend. CONY had no such restrictions.
The mayor's defense hedges between what is legal and what is ethical, with the former up to prosecutors and grand jury members, and the latter a matter of some debate. "What he should've said was no one was lining their pockets illegally," said Douglas Muzzio, professor of political science at Baruch College, calling it a "critical distinction."
Muzzio noted that, if the investigations were to establish a quid pro quo among the administration, the nonprofit, and the donors, then the mayor's defense "doesn't fly."
"It does raise questions about the role of consultants and the nebulous role of working for the campaign and turning around and lobbying the mayor," he said. "De Blasio's relying on a very fine distinction between what is ethically suspect and what is legal."
Many have questioned whether the mayor, even if he was within the law, was right to do what he did. Comptroller Scott Stringer, a potential challenger to the mayor in the upcoming Democratic primary, called CONY a "slush fund" in July 2016, saying it should never have been created. "I think it does not work for this city and I think we need to enact strong rules," Stringer said the day the city's Campaign Finance Board ruled that the mayor had not violated any laws in fundraising for the group.
The CFB nonetheless criticized de Blasio for bending the rules to the point of breaking. "New York City's system depends on reasonable contribution limits that reduce the appearance that influence can be bought or sold through campaign contributions," said then-CFB chair Rose Gill Hearn. "It defies common sense that limits that work so well during the campaign should be set aside once the candidate has assumed elected office."
Since then, the city has adopted new laws -- originated and passed the City Council, then signed by de Blasio -- to limit groups like Campaign for One New York.
Jennifer Rodgers, executive director at Columbia Law School's Center for the Advancement of Public Integrity and a former federal prosecutor, said that the mayor's money-into-pockets defense is understandable. "I think that when he says no one is lining their pockets, he means himself and people in his administration in their personal capacities," she said. "It's not that money wasn't being contributed."
The significant sums of money that CONY paid to consultants appears to be beside the point of the investigation, Rodgers noted.
"You are not allowed to give political favors in exchange for money going anywhere," Rodgers said. "I understand his point that no one is lining their pockets personally, but that doesn't really matter and also is not what the public cares about. The reason for bribery laws is not to stop businessmen giving money, it's to stop politicians from giving favors."
Shortly after the news broke in December that two grand juries were hearing testimony on the federal and state investigations, de Blasio made his weekly appearance on WNYC's The Brian Lehrer Show. "What matters here is we did everything by the law for good causes...The work we did was by the law, appropriate, above board to win pre-K, affordable housing, a Democratic State Senate," de Blasio said. "And those were the right things to work for. Everything disclosed. No, no influence given to anyone in exchange."
Amid accusations of doing favors for donors, the mayor in May promised that his administration will make public a list of donors who asked favors of the administration but were denied -- proof that his administration was not influenced by CONY or other donations. He has yet to produce that list and recently said he still plans to, but that the investigations must run their course first.
"It's a whole conundrum, Brian, facing our entire campaign finance system," de Blasio said on December 16 on WNYC. "What we should have is full public financing of elections. We should have a whole host of reforms that take money out of the equation in general. But since Citizens United, what we're really living in is a world where a lot of people want unilateral disarmament. They want the wealthy and folks who, for example, have done huge amounts of advertising against me such as some of the hedge fund folks, to have all the freedom in the world to not disclose and spend anything they want. When the rest of us try to fight back and do it above board and with disclosure and with no inappropriate activity, it becomes such a major issue."
[Related: The Risks of De Blasio's Interview with Federal Prosecutors]