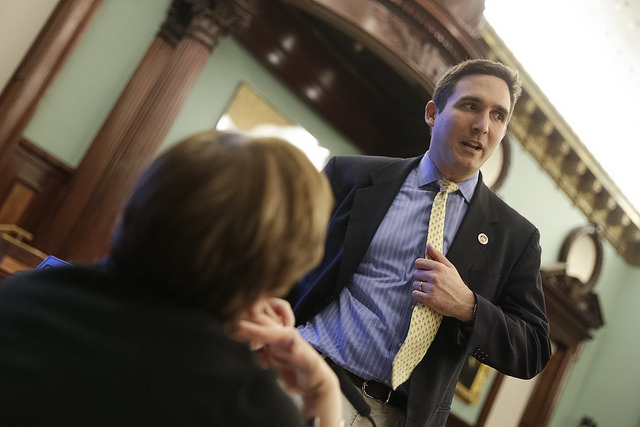 Council Member Ben Kallos (photo: William Alatriste)
---
Although Mayor Bill de Blasio promised after taking office that he would do away with the practice of underfunding city agencies in the preliminary budget only to later provide them with full funding, one agency that seems to suffer from this each year is the New York City Board of Elections. The budget process for fiscal year 2018 is no exception.
The mayor's preliminary budget, which he unveiled in late January, allocates the Board of Elections $98.6 million. The figure is about $61.7 million less than the $160.3 million that BOE Executive Director Michael Ryan has projected the agency needs over the next fiscal year, which begins July 1 and includes the 2017 city election cycle.
Ryan testified Monday at a City Council budget hearing, held by the Committee on Governmental Operations, that touched on a range of topics, including challenges the BOE has faced in administering elections in the past, BOE budget savings, cybersecurity, and even President Donald Trump's unsubstantiated claim of widespread voter fraud in the November 2016 presidential election.
The BOE -- which is governed by state law but funded by New York City -- was one of a number of agencies that provided testimony on the preliminary budget at Monday's hearing, following the Department of Citywide Administrative Services and the Law Department.
In fiscal year 2018, the BOE anticipates overseeing four citywide election events -- a municipal primary in September, a potential run-off election day in October, a municipal general election in November, and a federal primary day in June of 2018. This doesn't account for any special elections that may be held in the next fiscal year for vacancies that occur.
As with the last two years, the BOE's preliminary budget is far below its needs. Last year, the city allocated $88.4 million to the BOE in the preliminary budget, before increasing that number to $123 million in the budget that was adopted in June when the mayor and City Council came to an agreement on the current spending plan. The annual November budget modification saw that number increase to $130 million.
[Related: City Criticized for Again Lowballing Elections Budget]
"Like we do with all agencies and city funded entities, we've funded the BOE to what we've determined to be their current need," said Freddi Goldstein, a City Hall spokesperson, in an email. "We will continue conversations with them throughout the budget process and will add funding as we go along, as we deem necessary."
Just last Friday, the mayor made a similar argument on his weekly interview on WNYC's The Brian Lehrer Show. "Every time I hear of someone claiming we have a budget cut in our budget, I'd like them to show us where it is because it doesn't exist," he said in response to a question about reduced allocations for an emergency food program. "There are times when something shows in the budget initially as a certain level of funding, but then it's still going to go through the executive budget process, which I will propose in about six weeks and then a process with the City Council. So there are times that we know there is going to be areas that we still have to work through with the City Council. It's not a cut until the process is over and we say we want to cut something."
In the interview, the mayor also argued that people should personally analyze the budget and urged New Yorkers to "not go through a journalistic outlet to understand the budget."
Council Member Ben Kallos, chair of the governmental operations committee, addressed the budget disparity, although he did not make it a focus of the hearing.
Kallos pointed out that the notoriously dysfunctional BOE has proposed its largest budget increase in years, and also has not proposed any savings, referencing the mayor's preliminary budget promise to identify $500 million in additional agency savings in time for the executive budget. "The cost increase you're proposing is actually more than 10 percent of the existing savings that the mayor's asking for," Kallos said.
Ryan pointed out that the BOE is not beholden to the city. "Unlike some other agencies, the Board is an independent board and while we are certainly sensitive to requests, wherever they may come from...we do operate a bit differently from some of the other agencies," Ryan said.
He later attributed the majority of the increase to a state legislative proposal, supported by the board, that would enhance the pay for poll workers from $200 to $300 per day, and for poll coordinators from $300 to $400. "If poll worker pay is off the table, then the increase is cut in half," he said.
Some have argued that BOE operations are especially shoddy because they rely on such sporadic work to administer elections and that the pay does not attract sharp enough people. Critics point to the political nature of board commissioners, who are named through the major political party apparatuses in each borough.
Executive Director Ryan, who runs the operations of the BOE (the executive director is confirmed by a majority vote of the 10 commissioners), also noted that election budgeting isn't always predictable either, citing the recent special election in Harlem's City Council District 9 which then necessitated another special election for a state Senate seat since state Senator Bill Perkins was victorious.
The Board's independence is another reason, Ryan said, that they cannot provide performance budgeting measures for the Mayor's Management Report, which Kallos has long advocated for.
[Related: Renewed Push for 'Performance Budgeting' Through Mayor's Management Report]
Ryan also briefed Kallos on a number of improvements the board has been implementing since last year's April presidential primary, which saw a fair share of controversy around the purging of more than 100,000 voters from the Brooklyn voter rolls.
Ryan said the two BOE employees who were suspended for their role in the voter purge have not been terminated since BOE commissioners have not yet taken up the issue. He also said the BOE is moving ahead on instituting reforms, without accepting a $20 million offer from Mayor de Blasio that was made last year after the April primary debacle in an effort to incentivize specific reforms.
One particular point that Ryan emphasized, seeking to dispel any narrative that may suggest otherwise, was that New York's election system is not prone to cyber threats and that election results were never at risk during the presidential election last year.
What was at risk, he admitted, was other systems that the BOE uses -- including its website, Facebook and Twitter -- that could be hijacked to disseminate misinformation. "When we're looking at beefing up our cybersecurity," Ryan said, "those are the kinds of areas that we're looking to make sure that we do what we need to do, and that requires money."