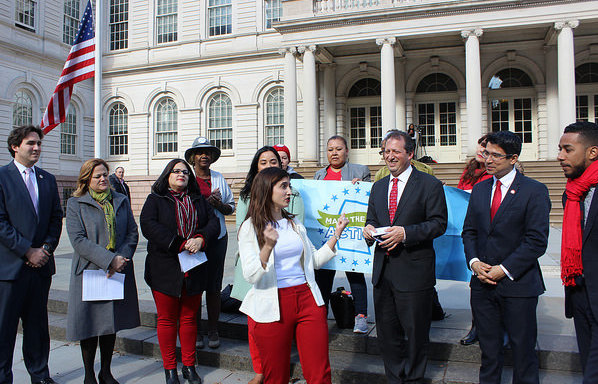 Marjorie Velazquez (photo: Samar Khurshid/Gotham Gazette)
---
In a February special election, Harlemites voted then-state Senator Bill Perkins to fill a City Council seat vacated by Inez Dickens, who had been previously elected to the state Assembly. Heading toward the regularly-scheduled September primary elections and November general, there are now seven "open" City Council seats in the 51-seat body. These are seats in which the current occupants are term-limited and unable to run for reelection.
Council Members Rosie Mendez (District 2), Dan Garodnick (District 4), Melissa Mark-Viverito (District 8), James Vacca (District 13), Annabel Palma (District 18), Darlene Mealy (District 41), and Vincent Gentile (District 43) will be replaced by fresh faces in the chamber at the beginning of next year. (Mark-Viverito is also the Speaker of the Council; the new class of Council members will select her successor in January.) There may also be several other competitive Council races where an incumbent is being challenged, either in the primary or the general. But, most of the competition will certainly come in the seven "open" seats.
Additionally, the primaries - in almost all cases the definitive contest in the seven largely Democratic seats up for grabs - loom in less than six months. As the races progress, there are few clear metrics by which to assess them. Along with things like endorsements from political clubs, unions, advocacy groups, and elected officials, fundraising numbers can give some indication of how well a candidate is doing in drumming up support and how able a campaign will be to execute its game plan to entice a winning number of votes.
While money certainly isn't everything, it can and does help candidates to pay staff, rent office space, send communications to potential voters, and more. The city also has a renowned public campaign finance system where small donations are matched 6-to-1 with public dollars, allowing candidates who raise a fairly modest amount of money to compete.
In January, Gotham Gazette reported on the money race in the seven "open" seats and the District 9 special election. Now, a more recent deadline has passed, making filings with the New York City Campaign Finance Board available for the latest disclosure period, January 11 to March 11, and the entirety of the campaign in sum.
Council District 2, Lower East Side of Manhattan
Carlina Rivera, a district leader and legislative director for Council Member Mendez, continues to lead the money race in District 2, having raised $16,335 in the last period for total of $93,460 in contributions. She has spent $25,600, leaving her with an estimated $67,859 on hand. Rivera was recently endorsed by the Progressive Caucus Alliance, the political arm of the Council's Progressive Caucus, after receiving the endorsement of Make the Road Action. Mendez has also endorsed Rivera to replace her.
Attorney and Community Board 6 member Mary Silver raised over $20,000 this period for a total of $59,681 in contributions. She's spent $11,308, leaving an estimated $48,373 in her campaign coffer. Ronnie Cho, who did not previously file a financial disclosure, has raised $25,955, 83% of which came from donors based outside the city.
Council District 4, East Side of Manhattan
District 4 features a crowded field of seven active campaigns. Community Board 5 member Marti Speranza remains the money leader, although her campaign does not appear to have raised any additional money in the latest filing period. In fact, her contribution total is slightly down, from $175,961 to $174,266, seemingly due to a refund being issued. She has spent $53,931 in total, leaving her with a balance just over $120,000. Slightly more than 50% of Speranza's total contributions have come from donors outside the city.
Keith Powers raised an additional $13,235 this period, for a total of $94,720 in contributions, and has spent a total of $25,489, putting him at just under $70,000 in available funds. Bessie Schachter raised an additional $14,754 to reach $38,696 in contributions and is left with $33,902. Jeffrey Mailman raised an additional $7,270 for a total of $42,545 in contributions and retains $38,580.
Sitting Council Member Dan Garodnick has not endorsed in the race.
Council District 8, East Harlem and part of the South Bronx
The field in the District 8 race remains the same four candidates that filed disclosures in the previous period. Diana Ayala, Speaker Mark-Viverito's deputy chief of staff and endorsed successor, is still the funding frontrunner, with $11,728 in new contributions bringing her total to $37,911 in private funds. Ayala's expenditures have been $3,075, leaving her $34,836 in remaining funds. She was also endorsed by the Progressive Caucus Alliance and Make the Road Action.
Community Board 11 member and Department of Education employee Ed Santos raised a similar amount, $11,300, but added that to existing funds of only $2,880, leaving him with $12,328 after expenditures of $1,852.
Council District 13, Eastern Bronx
The District 13 race continues to be a competitive, big-money contest, with contribution totals exceeding $410,000. The lion's share goes to State Assemblymember Mark Gjonaj, who has raised over $110,000 in the last period for a total of $217,535 in contributions. He has spent over $55,000 in that period, reaching $74,828 in total expenditures and leaving him with $142,707 in remaining funds. Just over 51%, or $111,401, of his total contributions come from donors outside of the city. It does not appear that Gjonaj will be participating in the city's matching funds program, a move that both eliminates the additional potential funds to his campaign but also the spending limits that come with the program.
Gjonaj is currently the only state legislator declared in the seven "open" seats, though several others are said to be considering runs. Senator Perkins was just victorious in the special CD9 race, of course, beginning what is becoming a typical exodus of state lawmakers to the City Council during an election year.
Meanwhile, in CD13, Democratic District Leader Marjorie Velazquez raised an additional $5,348 for a total of $70,063 in contributions and has about $60,000 left. She was endorsed by outgoing Council Member Vacca, the Progressive Caucus Alliance, and Make the Road Action.
John Doyle, former Community Affairs Director for State Senator Jeff Klein, has raised $64,995 and had $44,963 on hand at the mid-March filing. John Marano, vice chair of Community Board 10, has raised $39,830 and a balance of $33,182.
The lone Republican declared in the race, John Cerini, is watching the Democratic primary play out and had $11,671 in his account as of the most recent filing.
Council District 18, Southeast Bronx
District 18 continues to be a relatively low-dollar campaign, with only two candidates breaking triple-digit contribution totals. Elvin Garcia, the former Bronx borough director for Mayor Bill de Blasio's community affairs unit, raised almost $13,000 in the last filing period to hit a total of $46,155 in contributions, and has spent $4,794. In a fundraising email, Garcia thanked his supporters for helping his campaign "over-perform once again."
Amanda Farias, former manager of the Council's Women's Caucus, raised $5,168 in the last period to reach $20,775 in contributions, and keeps $19,667 on hand.
Outgoing Council Member Annabel Palma has thus far withheld her endorsement. Many are waiting to see if State Senator Ruben Diaz Sr. enters the CD18 race.
Council District 41, Central Brooklyn
The contours of the District 41 race have changed substantial in the last filing period. Alicka Ampry-Samuel, chief of staff to Assembly Member Latrice Walker, who had not even previously filed a disclosure form, is now the fundraising leader. She has raised $27,520 in contributions and made a $15,000 loan to her campaign, bringing her private funds to $42,520, of which she has only spent $799. Ampry-Samuel has also been endorsed by Make the Road Action, the political arm of a community group that can be helpful with getting out the vote.
Second in funds is Henry Butler, the district manager of Community Board 3, who was also not in the last filing. He raised $20,335 and spent $1,795, leaving him with $18,540 in the war chest.
Moreen King raised an additional $2,040 in contributions and made $10,000 in loans to her campaign, bringing her total private funds to $14,040, of which she retains $10,993. Previous frontrunner Deidre Olivera has raised a total of $10,684 and spent $7,277, leaving her with $3,465.
And, Kathleen Daniel, who has the endorsement of current officeholder Darlene Mealy, has raised a total of $3,153; she has spent $59.
Council District 43, Southern Brooklyn
This southern Brooklyn race similarly features a new money leader, albeit by a slight margin: Khader El-Yateem, the Palestinian-American pastor of Salam Arabic Lutheran Church, who did not file a previous disclosure. He has raised $81,611 and spent $4,196, keeping $77,415. In a statement, El-Yateem said that the money was raised "without the support of PACs, special interest groups, or big corporations" and described himself as "an immigrant, a man of faith, and a political outsider."
Justin Brannan, communications director for Council Member Gentile, who is leaving the seat, raised $16,045 over the last period for a total of $73,430 in contributions, and has almost $68,000 to spend. In a statement, Brannan said that his campaign "[leads] the pack in grassroots, publicly-funded campaigning, and that is just the kind of support that Brooklyn should see from its candidates."
The race features viable Republicans, including new candidate John Quaglione, deputy chief of staff to State Senator Marty Golden, who raised $41,901 and spent $5,788. As evidenced by Golden, the area is one of few in the city where Republicans can win, even though it is home to a Democratic majority of voters like almost all of the city's Council districts.
Another Republican, Liam McCabe, a former aide to U.S. Rep. Dan Donovan who did not previously have campaign funds, raised $45,420 and spent $8,831.
Republican Robert Capano and Democrat Kevin Peter Carroll have each raised about $26,500 in total, though Capano has spent $10,369 and Carroll just $232.
CD43 is another where there is a looming state legislator who may run: Assembly Member Peter Abbate has been rumored to be considering a Council bid.
For Abbate, other state legislators, or anyone else considering a Council run this year, time is running thin to declare one's candidacy.
The next campaign finance filing deadline is May 11.
Note: this article has been corrected to include Kathleen Daniel in the CD41 race and the fact that current Council Member Darlene Mealy is supporting Daniel's candidacy.