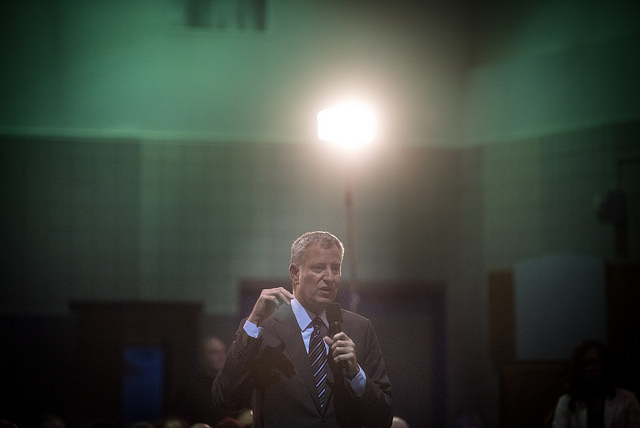 Mayor de Blasio (photo: Edwin J. Torres/ Mayor's Office)
---
Although it was recently announced that Mayor Bill de Blasio and his aides would not be charged in two separate investigations related to their fundraising activities, both cases prompted widespread calls for reform of campaign finance laws and closure of holes that allow, even encourage, a pay-to-play political culture.
The two parallel investigations, at the state and federal levels, exposed vulnerabilities in the law that allowed the mayor and his associates to skirt contribution limits that would have otherwise applied to their activities, both at the city and state levels.
In the federal case looking at city-level behavior, the mayor and his team raised unlimited donations, in support of his political agenda, from people who do business with the city. These donations would have been capped had they been made to the mayor's campaign, but they instead went to a nonprofit the mayor's allies established soon after his election.
In the state-level investigation, Manhattan District Attorney prosecutors looked into how the mayor and his allies directed donations to Democratic state Senate candidates, using county committees to avoid state election law contribution limits.
The response to these investigations, which both ended without criminal charges but widespread opinion that the mayor and his allies had blurred or crossed ethical lines, has been remarkably different on the city and state levels.
The federal investigation into the Campaign for One New York, the mayor's now-defunct nonprofit that was the mechanism of unlimited fundraising and spending, led to local reforms late last year. The City Council passed and the mayor signed legislation that regulates the activities of nonprofits set up by elected officials or their allies, such as CONY. The new law places the same restrictions on such groups as those imposed by the city campaign finance law on election campaigns, including a $400 limit on donations from entities with city business.
In essence, the legislation prevents anything like the Campaign for One New York from operating ever again.
[Related: City Council Rushes Through Campaign Finance Bills]
At the state level, however, there has been no movement on tightening the loophole that allowed the mayor and his team to funnel donations to individual candidates, a practice that Manhattan D.A. Cyrus Vance criticized even as he announced the closure of his investigation.
Vance said in his letter to state Board of Elections enforcement counsel Risa Sugarman, who had originally referred the case his way for a criminal investigation, that the BOE could still take civil or regulatory action, that the BOE should issue advisories to define which activities are permissible. Vance also wrote that "legislation may be necessary to clarify the Election Law and to prevent any workarounds that might undermine the purpose of the contribution limits."
That sentiment is hardly new. Good government advocates have for years been calling on the state Legislature and Governor to modernize New York's election laws, with contribution limits being an important aspect of that conversation.
"The election law is riddled with loopholes that allowed the mayor to engage in this level of activity that violates the spirit of the law," said Dick Dadey, executive director of Citizens Union, a government reform organization. "It's been done by people before but he really pushed the envelope on this in a way that others have not."
As Dadey pointed out, the mayor's mechanism was not new. Even Laurence Laufer, the lawyer who helped the mayor's team in directing the state Senate donations, said as much last year in a letter to BOE's Sugarman about her prosecution referral. (A confidential memo sent by Sugarman had leaked to the press, bringing the investigation into the public eye.)
"There is nothing novel about the 2014 Democratic Party campaign to elect Democratic candidates to the State Senate, other than your attempt to selectively criminalize it," Laufer wrote to Sugarman, referencing instances of similar contributions made through county committees in the past, including by former Mayor Michael Bloomberg, who contributed a large amount of money to help keep the Senate in Republican hands.
"[The mayor] still was within the law according to the district attorney, but the law is porous and provides too much opportunity for mischief and collusion," said Dadey of Citizens Union. "So there needs to be some updating of the laws to reflect this activity that should not be permitted."
As Vance's investigation documented, the mayor's team funnelled massive amounts of money through county committees to candidate committees. Candidate committees can only receive up to $10,300 from individuals, unions and LLCs. County committees on the other hand can receive maximum individual contributions of $102,300. The mayor's team solicited and directed funds to mutilple county committees, which are allowed to make unlimited contributions to candidate committees.
In one such case, in October 2014, the Ulster County Democratic Committee received $364,000 in four contributions. The most contributions the committee had received in the previous five years was in 2009, and only about $50,000. The UCDC then transferred $330,000, within a matter of days, to a committee associated with Cecilia Tkaczyk, a Democrat. The committee paid $320,000 to AKPD, a political consulting firm that has close ties to de Blasio.
Common Cause, another good government group, similarly called for reforms after federal and state prosecutors announced their decisions to not bring charges in the de Blasio investigations. "As the U.S. Attorney and the Manhattan D.A. have found, New York State's election law is deliberately vague and prone to conflicting interpretations," said Susan Lerner, executive director of the group, in a statement. "That's why Common Cause/NY has consistently advocated for many of the recommendations that the D.A. has made, including clarification of the law itself. Strict guidance is necessary to improve our civic life so that no one, least of all the public or elected officials, should have to parse the difference between ethical and legal."
Election lawyers also agree that it is high time the state government updates laws that have remained stagnant for decades. "I think there's a lot of room for improvement there," said Sarah Steiner, an election attorney. "The election law is a collection of old statutory plans and cobbled-together changes over the last 30 years or so. It needs to be updated in so many ways including this," she added, referring to the county committee loophole that de Blasio's team exploited.
Questions about the election law and monetary contributions to political committees and campaigns are part of the larger discussion that has sort-of been happening in Albany for a number of years, with little to show for it. This debate includes the call to close the infamous LLC loophole, which allows virtually unlimited donations to candidate campaigns, and the possibility of instituting strict doing-business limits on donations, or even a public campaign financing system, akin to what New York City has. There has been limited appetite for such reforms, especially from Senate Republicans, while Governor Andrew Cuomo remains the biggest beneficiary of the LLC loophole despite calling for its closure.
This year, the governor announced a fresh push for government and ethics reform -- an agenda that includes campaign finance reform -- but his proposals failed to gain traction in budget negotiations and he did little to put his weight behind them.
[Related: For Cuomo, Ethics Reform Forgotten as Budget Lurches]
Jerry Goldfeder, another election attorney, said the need for campaign finance reform is perennial. "The state ought to create a public matching funds program like we have in New York City in order to reduce the role of money in elections," he said, echoing the sentiment of many reformers who believe the state would be better off adopting the city's program, which incentivizes small-dollar donations by matching them with public funds. The program, considered a national model, tends to level the playing field, especially for first-time candidates who may not necessarily be able to muster the larger campaign donations incumbents can.
New York City also has strict doing-business donation limits, which de Blasio went around through the Campaign for One New York, and term limits for elected officials, which do not exist on the state level.
City Council Speaker Melissa Mark-Viverito and other Council members have been praised by reformers for moving on the legislation to limit groups like Campaign for One New York, though few spoke up while the nonprofit was in the midst of its work. Still, the reforms are now on the books for good, save some kind of rollback by future lawmakers, which would undoubtedly be a politically unpopular move.
The state is another story. Steiner isn't optimistic that the Legislature will act on contribution limits, or even on a broad range of common-sense electoral reforms that have been proposed in the last few months by Gov. Cuomo and Attorney General Eric Schneiderman.
"I think the chances that the Legislature will work together in order to get to an improvement on [election laws] are minimal at best," she said.
She later added, "What's happening is very little, if anything."
Note: Gotham Gazette is an independent publication of Citizens Union Foundation, sister organization of Citizens Union.