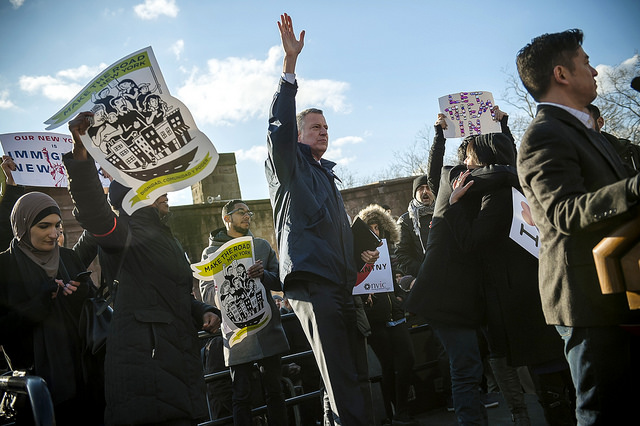 Mayor de Blasio (photo: Ed Reed/Mayor's Office)
---
The Democratic county organizations of Manhattan, Queens, and Staten Island have endorsed Mayor Bill de Blasio for reelection. The three borough party committees, formal local affiliates of the larger Democratic Party, will officially announce their endorsements on Thursday, joining Brooklyn county, which has already announced its support of de Blasio's candidacy for a second term.
A Democrat who took office in 2014 after a contentious 2013 primary and landslide general election, de Blasio is consolidating organized party support ahead of this September's primary, for which his main opposition is former City Council Member Sal Albanese and police reform leader Robert Gangi. De Blasio has also received support from several political clubs in the early going of endorsement season, most major labor unions, as well as a variety of elected officials, including Brooklyn Borough President Eric Adams, Public Advocate Letitia James, and many City Council members. (A large rally with Brooklyn Democrats to celebrate their endorsement was postponed due to a deadly car crash in Times Square.)
De Blasio, who has the power of incumbency, solid poll numbers, and a number of significant accomplishments to his name, is a heavy favorite to win reelection. If he does prevail in his primary, he will face the winner of the Republican contest, very likely either Staten Island Assemblymember Nicole Malliotakis or real estate executive Paul Massey, as well as independent Bo Dietl, and other lesser-known and lesser-financed candidates. Opponents are seeking to portray de Blasio as a weak manager, too much of a spender, and ineffective at solving the city's homelessness crisis.
In announcing his organization's endorsement of de Blasio for reelection, New York (Manhattan) County Leader Keith Wright said in a statement that de Blasio "has delivered for New Yorkers," citing universal pre-kindergarten, low crime, improved police-community relations, and other factors. "We are proud to endorse Bill for re-election, because we must keep this progress going," Wright said.
In thanking Wright and his cohort, de Blasio said in a statement that "none of the progress we've made in recent years would be possible" without the "partnership" of Manhattan Democrats at all levels of government.
Not particularly known for its prowess, the Richmond County (Staten Island) party organization is backing de Blasio for a variety of hyperlocal reasons, including the mayor's work to repave the borough's roads, implementation of 24-hour ferry service, expansion of electronic waste removal, and other factors, according to Chair John Gulino, who called de Blasio "a true champion of Staten Island" in an endorsement statement that also touches on broader themes like crime reduction.
In response, de Blasio said in a statement that "The Richmond County Democrats are one of the fastest-growing progressive organizations out there today." Staten Island was the only borough de Blasio lost in 2013 against Republican Joe Lhota.
In endorsing de Blasio for reelection, the Queens County Democratic Committee Chair, Congressional Rep. Joe Crowley, cited de Blasio's "commitment to fight for all New Yorkers" in the face of the Trump Administration. De Blasio has positioned himself as an anti-Trump in recent months, vowing to fight the new federal administration on several fronts. In a statement accompanying the endorsement, Crowley also cited pre-K, low crime, and, more locally, de Blasio's redesign of the deadly Queens Boulevard, where the mayor recently celebrated more than 900 straight days without a fatality.
In accepting the endorsement, de Blasio said in a statement that the diverse borough of Queens is an essential part of New York remaining "a place that welcomes everybody, no matter who they are or where they come from."
With four Democratic County committees behind him, the mayor is only awaiting the backing of the Bronx, which is all-but-certain. On Wednesday, the campaign announced the endorsement of Assembly Speaker Carl Heastie, who represents part of the Bronx and was its county party chair until he became Assembly speaker. Heastie is de Blasio's most important ally in Albany.
County party endorsements can be helpful in terms of organized party support for a candidate, which helps with campaign advertising, volunteers, and get-out-the-vote efforts. It can also help with fundraising.
The new county party endorsements for de Blasio come just after some positive fundraising and polling news for the mayor -- he raised about $669,000 in the most recent two-month fundraising period and has about $2.6 million in cash on hand heading into the summer, and, a recent Quinnipiac poll showed 57% of respondents saying the mayor deserves reelection, versus 35% who said he does not. Among Democrats, 73% said de Blasio deserves reelection, 20% said he does not.