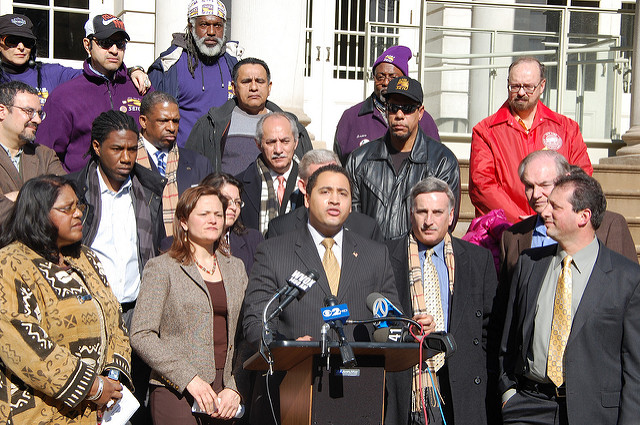 Assembly member Robert Rodriguez (photo: Elbert Garcia/Former Rep. Charles Rangel's Office)
---
State Assemblymember Robert Rodriguez, a Democrat from East Harlem running for the City Council, has a second job at an asset management and financial consulting firm that has earned him hundreds of thousands of dollars over the last few years. But, if Rodriguez wins the Council seat, which will be vacated by term-limited Council Speaker Melissa Mark-Viverito at the end of the year, he would have to give up his position at the firm under new rules passed by the Council last year.
The New York City Council voted to give its members hefty pay raises in February 2016 and simultaneously imposed a ban on certain forms of outside income, effectively making the job of City Council member a full-time position. The outside income restriction justified, in part, the salary increase from $112,500 to $148,500 a year, Council members and others in support of the move argued. In comparison, salaries in the state Legislature are far lower -- base salaries are $79,500 and have not changed in nearly 20 years -- but the position is part-time, and has almost no restrictions on outside income.
Rodriguez, first elected to the Assembly in 2010, is among a number of state legislators running for City Council this year, but he is the only one with significant outside income. The Assemblymember currently serves as director of PFM Financial Advisors LLC, an asset management and financial consulting firm that is considered an industry leader. He joined the company when it acquired A.C. Advisory, Inc., a firm where Rodriguez previously served as vice president, earning a lucrative paycheck and bonuses atop his salary as a state legislator.
Rodriguez is running in a competitive primary against Mark-Viverito's former deputy chief of staff Diana Ayala, whom the speaker has endorsed for the seat, to represent the district that also includes parts of the South Bronx. The two candidates have split support from the local Democratic party machines and elected officials, and have overshadowed two other Democrats on the primary ballot, community activist Tamika Mapp and former State Assemblymember Israel Martinez.
"If elected to the City Council Robert Rodriguez is ready and willing to vacate his position at PFM in order to serve as a full-time Council Member for District 8," said Jennifer Blatus, a spokesperson for Rodriguez, in a statement. "He is excited for the opportunity to continue the work he has done in the State Assembly on a local level."
Related: For Mark-Viverito's Seat: Leading Candidates with Long Community Resumes
State legislators are required to declare any outside sources of income on annual financial disclosures submitted to the New York State Joint Commission on Public Ethics (JCOPE). For the last four years, Rodriguez's filings show that his positions at PFM and A.C. Advisory were profitable. In 2016, for instance, he earned between $50,000-75,000 from his work at A.C. Advisory and between $5,000-20,000 from PFM. In 2015, he earned between $75,000-100,000 from A.C. Advisory, and in 2014 his salary and bonus at the company totalled between $100,000 - $150,000.
For 2012 and 2013, Rodriguez listed his position at A.C. on his JCOPE filings but initially declared no income from the job. It was only in June 2015 that he filed amendments to his earlier disclosures, declaring that he earned between $50,000-$75,000 in 2013 and between $100,000-$150,000 in 2012. A spokesperson for JCOPE said it was not uncommon for legislators to file such amendments.
Both A.C. Advisory and PFM have had business dealings with state and city entities. Prior to its acquisition by PFM, A.C. Advisory's clients included the City of New York, the Dormitory Authority of the State of New York, the New York City Educational Construction Fund and the Battery Park City Authority.
From 2004 till 2016, A.C. Advisory had contracts with New York City to provide financial advisory services in changing capacities to the Comptroller's office and the Mayor's Office of Management and Budget. According to the Comptroller's office, fewer than half a dozen financial advisory firms across the country have the capacity to fulfill the contract, based on responses to requests for proposals.
The latest contract was awarded jointly to A.C. Advisory with another firm in August 2015, and when A.C. was bought out, PFM inherited the contract and also A.C. Advisory's employees, including Rodriguez. "This contract was the result of a thorough RFP process and eventually awarded jointly with the Comptroller," said Freddi Goldstein, a spokesperson for the mayor's office who deals with budget matters, in an email. "The City awards contracts to whichever vendor is best suited for the job. That's all there is to it."
Rodriguez was earlier listed as the point person on the contract, but has since taken a step back after moving to PFM, according to his campaign spokesperson. He does not manage the contract and is not listed on the city's Doing Business Database -- which tracks individuals and entities with city business -- although PFM and it's top brass are on the database.
As a member of the state Legislature, where there are no limits on outside income, Rodriguez's outside position is not uncommon.
Numerous state lawmakers have other jobs and sources of income, although these have been a perennial source of controversy. Government reform advocates insist that outside employment creates real and perceived conflicts of interests. The most infamous example from recent history is the corruption conviction of former Assembly Speaker Sheldon Silver, who faced charges stemming from actions he took relating to his non-government job. The conviction was later overturned based on new standards established by the Supreme Court, but is likely to be retried.
"We have long thought that state legislators should not have significant outside income because it creates potential conflicts of interest," said Blair Horner, executive director of the New York Public Interest Research Group, a good government advocacy. "It certainly raises in the minds of the public concerns about conflicts of interest."
Horner said elected officials should make every effort to follow the letter of the law, but emphasized that the law itself is the problem and that the state Legislature has not done away with it. "What really matters is the policy that allows lawmakers to moonlight," he said. As noted, the City Council did away with such leeway last year.