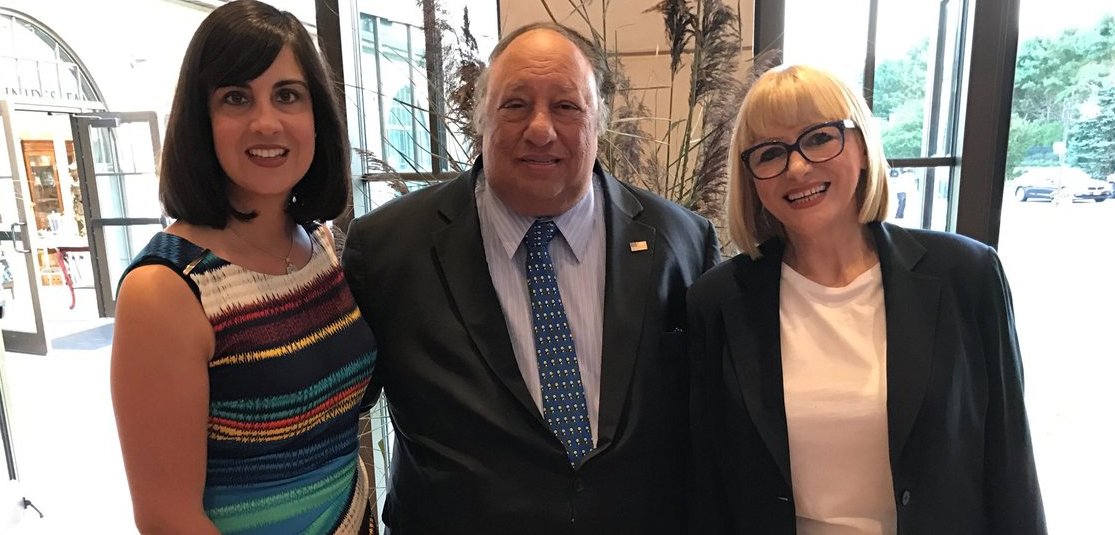 Nicole Malliotakis, left, with John Catsimatidis, center (photo: @NMalliotakis)
---
Republican mayoral candidate Nicole Malliotakis does not need to worry about defeating a primary opponent, and running unopposed is cheap. That dynamic will very quickly change on September 12, primary day, after which the Staten Island Assemblymember will have all of 55 days to campaign against the winner of the Democratic primary, likely incumbent Mayor Bill de Blasio, in a city with roughly a 7-to-1 Democratic-to-Republican enrollment advantage.
In order to run a competitive campaign against de Blasio, Malliotakis will need to be well-funded, and while she's been careful with her spending so far, she must kick her fundraising into another gear -- and soon -- in order to run the type effort that might reach not only the city's Republicans, but also the many independent, or unaffiliated, voters and moderate to conservative Democrats who she would need to pull off an upset win in November.
To win the Bloomberg coalition, Malliotakis may not need Bloomberg money, but she will need a good haul from the series of fundraising events her campaign has scheduled over the coming weeks.
The financial picture painted by the Malliotakis campaign's disclosures to the city's Campaign Finance Board (CFB) has not been especially powerful. She has raised just under $500,000 so far, a staggering sum in most municipalities, but not more than a decent haul in New York. Though she is a participant in the public matching funds program, which matches certain eligible donations at a 6-to-1 ratio, Malliotakis has not hit the matching claims threshold of $250,000 of qualifying funds needed to unlock the additional money, and her lack of a primary opponent would render her ineligible to receive funds yet even if she did hit it, leading her campaign to stress it is not a concern at this time.
The campaign has also pointed out that fundraising tends to slow down over the summer as big-money donors leave town. As the city's more affluent denizens drift in from their tropical paradise of choice, the Malliotakis camp is betting on a series of big-ticket fundraisers to turn around their fortunes.
"We came into this race late, we ran into the problem, a lot of the heavy hitters, from July on, this person was out of town, that person was out of town," said Rob Ryan, a spokesperson for the campaign.
The slowness in summer fundraising was evident last city election cycle. Joe Lhota, the Republican mayoral nominee in 2013, saw his fundraising dip during the disclosure periods including July and August of that year, even while he was in a tough primary fight with supermarket magnate John Catsimatidis. By early September of that year, Lhota had already raised a sum total of over $2.1 million, more than four times what's flowed into Malliotakis' coffers.
Prominent GOP consultant Jessica Proud of The November Team, who was involved with the Lhota campaign, does not believe comparing the two campaigns is particularly useful. "It's a little bit of comparing apples to oranges. Lhota got into the race much earlier than she did," Proud said, adding, "we not only had a primary, but a very competitive primary."
Indeed, Lhota began his candidacy in January of 2013 – which at the time was actually considered a late start in the open seat mayoral race – while Malliotakis didn't file papers until April of this year.
Lhota also enjoyed wider name recognition with the electorate and pre-established connections with the city's deep-pocketed business community before he launched his mayoral campaign. Stints in the administration of former mayor Rudy Giuliani, including as deputy mayor for operations, and as an executive with Cablevision and the Madison Square Garden Company served to introduce Lhota to the city's power brokers. His time at the helm of the Metropolitan Transit Authority post-Superstorm Sandy solidified his local prominence and helped spur his mayoral bid.
Malliotakis has not had that kind of exposure. "Either you have great personal relationships with people who are high donors, or you have a base of small donors. The difficulty here is when you're an Assemblymember in Staten Island, you might not have access to either of them," said Richard St. Paul, a lawyer and GOP consultant.
Though leading Republicans acknowledge the challenge at hand in unseating a Democratic incumbent, Malliotakis has reason to be optimistic. Not only has she been campaigning nonstop across the five boroughs and appearing on dozens of radio, television, and other media programs, but she is in the midst of a major fundraising push that promises to bear fruit.
An ongoing blitz of events will be an opportunity to reach donors and receive a significant injection of cash just as the general election season kicks into gear. These include a reception at the Empire Club in Manhattan to be hosted by the state GOP, which is led by Chair Ed Cox; an event to be hosted by Staten Island GOP Chair Ron Castorina; a reception held by hotelier Ted Conklin at his American Hotel in Sag Harbor; and receptions hosted by Vicki and Herb London at their Manhattan home; Sharon Handler Loeb at her Manhattan home; Liz Peek at her Manhattan home; and Caroline Hirsch at Caroline's on Broadway.
The first of these, the reception hosted by Castorina, took place on Thursday. The events listed continue through September 18, after which there are sure to be more as the race will head into televised debates and the important month of October. Disclosure filings between now and primary day must be submitted to the CFB daily, and will show the extent to which the outreach to the Hamptons crowd and other GOP donors was successful.
As for de Blasio, the mayor has received almost $5 million in contributions so far, plus an additional $2.64 million in public funds, leaving him with a haul of over $7.6 million in total. He raised over $147,000 in the latest disclosure period, which went from August 8 to August 28.
That is formidable firepower to go up against, and potential major donors may think twice about opening up the checkbook to Malliotakis, who also trails in funds raised to independent mayoral candidate Bo Dietl, who claims nearly $890,000 raised as of August 28. Individuals can donate a maximum of $4,950 to a mayoral candidate. One way around that particular quandary might be to focus less on the big donors and chase small-dollar contributions of the sort that the matching funds program was meant to incentivize. This hasn't been a traditional city GOP strategy, and doesn't seem to be a particular priority for the Malliotakis camp so far, but Proud thinks it can have a meaningful impact.
"She's a woman, she's got the background as the daughter of the Greek and Cuban immigrants," Proud said. "She can reach out to a broader and more diverse community."
St. Paul agreed that the small donations could be a game-changer. "I think it's going to depend a lot on whether the Malliotakis campaign can find that base of people that aren't satisfied, that aren't happy with the mayor and tap them for small donations and reach the matching funds thresholds," he said.
Ryan, from the campaign, called pursuing the small-dollar donations the campaign's "main focus," but emphasized that it was important for the bigger donors to meet Malliotakis at the various events, often their first time meeting her.
"Over the next couple of weeks we've got an event almost every day," said Ryan, characterizing the events as largely cocktail receptions, lunches, and even an event with live music. Over the past weekend, the campaign had various events in the Hamptons, including one with environmentalist Andy Sabin.
Part of what can make New York City mayoral campaigns so expensive is the need to hire well-connected consultants that can strategize and schmooze and raise more money. "A lot of times the people who don't have that name recognition or the high donors hire consultants that have those relationships, but that takes money," said St. Paul. Gotham Gazette's analysis of campaign expenditures up to the previous filing period, which ended August 7, show that consultants had received the lion's share of all spending.
Name recognition itself doesn't come cheap. In a metropolitan area with the largest media market in North America, television advertising can run into the millions of dollars. Mailers, banners, and other promotion can cost hundreds of thousands more. De Blasio was recently reported to have spent $2 million on a new television advertisement, his first of the campaign.
Independent spenders – individuals and committees not technically affiliated with a campaign that spend to support or oppose candidates or policies – could also shift the dynamic of the race. Already, the Transport Workers Union, which has been engaged in bitter criticism of de Blasio over funding for an emergency Metropolitan Transit Authority (MTA) plan put forward by Lhota (again the agency's chair), has spent $119,025 on a TV ad attacking the mayor (TWU is seen as an ally of Governor Andrew Cuomo, a consistent de Blasio foe with whom the union negotiates its major labor contracts).
It's not clear yet what other independent spenders may jump in to support Malliotakis or oppose de Blasio. The Malliotakis campaign indicated to Gotham Gazette earlier this summer that it is hopeful IEs will become a factor in the race. A campaign spokesperson also indicated hope that the GOP establishment and donors would be more active in support of Malliotakis than they were in helping Lhota in the 2013 general election, when he was quickly dismissed by many after initial public polling showed de Blasio ahead by more than 40 points. The spokesperson said the help will be there if it is a competitive race and potential backers can see a path to victory for Malliotakis.
The most significant pro-Lhota independent spender in the last cycle was a political action committee named The New York Progress and Protection PAC, which spent over $180,000 in support of his candidacy. It was largely funded by the conservative megadonor David Koch, and established by D.C. lawyer Craig Engle. Reached by phone, Engle declined to comment on his potential involvement in the race going forward.