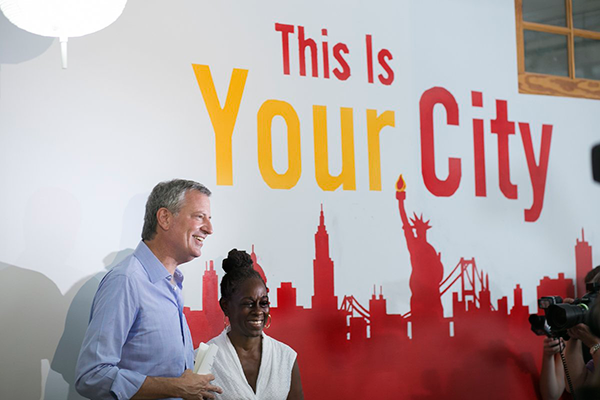 Mayor de Blasio at his reelection headquarters (@BilldeBlasio)
---
As New York City's campaign season hurtles toward the September 12 primaries and November 7 general election, bringing new flurries of fundraising and spending from mayoral candidates, attention has largely been focused on the 'raising,' with a few recent donations getting headlines.
Less examined has been the spending, and not for a lack of it; according to filings with the city's Campaign Finance Board (CFB) incumbent Mayor Bill de Blasio alone has parted with over $2.48 million in campaign funds this cycle, far outpacing any rivals still in the race (real estate executive Paul Massey, who abruptly suspended his campaign for the Republican mayoral nomination in June, spent $3.7 million in addition to the $1.1 million he loaned his campaign, and has over $300,000 in outstanding liabilities). All numbers have yet to be audited by the CFB.
The mayor's not the only big spender: security contractor Bo Dietl, who failed to get on the Republican ballot line but is running for mayor as an independent, has spent over $620,000. Rocky De La Fuente, a wealthy businessman who has said he would suspend his campaign after being knocked off the Republican mayoral primary ballot, though he has yet to officially do so, has spent over $350,000 in addition to $250,000 in loans to his campaign. State Assemblymember Nicole Malliotakis, the presumptive GOP nominee for mayor, has spent over $160,000 and has almost $30,000 in outstanding liabilities.
Other than Massey's extraordinary spending, the largest storyline on the expenditure front thus far has been Democratic mayoral candidate Sal Albanese, who had to raise and spend somewhat feverishly in recent weeks in order to qualify for an official, televised primary debate against the incumbent mayor, de Blasio.
Albanese, a former City Council member in his third official mayoral run, has spent over $185,000 as of the mid-August filing with the CFB, of which almost $134,000 was spent in the latest filing period encompassing July 12 to August 7. The ramped-up spending was part of his push to qualify for the first Democratic primary debate, to be held Wednesday, August 23. The city's Campaign Finance Act requires that candidates who participate in the city's matching funds program raise and spend 2.5 percent of the campaign's primary expenditure limit ($174,225 for mayor), to participate.
The other contenders looking to unseat de Blasio in the Democratic primary have also been spreading the wealth. Tech entrepreneur Michael Tolkin – whose estimated $5 million in-kind contribution to his campaign Gotham Gazette reported on before he added more in-kinds that he valued at $2.95 million – has directly spent a separate $226,000 on the race, with close to $120,000 in outstanding liabilities.
The full expenditure limit for mayoral races is $6,969,000 each for the primary and general races, though no participating candidate seems to be in any danger of surpassing the cap. Dietl and Tolkin are not participants in the program, which is run out of CFB and provides candidates meeting certain criteria with public funds matching eligible contributions. Malliotakis and Albanese are both trying to hit the threshold to begin receiving matching funds from the CFB.
So where has the money gone? Below is an overview of expenditures by candidates spending at least the CFB debate qualification threshold who are still in the race: de Blasio, Dietl, Malliotakis, Albanese, and Tolkin. All filings are self-reported, some expenses have overlaps, and campaigns employ different reporting guidelines, so figures are approximations:
Bill de Blasio (Democrat)
Total Spending (including liabilities): $2.48 million (mouse over the graph for more detail)
Over 34 percent – more than $860,000 – of de Blasio's spending has been directed towards consultants.
At least four consultants or consultancies have been paid over $100,000 each by the campaign, with Hilltop Public Solutions taking in the most at over $224,000 total in general consulting and management fees since February of 2016. Close behind is the progressive-focused firm Revolution Messaging, which has been paid about $222,000 since October 2016 in digital consulting and website development fees.
Ross Offinger, a fundraiser and former de Blasio aide who fundraised for the now defunct Campaign For One New York and was ensnared in the ensuing controversy when the nonprofit was investigated for facilitating pay-to-play with the mayor, was paid about $164,000 in finance consulting and fundraising fees. The payments began in November of 2015 and have continued throughout the scandal and investigations, which ultimately did not lead to criminal charges.
BerlinRosen, the communications firm with close links to the mayor, has been paid over $115,000 for consulting work since February 2016.
Wages make up almost 30 percent – about $740,000 – of de Blasio's campaign spending.
Just over $200,000 of this appears to be payroll taxes processed through ADP Payroll Solutions, which was also paid separately for professional services related to the processing. Elana Leopold, the campaign's finance director, is the staffer that's been paid the most overall, more than $140,000 since April 2016. Phil Walzak, who worked on de Blasio's 2013 campaign, then in City Hall, and is now a communications and overall strategist for the reelection campaign, has been paid about $100,000. Walzak left the de Blasio administration for the campaign in October 2016.
A series of other staffers have been paid $50,000 or less.
The campaign has spent about 13 percent, or some $320,000, in fundraising expenses beyond personnel, the largest of which was $41,100 in fees for the online fundraising platform ActBlue. Other expenditures are largely for catering and venues, like a $30,931 payment to the Sheraton Hotel for a November 2015 event.
About 9 percent, or some $230,000 of spending, has gone toward polling, all to the same firm, Greenberg Quinlan Rosner Research, making it the single entity to have received the most money from the campaign. It was paid on six separate dates between October 2015 and the beginning of this month for costs associated with research, travel, and polling.
Just over $150,000 in de Blasio campaign costs, or 6 percent, were dedicated to rent and office expenses, including almost $67,000 to the coworking and office space company WeWork. Until recently opening its Brooklyn campaign headquarters, the campaign used WeWork space.
Another $100,000, or 4 percent, went towards professional services, including close to $79,000 in legal services provided by the law firm Kantor, Davidoff, Mandelker, Twomey, Gallanty & Kesten, P.C., which was also paid almost $51,000 in consulting services. The remaining $89,000, about 3.6 percent, went to other expenses like petition collection and ads.
Nicole Malliotakis (Republican)
Total Spending (including liabilities): $194,395 (mouse over the graph for more detail)
About $61,000, or 31 percent, of Malliotakis' spending has gone to consultants, though she does not appear to have a dedicated campaign staff and has not paid any wages, meaning even her campaign spokesperson Rob Ryan is listed as a consultant. Ryan is also the most paid consultant, having received $19,641 since the beginning of June, about a month after Malliotakis launched her candidacy. Consulting fees of $15,000 have also gone to the Staten-Island based PR firm The Von Agency – run by political operative and former Republican County Chair Leticia Remauro – which has also provided roughly $29,800 in professional services related to media management and public relations, and $10,000 in advertising, which is included here in the promotion category. Other professional services, which together make up roughly $44,000, or about 22.4% of spending, includes $8,000 to the Staten Island Advance for online impressions of their work.
Promotion, including campaign literature, the cost of website registration and maintenance, and advertisements, accounts for about $41,000, or 21% of spending. Almost $14,000 of it went to Luke's Copy Shop for campaign mailers and other literature. About $16,000, or 8 percent, was spent on rent and office supplies, including $13,750 to KRE, LLC for an office space, about $14,400 – just over 7 percent – went to fundraising expenses, and $12,000 – 6 percent – went to the firm Barry Zeplowitz & Associates for polling. The rest, some $6,600, went to assorted other expenses.
Sal Albanese (Democrat)
Total Spending (including liabilities): $185,802 (mouse over the graph for more detail)
About $87,000, or almost 47 percent, of Albanese's spending went to promotional materials for his campaign, most of it to a small Minnesota-based firm called North Woods advertising. The firm is run by Bill Hillsman, a longtime collaborator of the Reform Party, which endorsed Albanese (he'll appear on the general election ballot on the Reform Party line regardless of the outcome of the Democratic primary).
North Woods was paid a total of $83,000 in a deposit, video production, and digital ad purchasing for advertising related to the campaign. Additionally, the firm was paid $46,903 in consulting costs, including retainers, and travel expenses. A good portion of this spending was likely related to the development and promotion of the "de-Blah meter" that Albanese's campaign launched August 3, a gimmick that allows users to rate "How Bad is Mayor de Blasio?," as the campaign put it.
Albanese's campaign has also paid about $13,600 in consulting costs to LCG Communications, the PR firm belonging to his campaign spokesperson, Linda Cronin-Gross, rounding off the roughly $60,500, or 32.6 percent, that the campaign spent on consultants.
The campaign also spend almost $22,000, or near 12 percent of spending, on expenses associated with gathering petitions to get Albanese on the ballot. Only about $1,250 of this was spent on printing the petitions, while the rest went to other candidates who agreed to jointly pursue petitions with the campaign, probably using their own staffers and volunteers.
Just over $9,000, around five percent, of Albanese's expenses through the most recent filing went to fundraising expenses, and $5,800, or about 3 percent, was spent on professional services encompassing a law firm and website design.
Bo Dietl (independent)
Total Spending (including liabilities): $641,389.18 (mouse over the graph for more detail)
Dietl spent over $307,000, or about 48 percent, on promotion of his campaign largely through Facebook and other online ads, and TV ads. Most of this went to two companies: Jump 450 media, which was paid over $147,000 for digital and Facebook ads in addition to $81,000 in consulting and services for media consulting and website work, and Political Communications Advertising which was paid $150,000 for the purchase of television ads.
About $195,000 in spending, or over 30 percent, went to consultants.
In addition to the consulting fees paid to Jump 450, Dietl gave the firm Polsinelli Public Affairs $40,000 in consulting fees related to PR and public relations services. Several campaign strategists and operatives similarly appear to have been paid as consultants, including campaign members setting up phone banks. Roughly $36,600, or 5.7 percent of spending, went to professional services costs, including credit card fees, website work, and $10,000 to attorney Martin Connor for legal services.
Some $35,000 or about 5.5 percent, went to costs associated with fundraising, mostly for food and beverage services. Almost $34,000 went towards office expenses including phones, office catering, and office supplies, and a bit over $27,000 went to wages.
Michael Tolkin (Democrat)
Total Spending (excluding in-kinds, including liabilities): $338,912.21 (mouse over the graph for more detail)
The bulk of Tolkin's direct spending went to petition-gathering, with spending nearing $114,000, or about 33.6 percent. Most went to the firm Ardleigh Group LLC, which received $108,707. About $81,000, or almost 24 percent, was spent on consultants, including $50,000 to marketing firm Brand Knew LLC for marketing consulting services. Brand Knew also received over $71,000 in professional services fees for branding and marketing work, as well as media buying. It was also paid almost $15,000 in unspecified advance fees, which we are categorizing as "other."
The rest of the consulting fees went to the law firm Falcon Jacobson & Gertler LLP, which also took in in $21,000 in professional services fees for legal compliance work. About $40,000, or nearly 12 percent of spending, went to promotional materials, including over $24,000 to Pasadena Pictures for video production work. As Gotham Gazette previously reported, Tolkin has also declared millions of dollars in in-kind contributions to his campaign.