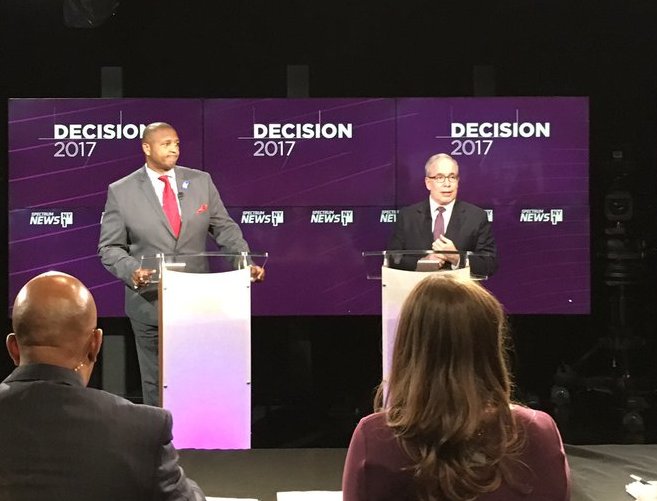 Faulkner, left, and Stringer, at the Comptroller debate (photo via @NYCVotes)
---
It appears that a relatively small number of people watched the lone debate in the election for New York City Comptroller, which occurred on Tuesday, October 17 between incumbent Democrat Scott Stringer and his Republican challenger, Michel Faulkner. It is one of three citywide races, along with those for Mayor and Public Advocate, happening this fall.
Conventional wisdom is that Stringer will handily win a second term on November 7, as he has the full backing of the Democratic establishment and significant fundraising and name recognition advantages over Faulkner and the other candidates who will be on the ballot: Libertarian Party nominee Alex Merced and Green Party nominee Julia Willebrand.
During the hourlong debate, broadcast on NY1 television and WNYC radio, Stringer mostly played it safe and defended his record, at times, especially early on, barely reacting as Faulkner criticized him from an adjacent podium. But in a handful of moments Stringer said especially newsworthy or curious things, taking positions or making statements worthy of follow-up. Gotham Gazette sent a short series of inquiries to the comptroller's office for more information.
Closing Rikers Island
The debate moment that got the most attention was Stringer declaring that the Rikers Island jail complex should be closed in three years, far short of the ten-year timeline announced by Mayor Bill de Blasio, a fellow Democrat also favored to win reelection this year. Stringer was well ahead of de Blasio is backing the notion of closing the notorious jail complex, but had not made such a splashy public declaration of his desired timeframe.
"Let's do it in three years," Stringer said at the debate, when asked about closing Rikers by WNYC's Brigid Bergin, one of the panelists asking questions, and raising more than a few eyebrows of those who follow city politics closely. "It is inhumane. I've walked those corridors, I've talked to inmates. I've done the data analysis. And it is inhumane."
Asked for more detail on how Stringer got to the three-year goal and what that "data analysis" looked like, the comptroller's office told Gotham Gazette that the ten-year timeline is simply too long, that if New York wants to be a leader in criminal justice reform, it must move faster. A Stringer spokesperson said the comptroller has floated the three-year timeline at community events, but offered no specifics for how the comptroller got there.
NYCHA Home Ownership
At the comptroller debate, Faulkner explained his call for allowing some NYCHA residents an opportunity to own their apartments. Stringer expressed surprising support for the idea, which his office then walked back.
"I believe that the NYCHA residents, the long-term residents should have an equity stake in NYCHA right now," Faulkner said at the debate.
Asked by moderator Errol Louis of NY1 whether NYCHA residents should indeed have a path to ownership, Stringer said, "I think that's a wonderful idea, but let's also figure out a way to actually make that happen. It's easy to talk about it, but look, we have to get more access to loans, to credit, if we're really going to change the landscape of home ownership for the people who struggle in our city but are building and investing their sweat equity in our communities. That is something that we have to look at, and I would definitely look towards that."
In a follow-up to the debate, Gotham Gazette asked Stringer's office about his apparent openness to some home ownership among NYCHA tenants and what that might mean for a privatization of the nation's largest public housing system. A spokesperson tried to make it abundantly clear that the comptroller does not believe in privatization of NYCHA in any way. The spokesperson said that Stringer didn't want to shut the door in principle on encouraging homeownership if there is a viable path that does not eliminate much affordable housing. The details of such a plan would be essential, the spokesperson stressed.
During the NYCHA discussion at the debate, Stringer touted his many audits of the housing authority and called for new funding streams, including his push for tens of millions of dollars in Battery Park City Authority proceeds to go toward NYCHA fixes.
A Specific Affordable Housing Plan
A large group of churchgoers, NYCHA residents, senior citizens, and advocates recently rallied near City Hall to push for an affordable housing plan from the Metro-IAF coalition led by two Brooklyn pastors and affordable housing builders. The plan, which has been rebuffed by the de Blasio administration, calls for major additional investments in NYCHA repairs, 15,000 new units of senior housing on NYCHA land, and more.
Stringer spoke at the City Hall rally, expressing his support for the plan, and reiterated it at the comptroller debate, referencing it without being specifically asked about it.
"There is a broad coalition of churches that have come together to build, within NYCHA, 15,000 senior housing units," Stringer said during the debate. "My office is looking at those numbers, I think it's a realistic plan. I think that anything we do to build within NYCHA developments has to be with the community -- to go back to something that we don't do a lot of anymore, which is community-based planning."
Asked why Stringer had come out in support of the plan to then say that his office is still looking at the numbers, the comptroller's office said Stringer reviewed the Metro-IAF plan and believes it is viable, partly because it requires increased housing subsidies from the city that would allow for deeper levels of affordability, a desirable outcome the comptroller has been calling for more broadly as he has consistently criticized the de Blasio administration's housing plan. More review is needed on the specifics, including how much more in subsidy the city can afford, the Stringer spokesperson said.
Stringer looks forward to continuing the conversation, Gotham Gazette was told.
The Mayor's Affordable Housing Plan More Broadly
Including with regard to the Metro-IAF plan, Stringer has repeatedly said that de Blasio's larger affordable housing plan is not affordable enough, that it is not reaching enough New Yorkers most in need. It has been part of his push to see the city build more affordable housing on city-owned vacant lots, the source of much controversy and back-and-forth with the de Blasio administration.
Stringer said at the debate that "right now" the city is "building luxury developments with some affordable housing that is not affordable." Apartments being built in East New York, for example, are not affordable to families currently living there, he said, in apparent reference to the neighborhood rezoning plan passed by the de Blasio administration with the City Council. "[I]t's not adequate," Stringer said of the overall approach, adding, "we have to be bigger in thinking about housing."
In response to a follow-up question from Gotham Gazette, Stringer's spokesperson said that the current city housing plan is not geared enough toward those in deeper poverty and with current subsidies favoring low-income households, those with extremely low-income or virtually no income face even more pressure, especially when the rezonings are taken into consideration, given that they can risk furthering the threats of displacement.
Stringer wants to see more work done with not-for-profit developers, the spokesperson said, and to add anti-displacement zoning to undercut tenant harassment.
[Read: Comptroller Debate Focuses on Stringer's Record]