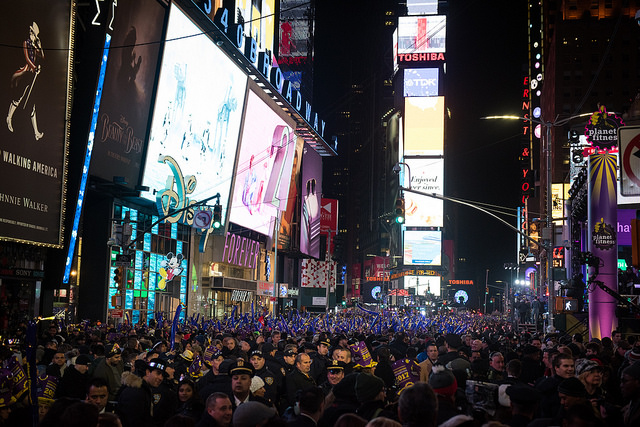 (photo: Edwin J. Torres/Mayoral Photo Office)
---
As we usually do around this time of year, Gotham Gazette asked New York politicos to look into their crystal balls for predictions for the year ahead. Below you'll find insights from elected officials, journalists, advocates, analysts, and others who are tuned in to New York politics.
We know that 2018 will be interesting given it's a state election year, and there's always plenty of action in New York City government, where Mayor de Blasio will begin his second term and a new City Council Speaker is about to be crowned. But what *exactly* will happen? Read below for some ideas.
Before (or after) seeing this year's predictons for 2018, revisit last year's predictions for this yearlast year's predictions for this year, and see who did well and who didn't.
The new round of political predictions, these for 2018, is below.
***Have something to add to the conversation? Tweet @GothamGazette with your prediction for 2018 in New York Politics*** And, be sure to read the latest reporting from Gotham Gazette and listen to our podcasts: Max & Murphy on Politics and What's The [Data] Point?.
PREDICTIONS for 2018 in New York Politics
City Council Member Rafael Espinal
-With the recent spark of the nightlife revolution, nightlife policy will continue to dominate daytime conversation.
Assemblymember Michael Blake
-A significant criminal justice or poverty-reduction effort passes in New York state government.
-Record turnout from communities of color in a non-presidential election year.
Carol Kellermann, president, Citizens Budget Commission
-With support from the New York City business community, the MTA begins closing subway lines overnight.
Kathy Wylde, president, Partnership for New York City
-Personal income tax revenues will fall as high earners respond to the loss of state and local tax deductibility, forcing state and city government to rethink their over-reliance on the 1%.
State Senator Brian Kavanagh
-New York becomes the 38th state enact early voting, and passes other reforms that make it easier to vote.
-New York continues be a leader on common-sense laws, smart policing, and community-based strategies to prevent gun violence.
-Design-build becomes a reality in New York City, especially for the BQE reconstruction, saving taxpayers at least $113 million on that project alone — and two years of traffic delays.
Dr. Christina Greer, political science professor, Fordham University
-Cynthia Nixon will run for governor and give Governor Cuomo a surprising challenge, possibly reaching Teachout percentages.
-Mayor de Blasio will physically be in New York City roughly 75% of 2018. When not in the city he'll be traveling to "progressive" areas to help campaign for others in 2018.
-The de Blasio-Cuomo beef will continue while millions of New Yorkers are stuck on dilapidated subways.
Rob George, New York Daily News editorial board
-#MeToo movement spills over Albany and City Hall – producing multiple resignations AND, finally, movement on the Child Victims Act.
-Andrew Cuomo gets a surprisingly strong primary challenge – perhaps fatally damaging his 2020 hopes.
-Republicans maintain control of the state Senate through the 2018 elections.
City Council Member Antonio Reynoso
-The Mayor's overall transportation policy will fall short and be a topic of crisis. The DOT Commissioner gets carte blanche moving forward to make real transportation policy.
J.C. Polanco, aide to the Assembly minority leader
-2018 will be the year of Jeff Klein. Kleinlandia (Albany) will see Klein as King of NY in a win-win agreement by which he stays as head of the IDC or becomes the Leader of both Democrat factions.
-My jefe, Assembly Minority Leader Brian Kolb, who already announced his run, will bring all other gubernatorial candidates to the table at our convention. Since an upstate-downstate ticket is the only answer to beating Cuomo, keep your eyes on City Council Member Eric Ulrich and Assemblymember Nicole Malliotakis for Lieutenant Governor.
-Since the 2021 mayoral Democratic primary started the day after the 2017 Election Day, Ruben Diaz, Jr., Scott Stringer, Letitia James, and Eric Adams will be responsible for a billion emails and a million trees in paper as they begin the constant press releases and constituent messages.
Angelo Falcón, president, National Institute for Latino Policy
-There will be a major shift in Puerto Rican politics in New York City, with the much-discussed potential retirement of South Bronx Congressional Rep. José Serrano, who has held that office since 1993. This could create an opening for a non-Latino like Michael Blake, or Puerto Ricans from different camps like Assemblymember Marcos Crespo or former City Council Speaker Melissa Mark-Viverito.
-Because he challenged Council Member Carlos Menchaca this year, Assemblymember Felix Ortiz will be primaried by forces led by Congressional Rep. Nydia Velazquez, possibly a Mexican-American from Sunset Park.
-With Melissa Mark-Viverito re-elected district leader and Diana Ayala elected to replace her in the Council, Assemblymember Robert Rodriguez can also be expected to be primaried for his East Harlem seat after unsuccessfully running against Ayala, Mark-Viverito's preferred successor, this year.
John Raskin, executive director, Riders Alliance
Accuse me of unwarranted optimism, but I think 2018 will be the year when our transit system turns a corner and starts on the path to recovery. The stars have aligned: riders are fed up, everyone agrees it's an emergency, and most importantly, Governor Cuomo knows that he can't get away with shortchanging the transit system that he ultimately runs. The governor can lead us out of this mess. It won't be easy, but he can do it.
David Bloomfield, education professor, Brooklyn College and CUNY Graduate Center
-Ultra-Orthodox yeshivas still don't teach secular studies.
-Mayor de Blasio still doesn't desegregate schools.
-Ex-state and federal education commissioner John B. King replaces Carmen Fariña as head of city schools.
Rebecca Katz, partner, Hilltop Public Solutions
-There will be a blue wave in New York and across the country, as women run for office and vote in historic numbers, powering progressive Democrats to victory.
-New York's Republican-held House seats will play a pivotal role as Democrats flip control of the House of Representatives along with the Senate, delivering a harsh blow to President Trump. There will be more women elected to Congress than ever before.
-Here in New York, Democrats will work out a deal to dissolve the IDC and take control of the state Senate. Governor Cuomo will try to take credit, even though he actively encouraged the formation of the IDC in the first place. Then, in November, voters will elect a majority of real Democrats to the state Senate.
-Cuomo will face a serious primary challenge, taking the shine out of his 2020 presidential hopes before the race even begins.
Jonathan Bowles, executive director, Center for an Urban Future
-Governor Cuomo's hopes of coasting to an easy re-election are complicated by a slowing economy, rising unemployment, difficult budget choices prompted by federal funding cuts, and growing frustration with the subways in New York City.
-President Trump reacts to a downturn in the economy, and his own dismal approval ratings, by moving to pass a bipartisan infrastructure spending package. Though it adds significantly to the federal deficit, GOP members of Congress support it to boost their chances in the midterm elections.
Dr. James Parrott, director of economic and fiscal policies, Center for New York City Affairs at The New School
-As the prospect of steep federal budget cuts hurting children and the poor send shock waves across the state, Albany enacts a new measure to recapture a portion of the federal tax cut windfall received by high-income recipients of pass-through business income to offset some of the most damaging cuts. The measure will apply on a temporary basis until Washington comes to its senses and restores critical safety net spending.
-New York City will start to explore how revenue sharing with large private hospitals might work given that they are experiencing record net revenue gains while the public hospital system and private safety net hospitals see worsening deficits.
Eli Valentin, Democratic political consultant
-Governor Cuomo beats back a primary challenge but falls below 60% and limps into the general. Without a credible GOP opponent, the governor wins the general election by the same margin as '14--54%.
-The IDC will return to the Democratic conference and will beat back primary challengers in September.
Susan Lerner, executive director, Common Cause/NY
-Governor Cuomo will prioritize Early Voting, putting it in the 2018-19 budget as a prelude to a larger set of election reforms to be passed before the end of session. New Yorkers everywhere will rejoice at their newly strengthened democracy.
Billy Easton, executive director, Alliance for Quality Education
-The chickens will finally come home to roost for Governor Cuomo and the IDC regarding the dysfunction wrought on Albany by the grand alliance they forged to deliver the Senate to the control of John Flanagan.
-The national blue wave will result in a very competitive primary for Governor Cuomo and loss of several seats for IDC members. Public education, mass transit and housing will all be issues that bite the Governor and the IDC in the backside in the September primaries.
Alex Camarda, senior policy advisor, Reinvent Albany
-The City Council actually subpoenas information from a government agency.
-The City Council passes yet another reporting bill for information it could have otherwise obtained by requesting or subpoenaing the information.
-Mayor de Blasio vetoes a bill.
-The state budget is not completed on time.
-The state Legislature takes a tougher stance on transparency and accountability of economic development funding.
-Voting reforms advance from impossible to extremely difficult.
-The price of New York City luxury real estate plummets.
-A government official is convicted of corruption.
-The economy doesn't actually grow at 4 percent a year.
We'll see which of these predictions come true in 2018. Stay with Gotham Gazette as we cover New York politics and government like no one else.
Want to add to the conversation on predictions for 2018 in New York politics? Tweet tagging @GothamGazette
And don't forget to sign up for our newsletter if you haven't yet. Once you have, or if you do already, spread the word to friends and colleagues.