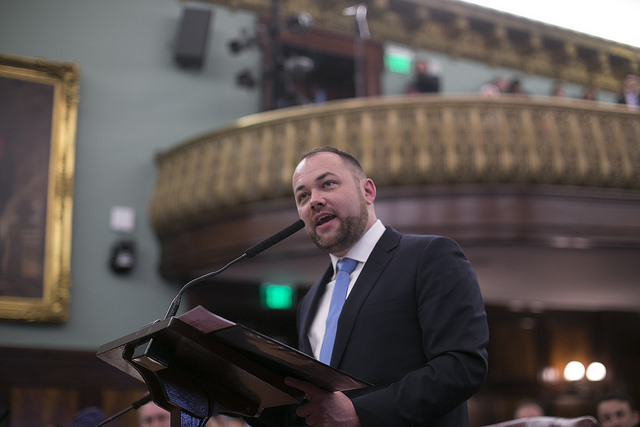 Speaker Corey Johnson (photo: William Alatriste/City Council)
---
Corey Johnson's ascension to speaker of the New York City Council came amid concerns by elected officials and activists that yet another white man would be in a seat of leadership in a majority-minority city where the mayor and comptroller, two of three citywide elected officials, are also white men. During his pursuit of the position against several men of color and amid citywide outcry over the gender imbalance in the City Council, Johnson promised to ensure a diverse senior leadership team and central staff, and early indications are that he is following through on that pledge.
However, before rising to speaker, on his Council staff and his reelection campaign, Johnson has seemingly surrounded himself with almost exclusively other white men, in positions from communications to chief of staff.
Before Council Member Inez Barron made an eleventh hour bid, Johnson was one of eight men running for the speakership, raising a red flag for a City Council that had female speakers for 12 years -- Christine Quinn, who led the body for two terms, followed by Melissa Mark-Viverito for one. The new speaker would also be taking the reins of a 51-member legislative body with only 11 women, down from 18 a few years ago.
As speaker, Johnson will be overseeing about 300 central Council staffers, a big leap from a rank-and-file Council office with fewer than 10 employees. In the last four years, under Mark-Viverito, the entire Council staff, including members' aides, has seen increasing representation for women and people of color. It has been clear that people expect Johnson to build on that progress.
In the lead up to the Council speaker election, Gotham Gazette sought staff member names, titles, and salaries for each of the speaker candidates -- including frontrunners Johnson, Mark Levine, and Robert Cornegy, Jr. -- but the freedom of information law request was not returned before Johnson was chosen, and has still not been fulfilled by the Council.
Of the seven people on Johnson's Council staff identified by Gotham Gazette, five are white and male. These include his chief of staff Erik Bottcher, deputy chief of staff for legislation, planning and budget Louis Cholden-Brown, deputy chief of staff and district director Matt Green, director of communications David Moss, and community liaison and scheduler Sean Coughlin. (Johnson's former chief of staff, Jeffrey LeFrancois, who served him for almost all of 2014, is also a white man.)
A sixth is legislative aide Pat Comerford, who is a woman; and the seventh Johnson aide known to Gotham Gazette is CeCe Scott, an African-American woman who has been chief of district operations for the Chelsea and West Village Council district Johnson represents. A Council spokesperson did not provide full details of Johnson's government staff composition when repeatedly requested independent of the FOIL submission, which was also reiterated several times.
According to campaign finance records, Johnson's 2017 reelection campaign paid five individuals, all white men, including campaign manager Kevin Groh, organizing director Wyatt Frank, treasurer Matthew Bergman and campaign workers Ryan O'Neill and Jake Kern. (Johnson's 2013 campaign was managed by R.J. Jordan, who is also white and male.)
The Manhattan district Johnson represents was home to about 174,000 people in 2010, according to the demographic data from the Census. Of those, 67.2 percent were white non-hispanic, 12.8 percent were of Hispanic origin, 12.4 percent were Asian and Pacific Islanders, and 4.7 percent were black. Gender and race are not the only measures of diversity, of course. The district is known for its rich LGBTQ history. Johnson, who is gay and HIV-positive, was preceded in the Council by former Speaker Christine Quinn, the first openly gay person to lead the Council.
It is unclear how many of Johnson's governmnet or campaign aides identify as LGBTQ. Johnson made history being elected speaker while openly HIV-positive, and while he has also said that while he knows he has experienced privilege being white, he is also from difficult socioeconomic circumstances, having grown up in public housing in Massachusetts in a family that was led by a single mother.
It's early in Johnson's transition into the speakership and he has already announced that he will retain some of the top aides at the Council, including people of color, who served under Mark-Viverito.
At a news conference shortly after being elected speaker, when asked about his efforts to ensure diversity, Johnson said he would bring Scott, "an incredible African-American woman," to City Hall. He will also be keeping Ramon Martinez, the powerful chief of staff to the Council speaker, who is Latino, in his current role. The Council's finance division director Latonia McKinney, who is African-American, and land use division director Raju Mann, who is of South Asian descent, may also be staying on -- Johnson mentioned and praised each but did not discuss their continued employment in the same definitive terms. The Council's communications director Robin Levine, a white woman, informed Gotham Gazette that she will continue on in her role.
"So I think many of the top jobs are already represented by people of color and women," Johnson said, while conceding that "we have to do a better job at all levels of government and we have to do a better job here in the Council."
Over the course of running for speaker, Johnson has promised that he will commit to diversity in staff and leadership positions. At a speaker forum, he pledged that at least 50 percent of his senior team and central staff would be women, transgender and non-conforming individuals. The Council's Women's Caucus also extracted numerous promises from all the speaker candidates and intends on holding Johnson to account for his commitments, which include funding a full-time staff person for the caucus. Johnson appears set to name Council Member Laurie Cumbo, an African-American woman, as Majority Leader, and a diverse group of members to top committee chair posts, including Rafael Salamanca to lead the land use committee.
[Related: Women's Caucus Secures Commitments from City Council Speaker Candidates]
A spokesperson for the speaker emphasized that it was too soon to tell what the entire staff composition would look like. Johnson has yet to make any new hires and has just begun the process of meeting and interviewing candidates, the spokesperson said.
"I think we need to look at our own staff," Johnson said at the news conference. "It needs to be better, but I actually think that compared to other agencies and bodies in the city of New York, we're actually more diverse, when it comes to staff positions, than other agencies in the city."
The Department of Citywide Administrative Services' latest city workforce report, through Fiscal Year 2016 which ended July 2017, showed promise as far as diversity is concerned. Of the 721 employees of the Council -- 318 full-time and 403 part-time -- 49 percent were female and 57 percent people of color. Members of the Black, Latino, and Asian Caucus praised that progress in December, crediting Mark-Viverito for putting in practices that prioritized diverse hiring.
"In order to build a democracy that accurately reflects our City's diverse communities, we need reflective representation at all levels of government and all forms of public service," said Council Member Margaret Chin, co-vice chair of the caucus, in a statement issued December 13. "While our work for a more inclusive democracy continues, especially in the efforts to increase language access for immigrant communities, we are more than ready to continue this legacy."
The BLA Caucus also called in December for the next speaker to be a person of color, insisting that the city should "continue to be served by leaders who reflect our city's values, vision, and demographics." But, the caucus did not rally around one candidate.
Council Member Jumaane Williams, a member of the BLAC who ran for speaker, did not want to prejudge Johnson's dedication to diversity but is encouraged by conversations he's had with the speaker about "equity in government" in the last week. "I'm assuming they're gonna produce some good results, I have no reason to expect it won't happen," he said in a phone interview.
[Related: City Council Speaker Candidates, All Men, Promise Gender Equity if Victorious]
Williams was one of two speaker candidates, the other being Council Member Robert Cornegy, Jr., who initially refused to concede to Johnson when it became apparent that Johnson had the vote locked up. The two protested the county choice of a Council member who was not a person of color. Cornegy went on to concede days before the speaker vote, while Williams did so only the morning of. In the meantime, Council Member Barron jumped into the race, also arguing that it was time the Council had its first black speaker.
"If the City Council wants to be a beacon for progressive government, we obviously have to start here," Williams said on Tuesday. "Any place there's diversity, everybody benefits...Without diversity, resources don't flow equitably to communities."
Williams seemed reassured by Johnson's promises to empower members and the body as a whole. "It's easier to do that when everybody feels represented," he said. And he had a simple word of caution should the speaker not follow through. "There are a lot of people watching," he said.
Note: this article has been corrected to reflect that Pat Comerford is a woman, not a man as originally stated.
Note: this article has been updated to note that Robin Levine will continue to serve as the Council communications director.