Ben Max, left, of Gotham Gazette, and Jarrett Murphy, right, of City Limits
---
January 30, 2018 - Max & Murphy Podcast: Monica Disare of Chalkbeat-NY and Eliza Shapiro of Politico New York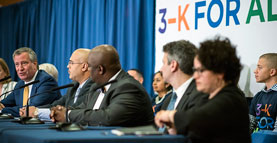 The day after he won reelection in November, Mayor de Blasio said, "We have to achieve 3-K in the next four years...We have to get our kids reading on grade level by third grade. We need the school system to look entirely different in the coming years. It's come a long way but there's much, much more to do. And that is the mission I will be most focused on. That will be the issue I put my greatest passion and energy into."
What does that all mean? What should we expect on education in term two? Who will be the next schools chancellor as de Blasio looks to replace the retiring Carmen Fariña? What will be the most controversial aspects of the mayor's education agenda over the next four years? To help us break it all down we were joined on the podcast by two extremely knowledgeable education reporters: Monica Disare of Chalkbeat-NY and Eliza Shapiro of Politico New York.
Listen to the full conversation and let us know what you think -- we're on Twitter @TweetBenMax and @JarrettMurphy, with guests @MonicaDisare and @ElizaShapiro. You can listen to the episode through the embedded audio below or download the episode wherever you get your podcasts.