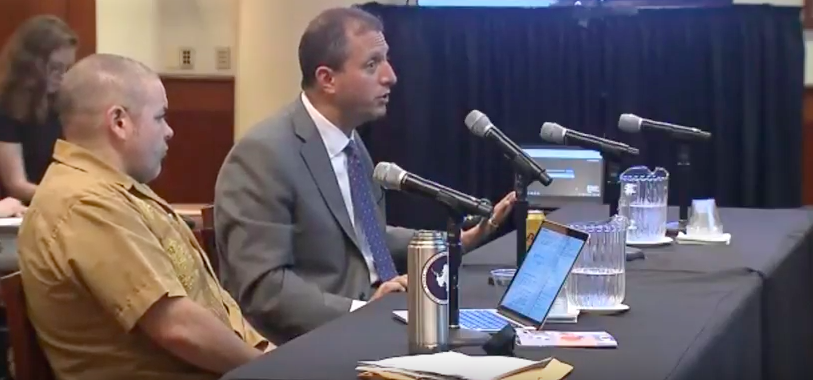 Council Member Lander and Noel Hidalgo testify
---
The charter revision commission convened by Mayor Bill de Blasio held its fourth and final issue-focused forum on Thursday afternoon at NYU, hearing testimony from experts on the city's civic engagement efforts and hearing proposals for independent redistricting of City Council districts.
The central question before the commission on civic engagement was whether the city should create a new independent, nonpartisan Office of Civic Engagement. The proposal is the brainchild of New York City Council Member Brad Lander, a Brooklyn Democrat, who was among those who testified Thursday. If the commission decides to take up that and other proposals heard at previous hearings, they would be presented to voters as ballot referenda in November. The three previous issue-focused expert hearings were on voting and elections; campaign finance reform; and community boards and land use.
Panellists who spoke before the commission on Thursday sought to define civic engagement, its limits and challenges, and the mechanisms by which it is currently carried out by city agencies, nonprofit organizations, and community-based advocates, and comprehensive approaches to combining all those disparate elements.
Naomi Zauderer, chair of the NYC Voter Assistance Advisory Committee, informed the commission about VAAC's continuing voter engagement and registration efforts, acknowledging a fact that the commissioners were familiar with: the city's abysmally low voter turnout in recent elections. "[T]he real challenge in New York City is getting people to turn out to the polls," she said, noting that a lack of information about elections and candidates serves to discourage voters.
Paula Gavin, chief service officer of NYC Service, the city agency charged with encouraging volunteering efforts, said a big challenge is New York City's low volunteering rate -- only 14 percent, compared with the national average of 25 percent. She said increasing the city's volunteering and civic participation rate through a "continuum" of agencies and elected officials working together with community-based organizations would also lead to an uptick in turnout. "It is shown that those who volunteer more, vote more. Those who vote more, volunteer more. So the tide will rise," she said.
But Zauderer and Amy Loprest, executive director of the Campaign Finance Board, where VAAC operates, said voter engagement should continue to be housed under the CFB, which already has a well-established voter information and outreach operation that continues to be improved. They agreed that an Office of Civic Engagement is a laudable idea, but one that should coordinate with the VAAC's existing efforts rather than subsume its role.
"I think we would support the idea that...any organization that's called an Office of Civic Engagement be a nonpartisan and independent agency, because I think that insulates it from any kind of political pressures or the desire to follow any particular person's priorities," Loprest said.
She added, "There's many, many aspects of civic engagement...and if we worked on the voter engagement and outreach work that we're doing, we would work very closely with that office of service to collaborate."Similarly, Gavin said it would be "unrealistic" to place all those agencies and initiatives at a lone, new agency but supported the idea of a coordinated umbrella of efforts. "I do feel strongly that a framework that brings together the various aspects of civic engagement would be very important," she said. Citing her agency's work across the city with other departments, in schools and communities, she said "I don't know that it has to be everything working within the one framework. I think it's more of a coordinating effort that would be valuable."
Beyond the framework, panellists also pointed out blind spots in current civic engagement efforts that they said should be avoided under a newly empanelled agency. Underserved populations -- such as the disabled, low- and moderate-income communities of color, immigrants -- tend to be ignored by civic institutions, they said. Others stressed the need to inculcate a sense of civic duty in New Yorkers, particularly by starting at an early age in the city's schools.
DeNora Getachew, New York executive director of Generation Citizen, a civics education provider, urged an emphasis on "action civics," ensuring that young people can actually use the civic knowledge they're given to enact change in their communities. "We know that too much emphasis is placed on voting as a way to be civically engaged and, rather, there is a spectrum of civic engagement opportunities that we need to be presenting to young people and also to adults," she said. Getachew urged the commission to consider the OCE proposal, among other things, including allowing 16- and 17-year-olds to vote in municipal elections and providing more government jobs to young people in city employment programs.
"It's a two-way street," said Elizabeth OuYang, a civil rights attorney and member of OCA-NY Asian Pacific American Advocates, insisting that immigrant communities are eager to contribute to the city's civic life but must see their efforts reciprocated by city government. "If you're to encourage volunteerism in the immigrant community, it has to be a comprehensive strategy that also includes their involvement in democratic policy decision-making." The city's outreach, she said, should occur through existing networks of religious institutions and neighborhood groups that immigrants trust.
Ifeoma Ike, founding partner of Think Rubix, a civic-action oriented think tank, echoed a similar point of caution, stressing the need for equitable, culturally relevant and ongoing outreach to communities of color, and not a "transactional" approach centered around an election that arrives every four years. "We must not dismiss these communities as apathetic," she said.
Another significant issue that has long been ignored, said Susan Dooha, executive director of the Center for Independence of the Disabled in New York, is the city's lack of disability access, which affects everything from voting and civic participation to employment and housing affordability.
"We find retrofitting efforts with accessibility concerns after the fact is a poor way of accomplishing inclusion," she said of the city's civic engagement efforts, emphasizing the need for disability literacy training and early phase consultation with disability advocates.
"[P]eople with disabilities feel that they're being made invisible, We want to go out and vote in a public space like our neighbors because we want to be seen," she later said, noting that the disabled community faces particular obstacles in accessing polling sites. "It's terrible to tell people they have a duty to do something that you then prevent them from doing," she said.
Noel HIdalgo, executive director of BetaNYC, a civic technology organization, said the OCE could be a "digital steward" for new government services initiatives that he said should be designed in consultation with the people they are serving. He pushed for digital literacy programs, improving the city's technology infrastructure starting at the community board level, something BetaNYC has been doing with Manhattan Borough President Gale Brewer, and for an enhanced participatory budgeting system that employs technology that is broadly accessible.
Council Member Lander similarly pushed for a citywide participatory budgeting program that could be run by the OCE. "We're really facing a crisis in our democracy in New York City," he said of the city's low turnout. "But it's...part of this broader issue of decline in civic trust in all our institutions, in government especially but across the board. People just don't think of reaching out to government as a way of getting issues resolved, even where those issues are government issues."
Though most commissioners asked about how the OCE would work, only one commissioner, John Siegal, questioned why it was necessary. "I'm worried that if we do this...that it will atrophy," he said, speculating that it would be left to the whims of each subsequent mayor. Siegal also struck a skeptical tone as he noted that none of the panellists had spoken to the role of the private sector in improving civic engagement.
Though civic engagement dominated most of the forum, the other focus issue, and one with a looming challenge, concluded its agenda: independent redistricting. The City Council's 51 districts are redrawn every ten years after the federal census, which is due to take place in 2020. Currently, law stipulates that the mayor appoints seven members to a city districting commission and the City Council appoints eight members. The charter commission may propose changes to the system.
John Flateau, a professor at Medgar Evers College and a New York City Board of Elections commissioner, made a slew of suggestions at Thursday's forum. He said the city could create as many as 70 Council districts of smaller sizes and stressed the need for proportional representation for the five boroughs based on populations.
Flateau and other panellists cited California redistricting model as one the city could follow, which prohibits incumbent elected officials from sitting on a redistricting commission and invites applications that are independently screened.
"Think of redistricting...that could be one of those triggers, one of those mass civic engagement exercises, figuring out how to set up this process going forward so that individuals, communities, neighborhoods feel ownership for wanting to participate in this process and learn more about their government," he said.
Kathay Feng, executive director of California Common Cause, testified on a video call to the commission. Among other ideas, she said there could be a robust list of conflicts of interest to limit who could serve on a redistricting commission, that districting commission members should be diverse and could be picked based on a set of qualifications, with the goal of ensuring the maximum public confidence in how maps are drawn. An application process like California's, she said, would ensure that a commission attracts participants who are willing to commit their time to a laborious process. And she emphasized several transparency measures a commission should follow.
Flateau and the others did warn that any efforts at independent and equitable redistricting would be predicated on an accurate count in the 2020 census, which is threatened by the Trump Administration's decision to include a citizenship question that could depress the count in immigrant communities. He also said that previous commissions fell under the preclearance mechanism of Section 5 of the Voting Rights Act -- where the federal government would first approve any changes to local voting districts -- which was struck down by the Supreme Court in its 2013 decision in Shelby County v. Holder. In its absence, Flateau said the city could possibly set up its own preclearance system for municipal districts under the corporation counsel's office.
James Hong, the former co-director of the MinKwon Center for Community Action, agreed that applicants should be screened and ideally, the commission would be made of "academics, demographers, people who are really into data and connected with their community, and community members," and would prohibit past elected officials from serving.
"Redistricting from start to finish needs to be protected from partisan operatives," he said.
Over the next month, the charter commission will hold another round of public hearings across the city. The commission's proposals are due by September 7.