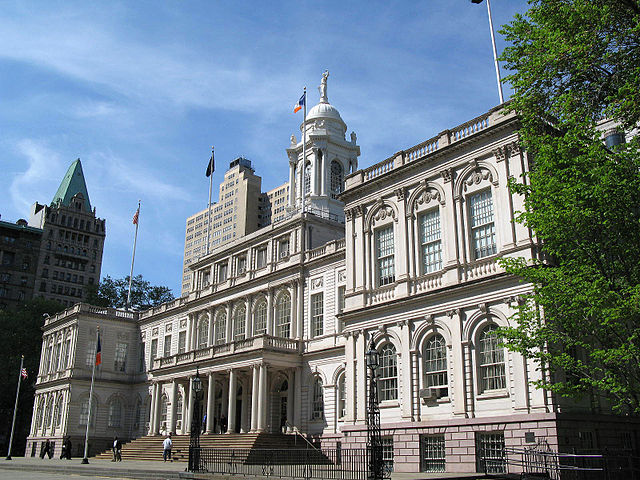 New York City Hall
---
What to watch for this week in New York politics:
Tuesday is Election Day! Be ready to vote.
Catch up on all of Gotham Gazette's election coverage here.
See what races you'll be voting in and which candidates you'll get to choose from by using the interactive election guide from Gotham Gazette, WNYC and City Limits.
Read up on the three (New York City-only) ballot questions here.
Monday will be a big get out the vote day, with final rallies and pitches from candidates and campaigns, and then it all comes down to getting people to the polls on Tuesday. There's a great deal at stake this election, both at the state and federal levels. Read Gotham Gazette's 10 Things to Watch on Election Day in New York.
And while it is the main event, there's more than just Election Day this week, of course - see our day-by-day rundown below.
***Do you have events or topics for us to include in an upcoming Week Ahead in New York Politics?
e-mail Gotham Gazette editor Ben Max: This email address is being protected from spambots. You need JavaScript enabled to view it.***
The run of the week in detail:
Monday
On Monday at noon, "Mayor de Blasio will deliver remarks at the Goddard Riverside Senior Center...In the evening, the Mayor will appear live on NY1's Inside City Hall" in the 7 and 11 p.m. hours.
During Monday's Brian Lehrer Show on WNYC radio (10 a.m.-12 p.m.), Gotham Gazette's Ben Max and Dr. Christina Greer of Fordham University will preview Election Day in New York at 11 a.m. Their segment will be followed by a debate between City Councils Members Helen Rosenthal and Brad Lander over the three ballot proposals.
At the City Council on Monday:
--The Subcommittee on Landmarks, Public Siting, and Maritime Uses will meet at 10:45 a.m. to discuss the Bartow Ave Animal Shelter proposal.
--The Committee on Land Use will meet at 11 a.m.
The New York State Board of Regents will meet on Monday and Tuesday.
The case over the Trump administration including a citizenship question on the 2020 Census will be heard starting Monday in federal court in Manhattan.
At noon Monday, members of the Council's Black, Latino, and Asian Caucus will join architect Rodney Leon and others to rally against the "racist act of vandalism" at the site of the African Burial Ground Monument which occurred on Thursday.
Tuesday
Tuesday is Election Day. Polls in New York City open at 6 a.m. and close at 9 p.m. Vote!
Mayor de Blasio and other special guests will join the Max & Murphy live-audience election night show at the Commons Cafe in downtown Brooklyn. The show will air on WBAI radio (99.5FM) and at wbai.org from 5-7 p.m. and will include the mayor, City Council Member Jumaane Williams, and others, and audience participation. Seating is limited, but there are seats still available.
Wednesday
At 9 a.m. Wednesday, City & State will host "Tech in New York" at the NYIT Auditorium on Broadway on the Upper West Side. Speakers will discuss "the course of government tech, connected citizens, digital policy and the future of our city and state." The City's Deputy CTO, Jeremy Goldberg, will deliver the opening keynote. Other speakers will include City Council Member Ydanis Rodriguez; Cordell Schachter, CTO of the City's Department of Transportation; and Tariq Habib, Chief Information Security Officer at the MTA.
From 5-6 p.m. Wednesday, Max & Murphy will air during its usual weekly slot on WBAI radio, and will include discussion of the election results. Tune in at 99.5FM or wbai.org.
At 6 p.m. Wednesday, Transit Center will host "Activists Running Transit" at One Whitehall Street, discussing how having transit riders of diverse backgrounds create transit policy can produce better outcomes. Panelists include David Jones, President of the Community Service Society and an MTA Board Member, and Flozell Daniels, President of the Foundation for Louisiana and Board Chair of the New Orleans Regional Transportation Authority.
At 6:30 p.m. Wednesday, New York City Transit President Andy Byford will hold a "community conversation" for Bronx residents on the Fast Forward plan at Hostos Community College.
Thursday
At the City Council on Thursday: the Committee on Higher Education will meet at 10 a.m. for an oversight hearing regarding "career services and job placement at the City University of New York."
At 6 p.m. Thursday, City Council Member Keith Powers and Assemblymember Dan Quart will host a discussion on bail reform in New York at PS 198 on the Upper East Side. They will be joined by a panel consisting of former Chief Judge Jonathan Lippman, Insha Rahman of the Vera Institute, Julio Medina of Exodus Transitional Community, and Nicole Follmann of the Brooklyn Community Bail Fund.
At 6 p.m. Thursday, the New York City Bar Association will host "Pilots, Plans, & Promises: Is Desegregation Possible in New York City's Schools?" Speakers include Matthew Gonzales, Director of the School Diversity Project at New York Appleseed; Richard Kahlenberg, senior fellow at the Century Foundation; City Council Member Brad Lander; Emily Liss, Chief of Staff at DOE's Division of Early Childhood Education and Student Enrollment; and Dennis Parker, Director of the ACLU's Racial Justice Program.
At 6:30 p.m. Thursday, the Vera Institute will host Kerry Kennedy, president of RFK Human Rights and the spearheader of the recent mass bailout at Rikers, for a discussion "examining the living legacy of her father's work to end the criminalization of poverty, the future of bail reform, and the movement and impact surrounding existing efforts to end cash bail."
At 6:30 p.m. Thursday, the Museum of the City of New York will host "Activist New York: The Next Generation." Democracy Now's Amy Goodman will moderate a panel of young activists discussing their work in the city. The panel will consist of Brea Baker, a juvenile justice activist and Program and Youth Coordinator at the Gathering for Justice; Ramon Contreras, an anti-gun violence activist and founder of Youth Over Guns; and Hebh Jamal, an anti-Islamophobia activist who is New York Youth Director of the Muslim American Society.
Friday and the weekend
Mayor de Blasio may make his weekly appearance on WNYC's The Brian Lehrer Show at 10 a.m. Friday.
***
Have events or topics for us to include in an upcoming Week Ahead in New York Politics? E-mail Gotham Gazette executive editor Ben Max any time: This email address is being protected from spambots. You need JavaScript enabled to view it. (please use "For Week Ahead" as email subject).
***
by Ben Brachfeld and Ben Max
@GothamGazette