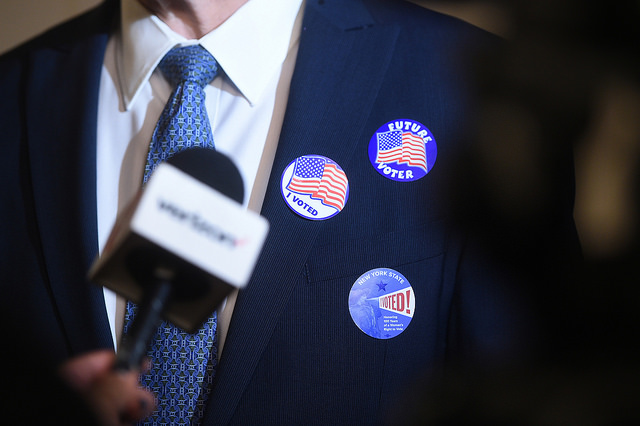 (photo: The Governor's Office)
---
New Yorkers will head to the polls on Tuesday, November 6, to vote for federal and state candidates in an election that could radically alter the direction of the state and the entire nation. Every seat in the state Legislature is on the ballot, as are the joint ticket of governor-lieutenant governor, the positions of state comptroller and attorney general, New York's 27 seats in the House of Representatives, and one U.S. Senate position.
Democrats, hoping to ride a surge of engagement in the aftermath of Donald Trump's election, plan to keep all the statewide seats and control of the state Assembly, while flipping the state Senate and enough U.S. House seats to contribute to a national swing of control. Republicans, meanwhile, are trying to hold onto the limited power they have in New York, a blue state that has become significantly more blue over the last several months, according to new data from the state Board of Elections.
Ten things to watch on Election Day in New York:
1. Will turnout surge?
New York has in past years seen anaemic voter turnout, particularly in the 2016 presidential election when the state ranked 46 out of 50. But if the results of the September primary are any indicator, turnout is expected to surge on November 6.
Nearly three times more Democrats voted in the September 13 primary this year than in the 2014 primary. Cynthia Nixon, the actor and activist who challenged Governor Andrew Cuomo, the two-term incumbent, received 512,585 votes to Cuomo's 978,138. In 2014, Cuomo won the primary after receiving only 361,380 votes, though his margin of victory was nearly identical.
Democrats are also making a concerted attempt to flip the state Senate from Republican control and capture more seats in the House of Representatives, amid what they hope is a "blue wave" pushing back against President Trump and the Republican-led Congress. By most accounts, the general election in New York is looking good for Democrats; the state is home to 6.2 million registered Democrats compared to 2.8 million registered Republicans, and about 2.6 million party-unaffiliated registered voters.
2. Can any Republican win statewide?
A Republican has not won a statewide election in New York since 2002, when Governor George Pataki was reelected to a third term. Since then, Democrats have managed to dominate the offices of governor, lieutenant governor, attorney general, and comptroller.
Cuomo is running on a joint ticket with Lieutenant Governor Kathy Hochul, a first-term incumbent, and is heavily favored to be reelected. In a mid-October Quinnipiac University poll, Cuomo led his Republican rival, Dutchess County Executive Marc Molinaro, 58-35 percent among likely voters, but a Siena College poll released Sunday showed a more narrow gap, with Cuomo leading 49-36, with other voters split among the three 'minor party' candidates on the ballot. Molinaro's running mate is Julie Killian, a former Rye City Council member who unsuccessfully ran for state Senate earlier this year. The other three gubernatorial candidates are Howie Hawkins of the Green Party, Larry Sharpe of the Libertarian Party, and Stephanie Miner, the former Democratic Syracuse mayor running with the Serve America Movement.
Other than Molinaro, Republicans are running statewide candidates without experience in elected office and with virtually no name recognition across the state coming into the election, especially daunting when trying to unseat an incumbent in a state with such a Democratic registration advantage.
In the race for comptroller, in the same poll, incumbent Democrat Tom DiNapoli held a 32-point lead over Jonathan Trichter, the Republican nominee. The Sunday Siena poll had DiNpoli up 62-25 percent. [Watch: State Comptroller Candidates Debate]
U.S. Senator Kirsten Gillibrand, also a Democrat seeking reelection, led her Republican challenger Chele Farley by 32 points in that poll. But in Quinnipiac's polling weeks later, her lead had fallen to 25 points. The Sunday Siena poll showed Gillibrand up 58-35 percent.
The open race for attorney general, the lone statewide race without an incumbent, appears closest. New York City Public Advocate Letitia James, the Democratic nominee, had a 14-point lead in an early October Siena College poll over Republican nominee Keith Wofford, a white-collar attorney running for elected office for the first time, but able to raise enough money to air television ads. The Sunday Siena poll had James up 49-37 percent. Either James or Wofford would become the first African-American person to become New York Attorney General; if elected, James would be the first woman of color elected statewide in New York. (There are also 'minor party' candidates for comptroller and attorney general.)
3. Margins
Though Democrats are expected to sweep statewide races, their margins of victory will ultimately show the level of support they have among New Yorkers. Though those margins won't necessarily mean much once the new government year begins in January, they can influence how elected officials are treated and how they behave.
Cuomo is seeking a third term and is likely to face some voter fatigue, though he may be getting a significant boost from Democrats upset by Trump, whom the governor has made a major focus of his campaign. Cuomo's opponents have sought to highlight the several corruption scandals that have marred state government in the last eight years -- two of the governor's close allies and several other associates and donors were convicted on federal corruption charges this year -- as well as the governor's handling of the MTA as New York City's subways have slid into crisis.
Though Cuomo won the primary with 65 percent of the vote to Nixon's 35 percent, he will likely not fare as well in the general where millions of unaffiliated voters can also cast a ballot. In 2014, Cuomo received 53 percent in the general while Republican Rob Astorino got 39 percent; the Green Party's Hawkins pulled about 5 percent that year. Molinaro is, of course, talking about pulling off the type of upset that would shock the state and the country, though even he admits he is a significant underdog.
DiNapoli got about 164,000 more votes than Cuomo did in 2014, receiving about 57 percent of the vote over his Republican rival Robert Antonacci, who got 35 percent. It's unclear how much of a dent Trichter can make this year given his limited fundraising and name recognition.
In the attorney general race, Wofford has faced significant hurdles, but the recent Siena poll that showed him down 14 points to James also showed independents were split 40-38 in James' favor, meaning that the race could potentially tighten.
4. Will minor parties keep/claim ballot lines?
New York's fusion voting system allows candidates to run on multiple ballot lines from several parties, giving minor parties somewhat outsize influence in elections. But, for a party to automatically receive an automatic ballot line in elections around the state, they must receive at least 50,000 votes for their chosen gubernatorial candidate in the previous election. Besides the big two, the other parties on the ballot include the Working Families Party, the Conservative Party, the Independence Party, the Green Party, and the Women's Equality Party. The Stop Common Core Party, created by Astorino in 2014 when he challenged Cuomo, received just over 50,000 votes and has since been rebranded as the Reform Party, though it has no affiliation with the Reform Party at the national level.
Cuomo is running on the Democrat, WFP, Independence, and WEP ballot lines. Molinaro has the Republican, Conservative, and Reform Party lines. Hawkins is the Green Party nominee.
Of the various parties, the Reform Party and WEP seem to be at most risk of losing their place on the ballot. Both parties were strategically created in 2014 -- the first by Astorino to create a platform to oppose Common Core education standards, and the second by Cuomo to bolster his standing with women and apparently to diminish the WFP. The WEP has been barely active and lacks the resources for a strong electoral presence. The Reform Party has played a role in electing candidates to local offices and is also involved in assisting at least two Democratic state Senate candidates this year. But neither of the parties has a strong base of registered voters across the state and would need to meet the 50,000 vote threshold for their endorsed gubernatorial candidates.
Between the Green Party and the WFP, it may come down to a matter of ballot placement, depending on which one fares better. The WFP has made a significant showing this year by backing several progressive upstarts in state Senate races and successfully deposing several incumbent Democrats, putting them squarely in the spotlight, while also initially backing Cynthia Nixon and Jumaane Williams for governor and lieutenant governor until they lost in the Democratic primaries. Hawkins has also shown a fare bit of success on the Green Party line, pulling in 184,419 votes in 2014 compared to 126,244 on the WFP line for Cuomo.
For the Libertarian Party and the Serve America Movement, Sharpe and Miner's performances will determine if they also claim a spot on the ballot moving forward. The closest that Libertarians have come to the threshold is when Warren Redlich got 48,359 votes on the line in 2010.
5. Will the State Senate flip to Democrats or stay Republican?
The State Senate is the only bastion of Republican power in New York state government, which they have held for all but two of the last 50 years. But Democrats need to flip only one seat in the State Senate to regain control -- both party conferences have 31 members but Republicans hold the majority with the help of Senator Simcha Felder, a conservative Democrat from Brooklyn.
The State Democratic Committee and Governor Cuomo are spending millions to take back the Senate and a network of progressive activists who helped trounce Democratic incumbents in the primary are also aiding those efforts. If the Democrats are successful, Senator Andrea Stewart-Cousins would become the majority leader, the first African-American woman to occupy that position. It would also open the doors to a slew of progressive legislation -- reforms to voting, government ethics, campaign finance, criminal justice, and more -- which the Democratic base has long demanded.
Republicans and their supporters are doing everything they can to hold their majority, attempting to keep all of their conference's seats, including where a handful of members are retiring, and even possibly flip one or two their way. Democrats see a path to not just a slim majority, but a wide one that would buffer the conference's ability to move legislation that more moderate members may not be supportive of. There are roughly 10 seats in the 63-seat chamber that Democrats see as in play, with only one of their own they believe they need to defend.
Democratic wins could mean full party control of state government and the opportunity to dominate the agenda in 2019. All of the state Legislature will be back on the ballot in 2020, a presidential year.
6. Will New York help flip the House of Representatives?
New York's 27 House of Representatives seats are all on the ballot and as Democrats hope to reclaim the chamber, there are several races where the party is fighting competitive battles and attempting to unseat Republican representatives. Democrats need to net 23 seats in total across the country to flip the House.
Democrats are hoping that Trump's deep unpopularity in the state will drive voters to the polls even in historically safe Republican districts while winning out most swing seats. Democratic candidates have been outraising their opponents in several races but Republicans have been putting up a strong fight, and Trump has even stumped for a few candidates to bolster their chances.
Out of nine competitive races with Republican incumbents, according to the Cook Political Report, two are toss-ups, three 'lean Republican' and four are 'likely Republican.' The Democratic Congressional Campaign Committee is focused on seven of those races as part of its 'Red to Blue' effort -- including Districts 1, 11, 19, 21, 22, 24, 27. New York Democrats could also claim prominent leadership positions in the House if they obtain a majority.
7. Will Republicans lose some of their few seats in New York City?
There are only a few elected Republicans representing New York City at any level of government, and after November 6, there could be even fewer.
In South Brooklyn, State Senator Marty Golden, an eight-term incumbent Republican, has become one of the main targets of Democratic efforts to flip the Senate. Golden is a pro-Trump Republican with a controversial record who was reelected in 2016 with no opposition. This year, however, prominent Democratic elected officials and activists from across the city are dedicating time and resources to unseat him. His Democratic opponent, Andrew Gounardes, took Golden on in 2012, but the candidate and his party believe circumstances are different in 2018, and they have approached this race with far more intensity.
Meanwhile, Republican Congressional Rep. Dan Donovan is seeking reelection to Congress, where he represents Staten Island and a sliver of southern Brooklyn. He faces a spirited challenge from Democrat Max Rose, an Army veteran with a fairly moderate platform, reflective of the district he's hoping to represent. Rose has raised a significant amount of campaign cash and has been pushing a message focused on borough-specific issues rather than following in the vein of his party at large. The DCCC has also invested in the race as part of the 'Red to Blue' effort. [Listen: Max & Murphy Podcast: Rep. Dan Donovan]
8. How will New York City's ballot measures fare?
Mayor Bill de Blasio's charter revision commission placed three yes/no questions on the ballot for New York City voters that would need a simple majority to be approved. The proposals would drastically reduce campaign contribution limits in city elections and expand the city's campaign finance program; create a citywide civic engagement commission with the majority of members appointed by the mayor; and impose term limits on community boards -- among a variety of other aspects of each proposal.
In the last week, de Blasio has stumped for those proposals, urging a "yes" vote on each. Some community advocates and labor unions have also backed the proposals, but prominent elected officials have given mixed reviews, with many coming out against proposal three, especially. [Listen: Cesar Perales, chair of the mayor's charter revision commission, appears on the What's The [Data] Point? podcast]
9. Election administration and security
Following the broad influence effort carried out by Russians in the 2016 presidential election, states across the country have sought to beef up election and ballot security. The New York State Board of Elections has implemented a plan called "ARMOR" -- Assessing Risk, Remediation, Monitoring Operations and Response -- with $5 million in state funding and $19.5 in federal funds. The BOE created a Secure Elections Center to protect against potential cybersecurity threats and to ensure that elections run smoothly, and has been training local and county elections boards to respond to those incidents.
Observers will be watching for any attempts to break into election systems, as the Russians successfully did in seven states ahead of the 2016 election while targeting about 21 states (New York was not among those).
There are always questions in New York City around administration of elections by the city's Board of Elections, including related to issues like whether proper notice has been given about changes in polling locations or whether voters have been improperly removed from the rolls. And, higher than usual voter turnout is expected on Tuesday, perhaps on par with a presidential election, putting boards of election all over the state to the test.
10. A vacancy to fill?
If Letitia James wins the attorney general's race, she would take the oath of office on January 1, 2019, triggering a nonpartisan special election for the office of public advocate that would likely take place in late February. But the race will likely kick off in earnest almost immediately after Tuesday, if James wins, with dozens of potential candidates waiting in the wings to jump into the race and several having already announced their intentions, including City Council Member Jumaane Williams and Assembly Member Michael Blake.
The nature of the race -- a short timeline with no party affiliations and several candidates largely indistinguishable in their political ideologies -- could potentially help a Republican claim the seat. But the victor would have to run for reelection later in the year, in a "normal" election with primaries and a general, with regular party lines and Democrats a massive enrollment advantage.
Note - This article has been updated.