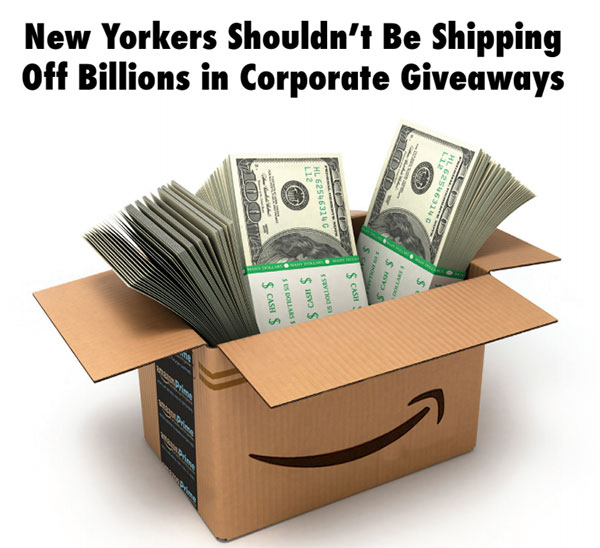 (portion of Ron Kim mailer)
---
Assemblymember Ron Kim, a candidate for New York City Public Advocate, sent out the first mailed advertisement of his campaign this week, touting his early opposition to the deal between Amazon and New York, and contrasting it with other leading candidates in the race.
The advertisement appears to be the first mailer of the race, a sprint to the February 26 special election to fill now-Attorney General Letitia James' former seat. Notably, it jabs at four perceived frontrunners, highlighting their signatures on an October 2017 letter signed by most elected officials in New York City to Jeff Bezos, founder and CEO of Amazon, urging him to bring the second Amazon headquarters to New York. Over a year later, the corporate giant and New York City and State officials announced the controversial deal that is now a flashpoint in the public advocate race. Kim, who did not sign the letter, is running on a platform of "people over corporations" and a promise to reinvent the public advocate's office.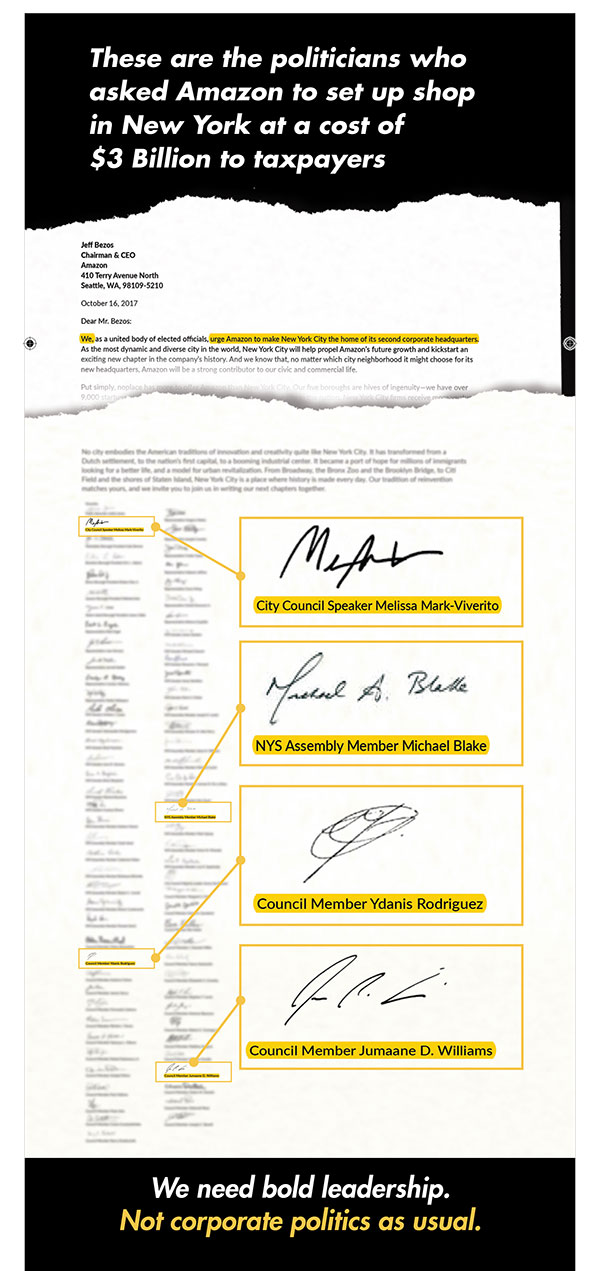 Specifically, the signatures of fellow public advocate candidates blown up on the mailer are former City Council Speaker Melissa Mark-Viverito, State Assembly Member Michael Blake, and City Council Members Ydanis Rodriguez and Jumaane Williams -- all Democrats like Kim, who represents parts of Queens. Since signing the letter, which was a broad overture, Mark-Viverito, Blake, and Williams have rejected the specific deal that was reached for an Amazon campus in Queens, which includes roughly $3 billion in tax incentives and grants from the city and state. Rodriguez's position on the Amazon deal is less clear, and his office did not respond to a request for comment.
The mailer reads: "Assembly Member Ron Kim is running for to put Public Advocate for one simple reason: people over corporations. That means an end to corporate giveaways, reforming student debt and busting the mega-monopolies that govern our lives. He knows that the only way to truly help New Yorkers is to once and for all put people over corporations."
The letter to Bezos is essentially a sales pitch for New York City and cites many resources, like the high number of startups in New York as well as the large population Amazon would have at its disposal.
"After they saw the backlash, [Mark-Viverito, Blake, Rodriguez, Williams] all of a sudden changed their position against Amazon for political expediency," Kim said by email.
Other prominent elected officials not to sign the letter were Assembly Speaker Carl Heastie, city Comptroller Scott Stringer, City Council Speaker Corey Johnson, and Queens City Council Member Donovan Richards, as well as two other current public advocate candidates: Rafael Espinal, a City Council member from Brooklyn, and Danny O'Donnell, an Assembly member from Manhattan.
Kim has spoken out against the Amazon deal since before it was announced. In comments to Queens Chronicle about two weeks before Amazon and New York announced the deal, he rejected a possible agreement to bring the online giant to the city. He co-wrote two op-eds heavily critical of Amazon and the deal, first in the New York Times with 2018 New York Attorney General candidate Zephyr Teachout, and another two weeks later in the New York Daily News with then-State Senator-elect Jessica Ramos.
Shortly after details of the deal were released, Assemblymember Kim announced legislation to block the incentives offered to Amazon and use the money to buy and cancel student debt. As public advocate, he would introduce similar legislation in the City Council.
Opposition to the Amazon deal fits Kim's thematic messaging for his campaign, he'll even be on the self-created "People Over Corporations" ballot line on Feb. 26, which includes that push to cancel student debt and promoting local small businesses. The mailer describes the deal as a corporate giveaway and calls for investment in the MTA, schools, and affordable housing instead of the billions of incentives in the Amazon deal.
The role of public advocate is intentionally flexible in the New York City Charter, but the three duties most often assumed by public advocates are introducing legislation in the City Council, bringing issues to the front of public discourse, and serving as a watchdog of city agencies. It appears there is little the next public advocate can do about the Amazon deal, but the most likely influence would be through applying public pressure on Mayor Bill de Blasio to cancel or make significant changes to the deal.
"As the ombudsman for the people of New York City, the Public Advocate has a strong bully pulpit which I will use to convince (both publicly and privately) my colleagues in government to reject the Amazon HQ2 deal," said Kim.
The public advocate election to be held next month will have a large field of candidates. Twenty-three hopefuls submitted the required 3,750 signatures to the New York City Board of Elections by the Monday deadline. Also running are Queens City Council Member Eric Ulrich, Assemblymembers Daniel O'Donnell of Manhattan and Latrice Walker of Brooklyn, former Obama and Clinton administration attorney Dawn Smalls, and journalist and activist Nomiki Konst, among many others.
With competitors trying to set themselves apart, Kim clearly sees Amazon opposition as a winning part of the strategy. Asked about how many mailers his campaign sent, where they were sent, and how much was spent on them, he only said, "I sent the mailer to a broad universe of likely voters across New York City."
Two names noticeably did not appear on the mailer: Mayor Bill de Blasio and Governor Andrew Cuomo, the leaders of negotiations with Amazon executives who held a joint celebratory November press conference to announce the deal. De Blasio and Cuomo were immediately and loudly criticized for the deal by a number of elected officials and activists, though they also got some praise and the only public poll on it shows a mixed bag, but with more support than not. The criticism stemmed from the lack of transparency and oversight involved in the process, the incentives involved, Amazon's business practices, and the potential impact on local housing prices and infrastructure.
"Both were wrong to offer $3 billion in taxpayer handouts to Amazon instead of funding MTA reconstruction, affordable housing development, programs to fight climate change or a whole host of other priorities," said Kim, when asked about omitting de Blasio and Cuomo from the mailer. "But neither the Governor nor the Mayor are running for Public Advocate."