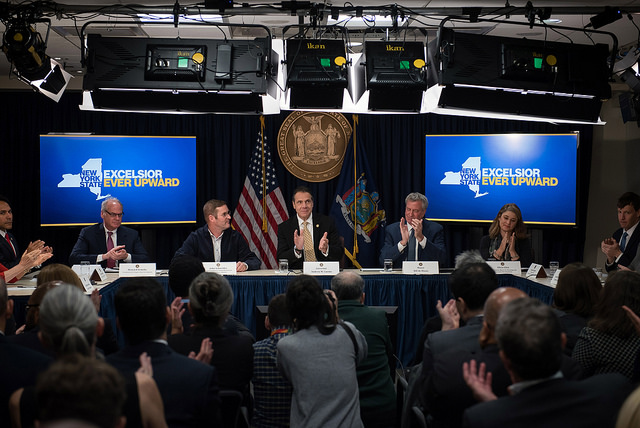 (photo: Ed Reed/Mayoral Photography Office)
---
James Patchett, CEO of New York City's Economic Development Corporation, spoke to a packed room on Thursday morning about the reasons behind Amazon's cancellation of its planned Long Island City "HQ2" campus, in what was a joke-laden and rueful conversation of what could have been and what went wrong.
Recounting that he learned of Amazon's reversal a week ago, on Valentine's Day, while watching Tom Hanks in "Cast Away" – "the one about a lonely capitalist who gets lost at sea," he said – Patchett brought the joke home with an image of "Wilson," the volleyball in the movie, sporting an Amazon-symbol sad face instead of his bloody handprint, eliciting laughter from the room.
Amazon announced its plan for a New York campus in November, a result of stiff competition among cities and states around the country for the economic growth all but guaranteed by the company's large-scale presence. According to Patchett, Amazon would later tell him the 300-page New York proposal was the best they received during the bidding process. Had the Queens campus opened for business, projections from Amazon, the city, and the state said it would create 25,000 to 40,000 jobs and $30 billion in tax revenue over 10 to 15 years.
Patchett helped negotiate the Memorandum of Understanding (MOU) agreement along with other city officials, state officials, and the company's representatives. That agreement was announced by Mayor Bill de Blasio, who appointed Patchett to his job at EDC, Governor Andrew Cuomo, and Amazon's John Schoettler, among others, on November 13, 2018.
After significant pushback to the deal from several local elected officials, community groups, and labor unions, Amazon decided to abandon the New York plan in a surprising announcement on last week, coinciding with Valentine's Day. De Blasio immediately blamed the company for jumping ship without further negotiations, while Cuomo took on State Senate Democrats, especially lead Amazon critic Senator Michael Gianaris of Queens.
Preparing New Yorkers and the five boroughs for the jobs and companies of the future was the overarching theme of Patchett's Crain's appearance, which had been scheduled before Amazon pulled out of the deal. Patchett should have been reveling in the success of architecting the Amazon deal. But, as one moderator noted, "Instead of a coronation, you had a coronary."
Patchett said fundamental misunderstanding of the deal between New York and the Seattle-based tech behemoth was to blame. "If you were reading the media, you would have thought that I was having drinks with some of my best friends, and they said 'Why did you write them a check for $3 billion?'" he said. Many, including members of the media and regular citizens, "believed it was literally a cash transfer from the outset," said Patchett. Instead, "Nothing was actually promised to the company," Patchett said, in apparent reference to the roughly $2.5 billion in tax breaks involved, but ignoring the $500 million cash capital grant the company was to receive from the state. "What [the subsidies] were is a representation of existing state law which has long-sought to incentivize outer-borough commercial growth," he said.
Patchett also cited other reasons he sees for the deal's demise: Amazon's lack of preparation to react to opposition to the announced Queens campus, the company's representatives' not performing "particularly well at their public hearings" (where they sat next to Patchett for questioning), and Amazon "never hired a single New Yorker to work for them, to talk to New Yorkers, and never really connected with people in the city"-- though the company did hire several city-based lobbyists.
The event, held by Crain's New York Business, included remarks by Patchett followed by a question-and-answer session moderated by Crain's assistant managing editor Erik Enquist and Spectrum News' Michael Herzenberg. They waited only a few minutes to ask about the Alexandria Ocasio-Cortez effect on defeating the deal, referring to the Congressional representative from Queens and the Bronx by her nickname and Twitter handle, "AOC."
"Politics is obviously not my expertise, nor am I going to pretend it is," said Patchett. "But I think it's important to talk to local elected leaders. I don't think the rollout here went as smoothly as it could have, I think that's clear." But he added, "I don't think [the rollout] was a fatal flaw to the project."
Moving to the larger economic outlook for the city, Patchett used cybersecurity as an example of a growing sector. Although it's an industry with opportunities, New York is catching up to its growth potential through an EDC initiative, he said. "It has the real potential to be a win by protecting our current employers from cyber threats, and at the same time, growing a whole new crop of businesses," Patchett explained. Cybersecurity sector growth is a key aspect of the mayor's jobs plan he announced in June 2017 at a press conference at a cybersecurity firm in Manhattan.
He also stressed the need for expanding job growth outside of the central business district of Manhattan, something that has been a key priority for the city for years, and is at the heart of some of the tax breaks at play in the Amazon deal, which were designed broadly, not specifically for Amazon.
But when it came to "HQ2," set for Queens, "Not enough people could see themselves in [Amazon's] jobs," said Patchett. "People like the idea of jobs, but until you make them real for people, they don't associate with them. We need to do a better job of making people not just hear about jobs, but believe those would be the jobs that they would get."