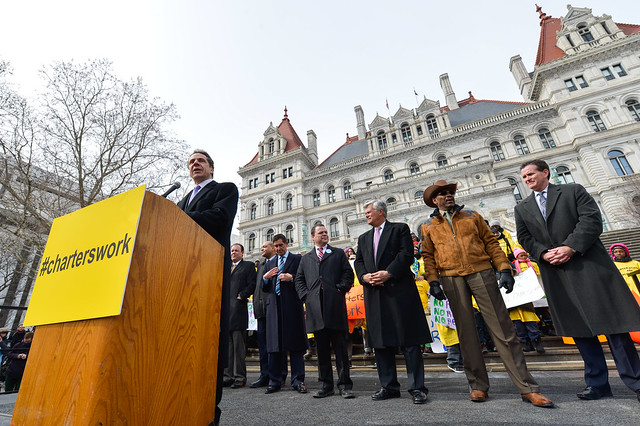 Gov. Cuomo at a charter school rally (photo: governor's office)
---
After several new charter schools were approved last month, the cap on such schools allowed in New York City was reached. New York State has a cap on the number of issuable charters, which allow a group to start a new charter school, the controversial, privately-run, publicly-funded schools that mostly proliferate in the five boroughs and educate roughly 10% of the city's 1 million students. Within the larger cap, there is a sub-cap for charters that can be issued for schools in New York City.
In the past few months, 18 applicants for charters in New York City made it through the initial application process and a meeting of the SUNY Board's charter schools committee, one of the two authorizers, but there were only seven charters left to be issued under the sub-cap.
New York City Charter School Center, among others, raised concerns about this earlier this year. James Merriman, the center's CEO, called the situation "the definition of a crisis" at the time. Charter school advocates had hoped that the sub-cap would be addressed in the state budget process, but there was little talk of an extension in Albany during budget negotiations.
Governor Andrew Cuomo, a third-term Democrat and longtime charter school supporter, favors lifting the cap. Mayor Bill de Blasio, a second-term Democrat and longtime charter opponent, is against lifting the cap; as is City Council Speaker Corey Johnson and Public Advocate Jumaane Williams. It's not clear how much say de Blasio, Johnson, and Williams will have, though, as the decision will be made by Cuomo and the state Legislature, where the Assembly appears cold to the idea of lifting the sub-cap while the Senate appears open to it.
While it was clear the New York City sub-cap on charter schools would be hit this year, Cuomo did not include raising the cap in his State of the State policy book or his executive budget. After the Cuomo administration declined to comment for a Gotham Gazette story in February, when the cap was about to be hit, a budget deal was reached with no mention of the cap.
"We support raising this artificial cap, but the legislature needs to agree as well," said Cuomo senior advisor Rich Azzopardi, in a statement to Gotham Gazette, echoing a comment he made mid-April to the New York Post.
This public support heightens the potential that there could be a change to the charter school cap before the end of the legislative session in June. Cuomo has long been a strong supporter of charter schools and his advisor's comments mirror Merriman's statement that the cap is "arbitrary."
A spokesperson for Senate Democrats told Gotham Gazette, "We will discuss as a conference" while a spokesperson for Assembly Democrats said "It is not something we are considering."
State Senator John Liu, a Queens Democrat and the chair of the Senate's subcommittee on New York City Schools, said "The charter cap should be increased only when charter schools are held to the same accountability standards as public schools. For every family waiting for a spot in a charter school, there are more families waiting for a spot in a preferred public school."
Before Democrats took a majority in the State Senate last year, Senate Republicans and the Independent Democratic Conference would work with Cuomo to advance charter school priorities as part of the budget process or the regular negotiations over extending mayoral control of New York City public schools.
With the new budget, state lawmakers agreed to extend mayoral control for three years, until June 2022, after Mayor Bill de Blasio will leave office, but the charter cap was left out of the deal, perhaps indicative of the new Democratic reality in Albany.
This last happened in 2017 when a deal was struck for a two-year extension of mayoral control of New York City schools. The deal also allowed 22 revoked or surrendered charters to be reissued.
It's unclear how hard Cuomo will push for the cap to be raised, and how receptive Senate Democrats might be. As often happens in Albany, a deal may be reached where Assembly Democrats get movement on a priority in exchange for agreeing to the cap being lifted.
Senate Democrats could also help mitigate potential opposition in key swing districts in next year's legislative elections, when they will be trying to defend their new majority for the first time. Charter school interests are often major campaign donors -- including to Cuomo, the former IDC, and Senate Republicans -- and spenders on independent expenditure campaigns meant to influence elections.
Those charter interests have also spent heavily against de Blasio in the past. Asked for the mayor's position on the charter school cap, a spokesperson pointed to a statement by the mayor from September and said "our position hasn't changed."
"I believe that the charter cap is perfectly sufficient the way it is," de Blasio said at a press conference then, "and that our focus should not be on the expansion of charters. Our focus should be on doing the hard work of making our traditional public schools better."
Other New York City elected officials are also against an expansion of charter schools in the city. "I have long had concerns about charter schools, which is why I do not support raising the cap. Chief among those concerns is the fact that charter schools do not have the same level of transparency that's required of public schools, which is inherently unfair. Our focus should be on strengthening all of our schools and ensuring every student gets the opportunity to succeed," said City Council Speaker Johnson in a statement to Gotham Gazette.
"The answer to the real issues in the NYC public school system is not to create further imbalance," Public Advocate Williams said in a statement to Gotham Gazette. "I do not support the the current push to raise the charter school cap. In fact, what the Governor should do is pay the public schools of the city the money they've been owed for decades. I also urge the Administration to launch a full investigation into the controversial disciplinary practices seen in some charter schools to combat wrongdoings that continue to occur."
A spokesperson for Manhattan Borough President Gale Brewer, a Democrat, said she is "opposed to raising the cap, period." In previous testimony, Brewer has said that charter schools "are unsustainable education practices that serve the few at the expense of many."
Spokespeople for other top city officials -- Comptroller Scott Stringer, Brooklyn Borough President Eric Adams, and Bronx Borough President Ruben Diaz, Jr. -- did not provide comment for this story on where those officials stand on the charter school cap, despite multiple requests to each office.
Adam and Diaz Jr. have both been supportive of charter schools, while Stringer has been more cool to the privately-run, publicly-funded schools that now educate roughly 10% of the city's students.