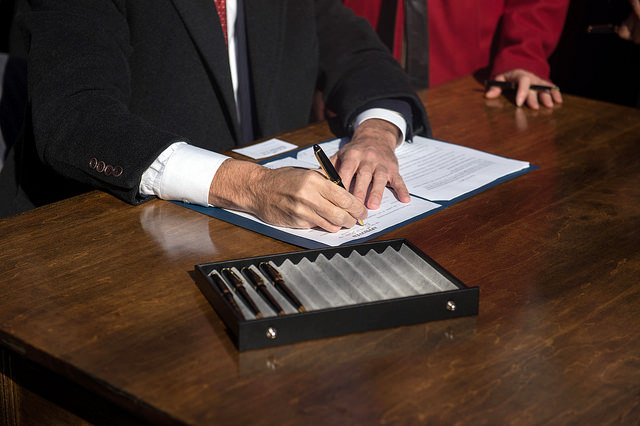 (photo: Demetrius Freeman/Mayor's Office)
---
A much talked-about provision of Mayor Bill de Blasio's 13th-hour deal to have his control over city schools extended was the agreement that 22 revoked or surrendered charter school charters could be reissued without counting towards the predetermined state cap on the number of charter schools.
In exchange for a two-year extension of mayoral control of city schools, de Blasio agreed to a series of charter school-friendly administrative maneuvers, including the "zombie" charter provision, as well as others around rental reimbursements and school space allocations. The mayor made the deal with state Senate Republicans, Governor Andrew Cuomo, and their charter sector allies.
What has not been widely noted is that language added to the state Education Law at the end of the 2015 Albany legislative session already allowed exactly 22 charters that had been "surrendered, revoked or terminated" on or before July 1, 2015, to be reissued, raising the question of why it was necessary to clarify that point at all.
The answer might lie around the ambiguity of the language. The law states that "such reissuance shall not be counted toward the statewide numerical limit" – the cap of 460 charters – but makes no mention of the separate limit of 50 charters issued after July 1, 2015, for cities of one million or more people, a criteria only New York City fits.
The mention of the state cap and omission of the city cap could be understood as affirming that charters which were revoked and then reissued in the city would continue to count towards that predetermined ceiling of 50, of which there are now 23 remaining aside from the defunct "zombie" charters. It seems that the mayoral administration's concession was not to read the law that way.
In a brief phone conversation, Department of Education (DOE) spokesperson Toya Holness said Monday that the administration "agreed not to challenge the way [the law] was being interpreted," but declined to offer examples of potential alternative interpretations.
Scott Reif, a spokesperson for Senate Majority Leader John Flanagan, said that it was the Senate Republican majority's "position that those 22 'zombie' charters shouldn't be counted towards any kind of cap."
In essence, state authorizers issues the charters that allow applying entities to open charter schools, but for one reason or another some are revoked or the schools close down, leaving the question of whether those charter slots under either of the two caps are newly available.
Wrangling over the status of revoked charters has been going on for years; in 2010, before the law was changed to include specific directives on reissuing charters, an Assembly bill introduced by charter-friendly Democrats tried to establish that "that revoked charters will no longer count against the cap," according to its summary. It didn't pass at the time.
The reissuable charters won't be separately marked, but simply added the available pool of charters under the cap, which now appears to stand at 45 for New York City, where 216 charter schools currently operate. Potential schools hoping to secure a charter must follow the normal application procedures through state authorizers -- New York City's Mayor and Department of Education actually have very little control related to charter schools, less so given changes to the laws ushered in by Senate Republicans and Cuomo after de Blasio, a longtime charter foe, took office in 2014. Senate Republicans and Cuomo are supportive of charters and well-funded by charter allies, while de Blasio and state Assembly Democrats are close with and funded by teachers unions, who see largely non-unionized charters as anathema to their survival.
It is not clear why the law was amended to permit specifically 22 reissuances, nor who exactly included the language. It was part of the 72-page end-of-session bill passed on June 25, 2015 that includes a wide variety of measures.
Even if the de Blasio administration stands down from challenging the charter stipulation, the lack of legal clarity means that another entity could. Public school advocates and teachers unions in particular have been consistent opponents of charter school expansion, and have been willing to use legal tools to stop it.
In 2013, the United Federation of Teachers filed a lawsuit against the DOE to try to stop it from offering space to charter schools in existing city public schools; the suit was eventually dismissed by a judge. The UFT, which is largely allied with de Blasio, did not return a request for comment about whether it would challenge the agreed upon interpretation of the charter school law.