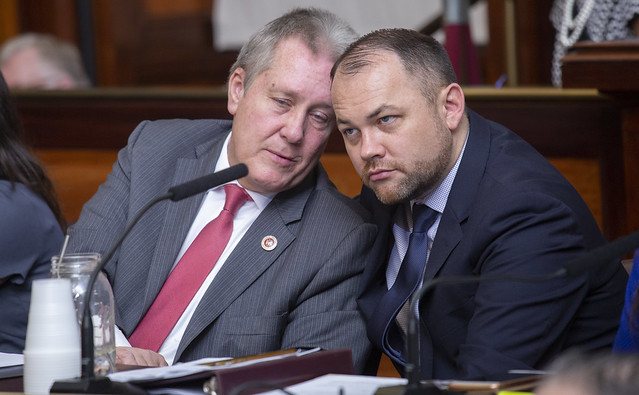 Council Member Dromm and Speaker Johnson (photo: John McCarten/City Council)
---
The New York City Council and budget officials from Mayor Bill de Blasio's administration engaged in a familiar push-and-pull on Monday, at the first hearing on the $92.5 billion executive budget proposal for the 2020 fiscal year that begins July 1.
The Council, disappointed that many of its priorities were not included in the latest spending plan presented by the mayor, pushed for more funding and pointed to hundreds of millions in revenue available to the city, but officials from the Office of Management and Budget urged restraint as they emphasized the dangers of a slowing economy and insisted the Council's revenue estimate was far rosier than their own.
De Blasio presented his executive budget last month with $300 million more in proposed spending than his preliminary plan released in February. The $92.5 billion proposal would mark yet another record high in city spending, up nearly $3.4 billion from the current fiscal year and about $20 billion from the budget that de Blasio inherited from former Mayor Michael Bloomberg.
The budget included, for the first time under de Blasio, a PEG (Program to Eliminate the Gap) that identified $629 million in savings in agency spending.
But the executive budget excludes funding for most of the items that the City Council had listed in its response, issued last month, to de Blasio's preliminary budget plan, and Council members made their frustration clear at Monday's hearing.
The Council found the executive budget "incredibly insulting," said Council Speaker Corey Johnson, in his opening remarks. The Council had called for pay parity and wage equity for several categories of city-funded workers (including nonprofit human service providers, assistant district attorneys, indigent defense attorneys, and daycare workers), investments in a variety of social service and local programs, $250 million more in reserves, more transparency across the budget, and 100 percent "Fair Student Funding" to aid local schools.
Johnson noted that though most of the Council's priorities were ignored, "The Administration saw fit to implement our ideas from the response for how to save money, and then took those savings to fund even more of the mayor's priorities."
Even requests that would have cost nothing -- for instance, more transparency for multi-agency programs such as ThriveNYC, and spending on the new ferry system -- were rejected, Johnson said.
He did, however, point to a bright spot in the negotiations with the administration. The Council had called for continuing $155 million in "one-shot" funding that is in the current fiscal year budget for various purposes -- adult literacy programs, summer youth employment, post-arrest diversion programs, social workers for homeless students, and more. After the Council's push, the city added $77 million to restore some of those programs, but Johnson indicated that negotiations would be tough regardless.
"Typically, we try to get this budget adopted by the first week of June. I doubt that's possible and I'm willing to wait until just before July 1," Johnson said, referring to the start of the next fiscal year and the deadline for approving the budget. "This needs to be done the right way," he added. Over the next few weeks, the Council will continue to examine the budget at agency-specific hearings where administration officials will testify, while public rallies are held and op-eds are written advocating for certain expenditures and private negotiations continue among stakeholders.
A central dispute of the hearing was over the amount of revenue available to the city from personal income tax collections, which came in higher than earlier projections. Through April, the city received $474 million more than initially estimated, which the Council repeatedly said should be put to use to fund their demands. But OMB Director Melanie Hartzog repeatedly pointed out that other tax revenue came in lower, and that actual revenues only increased by about $200 million.
"We continue to face uncertainty related to economic conditions at home and abroad," Hartzog said in her opening remarks, pointing to a weak housing market and slowing consumption. She emphasized that much of the new spending in the budget was required because of $300 million in unfunded mandates and cost shifts from the state, and about $150 million in additional needs that were not factored in to the preliminary budget.
Council Member Daniel Dromm, chair of the finance committee, didn't hold back in criticizing the executive budget's approach towards the Council, pointing out that the Council had urged the administration for years to rein in costs, increase reserves, and find agency efficiencies. He noted that the PEG made cuts in areas where the Council wanted more spending, including cultural institutions, youth services, and senior centers.
"The PEG was couched in the context of a potentially worsening economic position for the city and the need for us all to tighten our belts in anticipation," he added. "So what is truly baffling is that in light of this sentiment, the administration has chosen not to add even a single dollar towards our reserves." That increases the likelihood, he said, that the administration will have to slash services when an economic downturn hits in earnest.
"It was a challenging budget," Hartzog said, a position she had to repeatedly rely on as Council members pressed her on a slew of specific priorities, whether funding for social workers and guidance counsellors in schools, or support services for youth in the foster care system. She did however promise to work with the Council in finding more savings and to address their individual issues.
And the issues were many. Council Member Jimmy Van Bramer, chair of the cultural affairs committee, said $6 million in proposed cuts to cultural institutions were "disrespectful to this body." Hartzog said they were "relatively modest," noting that the overall budget for those institutions is about $139 million and that the administration wanted to avoid cuts in library service.
Council Member Mark Treyger, chair of the education committee, lambasted the lack of funding for pay parity for universal pre-kindergarten teachers, Title IX coordinators, for busing for foster care students, for new school counsellors, to baseline Teacher's Choice funding, and more education-related programs. "How can you say this is a schools-not-jails budget?," he wondered, with apparent reference to the fact that the mayor's updated capital budget plan, $117 billion over 10 years, includes billions in funding for jail construction as the city moves off of Rikers Island.
Council Member Helen Rosenthal noted that nonprofit service providers need at least $250 million more from the city or they risk fiscal insolvency. Hartzog, in response, noted that the de Blasio administration previously gave nonprofit providers cost-of-living-raises for the first time in years and that the administration is negotiating issues with the nonprofit sector.
Council Member Barry Grodenchik, chair of the parks committee, said the parks and recreation budget "continues to go sideways," and called for modest and targeted investments in parks infrastructure.
Council Members Carlina Rivera and Carlos Menchaca, co-chairs of the Council's census task force, called for more funding for 2020 Census outreach, insisting that the $26 million over two years that the administration is funding is inadequate compared to the Council's $40 million request. Hartzog said the amount was sufficient -- $8 million will go to community-based organizations, $10 million to a media outreach campaign and the rest to staffing needs -- particularly in tandem with $20 million in overall state funding, but said the administration was open to adding more funding if needed down the line.
Hartzog told Council Member Mark Levine that funding for so-called safe injection sites wasn't included because the city was waiting for approval from the state health department.
The OMB director did agree to providing a measure of more transparency in the budget, and said her office had identified 34 new units of appropriation at the Council's urging.
Hartzog similarly said the administration had made new "Capital Detail Data Reports" available online, in response to a request from Council Member Vanessa Gibson, who chairs the subcommittee on the capital budget. Gibson and others have critiqued the city's ten-year capital planning process, insisting that it frontloads investments in early years and underfunds them in the second half of the plan. The ten-year capital plan reached $116.9 billion in the executive budget, of which 78% is planned for the first five years, Gibson noted.
But Hartzog said the city was working to distribute capital spending more evenly, with $3.9 billion redistributed from fiscal years 2019-2021 into later years. The administration has also proposed rescinding $2.3 billion pledged in previous capital budgets, she said.