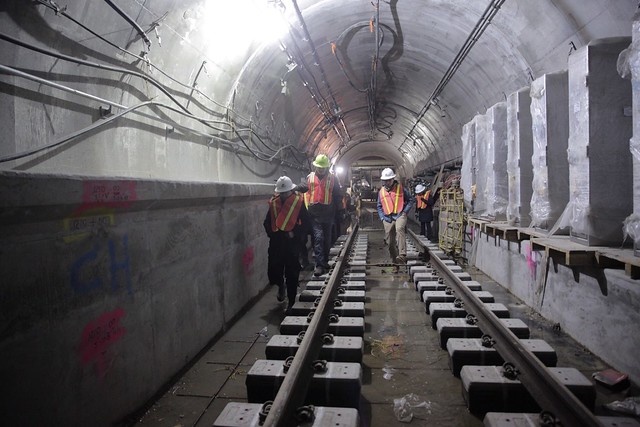 (photo: City Council)
---
If City Council Speaker Corey Johnson, like-minded lawmakers, and a chorus of transit advocates get their way, New York City will become far less dominated by cars over the next few years.
Talk of "breaking car culture" by increasing options and protections for bikes, buses, and pedestrians while reducing how use of public space and rules of the road favor cars has increased, spurred largely by well-organized activists and Johnson. The speaker has championed the phrase, credited to Council Member Antonio Reynoso, that now symbolizes a growing movement, and introduced legislation to create a "master plan for city streets" with many more bike lanes, bus lanes, and pedestrian plazas required.
But as Johnson has pushed a public transit agenda and breaking the car culture that he and others say unfairly and dangerously dominates New York City, they've been met with a few refrains, one of which is that you can only push so many New Yorkers out of their cars without significantly expanding public transit options across the five boroughs, especially in areas currently unserved by the subway. (That thinking also extends to areas without good bike lane networking and access to Citi Bike bike-sharing or to speedy and reliable bus service.) More than one-third of New York City's 8.5 million residents live more than one-third of a mile from a subway stop, according to the Regional Plan Association.
People will not leave their cars, or abandon the use of for-hire vehicles like Uber and Lyft, without a more robust public transit ecosystem. That challenge is on top of that of making sure that the subways and buses perform well where they already provide extensive options, and installing more bike lanes and pedestrian options in those areas, not to mention the coming influx of electric scooters, recently legalized in New York State.
Despite ongoing, launched, or expected improvements to the subways and buses, many of which are included in the up-in-the-air MTA "Fast Forward" plan to modernize public transit over 10 years, many of the city's neighborhoods will still be inaccessible by public transportation.
The notion of adding to the city's current mass transit system has been around a long time, of course, with recent manifestations in the opening of the first phase of the Upper East Side's Second Avenue Subway, the extension of the 7 line to the far west side of Manhattan, and Mayor Bill de Blasio's Ferry NYC system and planned Brooklyn-Queens Connector (BQX) streetcar along the two boroughs' waterfront.
There have also been a variety of ideas put on the table for additional subway stops, new rail lines, and other enhancements to the grid -- including light-rail reinvigorating abandoned train tracks in Brooklyn and Queens, a train shuttle from a central point in Manhattan to each of the city's airports, a revamped tristate commuter rail, and more.
"We know our transportation infrastructure is woefully inadequate for our current needs, let alone for future population growth and the challenges that will come with climate change," Johnson said in a statement to Gotham Gazette, when asked about the relationship between breaking the car culture and building out the transit network.
Defending the large subsidies involved in his signature ferry system, de Blasio in March said that the prospering and growing city needs more mass transit.
"8.6 million people today," he said on WNYC's The Brian Lehrer Show. "We've added half a million people over the last 15-20 years. We're going to add another half million people over the next 15 to 20 years ahead. Anyone who thinks our existing transit system can handle all of that is someone who thinks marijuana is already been legalized in New York State and is smoking some. The fact is it is impossible to do what we have to do with the city if we don't expand mass transit options."

He continued: "So we have had a four-pronged attack. More bike options; more select bus service, which is those faster dedicated bus routes; more light rail, that's going to be the BQX, Brooklyn and Queens; and for the first time ever, a citywide ferry system."

"We're investing in the future," de Blasio said. It is worth noting that the ferry system is projected to carry about 9 million annual riders, according to the mayor in May, which is less than two days of typical weekday subway ridership.

For her part, de Blasio's Department of Transportation Commissioner, Polly Trottenberg, also spoke earlier this year about the need to improve transit options to account for the city's success and growth.

"Given the growth and economic dynamism of New York City, we should be opening three subway stops every year...if not faster," she said in an interview with Gotham Gazette. "The biggest transportation challenge the city faces right now is we have stopped building out our subway network. That gets into a bigger discussion of the MTA, of the governance, of the funding challenges there."
"Nothing carries people like subways," Trottenberg said.
The MTA doesn't "have the funds right now to be in the subway line-building game -- and we should get them back in that game" like big cities in other countries, she said.
Proposals and Plans to Expand Public Transit
In its enormous "Fourth Regional Plan" for the tri-state region released in 2017, the Regional Plan association calls for a massive extension of the subway and rail system in and around New York City. This includes bridging unconnected or underconnected areas of the city to each other, adding new subway stops in "high density and low income neighborhoods," and expanding rail options into areas of the city that are "transit deserts."
"Building new subway lines or line extensions in the South Bronx, southeast Brooklyn. and eastern Queens would reduce travel times and fully connect these communities to the city's transit system—and thereby job opportunities," the RPA plan reads. Too many New Yorkers simply don't have access to the subway system, the association says, particularly "in Queens, where fewer than four in 10 residents can walk to the subway," meaning a distance of one-third of a mile or less from home.
Hiding behind trees and below street level are 24 miles of abandoned railway tracks stretching from Sunset Park in Brooklyn to Co-op City in the Bronx. A proposal by the RPA would see the conversion of those tracks to a functioning commuter rail, covering 80 square miles and intersecting with 17 subway lines.
RPA estimates the line would serve upwards of 100,000 people a day, and cost under $2 billion to make usable. (Phase one of the Second Avenue subway extension, completed in January 2017, was estimated to cost nearly $4.5 billion.)
The so-called "triboro line" that would include Brooklyn, Queens, and the Bronx could be implemented at a lower cost because the right of way and tracks are already in place, RPA Senior Vice President for State Programs & Advocacy Kate Slevin said in an interview with Gotham Gazette. The line would bring benefits to the outer boroughs, where 50 percent of the city's job growth has occurred in the last 15 years, according to the RPA proposal. Transit advocates, business owners and employees, elected officials and others regularly point out that the city's recent economic and residential patterns do not match well with its Manhattan-centric public transit network.
Along with new rail options where they don't exist, the RPA also calls for things like extending the 7 line from the new far west side 34th Street stop down the west side into "underserved areas of Chelsea and Meatpacking."
The RPA plan notes that nearly 60 percent of residents of the Bronx and Brooklyn, and 36 percent of residents of Queens, do not own a car.
"I don't think cars will be going away anytime soon but if you're a growing city you only have a certain amount of street space to work with," Slevin said. "New York needs to be moving at a faster clip to prioritize high efficiency transportation options."
RPA also envisions a re-worked commuter rail system, with a united NJ Transit, Metro North, and LIRR, entitled Trans-Regional Express (T-REX). Rather than having each entity individually operate to and from Manhattan, T-REX would see the introduction of new freight-rail corridors directly connecting each of the regions currently serviced by commuter rail, Slevin said. The plan aims to increase ridership by 1 million by 2040.
"This is not just a system to bring people from the suburbs to Manhattan," Slevin said. The plan would bring "paramount benefits in the city and smaller cities outside the five boroughs that have not benefited the same way Manhattan has," she said.
A revamped commuter rail system has the potential to influence "car culture" not only in the city, but also in the suburbs, said Sarah Kaufman, Associate Director of NYU's Rudin Center for Transportation.
"Additional tracks that would provide more frequent service and that would include allowing people in the farther reaches of the city to use commuter rail as an alternative to the subway" would have an impact, Kaufman said.
"A well-functioning public transportation system is key to reducing reliance on cars," said Julie Tighe, President of the New York League of Conservation Voters, at a recent Riders Alliance rally to call on the MTA to ensure that its next five-year capital plan focuses on fixing the subways.
Perhaps as a harbinger of RPA's vision, in 2023 the MTA will begin construction on East Side Access, an eight track terminal and concourse for LIRR trains at Grand Central Station. Penn Station is currently the only Manhattan stop on the LIRR. Another plan, entitled Penn Station Access, would bring Metro North trains to Penn Station in addition to Grand Central, where they currently stop.
"I'm hopeful that East Side Access and Metro North access to Penn Station will help influence people who may otherwise feel like they don't have a choice but to drive," Kaufman said.
Many of these plans are just and only that - without support from elected officials.
Another factor in upcoming decisions is the imminent implementation of congestion pricing, which will charge drivers a fee for entering Manhattan below 61st Street. Like with calls to "break the car culture," congestion pricing led to pushback from some saying that better mass transit is needed in conjunction.
De Blasio announced a plan for the BQX streetcar during his 2016 State of the City speech, but the proposal has been criticized from the start for mostly replicating the G subway line and existing bus routes, especially given de Blasio's minimal attention to the subways and buses for most of his time as mayor (he's recently paid more mind to the buses, which he has more control over based on city control of the streets).
It has also been seen as more of a boon to real estate interests than the riding public, though some potential riders have expressed excitement about a new way to move between certain neighborhoods, especially as residential and commercial growth in Queens and Brooklyn have grown.
Unlike when it was first announced, the BQX plan is now said to require significant federal funding in order to move toward completion, though interim steps are being taken by the city. Its fate is unclear.
"Speaker Johnson is open to creative ideas on how to improve our transportation network," said Jennifer Fermino, Speaker Johnson's communications director, in a statement to Gotham Gazette following a Council hearing on the proposed BQX earlier this year. Sentiment among Council members appears mixed, and Johnson appears to be holding out on giving an opinion.
MTA Efforts
This fall the MTA will put out its new five-year capital plan, which will set the organization's construction and major upgrade project agenda for 2020 through 2024. It is unlikely to include any new expansion plans for the subway system, but is expected to focus heavily on upgrading the existing tracks, signals, cars, and stations -- including by increasingly accessibility for those living with disabilities -- all of which should help to encourage more people to take public mass transit over cars.
The MTA did announce in April a new phase of the stalled study of transportation along the Utica Avenue corridor in Brooklyn. While the study, performed jointly by the MTA and city DOT, will examine a variety of transit aspects, including bus service, it will also look at "extending the existing subway on Eastern Parkway or Fulton Street south along Utica Avenue. The extension could be either underground or as an elevated rail line."
It's unclear where the second phase of the Second Avenue Subway will factor into the new MTA capital plan.
Advocates are encouraging the MTA to adopt accessibility as a key issue, which could reduce some reliance on cars. According to the Elevator Action Group at Rise and Resist, the MTA counts 118 of its 472, or 25 percent, of its subway stations as accessible, while the MTA counts 118 of its 472 stations as accessible. "The lack of elevator accessibility continues to deny access to disabled New Yorkers and elderly," Assemblymember Deborah Glick said at the Riders Alliance rally.
The MTA already has a bus route redesign process underway, having completed Staten Island and working on the Bronx, to be followed by other boroughs. Modernizing bus routes, along with other efforts like installing more dedicated bus lanes (which is more under the purview of New York City government), is aimed at improving the city's terribly slow bus speeds and reversing the trend of dipping bus ridership.
When earlier this year he announced a crackdown on illegal parking in bus lanes in order to get the city's buses moving more quickly, de Blasio got at the heart of the matter with regard to the current system that does exist, but needs to perform better.
"So for drivers – help your fellow New Yorkers by not parking in the bus lanes, and with this effort to speed up the buses, more and more New Yorkers will be able to choose mass transit and they can get out of their cars and that's going to take cars off the road and reduce congestion also," the mayor said in January. "So we could have a virtuous circle here if we get it right. That's what we intend to do."
Some city officials want to figure out ways to work with the MTA to expand the subway system to add new stops and lines. The MTA recently adopted a "transformation plan" with goals including to improve service across the different branches of the authority and to bring construction costs down. For now, de Blasio has announced several new bus-related plans, a large Citi Bike expansion, and additional planned stops for the ferry program, though he does not seem particularly interested in a major cultural shift or pursuing an expansion of railway possibilities; and he has done little about parking placard abuse by public employees despite multiple announcements saying the city is cracking down on the practice. Parking in general has become a key issue within the street-use reform converation, and whether the city devotes too much public space allowing people to store their cars, and to do so free of charge in many places throughout the five boroughs. Johnson and Trottenberg are among those who've said there are too many parking spots in New York City.
Speaker Johnson is looking to move ahead with his "master plan" legislation that would attempt to shift the balance of power on city streets by devoting more space to bus riders, bicyclists, and pedestrians.
Johnson and others have pushed for municipal control of the MTA, in part as a way to get those astronomical construction costs under control. Until then, no major additions will be possible, Johnson said in a statement to Gotham Gazette.
"Adding a single mile of subway track in New York City costs the same as sending a rover to Mars," Johnson said in the statement. "Meaningful mass transit expansion is not happening until we get in line with rest of the world and bring down costs. That won't happen without real accountability and it's clear it certainly won't happen with the subway until we have municipal control."
[Read: Corey Johnson Wants to 'Break the Car Culture' in New York City. What Does That Mean?]
Ben Max contributed to this article.