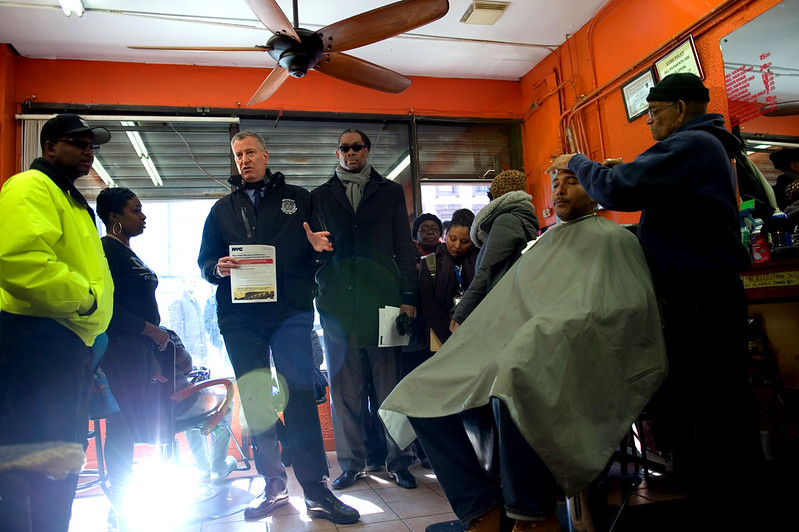 Mayor de Blasio & Council Member Cornegy stop at a small business (photo: Ed Reed/Mayor's Office)
---
New York City's small businesses need more employees but struggle with hiring, and lack the time and resources they need to find and train talent. Their operational costs continue to be a challenge, including the cost of rent, insurance, and utilities. They need more financial support for growth and more assistance to comply with government rules and regulations.
Those are just a few of the findings of a limited and first-of-its-kind survey conducted by the New York City Department of Small Business Services under new laws passed by the City Council in 2017.
As mandated by the law, the survey began in August 2018 and was ongoing when the initial results were published in June of this year (it has since concluded). It was required by a pair of bills, sponsored by City Council Member Robert Cornegy, which also require the city to create a "workforce development plan" based on the survey results.
A total of 543 business owners – out of more than 220,000 in the city – responded to the online survey, according to the 35-page report, outlining the issues they face in running and growing their enterprises. The responses came from across a range of businesses including food service establishments, professional and scientific businesses, construction trades, arts and entertainment, retail, and education, to name a few. About half the respondents were white, while African-American and Hispanic owners accounted for 20% and 15%, respectively.
The report comes as city government officials wrestle with how to help local small businesses amid a changing economy, sky-high costs, especially for rent, an increasing focus on vacant storefronts in the five boroughs, and debate over new mandates that some owners are opposing.
The report acknowledges early on that the sample "is not representative of the city's business population" because of the relatively small number of responses – on key questions, there were fewer than 200 responses. Nonetheless, the report gets at some of the issues that businesses face in the city. About 42% of respondents said they did not have enough employees to run their business, and more than 60% said they suffered from a lack of tools to recruit employees and meet other pressing needs.
"There's no question that small businesses are facing growing challenges and this survey certainly echoes that," said Eli Dvorkin, editorial and policy director at the Center for an Urban Future, a nonpartisan policy group focused on economic opportunity, in a phone interview. Dvorkin said he was disappointed that the study did not contain more holistic data about the city's small business landscape but did say it generally tracks with CUF's research on the challenges faced by small businesses.
And he underscored the importance of understanding the problem. Small businesses, he said, "have consistently added jobs every single year since 2000. And as a result...very small businesses with fewer than 20 employees have added more net jobs every year than businesses with more than 500 employees have in New York City."
About 40% of respondents to the survey said their top need was help in training new employees, while 33% said recruitment was their biggest challenge, and 27% pointed to general human resources management. The respondents said their key qualifications for employees include work ethic (the most-given response), customer service skills, relevant work experience and subject matter familiarity, and punctuality, among others.
But the "plan" accompanying the survey results is sparse on new offerings. The report notes that most of the issues that small businesses face are covered by free services provided by SBS, but points out that about half of the respondents had not availed themselves of those services, requiring more outreach about SBS programs.
The report lists those various services including training and free recruitment services through 18 of the city's Workforce1 Career Centers, human resources support, financial and free legal assistance, and more. But it focuses more on the need to more broadly educate small businesses about these services rather than providing new ones.
"SBS is always looking to expand the offerings we provide to small businesses and as their needs continue to adapt, our programming teams are working to address each demand," an SBS spokesperson said in a statement, when asked if the report had prompted any additional services.
Council Member Cornegy was not made available for comment on the initial results of his bills that became law.
Dvorkin said the city needs to do more. He pointed out, as the report notes, that SBS runs a Customized Training program intended to help businesses invest in employee training with grants up to $400,000, which can address the most dire need expressed by business owners in the survey. But that program is only available for businesses that train batches of at least 10 or more employees at once, effectively being out of reach for the 90% of small businesses that have fewer than 10 employees.
"It fundamentally presents a disconnect," Dvorkin said, insisting that the city should try to expand these services for smaller workforces. "Most small businesses are not ever going to be able to actually access this really effective and really important service that the city provides."
He did note that there would be considerable costs associated with added services. "You may not be able to scale it up to meet the needs across the entire city without a significant new influx of dollars," he said. "But I think, to be able to test out the model to see, can this work for companies that are only training five employees or three employees? We won't know until we try."