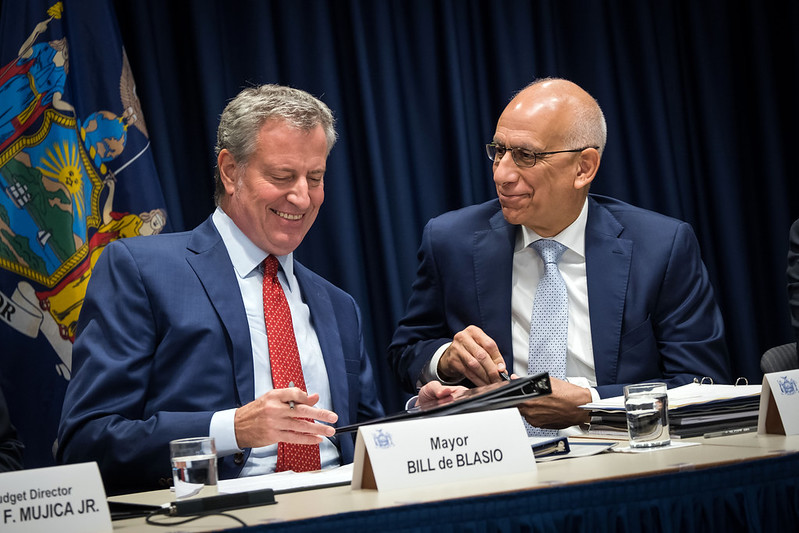 (photo: Ed Reed/Mayoral Photo Office)
---
With voter approval of a city charter amendment to pursue the creation of a budgetary "rainy day fund" in New York City, de Blasio administration officials are now looking to change state laws so that the city can actually start one.
"We're going to have to work together to make this happen," said First Deputy Mayor Dean Fuleihan at a breakfast event hosted by the Citizens Budget Commission Wednesday morning, just a few hours after polls closed on Tuesday night.
Voters had overwhelmingly approved an amendment to the city charter that would allow the city to set aside revenue in a savings account meant to cushion the impact of a future economic downturn and city revenue dip — the inevitable rainy day. Until the charter amendment passed this week, provisions in both city and state law required the city to balance its budget every year, meaning savings cannot be carried over from one fiscal year to another. Now, only state law requires a balanced city budget.
While the city continues to enjoy a period of economic prosperity since the 2008-2009 fiscal crisis, economists say it must brace for potential dips, whether slowing growth or recession. In the last two national recessions, the city economy contracted significantly and took years to rebound, according to a Citizens Budget Commission report, "To Weather A Storm: Create a Rainy Day Fund." According to the CBC analysis, the gross city product (GCP) fell 7.6 percent from 2000 to 2002 and took another three years to reach its pre-recession size; from 2007 to 2009 GCP fell 9 percent and did not reach its previous peak until 2013.
In situations like these, the city can quickly exhaust any reserves that may be available, and, in the absence of a rainy day fund, must cut services, raise taxes, and/or fall on short-term borrowing, all of which have consequences that are exacerbated in a recession.
Currently, the city is able to put public funds into "reserves," which are created through budgetary maneuvers that, among other things, allow the city to prepay for certain resources, debt service, and retiree health benefits costs. But fiscal watchdogs say the reserves would not be sufficient to combat a serious dip in the economy or an emergency crisis, and are a fraction of what a rainy day fund could cover.
The city budget has grown tremendously since the last recession in 2008-2009. Since the beginning of Mayor Bill de Blasio's tenure in 2014, it has risen nearly $20 billion to $92.8 billion in the current fiscal year. About $6 billion of the total is currently in year-of reserves.
"It's a historic level of reserves," which the city has not previously achieved, said Fuleihan, a former director of the Mayor's Office of Management and Budget and a veteran fiscal policy advisor in the State Assembly. "But it is not a rainy day fund. It's not a traditional way of doing that, and now we have the opportunity to do that."
The rainy day fund amendment was one of 19 proposed changes to the city charter, which voters in New York City had an opportunity to approve or reject this fall based on the work of the 2019 Charter Revision Commission, to which the mayor had several appointees along with other citywide and boroughwide officials. The proposals came in the form of five questions covering elections, police oversight, ethics and governance, city budget, and land use. All five questions passed by wide margins.
The laws requiring New York City to balance its budget each year came out of the city's 1975 fiscal crisis, in which the city's debt obligations brought it close to bankruptcy. In response, the state enacted the Financial Emergency Act, which required a balanced budget and the use of generally accepted accounting principles as a way to ensure the city's fiduciary obligations do not exceed its revenue. In 2005, those requirements were incorporated in the city charter.
With the charter amendments that remove those requirements, state laws are the only remaining statutes preventing New York City from adopting a rainy day fund. State Senator Brian Benjamin, a Manhattan Democrat who is considering a run for city comptroller, has introduced a bill that would authorize the city to create a rainy day fund (the fund is described in the bill as a "municipal contingency and tax stabilization reserve fund").
For the de Blasio administration, the issue at hand now is not simply a matter of changing the state law. Fuleihan says he hopes to work with the state to devise a partnership that gives the city ultimate control over its budget and rainy day funds. Budget watchdogs are also hoping state lawmakers include statutory restrictions on when the rainy day funds may be spent to ensure that they are used as intended during periods of economic hardship.
"The first step occurred [Tuesday] and now we need to talk about what that looks like," Fuleihan told the CBC audience Wednesday, "and to make sure that the city is the determining factor in what this rainy day fund looks like."
"I think we do have to be careful about that," he added.