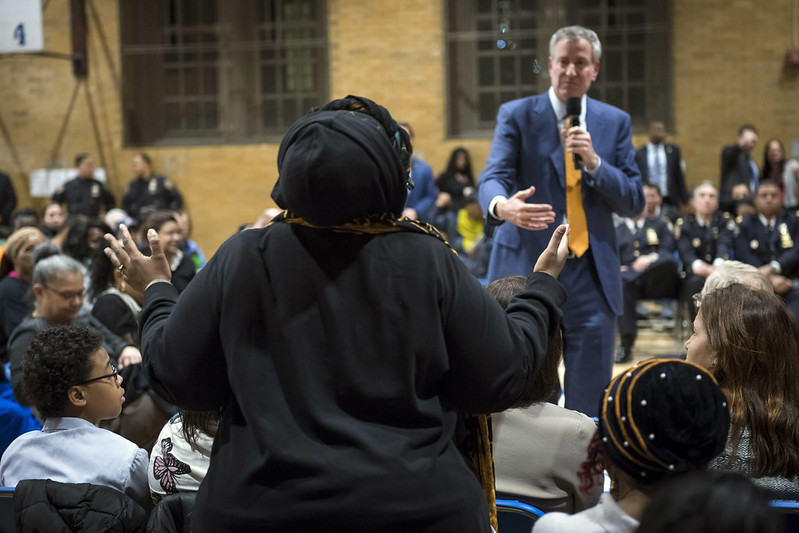 (photo: Ed Reed/Mayoral Photo Office)
---
As Mayor Bill de Blasio enters his seventh year in office, on the heels of a failed presidential bid and at a time when his political clout appears at its nadir, he faces many major challenges and big decisions ahead.
2020, the next-to-last year of his second and final term, begins with a focus on public safety, including recent spikes in anti-Semitic hate crimes, murders, and byciclist fatalities, as well as how the city is adjusting to new state-mandated bail reforms that the mayor has criticized.
Then there are the intractable issues, such as homelessness, public housing, and school segregation, which continue to confront the mayor. There are issues that emerge every year during budget season, some predictably and others not, including how the state will treat the city, whether city spending can continue to rise as it has each year under de Blasio, and whether the city is prepared for the inevitable recession.
And then there are the more dormant issues coming to life or the surprises: Will de Blasio finally be forced to act on property tax reform? Will his jails plan advance on schedule? Who will he endorse in the Democratic presidential primary? Can he make more of his own good fortune by shifting course on any of his self-defeating habits or by becoming more creative and aggressive on certain challenges?
The mayor has two years to answer many crucial questions, determine where he will expend what political capital he has, and shape his legacy. While he will undoubtedly be known for his expansion of early childhood education, other elements of de Blasio's legacy remain up in the air. He has shown some indications of attempted course-correction over the last few months after he abandoned his four-month bid for the presidency, the culmination, but perhaps not final chapter, in his yearslong quest for national prominence, largely at the cost of his work and image at home. Two key questions de Blasio will have to answer in 2020 are whom he will endorse in the Democratic presidential primary, likely Bernie Sanders or Elizabeth Warren, and how much of a role he will try to play in the national conversation.
With six years down and two to go, de Blasio's mayoralty has already been the subject of a great deal of scrutiny, including his own consistent attempts to dispute how many portray his shortcomings and accomplishments. One of the essential questions for de Blasio in 2020 is whether he can significantly alter the larger narrative about him and his leadership, and shift how so many New Yorkers see him. He enters the year with his most recent approval rating of 25% among New York City voters, according to a Siena College poll, the lowest of his tenure as mayor.
But underlying those broader, big-picture questions are the details, and the many specific challenges and decisions de Blasio faces. While many New Yorkers are awaiting his plans on a variety of fronts -- from school desegregation to property taxes and more -- and are hoping for more progress on crises like homelessness and public housing conditions, de Blasio has an array of strengths and weaknesses, advantages and vulnerabilities as his seventh year as mayor begins.
The city's economy is still growing, poverty has declined, jobs are at an all-time high, and unemployment is low. Most major crimes are at or near historic lows, even as arrests and summonses have massively decreased; the number of complaints of misconduct against police officers is relatively flat over four years, while the mayor's many critics assail him as too soft on crime or a weak reformer of the police department.
De Blasio's universal pre-kindergarten program has been broadly welcomed as a success, with its expansion to "3-K" in the works. His affordable housing and street safety programs have shown progress, though remain the subjects of intense debates over their scope. De Blasio must also implement a wide variety of more recent announcements, promises, and laws, including the closure of Rikers Island jails and development of revenue-generating housing on public housing authority land.
These and many more policies and programs, challenges and relationships, form the backdrop for the mayor's 2020, which may very well be the last year for him to announce any new ideas that he has any hope to implement. As he hits the second half of his second term, the race to replace him will begin to intensify, with most if not all the candidates pitching themselves as a break from de Blasio in various ways.
But in his lame duck months, however many they may be, de Blasio could find new opportunities to work with City Council members seeking to burnish their resumes as they run for higher offices, including the Speaker, Corey Johnson, who has his eye on the mayoralty. And as always, de Blasio will be navigating his complicated relationship with Governor Andrew Cuomo, beginning with what may be one of their most contentious budget seasons of their overlapping tenures.
Budgeting and Property Taxes
As the new year begins, the next budget season follows. The city's budget has rapidly expanded under de Blasio, with projected spending hitting $94.3 billion for the current fiscal year which ends June 30, 2020, according to the latest budget modification released in November. That's a whopping $21.6 billion more than the last budget modification under Mayor Michael Bloomberg, shortly before de Blasio took office.
The city's Office of Management and Budget predicts that spending will break the $100 billion mark within the next two fiscal years, a number that has fiscal watchdogs worried since savings and reserves haven't increased at the same rate.
The good news is that economic growth the city has seen for years is expected to continue, albeit perhaps at a slower pace, though fears of a recession have not entirely been eliminated. There are some signs of slowing – the growth of the national economy has fallen but the city's economic growth experienced a slight uptick in the first nine months of 2019 compared to 2018, according to a December 13 report by Comptroller Scott Stringer. The report predicts that the city will have a modest surplus by the end of the current fiscal year (June 30) and that gaps in outyears will be smaller and manageable.
"We're six years into an administration and there hasn't ever really been a big push to reexamine how government is doing things and making sure it's doing it in the most efficient, effective way possible," said Maria Doulis, vice president at Citizens Budget Commission, a nonprofit fiscal watchdog, noting that the City Council has been more focused on finding savings than the mayor. De Blasio has begrudgingly instituted certain budget savings programs and the results, according to watchdogs, have been more appearance than reality, and certainly more limited than those watchdogs would like.
At the same time as the Council has called for more savings, it has also pushed the mayor to provide more funding for its priorities, sometimes in the hundreds of millions, and has been effective in baselining several programs that will continue to be funded. The mayor will have to contend with that as well as any attempts by the governor to shift costs to the city, as he has done in the past.
Doulis also noted the "real risks" to the city budget from rising costs at three major entities – the New York City Housing Authority (NYCHA), NYC Health+Hospitals, which are city-run and supported by a mix of funding, and the Metropolitan Transportation Authority (MTA), which is effectively state-run, but with some city say via board seats, and receives city funding.
De Blasio's 2020 approach to the next city budget will be closely scrutinized as it becomes more clear what type of fiscal shape he will leave the city in when his tenure ends. The city's budget, due by July 1, will also again be significantly shaped by the state budget, due by April 1, and it will soon become clear what de Blasio asks of the state in its budget and legislative processes, as well as how he will react to Governor Cuomo's annual executive budget proposal and how it treats the city.
As has been the case in the past, some years more than others, de Blasio may have to marshal support among members of the state Legislature to push back on certain aspects of Cuomo's plan.
Another issue that will have a major impact on the city budget, though not in 2020, and need collaboration in Albany is a potential push for property tax reform, which the mayor has promised for years.
A commission created in 2018 by the mayor and Speaker Johnson has yet to issue its initial report, well past a promised deadline, while a lawsuit over alleged inequities in the system is making its way through the courts. Developments from either could force the mayor's hand in 2020, when he has promised action. De Blasio has said that he will evaluate the commission's recommendations and come up with his own agenda, including a 2020 push for needed state reforms, though that timeline has been seriously threatened by the commission's delay.
De Blasio has vowed that any changes to the antiquated and unequal property tax system will have to be revenue neutral for the city, which relies on property taxes for tens of billions of dollars annually to fund the city budget.
"I think what happens with property tax reform will be important and something that the mayor and the Council speaker should really march ahead on," Doulis said.
[Read: City's Property Tax Reform Delay Threatens Promise to Pursue Essential Changes in Albany]
Homelessness, Housing, and NYCHA
Homelessness continues to be an issue where the mayor has shown too little progress, despite a variety of significant new programs, a great deal of spending, multiple resets in approach, and adjustments to the city's housing plan to build more rent-restricted units across the city and reduce the cost of housing.
De Blasio has run into a number of obstacles as he's sought to implement aspects of his housing policies, including local opposition to neighborhood rezonings and the placement of homeless shelters. The administration has passed a smaller number of neighborhood plans than it had hoped at this point, and the Inwood rezoning approved by the City Council last year was struck down by a judge just before the new year. Its fate, subject to legal appeal, is up in the air.
There are several rezonings left to accomplish and the city will have to make a concerted effort to move them across the finish line. Which ones de Blasio prioritizes and how effective the administration is at completing them are key questions for the year ahead. The list includes planned rezonings in Gowanus and Bushwick in Brooklyn, Southern Boulevard in the Bronx, and SoHo/NoHo in Manhattan, each at a different stage of the process. There is little time left for de Blasio to announce any new swaths of the city he may want to rezone before his time in office is up.
The administration is also hoping to advance a major redevelopment plan at Sunnyside Yards in Queens, the next iteration of which is expected to be released by the end of 2020. Some of the same elected officials who criticized the proposed Amazon satellite campus (a de Blasio-backed deal that came undone in shocking fashion, with some saying the mayor failed to aggressively sell its virtues and placate criticism) are apprehensive about how the city will approach this project.
In April, when he appointed Vicki Been as the new Deputy Mayor for Housing and Economic Development to replace Alicia Glen, the mayor promised she would oversee another adjustment to his 300,000-unit affordable housing plan. Like property tax reform plans, it has yet to materialize.
There have been several recent developments that fit into the larger housing and homelessness plans, which some advocates say should be more completely integrated, along with public housing and the NYCHA rescue efforts.
On December 17, the mayor announced a new five-year plan to end chronic street homelessness that includes opening 1,000 new "safe haven" beds, converting 1,000 privately-owned housing units into new permanent housing for those leaving homelessness, expanded outreach, health care, and rental subsidies. The administration has celebrated its effective efforts to cut down on evictions through free legal services for many low-income households and in re-housing thousands of people who have wound up in city shelters.
Still, there are estimated to be more than 75,000 individuals in various city-run shelters and another 3,500 on the streets or in the subways, and de Blasio has not adjusted his 2017 goal of reducing the city Department of Homeless Services shelter census from about 62,500 to 57,500 over five years.
"The main message that we would want for both Mayor de Blasio and any elected official to have going into 2020 is that whatever progress has been made is never going to be enough until we actually end homelessness in New York City," said Jacquelyn Simone, policy analyst at Coalition for the Homeless.
She applauded a bill passed by the City Council in December, after a compromise with the de Blasio administration, that would require real estate developers who receive city subsidies for projects of 40 units or more to set aside at least 15% of new units for homeless families.
"We hope the mayor signs that bill into law soon and we also hope that the administration goes above and beyond the minimum requirements established in that bill," Simone said. "Following through on and going above and beyond the general homeless housing commitments, I think would be one main priority. We would also like to see Mayor de Blasio accelerate the supportive housing pipeline that he has made."
The mayor announced in 2015 that the city would build 15,000 supportive housing apartments in 15 years and Symone said that timeline should be shrunk to 10 years considering the urgency of the homelessness crisis.
On the public housing front, though the administration has been successful in stabilizing the operating finances of the New York City Housing Authority (NYCHA), its plan to raise funds for capital repairs from new infill projects that create mixed-income housing, has stalled. The authority has a $32-billion five-year capital need for repairs and maintenance, and the city has managed to identify $24 billion over 10 years through various mechanisms that must be executed. A new chair and CEO, Gregory Russ, was appointed in June to manage the scandal-ridden agency, which is also under the watchful eye of a federal monitor who has been scrutinizing its functions and monitoring its progress in handling lead abatement.
De Blasio's 2020 challenges include whether he can advance infill projects and ensure NYCHA is on track with lead testing and removal, boiler and elevator replacements and repairs, and more.
Transit and Infrastructure
The state and city have just over a year to prepare for the implementation of congestion pricing, the controversial traffic mitigation (and MTA revenue-raising) strategy that was approved by the state Legislature and Governor Cuomo last year. De Blasio was a reluctant supporter of the plan, which cedes much authority over city streets to the state-run and Cuomo-controlled MTA. But transit experts say the city must also undertake several measures to make the program a success, including by expanding and improving bus service.
"I don't know if he has a day-to-day grasp of some of the transportation issues," said David Jones, president and CEO of Community Service Society, who is an appointee of the mayor on the MTA board, about de Blasio. "He seems somewhat removed."
De Blasio has often been critiqued for having the 'windshield perspective' of a car-driver or -passenger, for not riding public transit with any regularity, and for prioritizing his ferry program over the city's buses. More than a month after its launch, de Blasio rode the 14th street busway, which he green-lit, and while he has touted its successes, especially after initial data was released in late December, he has yet to indicate any plans for other such bus-dominant roadway plans.
Moreover, the mayor has faced increasing criticism for touting his commitment to Vision Zero – which aims to eliminate traffic fatalities – while the number of cyclist and pedestrian fatalities jumped in 2019 and advocates asked for more aggressive implementation of street and intersection redesigns and protected bike lanes. De Blasio has praised the aims of City Council Member Brad Lander's "Reckless Driver Accountability Act," which aims to take dangerous drivers off the road for repeated violations, but has not fully endorsed it or reached agreement with the Council on language so it can pass.
De Blasio may also have to decide in 2020 whether he is willing to increase the fare on the heavily-subsidized ferry system, where he has initially pegged each ride to the same price as a Metrocard swipe for the bus or subway, currently $2.75, and whether his plan for the BQX, or Brooklyn-Queens Connector streetcar, will truly advance.
School Desegregation
Six years into de Blasio's mayoralty and New York City schools remain the most segregated in the country. The mayor and his two schools chancellors, Carmen Farina and Richard Carranza, have proposed a series of fairly tepid, incremental initial reforms.
De Blasio did empanel the School Diversity Advisory Group (SDAG), which released two sets of recommendations, with the administration adopting most of the first, more mild set. The second set, full of more controversial proposals, including related to the city's admissions policies and gifted and talented programming, was released in August and de Blasio has yet to give them more than an initial nod, saying that there would be an extensive public conversation to come in order to engage parents and other stakeholders in crafting reforms.
"Moving forward in 2020, it would be great for the mayor to start moving on these recommendations," said Nyah Berg, the Integrated Schools Project Director at New York Appleseed, which was represented on the advisory group.
De Blasio and Carranza separately proposed scrapping the Specialized High School Admissions Test (SHSAT), which determines admission at the eight "elite" high schools in the city. But that requires action by the state, where the proposal has not been warmly received. Even locally, elected officials and parent groups have complained that his proposal pits minorities against each other and will not have the intended effect.
De Blasio announced he was backing off of his proposal, which included a new system for more diversified admittance to the specialized schools, where black and Latino students are severely underrepresented, and would come up with something new this year.
"Outside of those eight specialized high schools, there's still over a hundred screened high schools and also screened middle schools and exclusionary gifted and talented programs," Berg noted. SDAG "has recommendations for how to work on integrating those, integrating our students better in New York City in that report. So I would hope that there is more of a focus on what he has the ability and power to do than a fight that's happening in Albany."
"I think if he was bold that he would have stood up and we would have already heard from him on the report," she added.
Policing and Criminal Justice
One of the issues where de Blasio has disappointed many of his supporters the most has been policing. Though he came to power indicating he would take a more sweeping approach to reform of the NYPD, he has been more of an incrementalist and has often had to be pushed into accepting increased accountability and oversight of the department.
In 2020, de Blasio and the NYPD are expected to finally show evidence for their claims that the mayor's neighborhood policing program is as effective as de Blasio often claims. The mayor will also likely have to continue to justify his support for the MTA's planned addition of 500 new MTA police officers, many of whom are meant to patrol the subways and buses in conjunction with the NYPD in a plan that currently has more questions than answers.
The MTA plan was pegged as a way to reduce homelessness and fare evasion and other crime in the subways. De Blasio has also directed the NYPD to conduct outreach in the subways and on the streets, which advocates say turns homelessness from a social problem to a policing one. "One thing that's completely in the mayor's control right now would be if he would reverse this really misguided, overreliance on police for street outreach work and if he would, instead, focus more on the elements of his plan that are related to safe havens and permanent housing," said Simone of Coalition for the Homeless.
"He's been perceived, obviously, as not taking on some of the hangover problems of broken windows policing," said CSS' Jones, who voted no during the MTA Board's December budget vote due to his opposition to the police officer hiring plan.
Jones was particularly critical of the mayor's recent choice to make Dermot Shea the new commissioner of the NYPD. It was the third time the mayor picked a white man to lead the department, again passing over First Deputy Commissioner Benjamin Tucker, who is African-American.
2020 will be a year of tests for Shea, and therefore de Blasio. Those tests include whether the city can reverse the 2019 increases in murders and hate crimes, as well as pedestrian and bicyclist fatalities, all while implementing additional promised reforms to bring police and community closer together, hold NYPD officers accountable for breaches of public trust, overhauling the Special Victims Division, and more.
The mayor and the NYPD also have their work cut out for them as new criminal justice reform measures take effect, including bail reforms intended to drastically reduce the detainee population in city jails.
And the Rikers Island jail closure plan is far from fruition. Though the City Council approved the plan to build four new borough-based jail facilities, the design and construction of the buildings is yet to come, not to mention navigating all of the logistical and community-based details.
"2020 is going to be a year of moving from big ideas to the nuts and bolts of implementation on many fronts," said Greg Berman, executive director of the Center for Court Innovation.
Berman did have high praise for what the mayor has done in the last six years, reducing incarceration while keeping crime down and the city safe. "I think that de Blasio actually has a significant legacy to boast about in criminal justice," he said.
Berman added that "the crucial thing is to not lose sight of the legitimate concerns that opponents" have raised about the jails plan, "in particular the concern that...what's to prevent these new jails from just emulating the dysfunctional culture that can be found in the Rikers jails?"
Ben Max contributed to this article.